Our beloved office dog, Lionel
World Animal Day is a global movement and campaign with a mission to raise the status of animals in order to improve welfare around the globe
Whilst it may feel that every day of the year is a celebration, reminder or a commemoration of something (we're looking at you National Taco Day), at OX we are proud to shine a light on World Animal Day, a global initiative in support of animal welfare. Originating in Germany in 1929, October 4 is also significant as the day in which the Feast of St Francis of Assisi, patron saint of animals, is observed.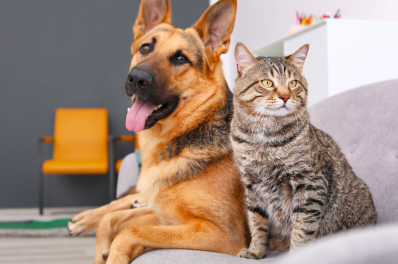 KEY FACTS
Over 1,000 events are run every year across the world
World Animal Day has 97 ambassadors across 75 countries
The WAD Grant has supported 12 projects since 2014
Naturewatch Foundation has been the driving force for over 15 years
The mission is to improve welfare standards for animals (both domestic and wild) across the globe with a goal of encouraging us all to recognise animals as sentient beings. It's a campaign which has attracted a wealth of support from celebrities including Jilly Cooper CBE, Mel C, Dame Maureen Lipman, Virgina McKenna OBE, Dame Twiggy Lawson. Brian Blessed and Sir Chris Bonnington. Sponsored by the Naturewatch Foundation, there are plenty of ways to get involved but the main objective is to raise awareness. Whilst donations are welcome, it is participation which is crucial: anyone can take part (you don't need to be a member of an organisation), it needn't involve months of organisation or huge numbers; choose an issue that concerns you and do your bit to spread the word, whether that's at school, at work, within your community or even just sharing on social media – look out for #WorldAnimalDay and get it trending.
TYPES OF EVENTS HELD:
Awareness educational events
Shelter open days and pet adoption events
Conferences and workshops
Animal blessing services
Fundraising events
Workshops to educate the owners of working animals
Spay and neuter marathons and veterinary treatment camps
Rabies prevention awareness and vaccination
Radio & TV interviews to raise awareness of animal issues and World Animal Day
Peaceful protest marches
If you care about animals, don't miss this special opportunity to help make animal welfare issues front page news around the globe – a vital catalyst for change!
Get involved and be part of something special at worldanimalday.org.uk.