I visit Chloe Romanos when the air is crisp and the leaves are beginning to turn the rich oranges and reds of autumn. In a pretty stone cottage through an arched wrought iron gate at the edge of Stanford-in-the-Vale, she offers me delicious French biscuits from the region of France where she grew up (I only just manage to resist gobbling the whole plateful) and shows me her tiny home studio and the gorgeous jewellery she creates within it.
In both silver and gold, Chloe's jewellery has a pretty delicacy and a dainty elegance. Each has a distinctive striking character and a touch of intrigue or mysticism. She is especially drawn to opals, moonstones and labradorite, stones that change shade and colour as they move or the light changes: a silky turquoise might transform into a smoky purple or hints of golds and pinks glisten in behind the smooth surface of an opal. "I also love amethyst, lapis lazuli, and tourmaline and rubies too," she smiles. "I'm drawn to rich reds, purples, pinks and blues in particular. They remind me of the bright colours of a wonderful sunny day even in the depths of winter."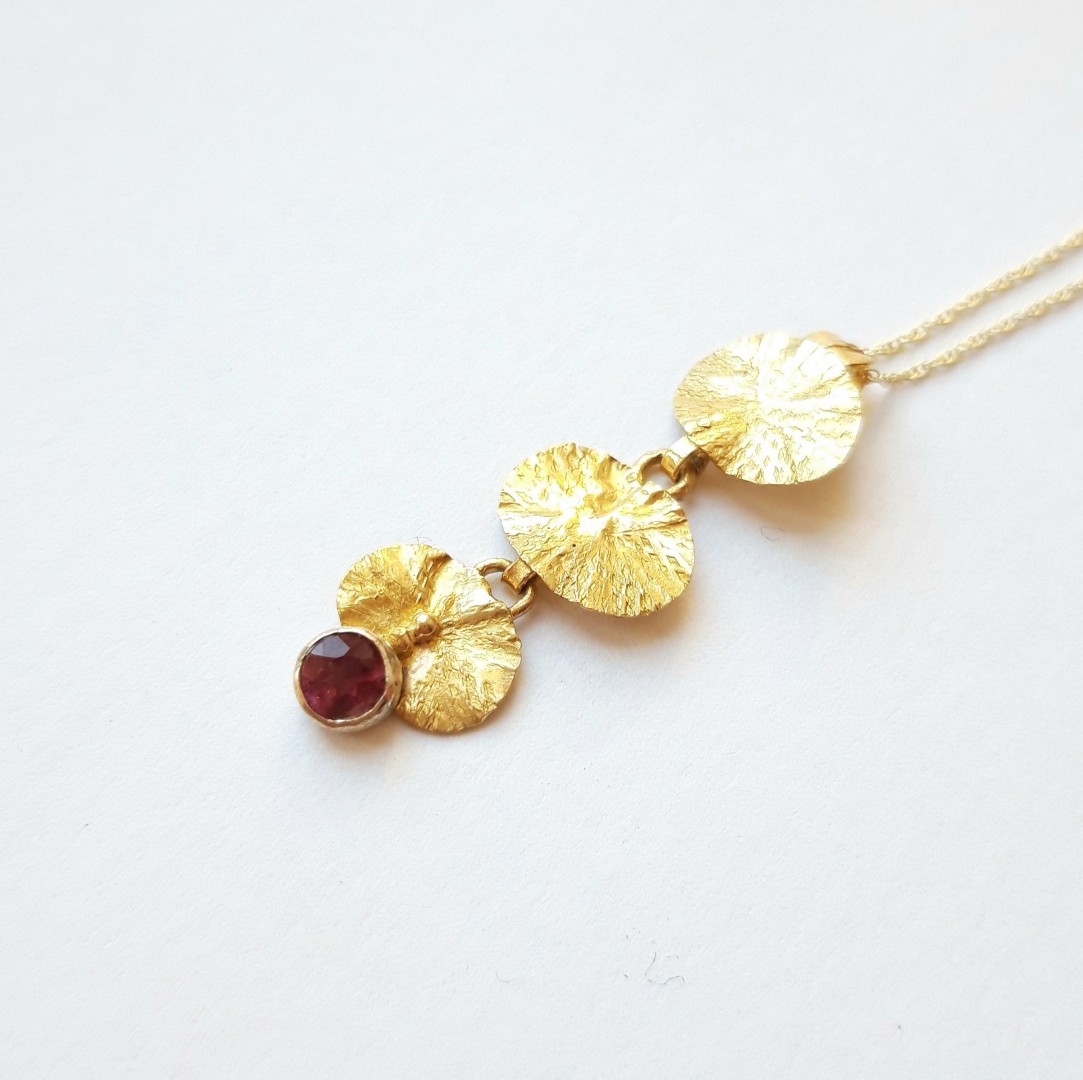 "Even as a small child I loved to make things," says Chloe "and I had a school friend whose parents were jewellers. They had a very traditional jewellery shop in the village full of beautiful pieces they'd made, mostly made from gold and garnet as there were garnet mines nearby. I was enthralled. I was always a dreamer – I still am – though I didn't imagine that I would eventually be able to become a jeweller.
However, my great grandfather was an archaeology enthusiast, and I was also captivated to hear stories about his discoveries from the past which included a Roman site in Syria. He had an office, called "the paradise" on the top floor of our family house in France, in Pyrénées-Orientales near the Spanish border, which was packed with artefacts from his excavations and travels. It was an absolute treasure trove which I loved. l was also very interested the Renaissance after several inspiring school trips to Italy and so as a teenager I dreamed of studying art history and archaeology in Paris, and so that's what I did.
Despite this, the urge to make jewellery never left me and so after I'd left Paris for England, to study further, and then in Athens where I worked as an archaeologist on Bronze Age pottery from Mycenae, I was also taking jewellery-making classes.
I am still amazed that, just as you can dig up something ancient from the earth, you can transform a little piece of metal into anything you want today and it will last for ever (nearly). For me, that's magical. I have now been working as a jeweller for about ten years, the last three of which I have been focusing on it full-time. I like to focus on using traditional silversmithing techniques. Each piece of jewellery is a process of construction from a flat sheet or wire of metal to a 3D form."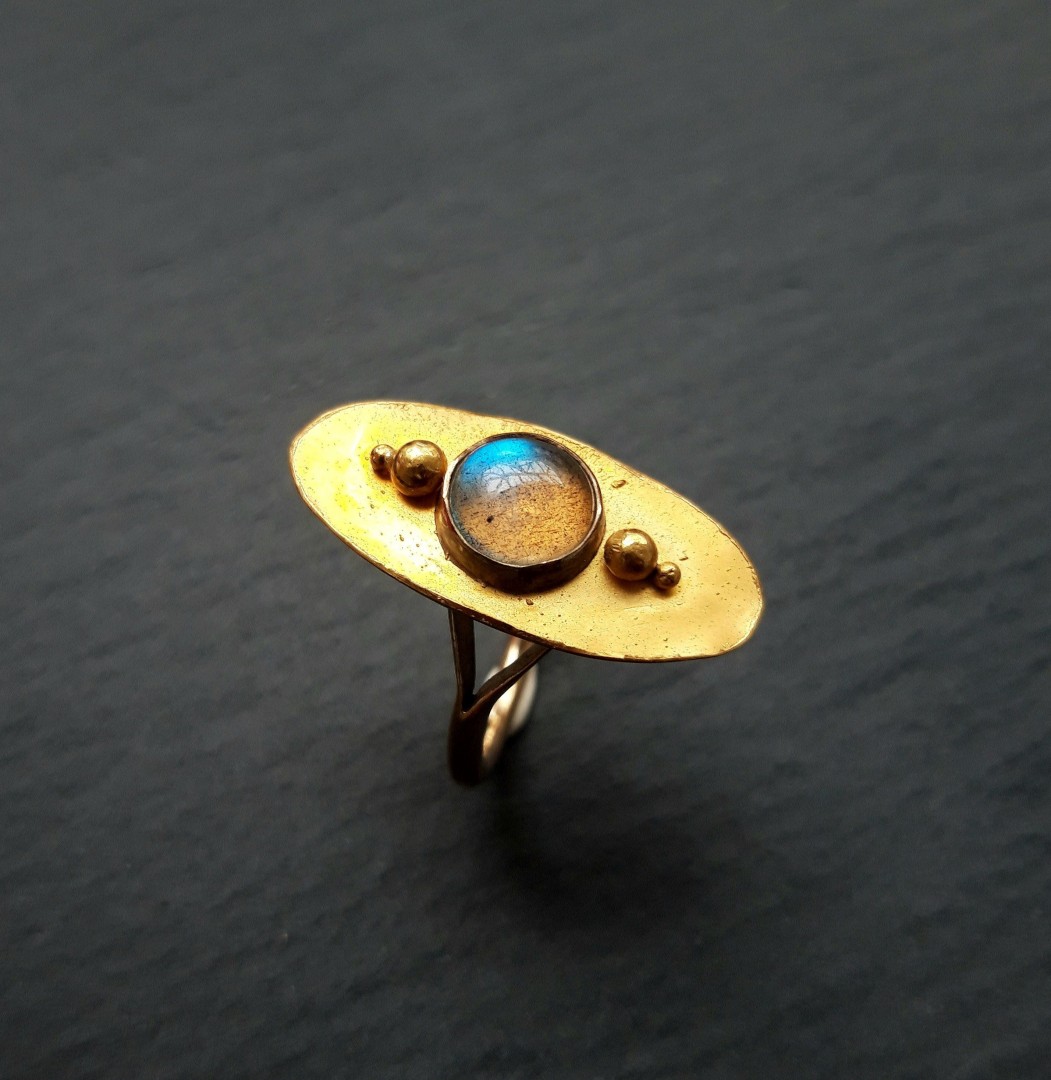 Given Chloe's love of the past and the treasures we have discovered from it, from Ancient Greece to India and Art Nouveau, it is no surprise that her interest has influenced her jewellery. Often working with flowing shapes, there's nonetheless a crisp precision to her stylish shapes and forms.
I find myself drawn to small pendants like tiny shields from Vikings or an ancient Wonder Woman belt clasp in miniature, part of Chloe's 'Unearthed' series. "They're actually very much inspired by Mycenae signet rings which had tiny engravings on them where I have instead included a gemstone and the light texturing represents the weathered surface of ancient pottery uncovered from the ground.
I like to give a hint of what each piece is or could be without them being representational. I work intuitively, and my ideas flow from emotions and feelings that I wish to express, little messages I wish to pass on. If I try to be too structured with my approach, then I get the jeweller's version of writer's block. However, I am planning to use some bigger gems and more unpolished stones over the next few months."
In another series of work, 'Flying Away', Chloe has created statement pieces in silver inspired by wings from the shapes of insect wings to small flocks of swallows. "For me, they're a metaphor for taking opportunities and going outside of your comfort zone," she explains. "They represent that courage you need to follow your dreams."
And, in a quiet cosy nook behind mullioned windows in the heart of the Vale of White Horse, looking out at climbing Jasmine, that's exactly what Chloe has done with passion and panache.
You can see Chloe's work during the Oxfordshire Artweeks Christmas Season:
Christmas Arts and Crafts exhibition at West Ox Arts Gallery, Bampton; runs until 23rd December
Faringdon Art Society Artistic Craft Fair, The Corn Exchange, Faringdon; 10-3pm, Saturday 3th December
Oxford Etsy Christmas Market, The Examination Schools, 75-81 High Street, Oxford; 10-4pm Sunday 4th December
or visitors are welcome to visit her at her home by appointment.
For further information or to get in touch with Chloe visit cloeleajewellery.com
For more information on dozens of venues to visit and to explore more art and design by Oxfordshire Artweeks artists, designers and makers, in an on-line show and a virtual Christmas art trail, visit artweeks.org