In the relatively brief time that Christine has been creating her botanical watercolour masterpieces on paper and vellum, she has exhibited her work in London, New York and Sydney. However, it was only in 2006 that this former journalist and copywriter considered a career change to that of a botanical artist when she received a birthday present of a two-day course to study botanical illustration.
  "My interest in botanical art began in my teens when I first discovered Albrecht Dürer's amazing watercolour painting Tall Grass, Great Piece of Turf. However, when I was personally introduced to botanical illustration, I knew after only two short days that it was what I wanted to pursue as a career. I enrolled in a botanical illustration course at the English Gardening School at the Chelsea Physic Garden and two years later, graduated with my diploma."
  Christine's formal career as a Botanical Illustrator started a year after her graduation in 2009, when she was invited to become a member of the Chelsea Physic Garden Florilegium Society. Her first painting was of an Opium Poppy (Papaver somniferum), followed by a small Nasturtium (Tropaeoleum majus 'Empress of India'), then a Waterlily (Nymphaea alba). Currently she is completing her fourth painting of a South African Pelargonium species which has unusual greeny-yellow flowers (Pelargonium gibbosum). All paintings submitted by internationally renowned artists to the Florilegium Society must be a true and accurate record of the species and varieties growing in London's Chelsea Physic Garden.
Opium Poppy
Eight of Christine's paintings illustrating 'New Trees' from the book of the same name by John Grimshaw and Ross Bayton, gained her an RHS Gold Medal in 2010. A year later, as a member of the American Society of Botanical Artists, she displayed her painting of red-flowered Eucalyptus Trees in New York, where it received an Honourable Mention. 
  Christine explains how she was selected: "Members are invited annually to submit work for approval by the Committee; approximately forty artists are then selected, and they are asked to submit whichever painting has been chosen by the Committee. As a non-US resident, it can be a bit of a nightmare because you must ship your original work to New York with all the necessary paperwork, which is complicated. Two years after the New York exhibition, my work was on show at the Hunt Institute for Botanical Documentation in Pittsburgh."
  For the past few years, Christine's work has brought her closer to home as she works for the world's longest running, continuously published botanical periodical; Curtis's Botanical Magazine, which is published on behalf of Kew Gardens with the first magazine printed in 1783. As the magazine continues to use watercolour illustrations to depict the plants described in its pages, the magazine requires considerable talent and accuracy from all its contributors.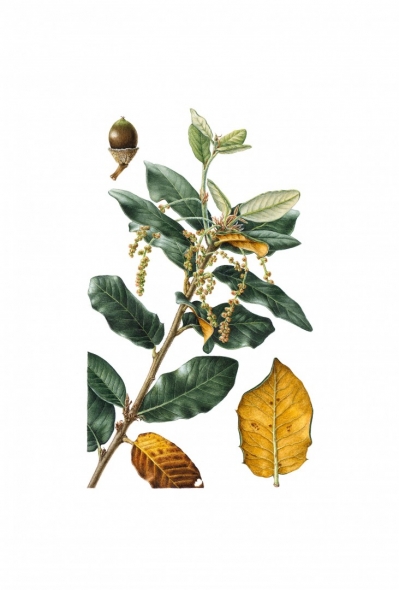 This was my first plate for Curtis's Botanical Magazine. It depicts a rare Chinese oak species called Quercus guayavifolia, commonly known as one of the 13 species of Golden Oak, so called because of the beautiful golden 'fuzz' on the underside of the leaves. We are constrained to depict the specimen within a small frame of 210mm x 125mm but the image must be life-size. It can be a challenge…
  Producing such accurate botanical illustrations can be both time consuming and challenging. I asked Christine what is her favourite plant or tree to paint?
  "It's so hard to say what my favourite plant is… but having said that, I do like painting trees; I find so much interest in their leaves and often their flowers are minuscule and very easily overlooked, so I'm looking in minute detail at a part of the tree most people pass by without a second glance. I would say that in general, my favourite plant is the one I am currently working on. There is so much to learn about even the most common weed and it's my job to depict it as botanically accurately as possible, so I'm studying that plant in huge detail, and loving all the different elements. I think I would find it impossible to depict a plant I didn't like - I haven't been faced with it yet! I did really enjoy painting a Rhododendron bud last year – although a simple composition, the contrast between the tissue-like petals all scrunched up in their buds and the big leathery leaves was fun to paint."
  How long each painting takes depends on the subject. "The Rhodo bud took about five days but a complicated little Violet (Viola hederacea) from Australia took nearly three months because of the hundreds and hundreds of little leaves, each one of which had to be given form and substance. I tend to work between three and four hours a day - longer and my back starts to complain. And life always seems to get in the way, so I don't get into the studio as often as I'd like.
I always start from a living specimen but take copious notes, sketches, colour notes and photographs and I use them all as the work progresses. Once I've captured the salient features and made accurate colour notes, it is perfectly possible to then work from photos. The most important thing is to notice and record all of a plant's defining features. For instance, I would make a note of which direction the tendrils of a climber twirled - left-handed or right-handed. The work of a botanical illustrator is exacting as a botanist must be able to use the illustration to identify a plant in the field, so getting even minute details wrong is a big no-no."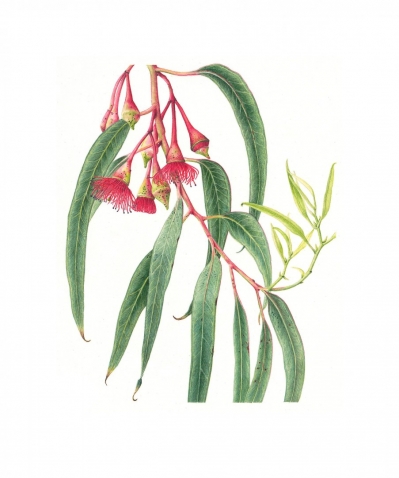 Red Flower Eucolyptus
  To give her inspiration and increase her botanical knowledge, Christine enjoys exploring gardens in the UK, including her own Wiltshire garden, and taking part in botanical tours to foreign countries with other horticultural enthusiasts. She also has a secret plan to put a portfolio of work together on non-botanical subjects using her precious pieces of vellum. "I have already obtained a piece of vellum from Cowley's (one of the very few companies still producing vellum in the UK); I take it out of its wrappings from time to time, dreaming of the day when I will have time to use it. However, with more pressing work still to do for Curtis and other commissions, it may have to stay wrapped up for a while yet. I do feel incredibly privileged to be able to paint the flowers and plants I love and am only sorry that I didn't find out till I was fifty about my ability to paint."
  To find out more visit  ChristineBattle.co.uk