Located in the picturesque village of Shipton-under-Wychwood just four miles from Burford, you will find the atmospheric Wychwood Inn. Not only does this boutique hotel with its five luxuriously appointed en-suite bedrooms provide a perfect location for exploring the Cotswolds but book a table for lunch or dinner and you will enjoy a selection of undeniably British classic dishes, crafted with a contemporary twist.
Since head chef Joe McCarthy joined the Wychwood Inn seven years ago, he and his small team have put the Inn on the culinary map. Having undertaken his apprenticeship at the prestigious Lords of the Manor Hotel in Upper Slaughter, Joe subsequently gained additional experience at a number of high-profile restaurants in the Cotswolds. Now, he and his team of talented chefs, develop a menu which regularly changes with the seasons, ensuring only the best seasonal produce features.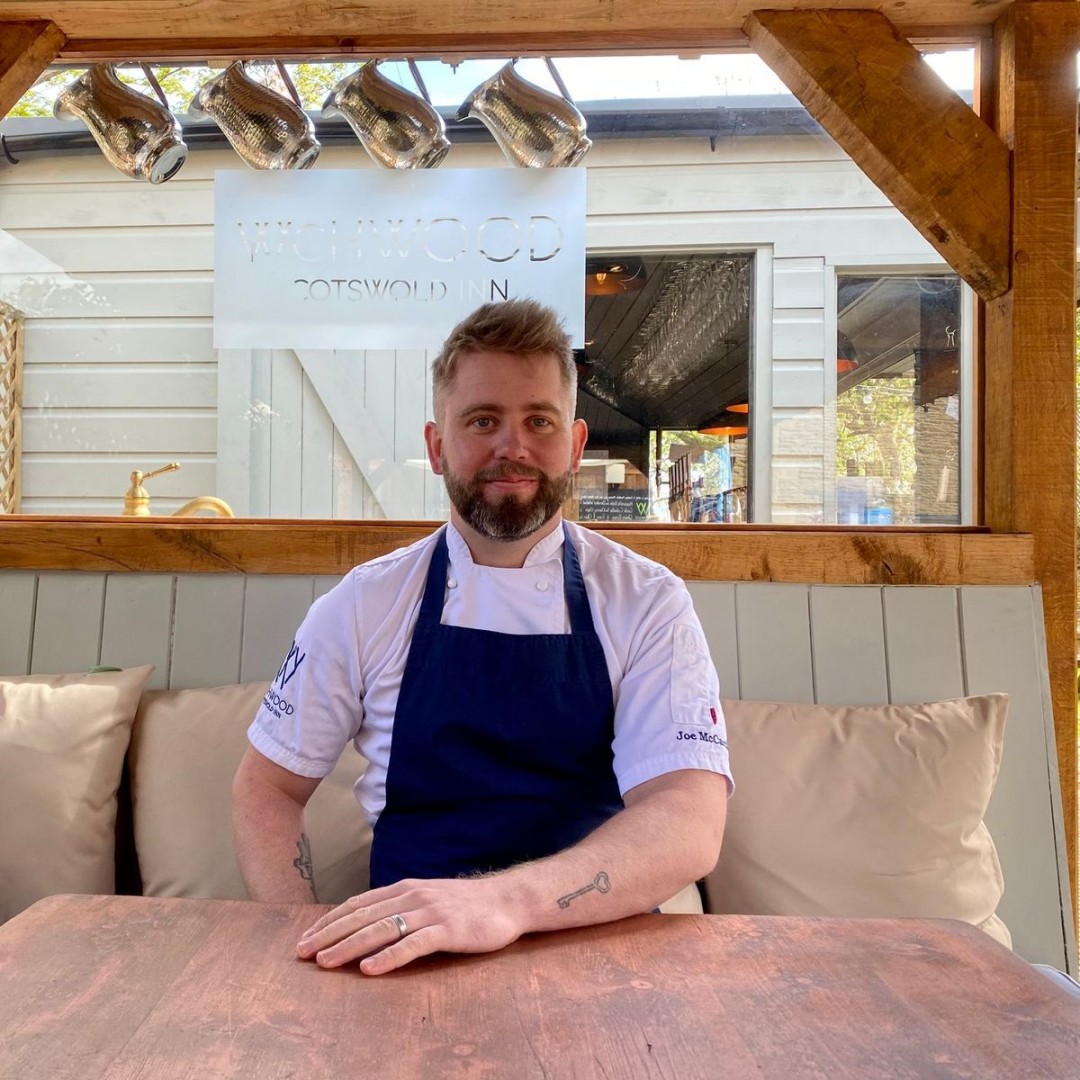 Amongst the classic favourites for the Spring menu are starters of ham hock terrine served with fresh pea veloute and crispy cacklebean egg, pickled pearl onions and chilli oil. Main courses include a traditional beer battered fish and chips – with the crispiest, most flavoursome batter – and another spring favourite; pan-seared hake with pearl barley, leek, crème fraiche and dill. For pie lovers, variations feature throughout the year, but traditional Steak and Ale pie reigns supreme, served with fondant potatoes, celeriac puree, burnt shallots and crispy kale. Vegetarians and vegans are catered for, with interesting dishes that could appeal to any diner.
As you would expect from a quintessential British pub restaurant, the dessert menu has some classic traditional favourites to choose from. There is a rich sultana spotted dick, with sultana jam, chocolate brownie served with salted caramel vanilla ice-cream and a truly decadent dark chocolate delice with blood orange and hazelnut.
Not only does the Wychwood Inn have a traditional dog friendly bar area in which to eat, there is also a more elegant dining room and private dining room for small private parties. The garden area and patio has extensive dining facilities including an outdoor bar; the perfect place to spend a lazy summer afternoon. If you fancy staying over, the luxuriously appointed rooms each has its own distinctive personality.
Joe's Fabulous Sticky Toffee Pudding
Take a British Classic and 'chef it up' with some mouthwatering sides
Makes 7 portions
Sticky toffee pudding 
  300ml water
200g dates
2tsp bi carb
125g butter cubed (room temperature)
125g soft dark brown sugar
125g plain flour
3 eggs
METHOD:
Preheat over to 170oC. Pour 600ml of boiling water over the dates, cover and leave for 15minutes to allow them to softe and then blitz together.
In a separate bowl, whisk the butter and sugar together until smooth before adding flour.
Gently fold in the eggs, then add the bi-carb and combine with the date mixture until lump free.
Line a 30 cm terrine mould and fill with your batter. Place terrine in a deep tray and add an inch of boiling water before covering with foil and placing in the over to cook for 45 minutes.
Remove the foil and cook for a further 15 minutes before transferring to a cooling rack.
Whiskey caramel
100g butter
100g soft dark brown sugar
397g tin condensed milk
75ml double cream
4tbsp whiskey
1tsp sea salt
METHOD:
Add all ingredients to heavy based saucepan, simmer for 30 minutes until thickened.
Remove from the heat, strain and leave to cool.
Pickled dates
  200g dates
100g whiskey
200g caster sugar
300ml balsamic vinegar
METHOD:
Add the whisky, sugar and balsamic to a pan and bring to the boil then pour over the dates and cover with cling film.
Leave this to soften and infuse for 24 hours.
Walnut tuile (advanced, you will need a sugar thermometer)
  70g walnut
100g isomalt sugar*
100g liquid glucose
METHOD:
First, preheat the oven 170oC. Blend the walnuts to a fine powder and set aside.
Add the glucose to a heavy based saucepan and bring to 130oC.
Add the isomalt to the pan. This will cause the temperature to drop so wait until it is back to 130oC before adding the blended walnuts to the pan.
Take off the heat immediately and tip out onto a non-stick mat. Leave to cool until completely cold, and blend to a powder again.
On a non-stick tray spoon the powder into ring cutters to set the desired shape, remove the cutter and cook in the oven for five minutes until golden brown. Leave to cool
*Isomalt sugar
While they may seem similar, isomalt and standard sugar are quite different. Isomalt has a much higher resistance to crystallization and humidity. Unlike sugar, it does not caramelize as easily and can keep its clear colour.. Isomalt is available from specialist cake shops or from Amazon.
To book a table, visit  thewychwoodinn.com