Cornwall has long been a popular holiday destination and with more people choosing to holiday in the UK it is likely to become even more attractive. There is so much to see and do for all the family whether by the sea or further inland.
There are also over 40 glorious gardens to visit; from wild woodlands to neatly manicured lawns, from large and famous to small and quirky. The warmth of the Gulf Stream enables rare and exciting trees and plants to thrive in Cornish gardens so you will be able to see plants growing that certainly would not survive in an Oxfordshire garden.
I have picked just three National Trust Cornish gardens to reveal their highlights and help you plan which ones to visit.
Trelissick House and Gardens
First on my list is Trelissick, with commanding views of Carrick Roads estuary and beyond to Falmouth Bay, and a road bisecting the garden dropping down to the King Harry Ferry. The spectacular gardens acquired their present richness after 1937 when the estate was inherited by Ida Copeland, wife of Ronald Copeland; Chair and Managing Director of his family's porcelain factory Spode. Many of the flowers grown in this garden were used as models for decorative paintings on the ware produced at the factory, some of which can be seen in the house. Although there is much to be seen throughout the year as the garden is noted for its rare shrubs and plant collections, summer visitors to Trelissick will be able to enjoy luxurious planting in borders full of perennials in deep, rich reds, oranges and yellows.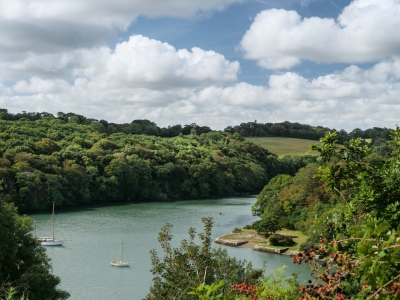 Roundwood Quay seen from Trelissick, Cornwall
 Amongst the highlights are a collection of Dahlias, including 'Trelissick Purple' with its striking rich purple double flowerheads. Tall frothy lemon flowering Cephalaria gigantea (giant scabious) growing up to 2.5m tall sway in the breeze at the back of the borders. Continuing the theme of fire rich colours, Hemerocallis 'Morocco Red' bloom in a profusion of dusky red and yellow trumpet-shaped flowers and are complimented by Canna 'Panache' with its glaucous foliage and apricot and rose pink blooms. The tall spires of stunning orange flowers of Hedychium densiflorum 'Assam Orange, a flowering ginger, adds a further touch of the tropics to these borders with banana plants further complimenting the tropical scheme. There is also a walk of blue and white hydrangeas which thrive in the acidic Cornish soil and milder climate. Much of this garden's appeal comes from the vistas, across from one side of the plant-filled valley to the other, with undulating tidy lawns, meandering paths and views of the River Fal and the estuary.
To find out more visit nationaltrust.org.uk/trelissick.
Glendurgan
Next, Glendurgan, located above the hamlet of Durgan with views down to the Helford River. Translated from the Cornish of Glynn Dowrgeun meaning deep valley of otters, this 30 acre woodland valley is wedged between folds of hillside, with grassy stream-fed banks, rolling down to the Helford estuary. Once owned by a Quaker businessman from Falmouth, Albert Fox bought the property in 1823 and set about planting a shelter belt of native deciduous trees, Scots and Maritime pines and other robust specimens to offer protection from the fierce gales. There are many exotic, rare trees and shrubs within the garden. For people visiting in early summer, there is a glorious meadow full of wildflowers; by July they will have formed their seed heads awaiting strimming ready for next year's show. However, Glendurgan offers visitors something entirely different by way of a 'living puzzle' known as the Glendurgan Maze.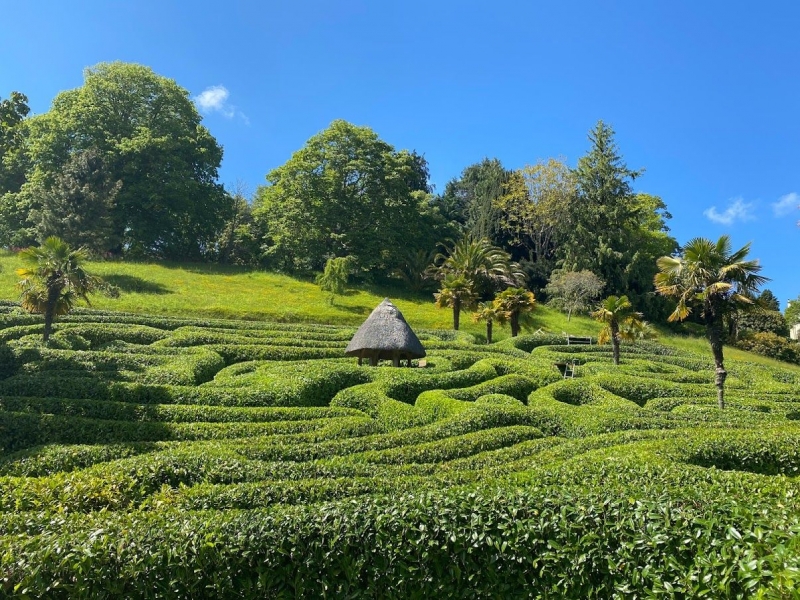 Maze at Glendurgan Tom Cutter
The Maze was originally planted in 1833 and has recently undergone a major restoration to bring it back to good health and improve the steps and paths. With 173 areas needing replacement with durable stone alternatives, the four-year restoration project is now complete, future-proofing it for generations of visitors to come. For visitors with a sense of adventure, the National Trust has also replaced the Giants Stride with a new five metre Douglas Fir pole. Initially erected in 1913 on the site of the old croquet lawn, a new pole and soft surface has been put in ready for families to enjoy again in 2022. The idea is for people to grab hold of the handles of this rotating rope swing, whilst running faster and faster around the central pole. The more people participating, the more fun it provides for both participants and spectators. 
 With fruit orchards in serious decline, the Glendurgan Estate is working hard to keep theirs in good condition. They have launched an Apple Shed in the orchard which provides the ideal place for visitors to learn about the history of fruit production and also bee-keeping. Children are invited to try on bee-keeping outfits and go on bug hunts. When the weather is glorious, as it so often is in Cornwall, the hamlet of Durgan where Glendurgan Garden meets the Helford River provides the perfect place for a swim or paddle in the summer sun. The site at Glendurgan is fairly steep but for those visitors unable to manage such terrain, there is access to a 4WD mobility tramper which can be pre-booked. Glendurgan is certainly a garden providing fun for all the family.
To find out more please visit nationaltrust.org.uk/glendurgan-garden.
St Michael's Mount
My final recommendation is not so much a garden but an entire island. St Michael's Mount can be reached by way of a tidal causeway from the town of Marazion off the A394, two miles east of Penzance. Covering just 17 acres, the castle and chapel at St Michael's Mount was the home of the St Aubyn family from about 1650. It is the Cornish counterpart of the Mont-Saint-Michel in Normandy and is just one of 43 unbridged tidal islands in the UK.
The plants which grow on St Michael's Mount have to withstand Atlantic gales; bold ridges of pines, sycamore and Holm oak have been planted for protection. Shrubberies of salt-tolerant escallonia, olearia, hebe, tamarisk, griselinia, Rosa rugosa, fuchsia and sea buckthorn cling perilously to the rocky granite walls. You will also see a myriad of brooms, cordylines and tree lupins growing on the sunnier area whilst hydrangeas, camellias and tougher rhododendrons grow on the colder, northern slopes.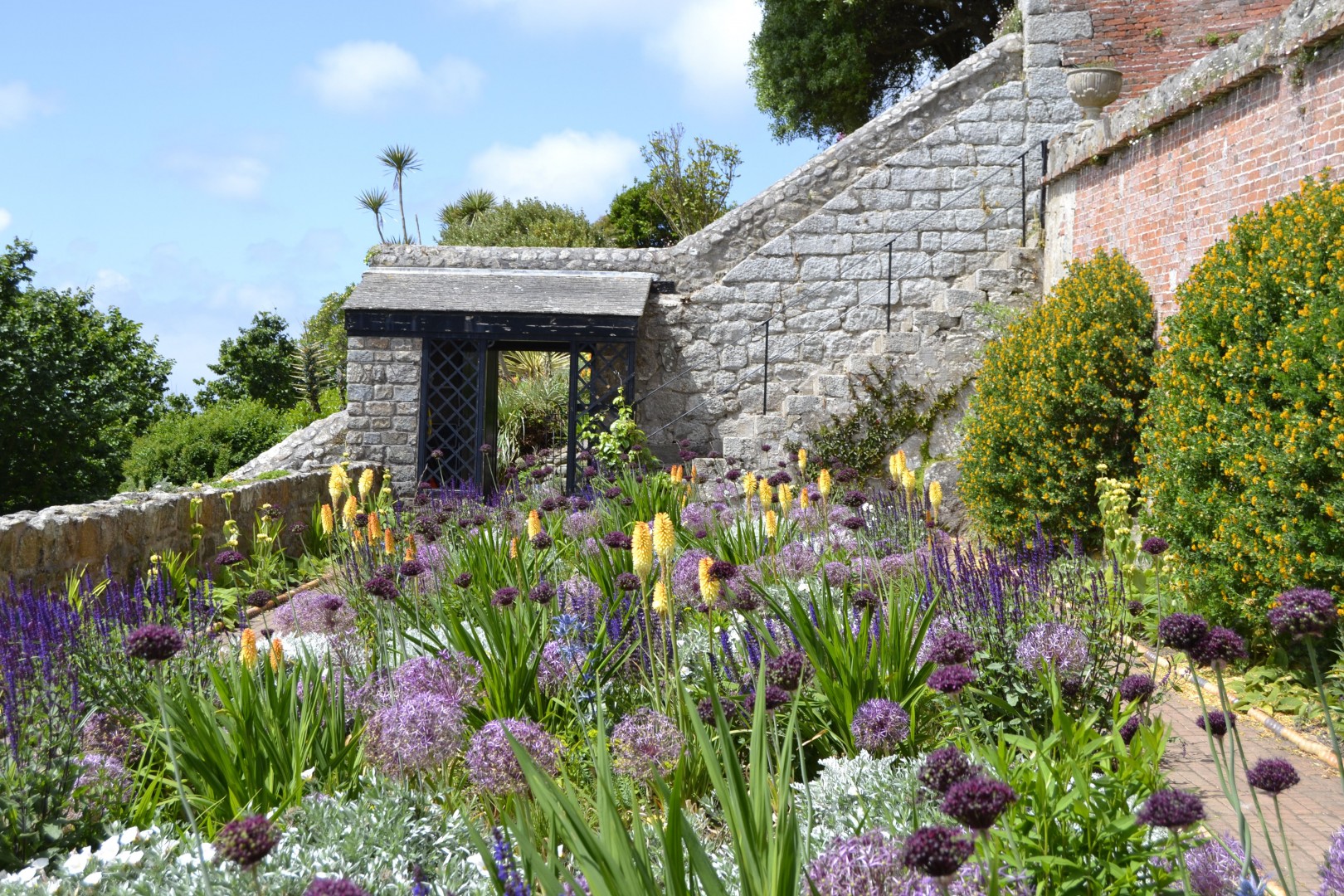 Summer planting on the west terrace at St. Michael's Mount, Cornwall
Visitors prepared to climb to the summit terraces will witness some adventurous gardening. With the absence of cold winter frosts, excellent drainage and sun, this island garden affords a home to a collection of plants normally associated with South Africa including swathes of blue African Agapanthus, Strelitzia and Protea. Certainly, a garden worth visiting, adding to the feeling of being away from home.
For further information please visit stmichaelsmount.co.uk.