For the past thirty years, Carole Bamford – owner of Daylesford Organic – has developed a truly sustainable, eco-friendly business which offering her customers a range of the freshest organic food and drink products, most of which are produced on her family farms in Gloucestershire and Staffordshire. Inspired by the emerging organic farming movement when she visited an agricultural show, Carol became enthused by growing 'real' food, not only for her family but also for others to enjoy. She opened the first Daylesford café and farm shop at Kingham, on the Gloucestershire, Oxfordshire border back in 2002. Nearly two decades later, Daylesford has four stand-alone farm shops with cafés in Gloucestershire, Pimlico, Notting Hill, and Marylebone with a virtual shop at daylesford.com. The Kingham Daylesford also has a cookery school and luxury spa.
  Set in 2,500 acres of beautiful Cotswold countryside, Daylesford offers customers the freshest of produce. The farm shop sells a superb selection of sustainably produced food including milk from the Daylesford farm dairy which supplies vitamin-rich non-homogenised organic milk and a range of award-winning cheeses; there's a meat counter with produce from the Daylesford farm, an artisan bakery and a fabulous selection of award-winning organic wines and olive oils, from the Bamford's vineyard at Château Léoube, on the coast of Provence.
  Over 300 varieties of seasonal fruit, vegetables, salad leaves and herbs – grown by Head Gardener Jez in the 20-acre organic market garden – travel just a few yards from where they are grown to the farm shop.
  "One of the best things about the market garden," Jez explains, "is that we are at the heart of our Cotswold's farm. People can see what we do and more importantly, understand what seasonal produce is. We grow many unusual heritage varieties which you may not be able to find elsewhere. Anything we cannot grow ourselves is sourced from carefully selected organic suppliers in the UK and Europe. All the organic produce we grow goes into our farm shops, cafés, and kitchens. Menus in our cafés and cookery school are designed around the best organic produce in season at the time. Produce is harvested when it is fully ripe, so it is packed with flavour and optimum nutrition."
  New for 2021 is the Daylesford Organic Garden, designed to provide a unique experiential shopping space for visitors. Located next to the Kingham farm shop, the new space has been created using timber felled from silver birch trees. As you would expect from the shopping experience at Daylesford, the new Organic Garden has a wide variety of products for the home and garden, all beautifully displayed in a well-designed retail environment.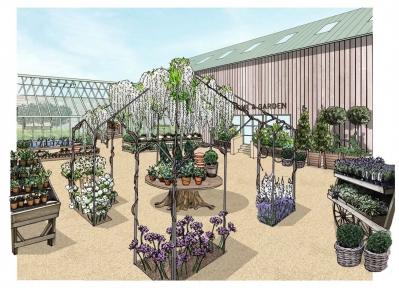 If you are looking for inspiration you will be spoilt for choice. Carole Bamford has been instrumental in working with her team to create a stylish garden furniture range and pots and planters. The elegant timeless design of the range combines style with comfort and offers both light, durable aluminium or solid oak. From loungers to dining tables, you will find everything you need to create the finishing touches for your outdoor space.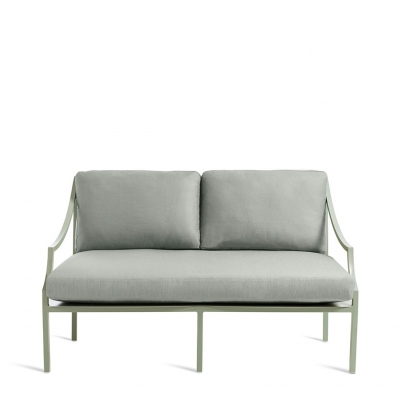 Gardeners have not been forgotten either as there are garden tools, three types of sustainable organic peat-free soil, and a carefully curated range of British-grown seasonal plants selected by Carole. There is a wide variety of vegetable plants and seeds available too, all providing an insight into the workings of Daylesford's organic Market Garden. Shoppers will be able to quiz resident experts on how to grow their own vegetable and fruit and how to use compost systems, whatever the size of your garden. Gardeners will be able to taste some of the fruits, vegetables, and other edible crops to gain more understanding of how to create their own kitchen gardens. You will also be able to find out more about how to encourage wildlife and insects into your garden with bee houses to support pollination and birdhouses, that support local wildlife.