When Mark Woodgate from Chipping Norton started learning how to create the perfect sourdough loaf over ten years ago, little did he realise his hobby was going to lead him on an entirely different career path. With an established job working in IT banking and security, Mark found the scientific elements associated with making sourdough were the perfect way to unwind as he perfected his craft using the finest local flour, all baked in the Aga of his home, shared with his wife Sharn.
  Mark's initial inspiration had come from listening to BBC Radio 4's 'The Food Programme' and what was happening in kitchens, both domestic and professional, throughout the country, as interest in the slow food movement began to take hold. As Mark's weekly supply of homemade sourdough grew in quantity and quality, he began to share the freshly baked bread with friends and neighbours who in turn shared the delicious loaves with their respective circle of friends and neighbours. Earning the reputation as the man who created "Yummy Bread" and having won a bronze medal at the World Bread Awards in 2017 – entering as an amateur for his white sourdough bread – Mark took the brave decision to follow his dream and bake sourdough professionally.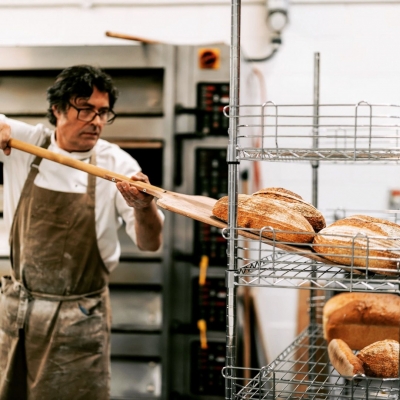 For his first year in business, Mark worked closely with Bertie Matthews, managing director of local artisan millers FWP Matthews Cotswold Mill at Shipton under Wychwood, using the Mill's test kitchen to create his recipes. As he developed a range of sourdough loaves using various types of flours produced at the Mill, he entered three varieties of his sourdough loaves, as a professional, in the 2018 World Bread Award. Judged by 90 high profile judges, his white sourdough with Chia seeds won silver, and his Spelt and Cotswold Crunch sourdough loaves both won bronze awards.
  Continuing to use a range of flours from FWP Matthews, in May 2019, Mark and Sharn set up Mark's Cotswold Bakery, moving into a 1,200 square foot bakery in Chipping Norton. Demand from local hotels, restaurants, pubs, and cafes continued to grow month on month and more staff were appointed to assist with both bread production and delivery. However, as the prime minister announced the first COVID-19 lockdown in March 2020, with the closure of the hospitality industry nationally, Mark and Sharn were in danger of losing their business almost overnight.
  With plenty of bespoke ordered bread baked but no customers in the hospitality business to take it, Sharn undertook a whistle-stop tour of all the local shops and delis in the hope she could attract customers eager to buy quality bread whilst they were forced to stay home. Initially, Mark had to develop a range of yeasted bread, including a white sliced loaf, to encourage local shops to take stock. Within a few weeks, they had successfully been supported by 17 food shops and delis around the area. It was not long, however, before Mark returned to baking his range of sourdough products which were proving equally popular. These include: a malted Cotswold crunch wholegrain; the award-winning Churchill white which has a moist and open crumb; the Mill loaf combining wholemeal and rye; spelt sourdough, a favourite for those who have gluten intolerance; fruit loaf sourdough using dark rye flour, filled with raisins, lemon and orange peel soaked overnight in rum; and semi-brioche using barley malt extract.
  As restrictions ease during 2021, Mark's Cotswold Bakery is looking forward to moving into a new 3,000 square foot bakery site in the summer. Mark and Sharn had hoped to have moved into the new premises in early 2021 but were having to deal with constant problems brought about by the pandemic, including shortages of raw materials, delays in manufacturing of products required within the bakery, and a multitude of other delays.
  However, once the new premises are up and running, Mark and his team of bakers are looking to produce in excess of 3,000 loaves each week, which will be delivered to hospitality businesses and shops around the Cotswolds. All bread is baked to order and the company operates a no waste policy. All products are nut free.
For further information about where to buy Mark's award-winning sourdough,
please visit markscotswoldbakery.co.uk