"Keep asking questions! Keep reaching for the stars!" These are inspiring words from Dr Maggie Aderin-Pocock (MBE) – space scientist and presenter of the long-standing BBC's The Sky at Night. Her passion as she encourages young people to pursue their "big, crazy dreams" and to answer big questions is infectious.
Along with a theatre full of young people and their families, Science Oxford was fortunate to meet Dr Maggie and listen to her talk at the beautiful Sheldonian Theatre during the Oxford Literary Festival. Andrew Kensley, Science Oxford's Head of Education Outreach and Training, introduced her to a full house of space enthusiasts. Some came dressed the part in shiny space suits. Many were clutching their copy of her latest book, Am I made of Stardust?, for her to sign.
During her talk, Dr Maggie shared inspiring stories of her own STEM journey. She spoke about her challenges at school, her big dreams that had driven her to pursue space science, and the dreams she still has, such as travelling to outer space.
Answering big questions
Dr Maggie talked about some big questions scientists are exploring answers to and shared amazing facts about the Universe. Did the Universe start with a Big Bang? Yes, we think so, and she explained what a 'Big Bang' means. Is there other life out there? It is possible, there may be, and we are looking in different places in different ways. And, like the title of her new book, am I made of stardust? Yes, we are all made up of elements that would have been part of stars, and which could have passed through numerous stars before ending up in us…isn't that amazing and beautiful?!
These big questions inspired more big questions from the audience. So, when the microphones were handed around after the talk to hear what was on inquisitive young people's minds, we heard questions like, "If there was other life in the Universe, what kind of life might it be?"; "how is stardust made?"; "what colour was the Universe before the Big Bang?"; "what is inside a black hole?"; "can one black hole swallow another black hole?"
Dr Maggie answered each enthusiastically and encouraged the young people to join the quest to find deeper answers to these questions and others, and to pursue their curiosity through science.
"Absolutely brilliant talk, inspiring. Grandson loved it, awestruck! Questions from the audience also pretty outstanding!" said Steve on Twitter.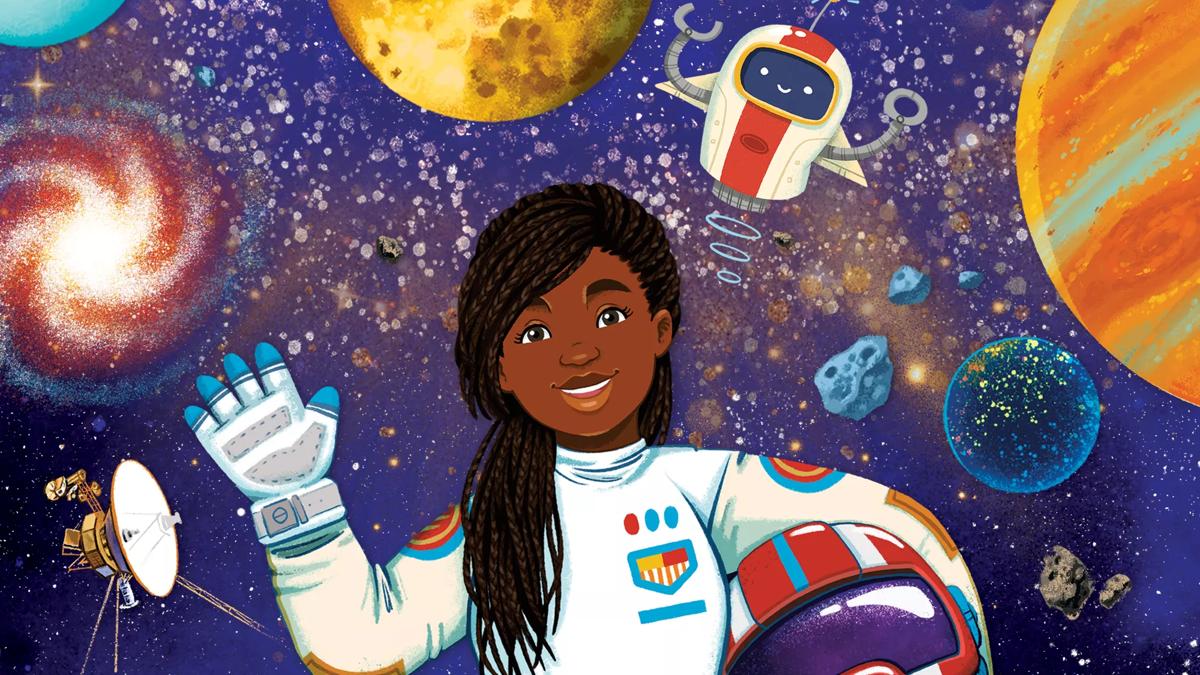 A role model
Dr Maggie Aderin-Pocock has inspired and been a role model to many girls in particular, and last month ahead of International Women's Day, was named as a Barbie Role Model for her work promoting science careers to girls. Now, a new doll looking just like her will help inspire other children to leap into Space. With NASA recently announcing the first woman and the first African American astronauts assigned to a lunar mission, the Artemis-II, on the first crewed voyage around the moon in more than 50 years, the big dream of a trip to Space may be within closer reach of more young people.
More inspiration from the Oxford Literary Festival
Science Oxford was delighted to have teamed up with Oxford Literary Festival for another year. Once again, they had the fantastic opportunity to invite along children and their families from St Andrew's Primary School in Headington with free tickets. One of the recipients said, "We loved it! And thank you for the tickets Science Oxford via our child's primary school. We wouldn't have been able to go without them."
Families were also invited along to author Tim Harford's The Truth Detective talk, hosted at the Sheldonian Theatre too, and author and illustrator Mini Grey's The Greatest Show on Earth at Exeter College.
Science Oxford's Andrew Kensley introduced Tim ahead of his talk. Tim is an economist (so, a 'numbers guy'), a renowned broadcaster, journalist and the presenter of the BBC Radio 4's More or Less. He is helping young people "make sense of a world that doesn't add up", where misinformation is rife and where good information can be hard to find, and empowers them to seek out the truth. Read more about his book here.
Andrew says, "I was delighted to meet and introduce Dr Maggie Aderin-Pocock and Tim Harford as part of the children's programme at the Oxford Literary Festival. At Science Oxford we're passionate about getting young people excited about science, technology, engineering and maths, and the young people and families who came along to hear these two speakers were certainly excited by their inspiring and entertaining talks!"
Reading inspires the imagination. With such curiosity and knowledge about science, our world and our Universe in young hands, big dreams and big thinking are sure to follow!
The Oxford Literary Festival returns from 16 – 24 March next year.
Science Oxford Centre
The amazing Science Oxford Centre in Headington is the UKs first indoor-outdoor primary education Centre, with an interactive Exploration Zone with over 20 hands-on exhibits, set within 15 acres of woodland. They run public Family Days every Saturday, and monthly STEM Clubs for ages 5-12. Technology Projects Officer, Sarah Townson, has recently received a prestigious High Sheriff of Oxfordshire's Award 2023 for her outstanding work at Arti-Techs afterschool club for young people. The future's looking bright!
Find out what's on https://scienceoxford.com
Image Credit: FT Weekend Oxford Literary Festival and KT Bruce