Eleanor Fausing is an interior fabrics designer whose work is inspired by nature. She lives in glorious Oxfordshire countryside and has recently launched her second collection, Folium. We were eager to learn more about Eleanor and her captivating designs.
I understand that you worked as a ski instructor (sounds amazing!) - when did design become your career?
The switch from Alpine Ski Instructor and Personal Trainer to full-time designer has been relatively recent; however, the seeds of a career in design were planted many years earlier. Before working abroad, I completed my Art Foundation at Oxford Brookes and was about to embark on a textile design degree. I'd also studied product design (furniture making) and textiles at school for about seven years. Like so many people, however, Covid and Brexit had a huge impact on my skiing career. I came home to the UK from living in Switzerland in March 2020 and didn't return as, at the time, Brexit made it almost impossible for me to continue with my ski instructing in Europe. The career transition has been a huge learning curve, but it's been a joy to rediscover my design roots and learn more about where this journey can take me.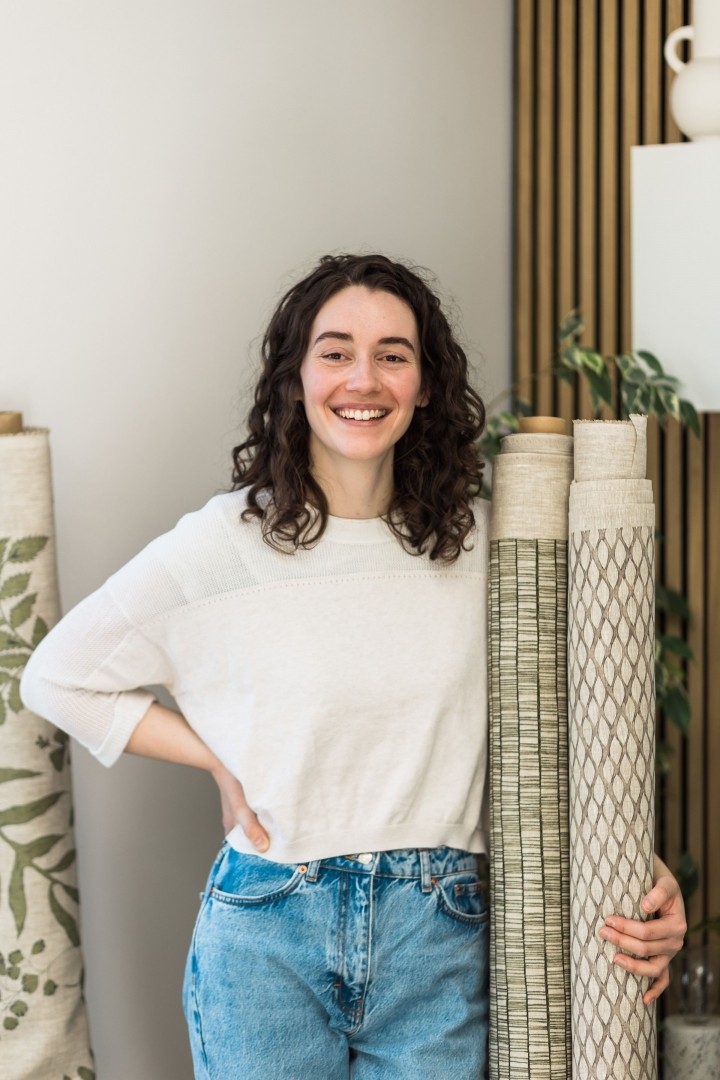 What was the path that led you there?
Textiles has been a huge passion of mine - long before I qualified as a ski Instructor, but these two interests have always sat side by side. In GCSE textiles, I remember studying some of Peter Doig's incredible mountain/snow scenes for a project and creating a piece that was inspired and influenced by the shapes, colours, and patterns found within a mountain setting. I am fascinated by ski tracks in the snow, textures in rocks, and the organic shapes found within an Alpine scene.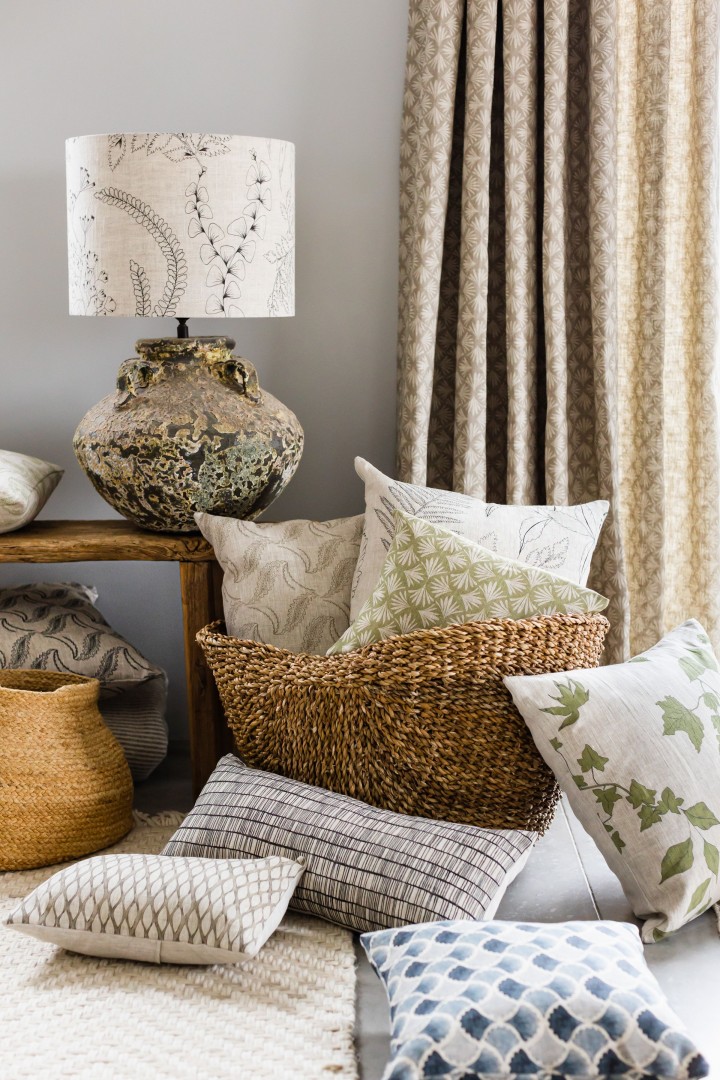 You talk about the mental health benefits of embracing nature in our day to day lives - can you explain this for our readers?
As someone who has only recently been diagnosed with Autism and ADHD, I've experienced some ups and downs. Life out in the mountains really helped with my mental well-being, and I now understand the positive impact that connecting with nature can have. I want to incorporate what I've learned personally into my design. I came across the term "biophilic design" when first starting out as a designer, and I resonated with this concept. It's all about how including natural materials, patterns, shapes, textures, and colours in our homes can help ground us, provide a connection to nature, and in turn, benefit our mental well-being and productivity, and inspire creativity. Given that we all live in a very fast-paced world, connected through our screens, I believe nature is more important than ever. If you're like me and don't have access to a garden area, it's lovely to be able to bring nature inside through fabric choices, materials, and colours in your home.
How easy has it been to ensure your work is sustainable?
It has been difficult; however, awareness about sustainable practices is constantly growing within the industry, so that is great! I am sure, as time goes on, this knowledge will become more mainstream and sustainable practices will become the norm. It's worth the extra time and effort to find sustainable options, and it's something that, for me, has always been a non-negotiable when looking for new products or fabrics. You can probably tell that I am a huge fan of 100% linen. Flax is an amazingly versatile and sustainable plant, and I am very proud to offer a sustainable base cloth and use eco-friendly printing methods. I am in the process of converting as much of my packing to eco-friendly alternatives as I can and am constantly re-evaluating to keep up with the latest research and products.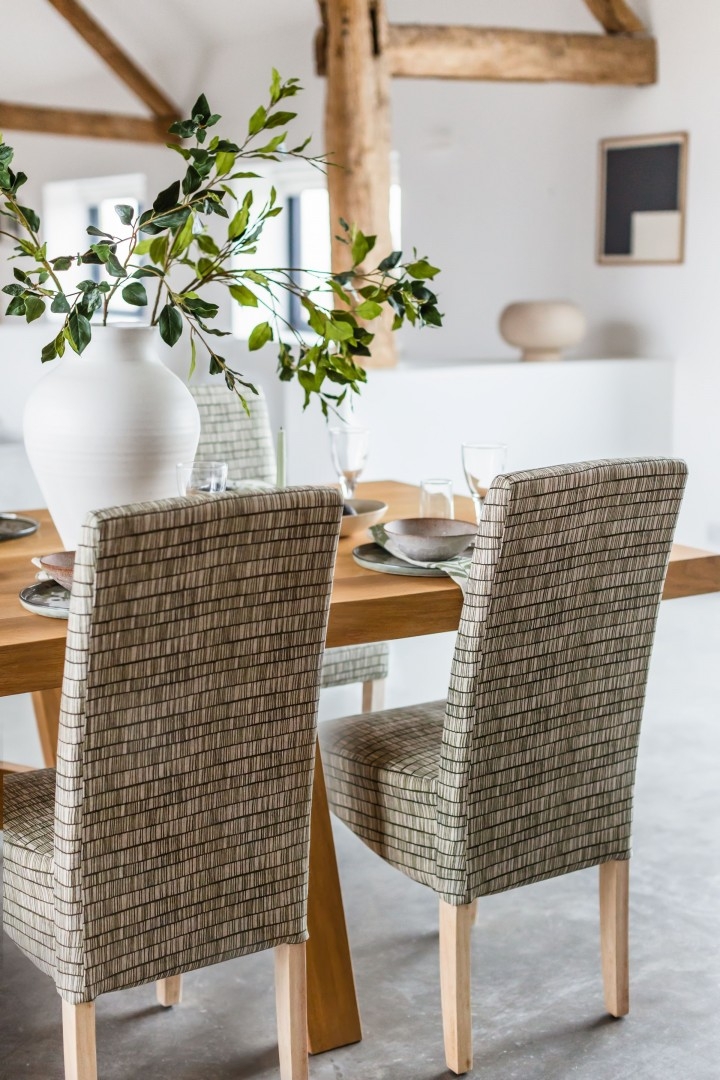 Some people are very wary of using pattern in their home - how would you encourage them to try?
Although it can seem counterintuitive, large-scale prints are great because you don't end up seeing too many repeats. Using a large print (like my Forest Ferns print from the "Folium" Collection) can look like a bespoke work of art as opposed to a busy, smaller, repeating pattern. Selecting fabrics with a limited colour palette can also be a nice way of introducing texture and depth into your home whilst maintaining a clean, contemporary scheme. When designing my smaller prints, I take inspiration from the textures found within nature - great examples of this would be my Calathea or Trellis prints. I also choose colours that can be found within nature's own colour palette and am mindful to include neutral/earthy tones for those who don't want anything too bold.
Do you have certain colours or designs that you return to, if so which - and why? And, what do you have in your own home?
My favourite prints are the textured, tonal, geometric ones; but I do love to use Forest Ferns in the natural colourway as statement pieces in my home. I am a big fan of any green with a natural undertone - moss, olive, or forest greens are my favourites. I also include neutral colours such as those found in my stone colourway. I feel that these colours provide a sense of calm and sit beautifully within any setting. Currently sitting on my sofa at home are cushions made from: Oak & Rowan (stone), Forest Ferns (natural), and Calathea (natural).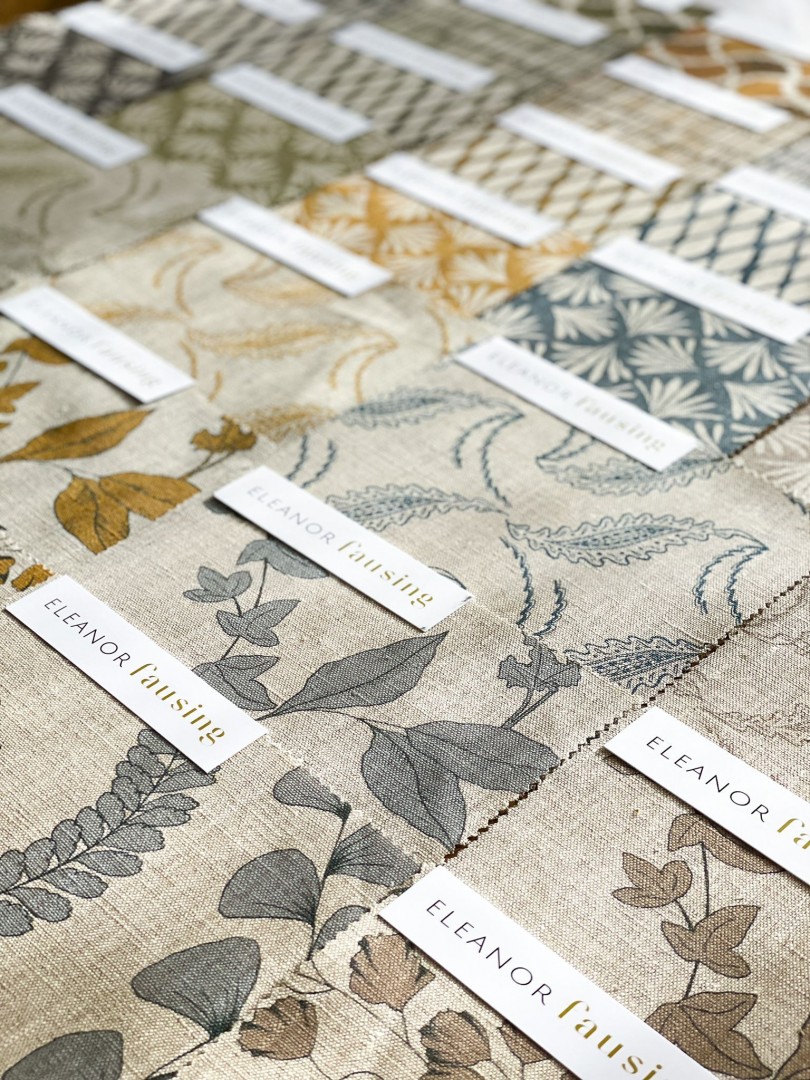 What does an average day look like for you?
Most likely, you'll find me in the gym first thing. I love to start my day with movement, and then I'll head straight home for my morning coffee! I try to complete all admin, social media, and organisational tasks in the morning so I can focus on practical/design activities in the afternoons.
What are your plans for the future?
I would love to introduce some complimentary products, such as wallpaper. I am constantly thinking about new ideas and prints so, of course, I will introduce some of these down the line as well. I have a very distinct vision for the company, and I would like to grow the business in a very organic, natural way that supports my ethos and routine. As an autistic and ADHD woman, I need to retain my own sense of well-being whilst growing the business; otherwise, it would be self-defeating. I don't believe I can promote fabrics that aid mental well-being whilst burning myself out in the process. I am passionate about sharing my vision and enabling as many people as I can to create a calming, sustainable, and inspirational home.
Photography: Emma Jackson