We were glued to this year's BBC's Interior Design Masters. Have you seen it? Presented by everyone's favourite chatty man, Alan Carr it follows ten amazing amateur designers in their bid to be crowned Interior Design Master.
Judged by Michelle Ogundehin, former Editor of Elle Decoration, with a sterling line up of guest judges including Matthew Williamson, Mary Portas, Abigail Ahern and Laurence Llewellyn Bowen (we stan). The final this year was a battle between the considered glam of Jack McKinsey and the gothic glorious Monika Charchula. Both were fabulous and in the end Monika edged it with her statement copper-leafed bar and confident use of colour, honed during her stint last year as one of Annie Sloan's Painters in Residence.
Annie comments: "Monika's style is gothic and moody and glamorous! I chose her as a Painter in Residence because of her rich and powerful look and the way she uses dark colours and gold. Her look is just right for the 'Splendid Chic' look of the moment which is a real contrast to the rustic coastal farmhouse vibe of recent years. Her look is luxurious, grand and all about treating yourself and that is exactly what we need now.
I love people who plough their own furrow and stick to their guns when they design. There are so many designs and painters out there who just copy or follow fashion trends. What happens is that they all just look a bit like run-of-the-mill hotel rooms. You will never get that with Monika."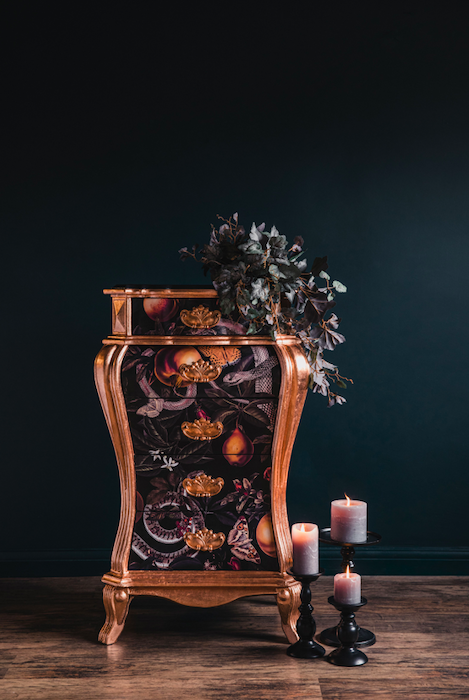 We were thrilled to get learn more from Monika herself:
How did you feel being announced as the winner?
At first it was a shock and disbelief. Never in my wildest dreams do I imagine I could actually win this. After all, I was competing with some incredibly talented people. Then came the imposter syndrome, because how could I have won, when there's still so much I struggle with and so much I don't know? In time though, I realised that it was all about the process, and the learning. And I have learnt so much during this competition - not just about interior design, but also about myself. And, let's be honest, I also designed a pretty cool pub.
What was your favourite project on the show and why?
I think my favourite project was the groom's bedroom in Episode 6. I got to design a moody yet romantic space. One of my favourite aesthetics is Dark Academia, and I felt that bedroom was the perfect opportunity for me to showcase that style.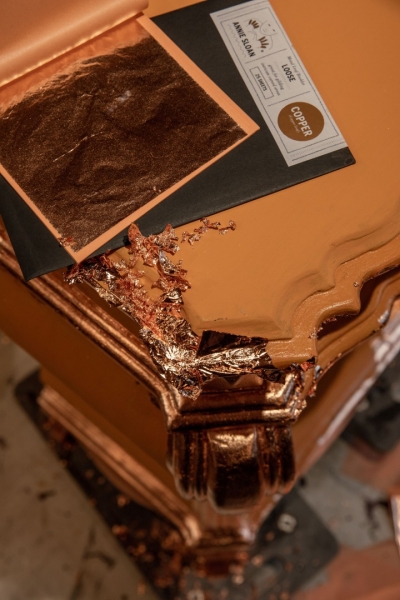 How did your background in painted furniture give you an edge over other contestants?
I think it helped me see the potential in the 'ugly'. I looked at some of the spaces just as I look at old pieces of furniture - with a little bit of love and paint they can be transformed into something magical. 
What got you into upcycling furniture, and what do you particularly love about it now?
I started upcycling furniture because I couldn't find anything I liked for my own home. I started painting for myself first and after some encouragement from family and friends I began selling my pieces. What I love about upcycling now is the same thing that made me fall in love with it in the first place - saving the planet - one piece at a time. Saving scratched pieces of broken, forgotten furniture from going to landfill and giving them a new life and finding them a new home. 
You began upcycling furniture in 2017. How have your techniques developed over the years?
As soon as I discovered painting furniture I YouTube'd everything there was to know. I got myself a notebook and wrote down all everything I learned. I wanted to try as many techniques as possible to see what I was good at. From the get-go I loved ombre, blending, and two-toned finishes – then slowly I added different colour waxes, then gilding waxes. Then I tried gold leafing… and it was such a disaster, I actually cried. But slowly, in time, I got better and better at it. Having said that, I am still learning. I then added decoupage and stencilling to the list of techniques I include in my work. In the near future I'm hoping to add fabric decoupage as well.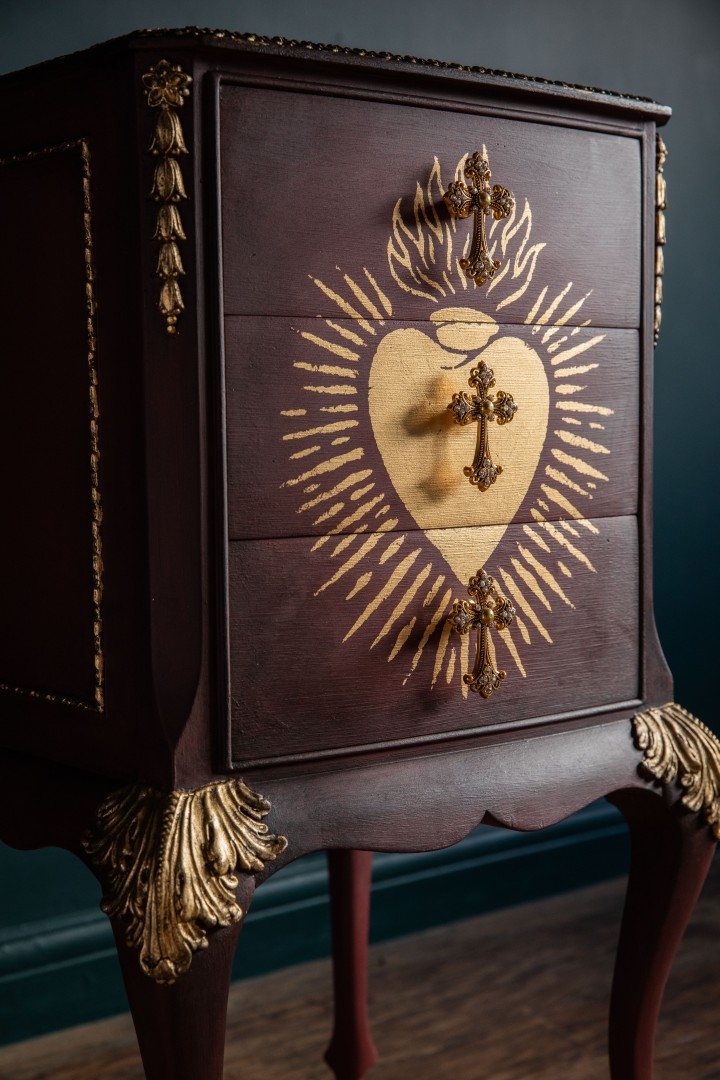 Where do you source your upcycling finds?
Online ads (Facebook Marketplace, Gumtree, eBay) but also vintage emporia and car boot sales.
When did you first discover Chalk Paint™ by Annie Sloan?
It was very soon after I moved to England (summer of 2017). I visited my then-boyfriend's mum, and she was having her kitchen repainted in Chalk Paint by her local stockist. It was the first time I saw someone painting an entire kitchen and I was fascinated! I then looked up where my local stockists were (shoutout to Flotsam 50) and the rest is history.
What's been your favourite Painters in Residence project so far?
The antique gilded Belgian Cupboard. The cupboard itself is just amazing, and I was so happy I found it as it was in a really bad state. The aged gilded effect is by far the favourite finish I created, and I'd love to repeat it again - maybe even on a feature wall one day.
Your projects are dramatic and opulent. What are your tips for transforming old pieces of furniture into statement pieces?
Don't be afraid! If you want to create a statement piece you need to add some drama, and the only way to do it is to be brave. 
What and/or who are your influences?
My two favourite interiors people are Abigail Ahern and Pearl Lowe.  Everything Tim Burton has ever done. Witchcraft, Paganism, Catholic symbolism, urban decay and the Victorian era.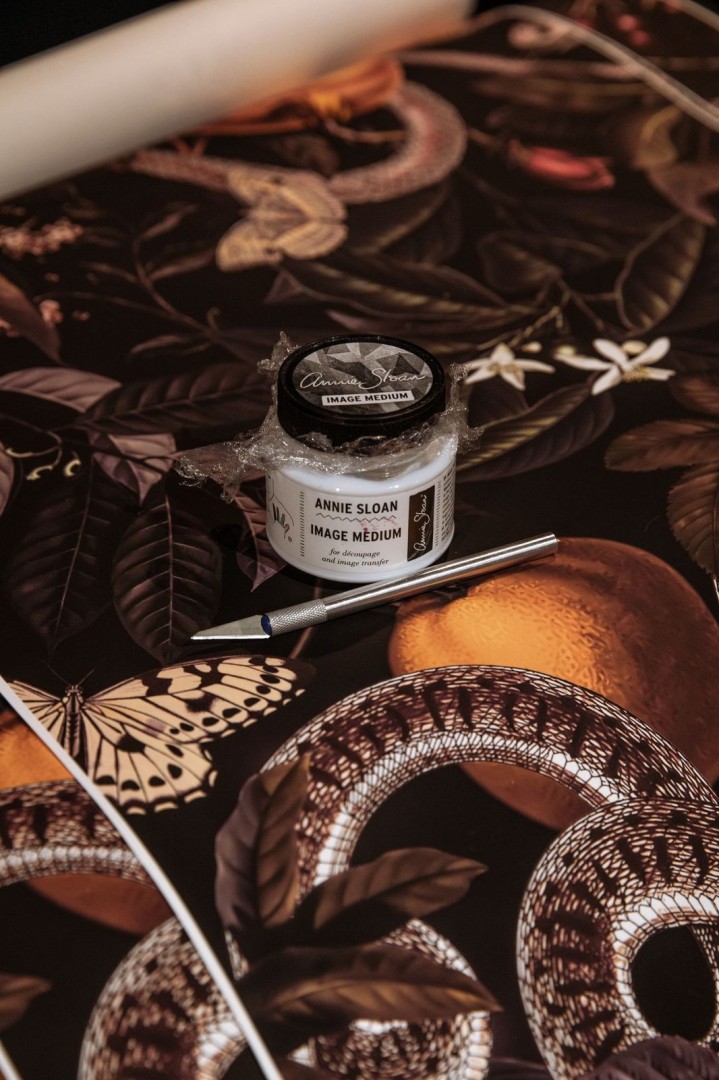 What did your experience of the show teach you about creating beautiful spaces?
There are three major lessons I learned during my time on the show:
1. Trust your gut feeling
2. Make sure you take a step back and look at the big picture
3. Know when to stop (I'm a maximalist though, so this one is quite tricky)
What's next?
Who knows?! I think my dream at the moment is for 84 Square to become a recognisable brand. I still want to continue painting furniture, but I would love to also have my own collection of moody home decor. And hey, if someone out there also wants me to design them a dark romantic home - I'm here. Get in touch.
Find Monika on Instagram @84_square