Singer, Songwriter, Artist, and Producer, Ellie Dixon has racked up over a million followers on TikTok, 5 million plus Spotify streams and her self-penned and produced upbeat tunes are increasingly getting airplay on national radio. She spent the summer on the festival circuit and has played legendary London venues including KOKO and Scala. Hailed as a 'next-generation artist', I'm willing to bet 2023 is going to be Ellie's year.
There is something so joyful about your music. How do you maintain that?
That's a really good question. I love it to be at the core of all my writing because I think I don't really listen to sad music – I can't listen to it. I listen to chill music, I listen to downbeat music but in terms of lyric content I never want to indulge in misery. I think my brain really grabs onto whatever I feed it, so I never really want to feed it 'everything sucks and I'm sad' because it's very suggestible and it will just run with that. I've always written music with the idea of sharing it and I think the world is just better when people are optimistic. Even if the world isn't great or isn't doing everything we want it to, I think just acknowledging the good parts and acknowledging the want to make it so is much better than focusing on how shit we feel. If you have a platform, you make the change that you want to see. I get lots of lovely comments from people. I do find it hard to constantly harness joy all the time. Mental health is really difficult and so I think I write these songs as like advice or lessons for myself. 
I love music with a sense of humour. Largely, the music I listen to is from artists that write with jokes. I just don't like music that takes itself too seriously. I want silliness – if you can't laugh, what can you do? 
There's no sacrifice in the musicality to get the warmth and the humour. 
I think that's a big thing. There's a worry that making jokes in your music makes your music a joke. I think musical ability or the thought and talent in the writing and musicality is never lost by the content and really it elevates it. I want to make something that people love to listen to musically but also then have an absolute high with the words as well.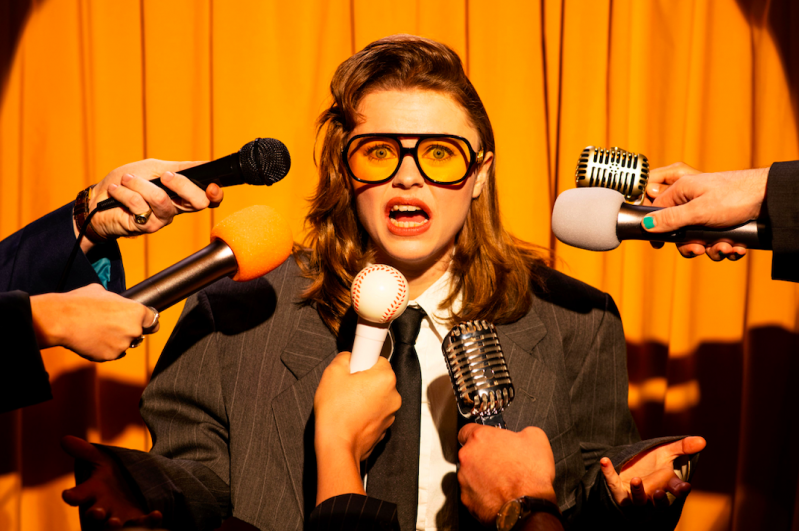 So, who do you listen to? To chill and also to have a main character moment?
Chill-wise is quite a mixed bag. I have this Irish flautist that I listen to a lot when I'm needing to chill, a guy called Brian Finnegan which is like the most classic Irish flautist name – I love it. Then Zero 7 is a very chill, jazzy thing. Very basic piano jazz, like some rendition of Autumn Leaves; there's Stockholm Jazz Quartet, that I listen to. So generally, like no one words or minimal words and more focus on the music. Then if I'm hyping myself up, Anderson Paak is huge for me and he's someone who has such a good sense of humour in his writing. He's really interesting I adore his writing. Doja Cat – absolutely love her, again really funny but just undeniably incredibly talented. Who else do I listen to…I have to get my playlist up. Remi Wolf is another huge one, love her writing again very funny. Benee, Easy Life, King Princess. 
Very well curated. I understand you're going to be playing with Sam Ryder. How did that come about?
We're not actually sure, my live agent thought it came from various places. Basically, my backstory with Sam is we both played an awards show for green tech companies, and the show was put on by Nico Rosberg, the Formula One world champion. It was just a mad series of connections; we both played that back at the start of this year before he was on Eurovision. Sam's just such a nice guy and it's a really funny thing – completely different to playing a regular show. I was at a table with some guy who works for Shell, sitting there like the sort of sparkly singer but it was really fun. So yeah, we met at that and then just sort of followed each other ever since. It's amazing everything that's happened. And it's nice to see people taking Eurovision a bit more seriously as well. 
What are the benefits of establishing yourself as an artist before signing to a label? 
I think it's massively important. It develops a lot of skills before you scale your team up. I think it has helped me in a project management sense; like I've done every aspect of my career myself first, so to a certain extent I know what everyone in each department is doing, I know what to ask for, I know what works. I've already developed an intuition with social media and with my fan base – I know who they are. So, it's great to then be able to take on the wisdom of an entire team with loads of experience but in the context of my own experience and in the context of my fan base because every artist's career is different and what might work for one might not work for another. Knowing what to say yes to and no to is really important. 
That makes a lot of sense. I've got a theory which is that people who are self-produced can sometimes struggle when someone else is directing and controlling the gaze. Have you found that?
It's definitely hard to loosen control on something that you care so much about and that you have built yourself I think it's especially hard being a solo artist. My name is at the front of everything. It's like, well you can do your job but if you mess up it's literally just me at the end of it, so I think it makes complete sense to struggle with handing over control. I've had a mix of really enjoying It and struggling because it's also really hard being in charge of everything and it's massively tiring and it takes away the capacity to do the bit that no one else can do, which is the creative part: the songwriting. It's been amazing to have a team that I can trust to just get on with stuff so I can go write my album without being in a million places at once. Working in a team is learning to trust people. You know what they are good at you know you can leave them to take care of it.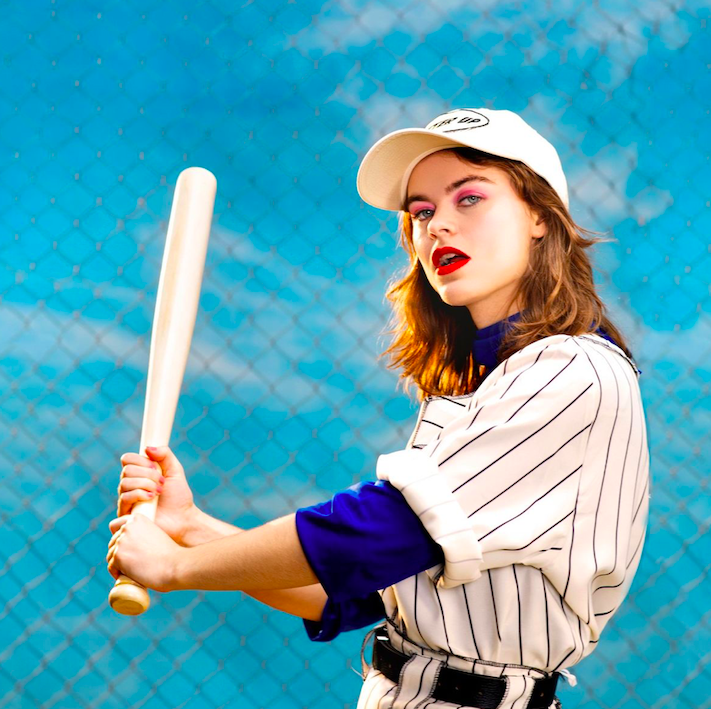 So now you're with Decca and you're getting more mainstream attention. That must feel good.
My latest singles got loads of BBC Radio1 and Radio 2 airplay and we've had more magazine interviews and things like that are all really nice in the controlled mediums. It's really cool feeling the payoff of a lot of hard work, especially in the classic sense that you dream of as a younger musician. I got a bunch of messages from friends who had seen me in the Metro on the tube a couple of months ago – it's defiantly pinch-me stuff. 
I know it's about battling online toxicity, but tell me more about your single, Swing.
It was inspired by the stuff I was getting online but I wanted it to be a bit more universal. Everyone gets negativity from other people, and I can either give in to it or bounce back and, sort of, protect my soul. I harnessed all the various negative experiences I had throughout my life because you learn from each one of them and you can apply that to the next. 
On that note, what are you optimistic about for 2023?
I'm so excited for festival season next year. Pushing the show a lot more now I've got a whole season under my belt. I'm going to be able to enjoy it a lot more and take more risks, so I'm very excited. I guess I'm excited for all things that we don't know are coming. 
And, new music, I'm dropping a whole bunch of new music which I'm really excited about. I'm writing at the minute, and it's all produced in my bedroom.
elliedixonmusic.com and @elliedixonmusic on social platforms