Mita Vaghela the Director of OVADA, an Oxford organisation that encourages experimental visual arts research and supports artists in their practice, talks on being a 'coconut,' her art practice, and the beauty of art in general.
Mita's work considers identity and values through the lens of being a British Asian woman, looks at the value of the female in Hindu society and uses her experience of being raised in the UK as a daughter of double diaspora. It's a broad field, and in her work, Mita chooses not to limit herself to a single medium, often presenting her work through sculpture or film. She is careful to keep it humble and subtle, whilst leaving space for the viewer to bring their imagination, perception and experience to the reading of the art.
"My parents came from India via East Africa and whilst I had not been displaced I certainly felt like I had, alongside them. Influenced by this, my research area spans colonial and post-colonial theories, cultural studies and diaspora discourse interwoven with personal and shared anecdotal stories; enabling me to question my social heritage, to consider my sense of belonging, and how I can be a British Indian woman amongst the dual dominant patriarchal systems of both Eastern and Western cultures."
As part of her art research, one of Mita's recent projects was inspired by the use of the word 'Coconut' to describe people – usually in a derogatory way - who are 'brown outside and white inside'.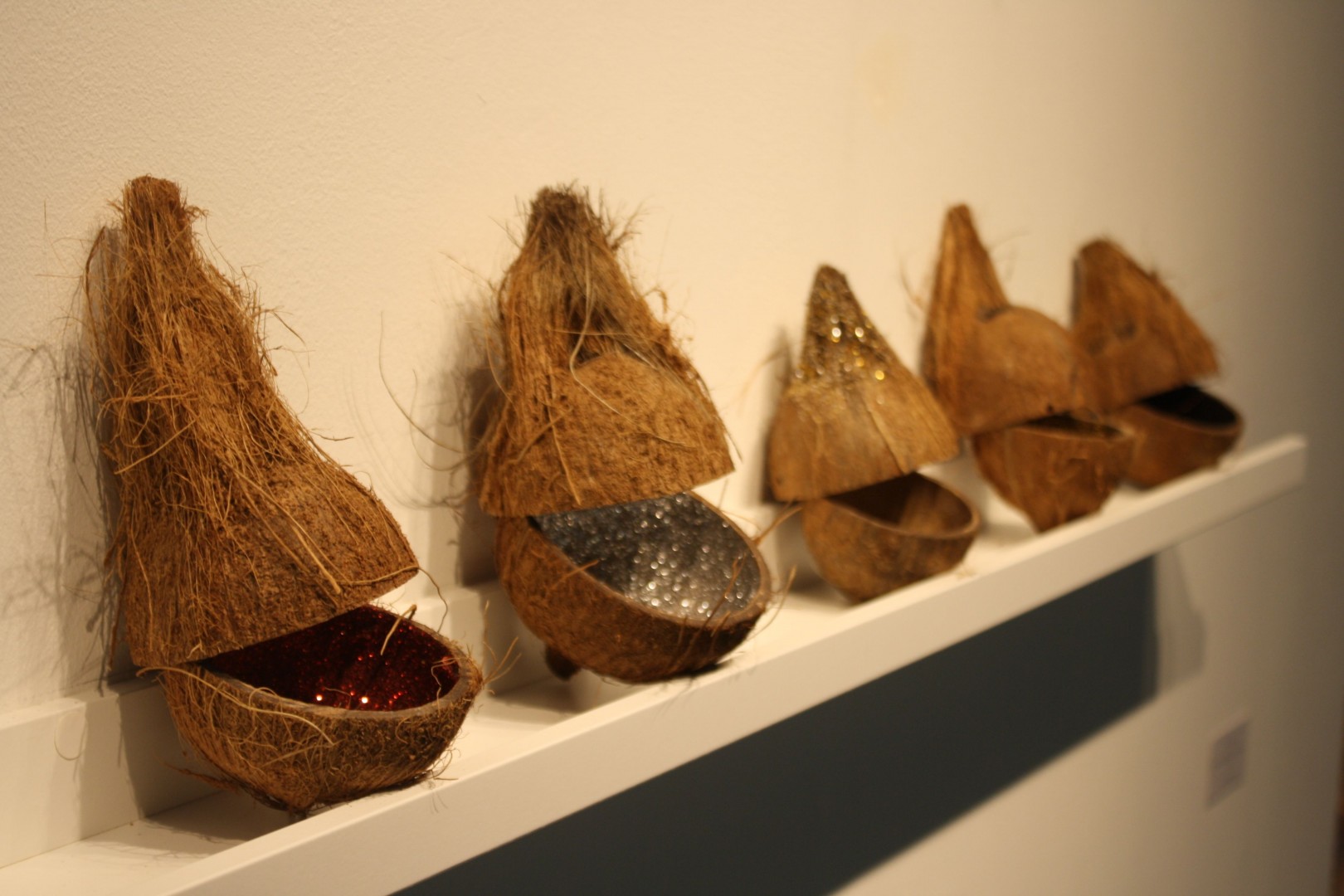 "I grew up here, I was born here, so I have no problem with being a 'coconut'. What else would anyone expect me to be?" She smiles, "and so I wanted to take ownership of this slur. I bought 200 fresh coconuts, drilled and drained them and removed the flesh," she explains, "to cast them in wax from pure white to a dark ebony but I became intrigued by the coco coir, the fibrous middle between the hard shell and the outer layer of the fruit, in that 'inbetween' space. Intuitively I began to use the coir to make a net."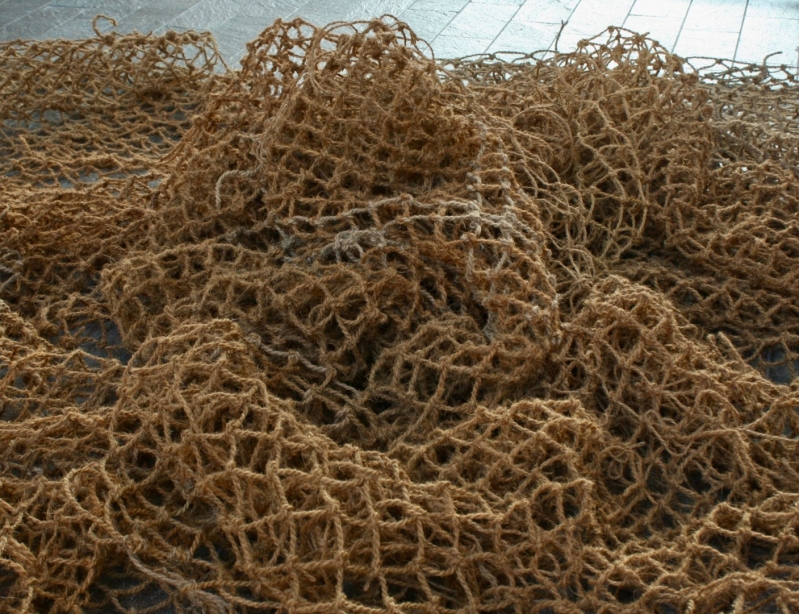 On completion the net was 4.5 x 17 m long, formed by continuous knotting, a process which took Mita five or six hours a day for three and four months. "What initially began as making a net, turned into the significance of tying a knot. There's a quote from the anthropologist Tim Ingold: 'knotting is about how contrary forces of tension and friction, as in pulling tight, are generative of new forms.' I found this described beautifully my position of being a crossover of opposing cultures in the construction of my identity," Mita continued; "the knots were the coming together of the two strands; the friction and the strength. The fibres were a harsh material to work with, full of splinters and each knot – while simple – required a strong pull. The act of working with the fibres also released tiny fibres into the air as dust, a reminder of all those by-product and side effects of actions that we often don't think about.
The action of knotting itself became part of my research. It was a repetitive process and whilst my hands were busy, it freed my mind to wander. I thought about everything from the mundane to the existential, sometimes feeling joy, other times weeping, asking myself questions about decisions I have made in my life, why I let other things happen to me or bypass me. I felt as if I'd woven my whole life into that net and it was a moment of 'becoming' for me.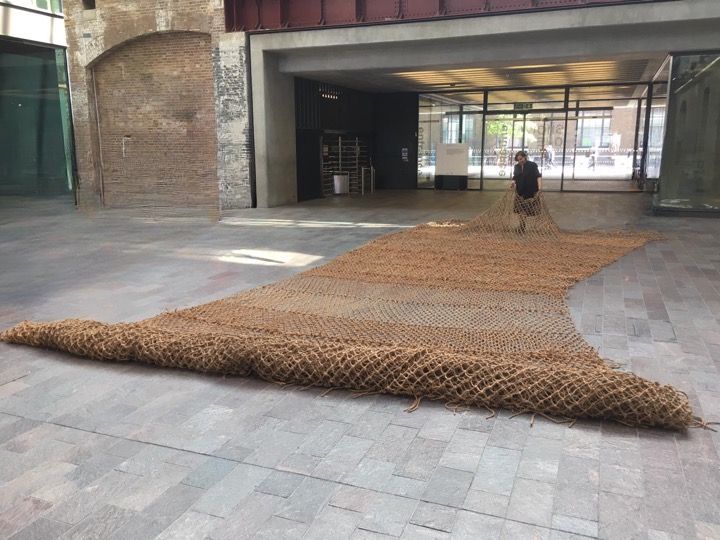 I was at peace with myself in this 'coconut' place. A year later, however, the #blacklivesmatter movement rose up after the death of George Floyd. It was a very unsettling time: everything I thought I'd come to terms with shifted and the net perhaps now needs to be unravelled. This process, however, would need to be undertaken by random people and then maybe rebuilt again by the community in a new version – an unknown endpoint that is not in my control."
Mita's work has also addressed issues of gender politics, and in another piece Mita took a large quantity of the pieces of plastic you find under the collars of new shirts and fashioned them into a sari with clear thread. Hung a distance from the wall in a darkened space it casts gentle fluid shadows whilst being hard and uncomfortable to wear in real life; a reflection of the boundaries in which many women exist while being expected to be as light and soft as shade.
"This piece was accompanied by a film which I narrated in Gujarati," says Mita "my mother's tongue, telling the epic story of Ramayana. It's a tale used in primary schools to illustrate how to be the best you can in your role, whatever that may be – often that's being an ideal wife and the cut-off is Happy Ever After. However, in the epic version the wife suffers a number of atrocities and the conclusion is rather different. To prove she is pure, the wife asks the earth to swallow her and so has to give up her life to show her worth. In my work, I question women's complicity in the patriarchal society and I hope the viewer will do the same. Are we going to give in to the societal norms or are we going to question them?
Experimental art is part of that questioning process, a challenge and a contribution to the process of change. People often look for beauty in art, and beauty isn't necessarily an aesthetic visual characteristic. Beauty can be found in a concept, the way a piece of work or an installation communicates that concept or in the moment of understanding that it brings to the people it connects with. When I create a piece, it nourishes my soul and there's a beauty in the act of creation. Making art helps me process all sorts of things, and the finished piece translates my thought and feelings into something tangible that other people – hopefully whatever their race, gender or geography – can relate to and/or learn from. I'd like people to question the past, their assumptions and the status quo.
I believe that art can make us question how we can make the world a kinder and happier place to live in. To me, that's where the beauty lies. At OVADA, we welcome and celebrate our differences by championing inclusivity through our artists and with our audiences."
OVADA is open for Oxfordshire Artweeks from 7 May when you can meet Mita and her fellow artists to see their work and chat about their practice.