Don't let the change in season stop you filling your home with flowers. Beautiful faux botanicals are bang on trend, and floral patterns in the home create a positive, fresh and vital atmosphere. Use florals to soften your interiors, mimicking the natural environment and giving year-round pleasure.
PRETTY NEVER GOES OUT OF STYLE
There are few decorative styles that can compete with the beauty of Mother Nature, so it is
no surprise that the most enduring subject of all time in interior design is the natural world, providing us with an endless source of inspiring forms that feel comfortable to live with.
In printed fabrics and wallpapers, we see a cornucopia of interpretations, from detailed and accurate representations of flowers, through to more abstract forms. Botanical prints are pleasing to the eye and compatible with a wide range of interiors; from bright, bold, colour-clashing and contemporary to subtle and sophisticated pastels, typical of a more classic look.
FLIRTING WITH FLORALS
With blooms appearing in all the latest collections, there are many ways to try out florals in your home; from beautiful fabrics and elegant wallpapers, to accessorising with stunningly realistic faux flowers now available thanks to the latest manufacturing techniques.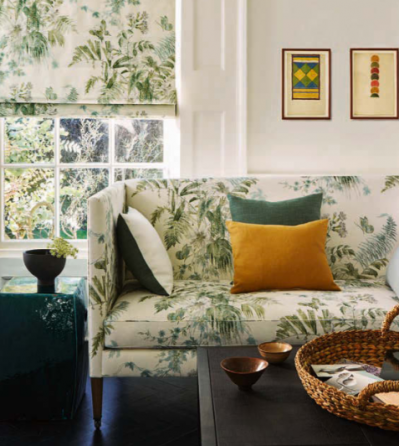 COMPLEMENTARY STYLES
Recently we have seen interior styles shifting from pale neutrals to much more dramatic, deep and dark colours, as well as an increase in natural textured walls, such as wood and stone. These looks are set off perfectly by contrasting floral pops of colour and copious amounts of greenery.
When it comes to combining patterns, don't be afraid of mixing modern graphics with florals; if the colours and pattern scales work, the contrast will modernise the look and help to create definition.
BRINGING THE OUTDOORS IN AND THE INDOORS OUT

Connecting our interiors to our gardens and the outside world creates synergy. Looking at our immediate surroundings can be a great way to instil our homes with a sense of place and belonging.
Think about how the colours, proportions and textures work together; often green can act as a good base or 'neutral colour to start with when planning a floral scheme. This concept can also be reversed, when we start with our interiors and then mirror these colours in our garden with planting it makes for an ultra-stylish home that flows inside and out.
ON TREND
Silk flowers and faux botanicals have taken off enormously over the last year, and this trend is set to grow. Cropping up constantly on social media, interiors magazines and in the chicest homes, hotels and social hubs, this is a trend that is really worth embracing. As well as being fashionable, they provide instant decoration to a room, making it feel finished and loved.
Most of us adore having fresh flowers and plants in the home, but they can be hard work, have a limited life span, and it's difficult to find interesting varieties that don't cost the earth. However, with silk blooms – now barely distinguishable from the real thing – we can all indulge in stunning flowers and plants around the home all year round. They will not wilt
in the heat of summer, and you don't have to worry about them being in direct sunlight and in winter, you can choose the varieties that appeal most, regardless of seasonal availability. Peonies all year? Not a problem!
For a more formal look, flowers are available as ready-made arrangements, some with a gel at the bottom of the vase to create the effect of water. Or, more contemporary, you can choose to group together a selection of individual stems, for a more natural and "gathered" effect, creating your own unique style that's adaptable over time too.
Amanda's top five tips for styling your faux blooms:
When looking for faux botanicals and blooms, look for something with colour variation and pattern that isn't too uniform and perfect. It's the detail that's crucial to how realistic they look.
Spend time thinking about the right shaped vase for your arrangement – it makes a world of difference to the end result.
Evolve your display over time to stop it becoming stale. Add in new stems and take away, too, editing according to your décor, mood and the season.
For the most effective display, incorporate lots of textures. Mix generously sized, loose blooms, such as hydrangeas and roses, with greenery or berries for added structure.
Don't get hung-up on perfection when making your arrangement – a casual approach is often more effective, and the 'just picked' look is so much more modern.