As we approached a year in lockdown, we caught up with Matt  Pagan and Michael Auger of Callabro, to find out how they've been keeping busy over the past 12 months. We touch on their time on Britain's Got Talent, which they won in 2014 having wowed viewers in their first audition with 'Stars' from Les Misérables, as well as discussing the ways in which the creative world will adapt to post-COVID performances, and their upcoming appearance at Trentham Live.
Have you taken anything up these past 12 months?
Matt: I'm currently sat on my bedroom floor putting a set of draws together from IKEA, if that counts?
What has 2020/2021 meant for you professionally?
Michael: Obviously in lockdown 1.0, we were thinking it would just be a few months and we would still be able to go on tour, then our tour got pushed back a whole year, but we had a Christmas album, we had a livestream at the Phoenix Arts Club, and we managed to do a live outdoor gig in Newcastle where everyone was sat in pods. We thought, 'ok, we'll keep pushing through, let's just get through Christmas and we will be fine.' Now we've got gigs like Trenton Live and another livestream in the pipeline, but we're thinking, 'is this enough to make a career out of now?' You know what the arts is like anyway – we're constantly thinking what else we can be doing and if we are giving our fans enough.
You all did 'normal jobs' before exploding onto the music scene so perhaps you can relate to people who have worked in the creative industry and have had to go back to doing something else to get by.
Michael: Lots of people have asked me, 'oh, are you doing people's books or helping out any accountancy firms?' But no, I don't want to go back to that!
The virtual pieces you've done must have been a comfort to both you and fans.
Matt: The livestream at Phoenix Arts Club was amazing, but completely different, there's no audience sat in front of us and that's what we get our buzz from.
Trentham Live will hopefully go ahead this year. You're supporting  Alfie  Boe which is a big tick off the bucket list!
Michael: Absolutely – he is such a legend. We have been lucky enough to perform at events alongside him before and we just sit and watch him in awe! The good thing about Trentham is that because it's an outdoor event, there will be enough social distance regulations in place – even if people have to sit in their car and honk their horn instead of applause.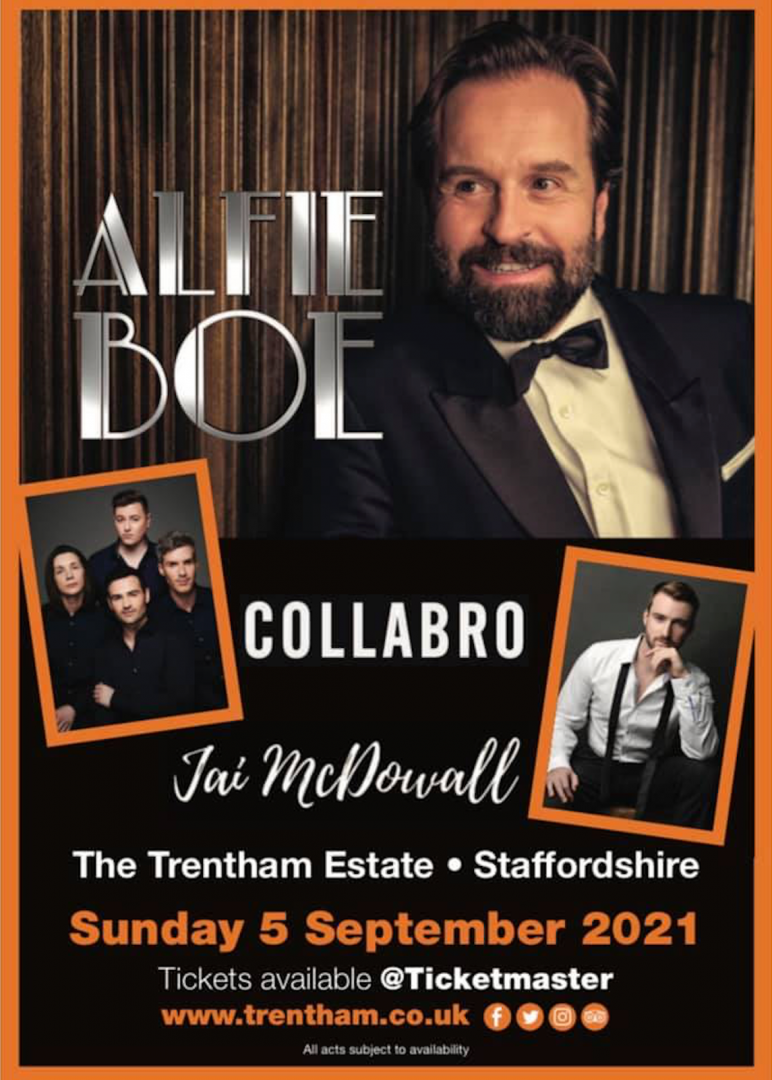 In 2019 you release Love Like This, an album of pop covers. It must be nice having a back catalogue of both pop and musical theatre numbers.
Matt: Yes, in the sense that having loads of songs is amazing and we will never run out, but also no in the sense that if you only have an hour show, how do you pick the best songs to put in?
Michael: You decide what songs you want to do depending on the event. I think because Trentham has Alfie it will be a more musical theatre vibe, but it will be interesting to see what we come up with. 
Matt: I think we'll leave 'Bring Him Home' to Alfie! Or maybe we could do it together…
Do you look back fondly on your time on Britain's Got Talent? 
Matt: We never dreamed that we'd get the reaction we did, and the whole process, although nerve-wracking, was really fun and we're so grateful for the opportunities that have come off the back of it. We always look back with fond memories, and all the stuff is on YouTube so we can always go back, re-watch, and reminisce. 
It's cut down to make an entertaining  piece of TV, but  we imagine the  audition day is quite a long one?
Michael: We got there at 10am and didn't perform until half 10 at night, so we had been there over 12 hours. Even when we went back on the Christmas Spectacular and sang with Amanda Holden, we were in our suits from 11am and didn't go on stage until midnight. It's such a big operation that they have to just keep everyone ready to go at all times which is quite draining on the performers.
What has been entertaining you  over lockdown?
Matt: I listen to a lot of swing music so have been listening to the old classics, but I'm also into Netflix and all the series at the minute so that's what's been keeping me busy, just everything that's on there. 
Michael: Same with me – I don't normally just sit and listen to music, I'm more about films and things. Me and my girlfriend have started watching Grey's Anatomy. It's 24 episodes in a series and there each almost an hour long. I think we are on series 10 now so we've watched a lot!
What else is on the a genda?
Michael: We actually have a Patreon account where fans can pay £10 a month so they can get extra content. Once a week one of us will go on and do a livestream, as a group we might do a quiz or something – it's a really nice way to interact with fans. We have a gig in the Isle of Wight coming up, at the Shanklin Theatre in June, Trentham Live in September and hopefully our tour in October. It's a case of taking a bit of time, stepping back, but also trying to interact with the fans as much as we can as we have been so lucky that they have stuck with us and we know they will all be there waving and cheering when things are back to normal.
Trentham Live takes place 3-5 September 2021, with Collabro, Jai McDowall, and Alfie Boe playing on 5 September.