Pictures courtesy of Burleigh
Distinguished British pottery pioneers Burleigh have introduced their first ever collection, comprising three beautiful, distinct designs. Each has its own tale and is designed to be layered, curated and cherished by generations. The three patterns pay tribute to the history, present-day and future of the 169-year-old brand. Operating from the legendary Middleport Pottery in Stoke-on-Trent, home of handmade English earthenware (Calico, Asiatic Pheasants, Regal Peacock etc.) the iconic Burleigh Pottery combines timeless design with traditional techniques.
Collection One is unique and presents the first new design in a generation. It's a collection that celebrates both the excellence of Burleigh's past design work and their place in the future. It is the only remaining pottery in the world to practice the centuries-old method of tissue transfer printing. This process involves the etching of a copper roller with a Burleigh design, imprinting the ink pattern on to Parisian cigarette paper, and stamping the paper onto raw ceramic ware, which eventually burns off in the kiln after glazing.
Decorated in a new, deep, dark hue, coined 'Ink Blue', Collection One is available as bowls, plates, platters, jugs, cups, and saucers, bringing elegance and style to home entertaining and mealtimes. Read on to explore the new designs.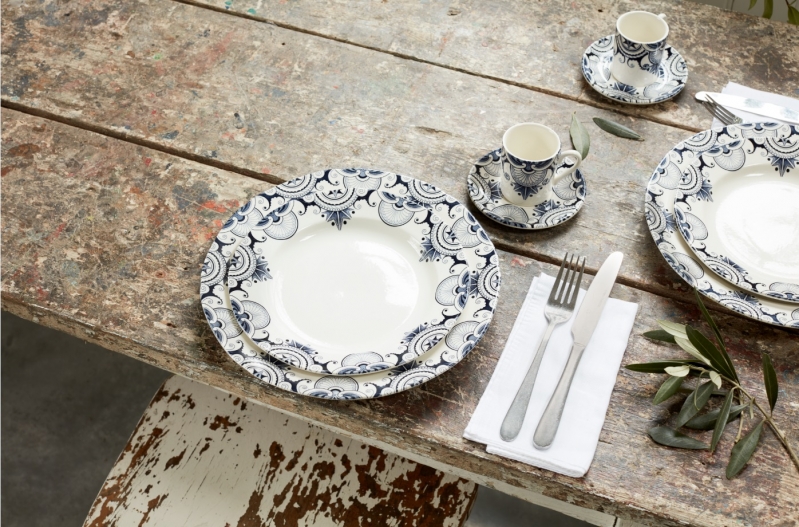 PALISADE – An ode to the Victorian era, designed by Christopher Dresser, an eminent Victorian artist and botany professor. Dresser's great innovation was to represent the beauty and symmetry of microscopic plant cell structures in his designs. The Palisade pattern was acquired by Burleigh as a copper plate engraving and has remained in their archive ever since. When it was rediscovered, the fine details were adapted into a more contemporary shape.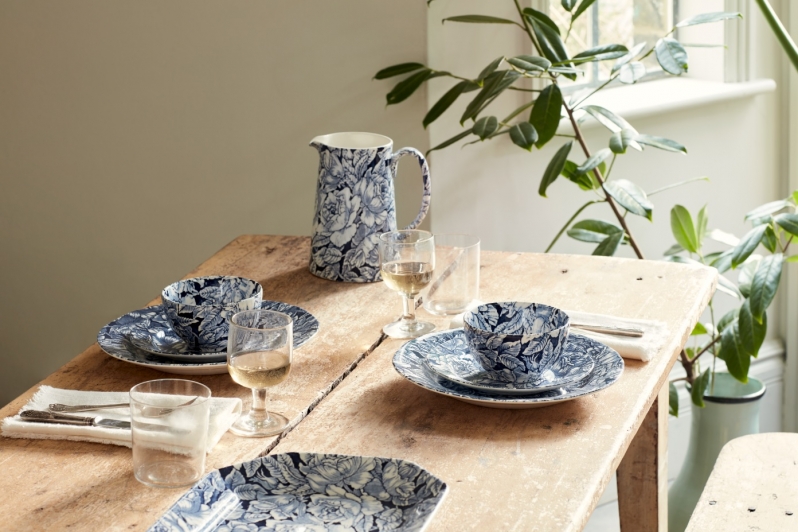 HIBISCUS – A modern Burleigh classic, the Hibiscus pattern has become an essential part of Burleigh's current collection and can be seen in some of the world's leading clubs, hotels and restaurants. The design has been fashionable since the last century and is representative of Burleigh's current success. Hibiscus follows Burleigh Pottery's great floral tradition with a bold, all-over cover of double hibiscus flowers and foliage.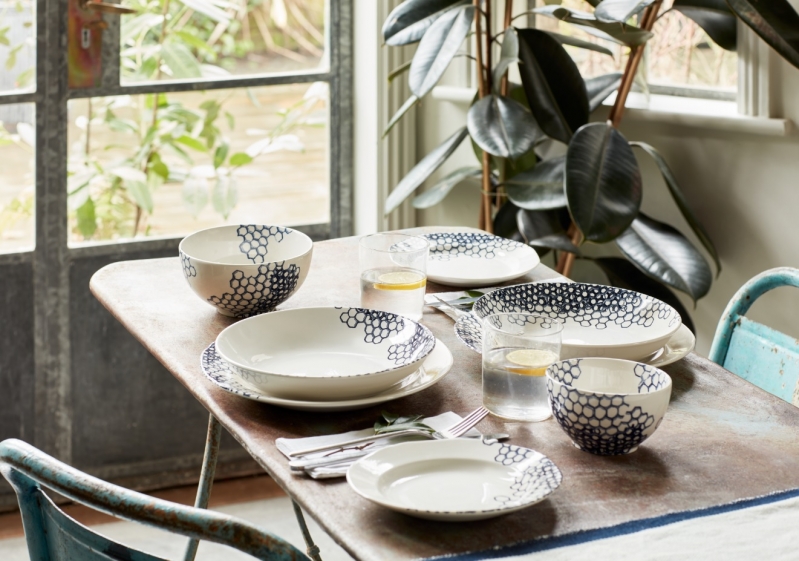 POLLEN – Introducing the first new Burleigh design in a generation, Pollen. Pollen is an unequivocally industrious and productive pattern. The geometric honeycomb backdrop is interspersed with bees, the great symbol of industry. This pattern's significance is that each item's layout differs and is asymmetrical, as the exact position of the design is in the hands of skilled tissue transfer decorators. Each bee is placed according to the decorator's whim, emphasising the method of hand decoration method and imbuing each piece with energy and personality.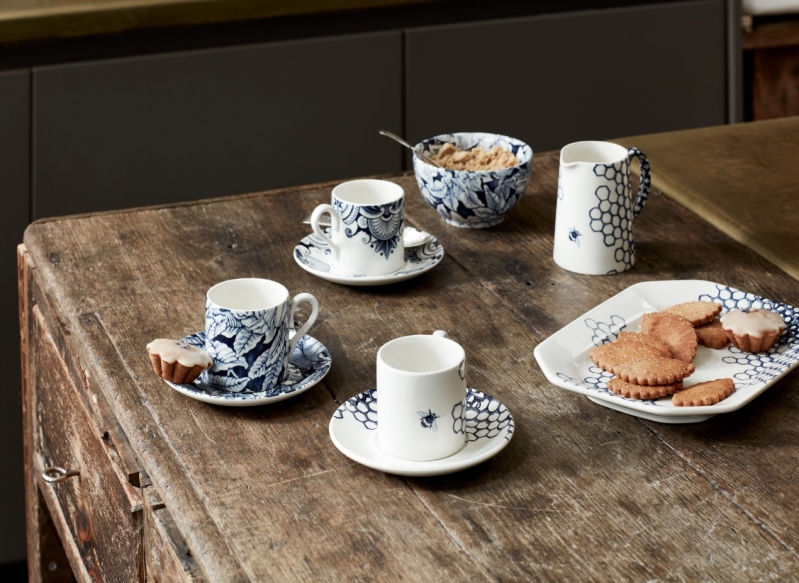 AMANDA HANLEY'S TOP TIPS
HOW TO MIX AND MATCH YOUR TABLEWARE
Successfully combining tableware is a form of art in itself. Discover how to mix and match your favourite dinnerware for a perfect, mismatched, modern look.
Build a colour palette 
It is fundamental to keep a consistent colour theme across your different tableware pieces. This way, you can experiment with a range of shapes and patterns but stay within your overall scheme. When you keep a consistent palette, this naturally lends itself to incorporation of the right shades in your eclectic mix-and-match table design. Some tableware is more straightforward than others to combine, so shop around to ensure you begin this project with a mass of creative information.
Grow your settings with patterns 
Designs that mix and match add an eclectic and whimsical look to your dinnerware which turns your table setting into an energetic feast for the eye. When you choose patterns, be bold and let your creativity run wild, for example, mixing floral patterns or geometric shapes with chinoiserie. As long as they all match the same colour palette, the finished set will look pleasing.
Already own a traditional dinner set? Play around mixing plates with a contemporary patterns or graphics to create a collection with unique original dishes that complement one other.
Experiment with different textures and shapes 
This joyful and exciting art of tableware design is also about the mixing the shape of your plates and flatware. Incorporating alternative forms, square plates, and a combination of textures can achieve an exciting contrast. When mixing, it is crucial to think about the mood you wish to create. Each element you add will bring something different to the setting—combining materials such as stoneware with bone china, scalloped with smooth edges or textured with painted designs, will add texture and interest to your arrangement.
Don't forget the table accessories
Often, the table decor acts as an accessory that is coordinated by our home's interior theme. When accessorising our table, we want something functional as well as aesthetic. Don't be afraid to mix and match vintage and modern items. Shiny, eye-catching cutlery can bring a table together. There are no rules which say that you can't combine plates with silver, gold, rose gold, or bronze table elements. Be open to considering that you have more than one metallic colour in your table setting. Choose metal serving utensils, salt and pepper shakers, or other decorative pieces.