Increasingly brides and grooms want to create a big day that doesn't leave a mark on the planet. Eco-friendly menus, ethical dress choices and sustainable jewellery options, plus consideration for a venue that conforms to good green practice, should be a given, but what about with the flowers?
Let us introduce you to the excellent Roz Chandler, florist, champion of British flowers and flower farmers, and all-around sustainability goddess. Roz's sustainability journey started in the 1980s when she completed a degree in environmental science. Back then, the climate crisis and the impact of climate change were nowhere near as high up on the agenda as they are these days, with talk of the Ozone layer, greenhouse gasses and recycling being the main threads for change. Still, it was just talking. Minimal action was being taken.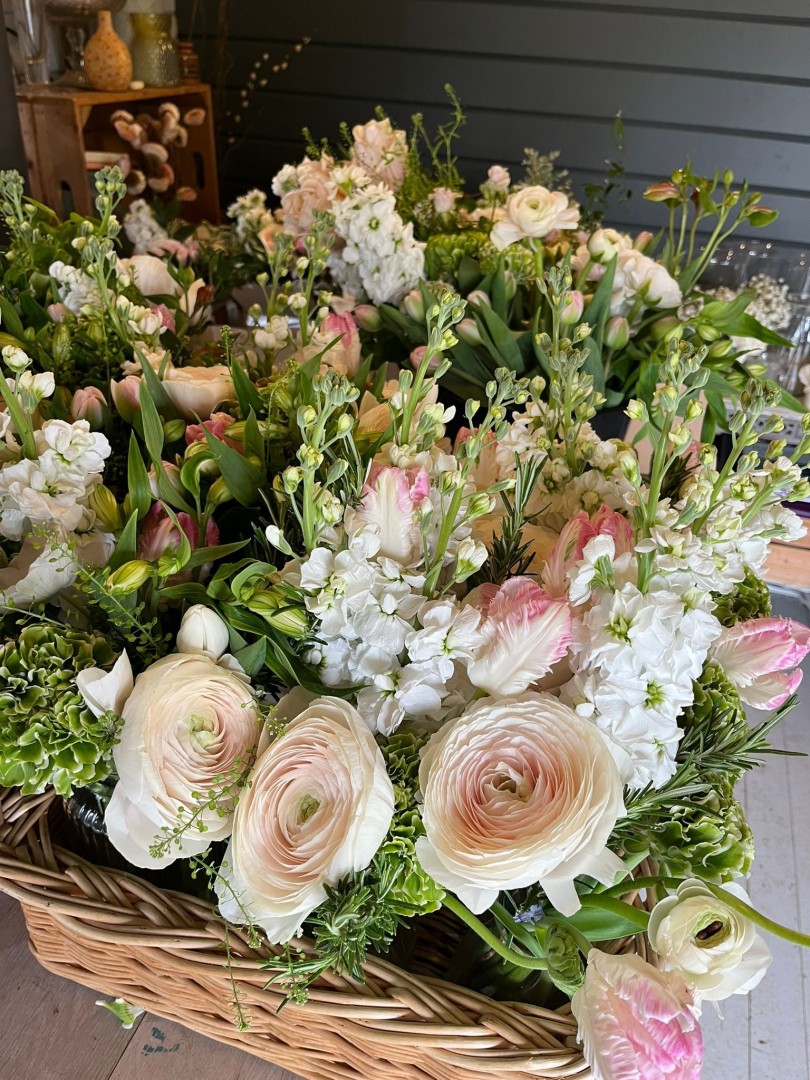 "When I left university, there wasn't much I could do with my degree," Roz tells us as we chat with her in her Milton Keynes garden, surrounded by the beautiful blooms which populate her flower farm. "Back then, people weren't talking about the environment, and if you could get a job in it, you wouldn't have much to do!"
With sustainability and the principles of saving the planet firmly imprinted on her, Roz embarked on numerous other careers before eventually finding her place as a flower farmer at the start of the last decade. "Once Field Gate Flowers was underway, I always knew that eventually, I would become a wedding florist," Roz continues. "I started with smaller weddings, and these have grown and grown. Now I work with a team of ten incredibly talented florists from various backgrounds and skillsets, creating wedding flowers for huge weddings and receptions."
Describing her floristry style as 'natural, elegant and romantic' – think English country garden, Roz and her team only use beautiful British seasonal flowers – sustainable, perfect for the planet and brilliant for bees and other bugs.
"Many high street florists buy their flowers from wholesalers. Wholesale flowers are sourced using arranged shipment from places like Kenya and Ecuador which means that by the time your flowers get to you, they've probably travelled further than you are going to for your honeymoon, clocking up thousands of air miles, which isn't good for the planet. And, while they may look beautiful, the impact of mass-grown flowers on the planet is awful. To help them grow quickly and stay alive on the journey, they're pelted with herbicides, pesticides, and other chemicals. These not only have an impact on the area in which they're grown on both the earth and the water system, but the impact on biodiversity is almost immeasurable. Mass-produced flowers might be beautiful, but they're not natural."
The scent is one of the most significant tell-tale differences between British sustainable flowers and the flowers you'd expect from a mass wholesaler. But, of course, you'd expect flowers to smell. Still, we've become accustomed to the muted scents of the supermarket bunch. Only when you enter a room of British blooms, do you realise what we've been missing out on – it's like we've all forgotten that flowers are meant to smell as beautiful as they look!"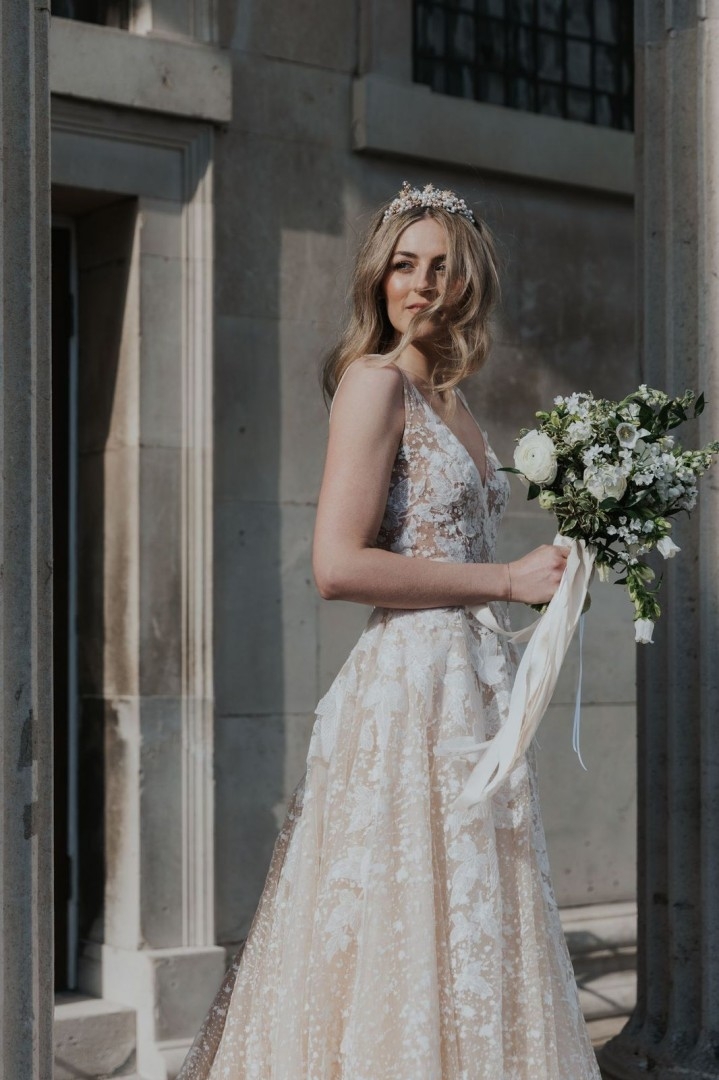 It's not just the flowers that make Roz's wedding displays sustainable – there's much more to it than you'd probably think at first glance. "We do not use oasis or floral foam," she adds. "And that's a bigger thing than you might think. Oasis takes hundreds and hundreds of years to degrade. Even the new eco-friendlier foam takes a decade to degrade, so we always use natural, reusable ways to display our flowers."
Water is, of course, another key ingredient in all of this – as is chicken wire, which can be reused and is perfect for creating arches. Roz and her team also limit the use of plastic, never using single use, with everything collected up and reused.
Another advantage of using British-grown flowers is that you will see blooms that you wouldn't find supplied elsewhere. "For example, Dahlias are your classic British-grown flower, but they don't travel well", Roz explains. "They need to be cut and displayed within 24 hours - they don't survive on flights, but with so many varieties they're just the perfect flower for weddings. The same goes for roses – there is nothing as beautiful or as romantic as a real British-grown English rose in full bloom – and they just don't travel at all well."
It's not just about the flowers – it's about how they look and the ambience they help to create. With her team of ten staff, which includes an ex-Tiffany window dresser. Roz works collaboratively with her clients to get make fantasy into reality. "I love being creative and helping create someone's dream," Roz tells us as we look through pictures of the most incredible English-country-themed wedding from last year. "For me, it's like creating someone's brand. It's taking what they like, who they are and how they see themselves and interpreting it into displays and bouquets that reflect them and their personality."
fieldgateflowers.co.uk or find Roz on Instagram on @fieldgateflowers