Floatation or REST (Reduced Environmental Stimulation Therapy) was pioneered in the US
by Neuroscientist John C Lilly and Dr Jay Shurley at the National Institute of Mental Health in
the 1950's.
Over fifty years later and Floating is more popular than ever, Floating takes you away from the stresses and hustle and bustle of modern life where your brain doesn't have to fulfil its usual tasks related to processing your external environment - you enter into this relaxing,
timeless-sense-of-nothingness. Floating in a deeply healing and therapeutic void of time
and space.
But what is floating and what can I expect from a float session?
Also known as Floatation and Floatation REST is the practice of lying back effortlessly in one of our world leading i-sopod floatation tanks and drifting into a blissful, deep meditative state
that rejuvenates and revives your mind and body. The floatation session is delivered through a super-saturated Epsom-salt solution, 25cm deep and containing 500kg of magnesium rich Epsom-salts.
​
The solution is heated to skin temperature (35.5°C) and the environment in the tank is
controlled so that the air is also skin temperature. Once you are settled, it is impossible to
tell which parts of your body are in the water and which are not. This creates an environment similar to that of the Dead Sea but without the sensation of temperature or movement, which lets you float effortlessly on the surface of the water, enjoying a feeling of total freedom and weightlessness!
​
Our i-sopod float pods are top of the range and one of the biggest pods available, they are
over 2.5m long and 1.7m wide which gives you plenty of room to move around with good
head space. This means you wont feel claustrophobic. They are specifically designed to block out all external distractions including sight, sound, tactile sensations and gravity. This environment may bring long lasting and transformational experiences.
​
Your first float might feel like magic; however, floatation therapy is the result of fifty years
of mainstream scientific research in human performance and wellness. Best of all, the
effects of floatation are cumulative – the more often you float, the better it is for your
mental health, wellbeing and performance. In the near gravity free environment, the body balances and heals internally as all the senses are rested.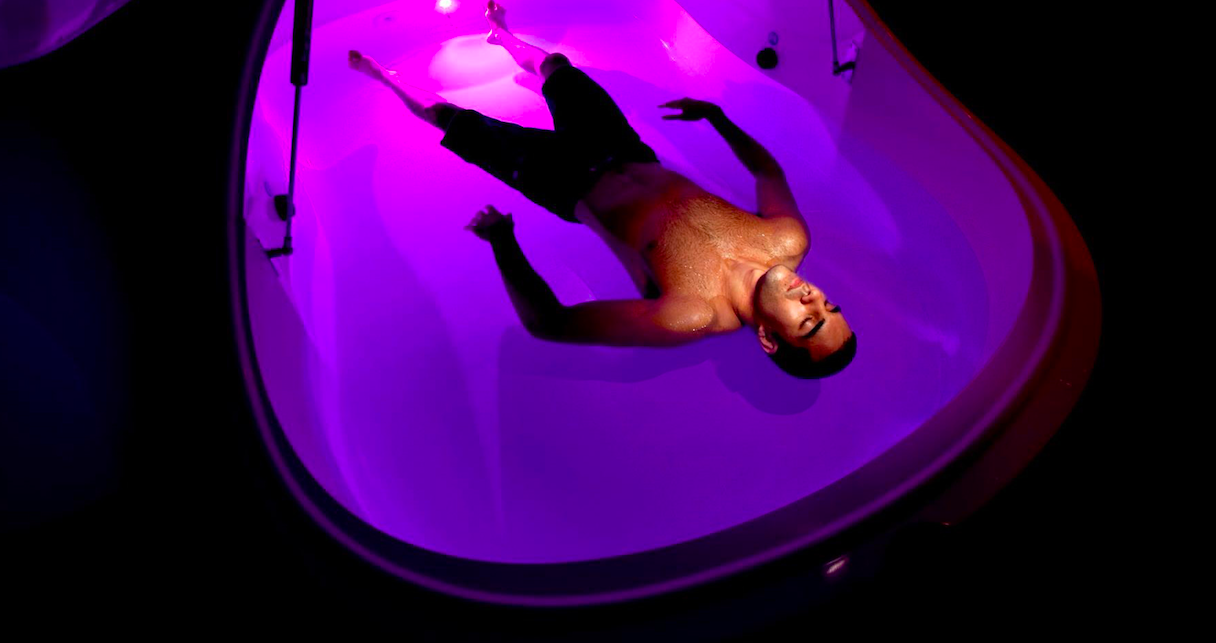 ​Floating has many scientifically proven health benefits including reducing anxiety, stress and
reducing blood pressure. Clinical research has reported largely beneficial effects across a
range of different stress and pain related conditions, including clinical anxiety, generalised
anxiety disorder, PTSD, hypertension, chronic tension headaches and stress related pain
with burnout depression. Current evidence suggests that Floatation REST is a safe technique for rapidly reducing levels of stress, pain and anxiety.
Floating Point Float Centre is the only centre in the UK to have a partnership with Olympic
Athletes, they are also partners with Thames Valley Police Federation and the centre is run
by one of the UK's leading experts in Floatation Therapy, Michael Cordova. Michael is a TEDx Speaker with over 10 years of floating, he has spoken at the International Float Conference and is on the board for the International Floatation Tank Association.
Book in to start your Float journey and experience the deepest relaxation.

www.floating-point.co.uk / 01183272490
Bourne House, Horseshoe Road, Pangbourne,
RG8 7JQ