Chantal Mallett has been creating dramatic, unique, bespoke gowns since 1996 and her mastery of the corset is second to none. Sophie Elkan was fascinated to learn more about her inspiration, and also her latest project.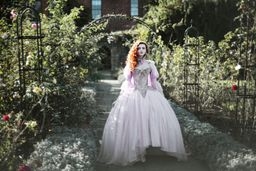 Your gowns remind me of fairy-tale illustrations – where do you find inspiration?
I love illustrators – I love Aubrey Beardsley and was very drawn to Erté in my late teens. I remember coming across a book at school – probably very inappropriate, all about the Moulin Rouge – and something about the illustrations, the way they drew feathers… they were frivolous, and fun! The jewels and the materials all really stuck with me. Beyond that, inspiration is all around me. I love architecture, costume films, drama, theatre; my mum is really into those Sunday night costume dramas and although often the costumes are frumpy and don't really fit well, something like Anna Karenina with Keira Knightly was just sumptuous and beautiful.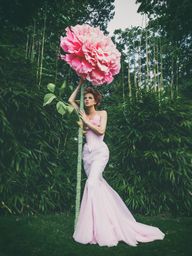 Your designs feel rooted in history – is this conscious?
I love historical references, and I love to mix them up. They don't have to be historically perfect; I have one gown which is a little Pride and Prejudice, but the cut is so much nicer. There is something attractive about a high waisted princess-line but I change the cut so that it looks better and more dramatic. I use a full circle from the bust and the waist goes down to a diagonal at the back which is a lot more flattering than just a straight drop from the bustline. Buttons run all the way down, and it has huge ruffled shoulders. Also, wedding dresses have to be practical, so dresses have to be able to collapse down to pack on a plane and of course, you have to be able to breathe in a corset. My corsets create the illusion, thanks to the line of the dress, but I won't actually cinch in the waist. It is not healthy and it's not realistic unless a woman is used to wearing tight laces, so it's an absolute no for me.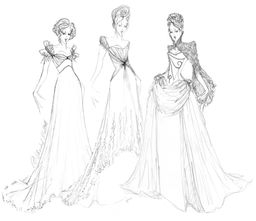 What about your own history – how did you start out?
I did a standard BTEC in Fashion Design and then went onto Berkshire College of Art and Design – which doesn't exist anymore – to study Fashion. However, I'm self-taught in corsets and I'd say that's probably the best way. The same is true for the jewellery. I've always had a natural ability to understand how to make what I see in my head. I just know how clothes work and how draw them the way they will look. You have to understand them on the page and then be able to make that a reality and for it look as good – if not better – than the drawing. I've always been really comfortable with the process, even it takes a few weeks to work it out, I have an affinity for it. I came out of College in a recession and there was no design work available, so I went to Liberty in London with my final collection, looking for some advice. They asked me to make a dress - which is very surreal now I come to think about it – and I opened a show at Liberty with the dress I made from their fabric. It was Elizabethan looking; pink and gold, short in the front and a very big skirt. I took this to the magazines and one told me come back once I'd done something in white. Another liked an illustration of mine, and wanted to feature it, which sparked some interest; and there was another who liked a design and wanted it for a photoshoot. That's how it started!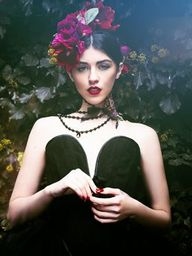 Who is your 'typical' bride?
Any bride who feels like they want to be a goddess, to really look like a movie star, that's my bride. I always imagined that they would be actresses, models and peoples already leaning towards careers that embrace more dramatic clothing, but a lot of my customers over the years have had very normal jobs. I think that what they've done is to buy one of my dresses to explore a self they don't normally indulge. Vets, solicitors, doctors, pilots who like to dress like beautiful goddesses when they get married, which is really cool. I enjoy giving them a look they've never thought they would be able to wear, and they absolutely love it. Even now, when I post old designs on Instagram, I'll get clients from 15 or even 20 years ago, commenting to say how much they still love their dress.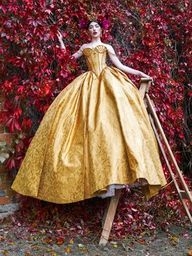 Which is your personal favourite design, and which is the most popular?
Well, my corsets and fishtails have always been popular – it's a silhouette that's good on tiny women who are straight up and down can be made very curvy in a fishtail, ditto very tall, willowy girls look amazing in them. And then curvy girls look superb in them so they're very good across the board at making women look fantastic. Generally, my clients are in their 30s so they're not buying dresses because their mothers are there saying 'I want you in a princess dress'; they're buying for themselves and they want to dress and look like a woman. I also love the huge ballgowns, they are a lot of fun to do. I have a dress called Elizabeth which over the years has sold really well. It's a big ballgown in the most gorgeous brocade and it has these sort of shell cups on the front of the corset. I was inspired by Uma Thurman in Terry Gilliam's The Adventures of Baron Munchausen, in which he recreates Botticelli's Venus. The dress is absolutely gorgeous – beaded down on the seams, scalloped shells, more beading on beads the shoulders and a huge skirt. I've done many variations – in cream, gold ivory and it's always looked gorgeous. People still love it and its very timeless. It reminds me a little bit of the costumes in Elizabeth with Cate Blanchett, and that's where the name comes from.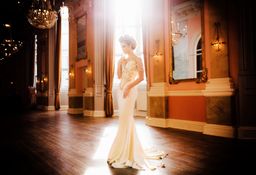 Do you also design the amazing jewellery and headpieces on your site?
Yes, I do. When I first started there was nothing which complemented my dresses, so I started making fairy-like crowns for my photography. When magazine editors saw them, they told me brides would buy them and they also wanted to use them for their own shoots. I designed more and they have been regularly featured in magazines. More recently I've started tying the jewellery in with the dresses. I've done a few pieces including jewelled fairy wings on beaded straps. I've designed a system whereby the straps fit onto the corset so that they look like they're part of it but also come off completely, so the dress can be worn in different ways on the day.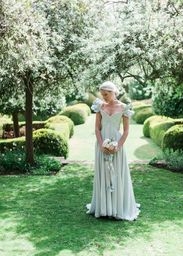 We're here for the bridal, but could you tell us a little about Mask Have Accessory?
We're in a pandemic, and the wheels of the wedding industry ground to a halt at the beginning of lockdown. As I am talking to you, they are allowing 30 people at weddings, but it is going to be a slow recovery to get back to a place where people can have the wedding that they want so most weddings are being postponed. In the meantime, I launched Mask Have Accessory, which I can do from my kitchen table. I did various research on the fabrics, looking at lab testing from the US, and got a concept together based on what it was that I wanted, which was a mask that didn't look ridiculous and that made me feel more comfortable about the fact I was wearing one. It had to be comfortable, breathable and make me feel prettier – there's a certain amount of vanity! I wanted the whole brand to have a likeable friendly edge to it, to put an expression back on the blank faces, and to make them smile. That's where it started and it's doing really well. I think of it as a long-term brand now; very different, but still a spinoff from Chantal Mallett Bridal Couture. I'm now developing luxury masks, with lace-inspired patterns using different colours and florals and still very much working within my aesthetic. They are printed onto ivory satin, making them ideal for evening wear, or even wedding guests. It has come full circle as I've just made a couple of bridal masks, so there's now a direct correlation between the two businesses.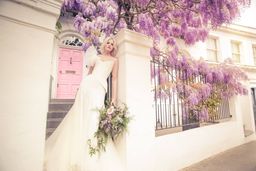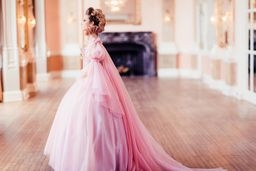 To see more of Chantal Mallett's designs, visit her website chantalmallett.com.