"The gin and tonic has saved more Englishman's lives and minds than all the doctors in the Empire" Winston Churchill
You can always rely on Churchill for a quotation that either heartens or enrages. Whether it's a celebration, commiseration or just in need of inspiration, there is nothing that hits the spot quite like a gin and tonic. Once thought of as the tipple of choice for the upper classes it actually was blamed for the demise of society in the 17th century.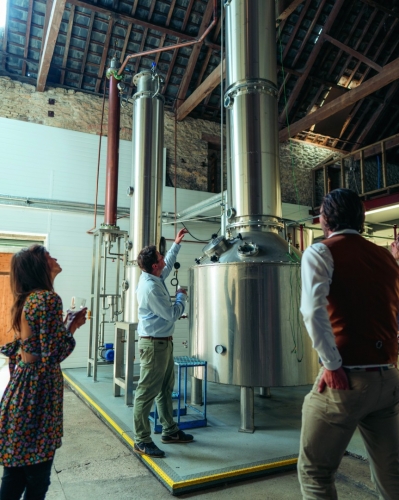 Five hundred years later, gin is more popular and fashionable than ever before, and society has in fact survived its presence with a range of craft gins available which is nothing short of astonishing.
Having lived in Oxfordshire for many years, I was quite surprised and more than a little delighted to find hiding outside the village of Bampton, and nestled in the corner of a sixth-generation farm, is Wood Brothers Distillery; a single estate distillery that prides itself on its farm-to-glass credentials.
My invitation to visit was received with glee, and as I approached down the winding road that led into the farm and hundred-year-old barn that houses the distillery bar, I had a feeling that this would be something special.
The Wood brothers, Ed and Charlie, are sixth generation farmers, and have a fascinating history that shows itself both in the company logo (all will be revealed) and the storytelling filled with passion, respect and humour based around their grandfather and his achievements.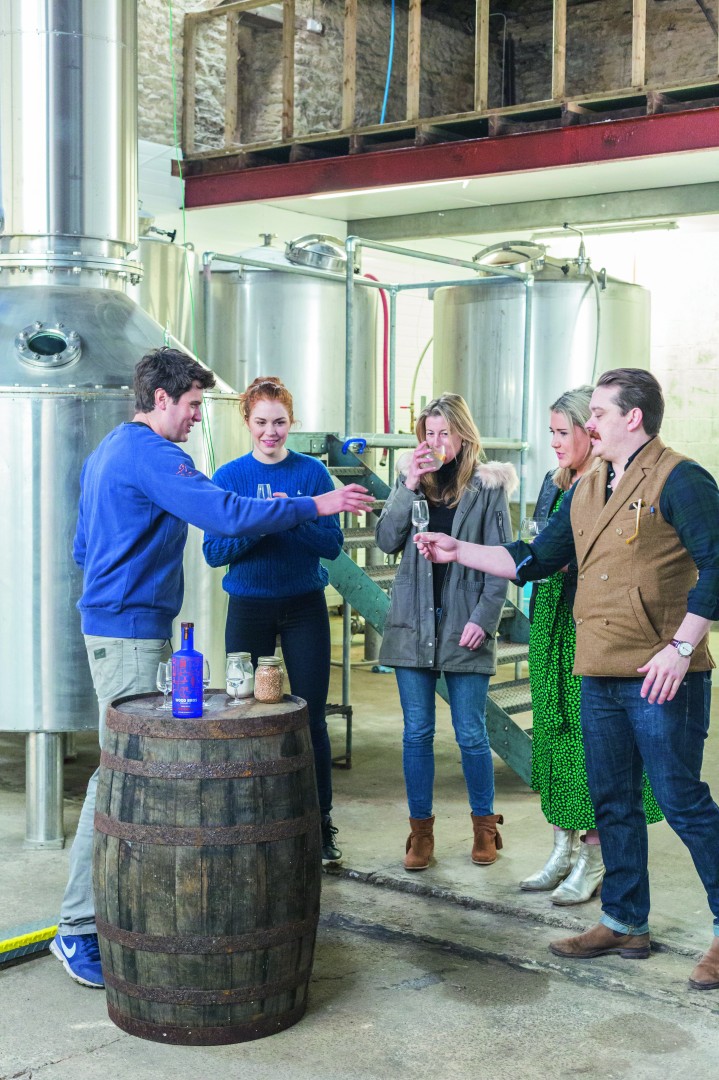 The brothers have immersed themselves into diversifying the use of the land that they have lovingly sustained for generations. "We understand it, nurture it and in return we are able to reap what we sow, harvesting the winter wheat, barley and rye which forms the basis of our vodka gin and our soon to be launched whisky. These humble grains are processed in our milling shed and are then carefully distilled into our award-winning spirits."
My tour began with a taster and a chat with Charlie and his charming and very knowledgeable colleague Drew who had the patience of a saint and answered our somewhat ridiculous questions with enthusiasm – whilst constantly keeping our glasses filled.
Finding out just how the brothers made the magic happen was absolutely fascinating, and being in the room as Big Frank (the huge still, almost 10 meters tall) produced a clear spirit before adding the botanicals in the smaller stills was enthralling. As we headed back to the bar it was finale time –choosing the botanicals to make our own gin.
We were given advice on what ratios we needed to create a blend of our own and decided after much deliberation to try a combination of pink peppercorn, orange blossom, thistle fig, elderflower, nettle and cardamom, all which were added to a beautiful bottle with our own label which proudly accompanied us home.
I must confess, I don't honestly know what it tasts like as its being saved for a rapidly approaching big birthday. However, I would 100% recommend the experience; the enthusiasm and passion of the team, combined with the fascinating tour and vast amount of knowledge and history wound into the day made it something very special and lots of fun.
All I would strongly suggest is that you arrange a lift or a driver as the generous measures flowed with abundance.
The experience lasts roughly two and a half hours. It includes a beautiful printed voucher, sent to you in the post, a guided tour of the distillery, a gin and tonic in the Wood Brothers bar, a guided lesson on distilling your own personalised gin, and a bottle of your creation to take home with you.
The gin school at Wood Brothers distillery offers the unique opportunity for guests to explore the gin making process  
Kick off the evening with a tour of our distillery along with a lesson in how we make our gins. 
Learn the science behind the distilling process. 
Get inspired with a gin tasting session, as you're guided through the many different spices, botanicals and fruits used by distilleries all over the world. 
Be the distiller; choose your own from over 100 botanicals here at the school, to flavour and re-distil your own 70cl bottle of gin. 
You can even name your gin, personalise the label and wax the top.