As the festive season draws closer, it's a pleasure to choose handcrafted gifts made locally, whilst doing your bit for the local economy, and in November and December, you can browse a vibrant and varied collection by the Oxfordshire Craft Guild, both online (gallery.ocg.co.uk) and - coronavirus-allowing - at the Oxfordshire Museum in Woodstock. It's a treasure trove of jewellery, pottery, ceramics, textiles, wood and glass keepsakes and treats for Christmas from some of the most talented designer-makers in Oxfordshire, and all for sale.
Amongst the pieces, look out for the latest work from textile artist and designer Helen MacRitchie whose bags and scarves team traditional material of wool with simple shapes and contemporary design. Helen's colours are inspired by the colours of Australia. Having spent 15 years living in Sydney "where the colours are brighter", it's no surprise that her range includes the blue of high skies, the vibrant turquoise of the sea and the rich red of Uluru, each in a strong colour overstitched in contrasting complementary colours.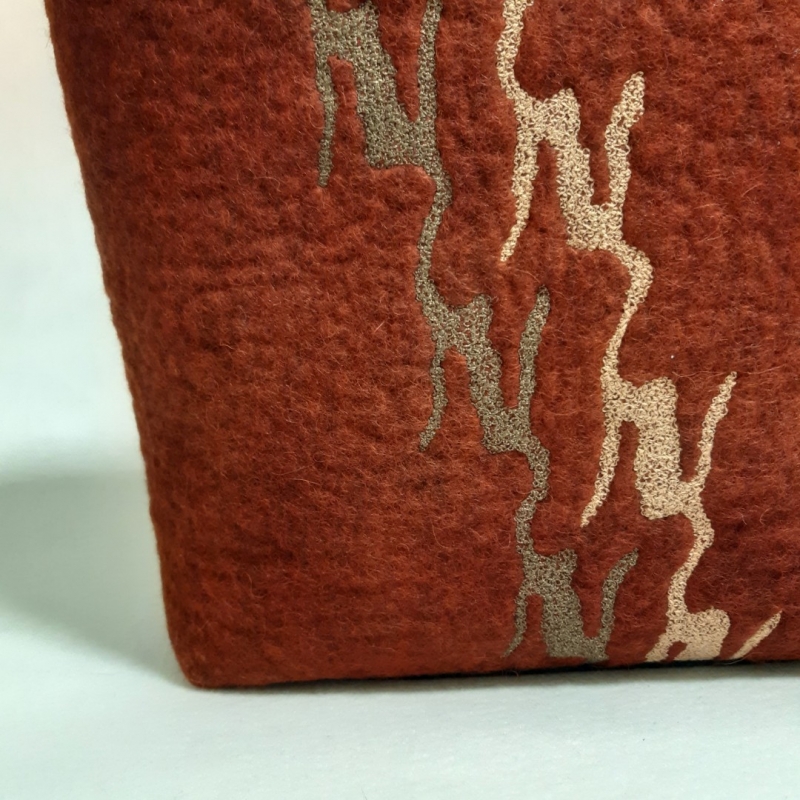 "Australia is a country where sheep stations stretch endlessly, and ranchers boast world-renowned sheep-shearing prowess, so felted wool is a popular material in much of Australia. In Northern Australia and Queensland, however, there really isn't much call for thick felted fabrics," Helen says, "so I learned to use a fabric felting technique that originated in Australia called nuno felting,in which I laid loose merino wool fibres onto a silk backing to create a fabric that is strong and yet lightweight, that flows and falls in delicate drapes – the silk backing can also add a decorative element."
Although her latest collection includes bags made with elements of this lighter fabric, most are made with a coarser wool so that they are more hard-wearing. "Since moving back to the UK three years ago I have used the wool, mostly, from British breeds; the Corriedale, the Bluefaced Leicester and some Romney sheep too. It's thicker and spongier, and then when I stitch over the top, I use the needle of the sewing machine like a pencil as if I am drawing onto it. The precise stitching gives a very different, firmer texture, and the end result is almost embossed.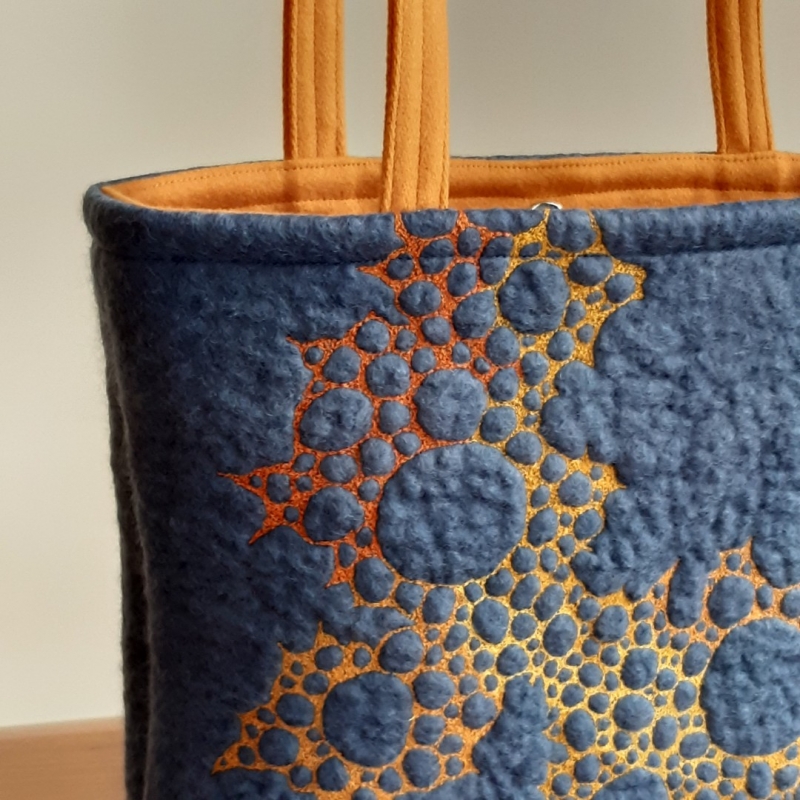 "The colours that people choose to wear here too are different. People's clothing choices reflect the different environment and climate here. The palette is more muted, drawing on the softer organic hues of misty landscapes in greens and browns, greys and purples, and I love to capture these with scarves and bags to enrich seasonal outfits.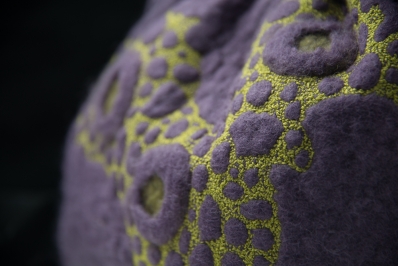 ©

Ian Fraser
"I am inspired by botanical colours, greens and browns and autumnal reds and this year, in lockdown in Waterstock, I have been out collecting plants to develop natural dyes. The classic trees in the UK are very different from the Australian ones and eco-printing with Eucalyptus is clearly something that is harder to do here where their abundance is lacking. However, the oak, elders and hawthorn all give their own colours. Using the leaves, bark or the berries of the hawthorn, for example, provides a surprising range of autumnal colours from peach to a tan and a darker brown. Add a little iron or copper water and these can be transformed into striking greens and blacks too."
Helen creates purses and bags of all sizes, from small square shoulder bags and messenger bags to rucksacks, as well as an iconic puffball series perfect for an evening out. These are conversation pieces with stylised abstract patterning that catches the eye. One in dusky pink and pale blue with silver handles would add a touch of modern style to a 1930s dress, whilst another in purple and green has a funky surface texture that might be the surface of the moon.
"Actually, the shapes were inspired by cells," she laughs. "I originally trained as a pharmacist and studied the formulation of medicines. The shapes of single cell organisms – from simple spheres to graceful globules and elliptical forms – and the long smooth flowing curves of components of the body inspire many of my patterns. I love the movement of shapes from nature and they really suit the free-flowing nature of stitching.
"By nature, I am pretty analytical, and always on the lookout for shape and patterns – and I'm a great one for tessellations! The patterns and textures in the natural world are incredible: although they look abstract and random, there's a strict order to the way they form."
Alongside her bag collection, Helen's colourful wool and silk scarves for the winter made with both silk and wool have a natural 3D ripple "because the silk doesn't shrink and wool does" which gives them character.
"I am also making a new selection of silk scarves in rich reds and cool blues, perfect for winter," she says, "and these are a real treat for Christmas. I'm using a variety of silks and metallic threads so they catch the light as you move – we all need a bit of glitter in our lives at the moment."
You can also see the latest pieces created by hundreds of Oxfordshire Artweeks in a festive art trail at artweeks.org, and on Instagram where, in a new venture, a selection of artists are participating in two on-line art and craft fairs for Christmas (Wednesday Nov 18th 7-9pm and Saturday 12th Dec 2-4pm) where you can see over the course of a couple of hours the latest creations to inspire your gift-giving– or check in at your leisure later to see the remaining selection.