OX favourite Handmade Oxford is back at Waterperry Gardens. The international contemporary crafts festival has returned for a third year to this beautiful garden setting.
CULTURE & CONFLICT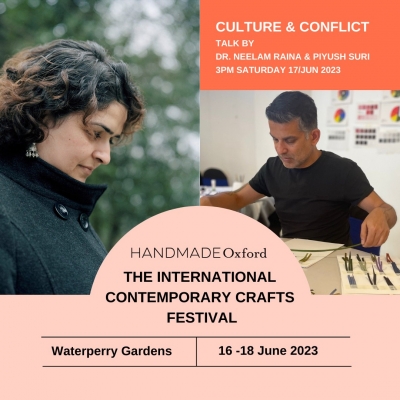 Join the talk between Dr. Neelam Raina, associate Professor at Middlesex University, London Middlesex University and Piyush Suri, Creative Director, HANDMADE in Britain about their research project looking at the role that locally valued craft practices play on women who live in fragile and conflict affected areas of South Asia.
The Culture and Conflict project is part of the Transformation and Empowerment stream of the GCRF Gender, Justice and Security Hub based at the LSE The London School of Economics and Political Science - LSE in London,UK.
The products developed by these craftswomen from remote Afghanistan, Pakistan, India and Sri Lanka will be exhibited at Handmade Oxford festival.
Book the festival tickets and join this event for FREE on Saturday 17/Jun, 3pm.
RIVER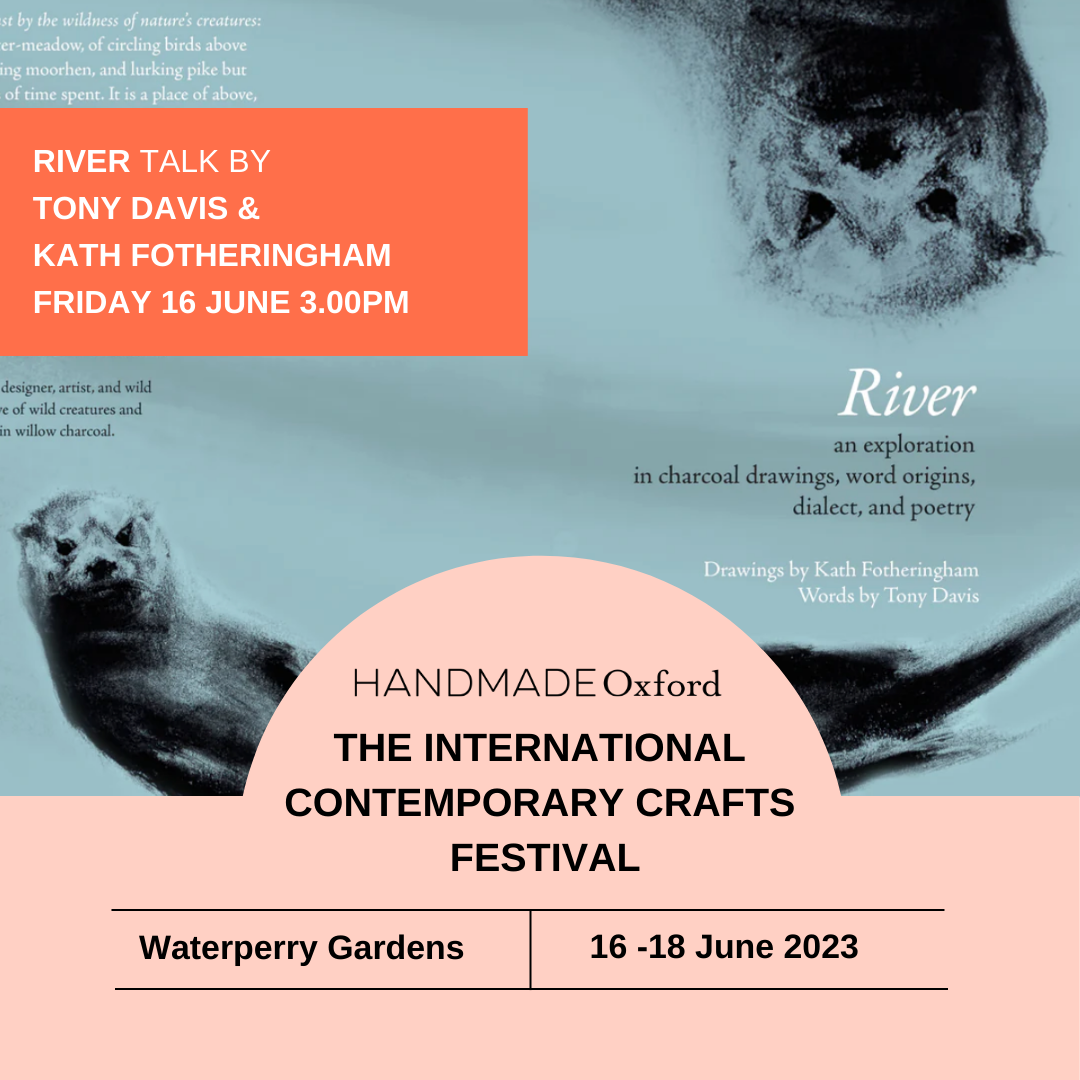 Join the talk between Tony Davis (ABlackbirdSang) and Kath Fotheringham about their beautiful and moving illustrated book, 'River'. River contains mixed poetry inspired by Kath's willow-charcoal drawings and vice versa. During their talk they will also discuss other research into dialect, river habitats and the names of things.
Tony Davis is an artist, poet and campaigner for the environment. Co-founder of A Blackbird Sang, he creates nature-inspired work in his studio in Oxfordshire. Kath Fotheringham, graphic designer, artist, and wild swimmer, is inspired by her love of wild creatures and places.
Book the festival tickets and join this event for FREE on Friday 16/Jun, 3pm.
MAKE IT AT MARKET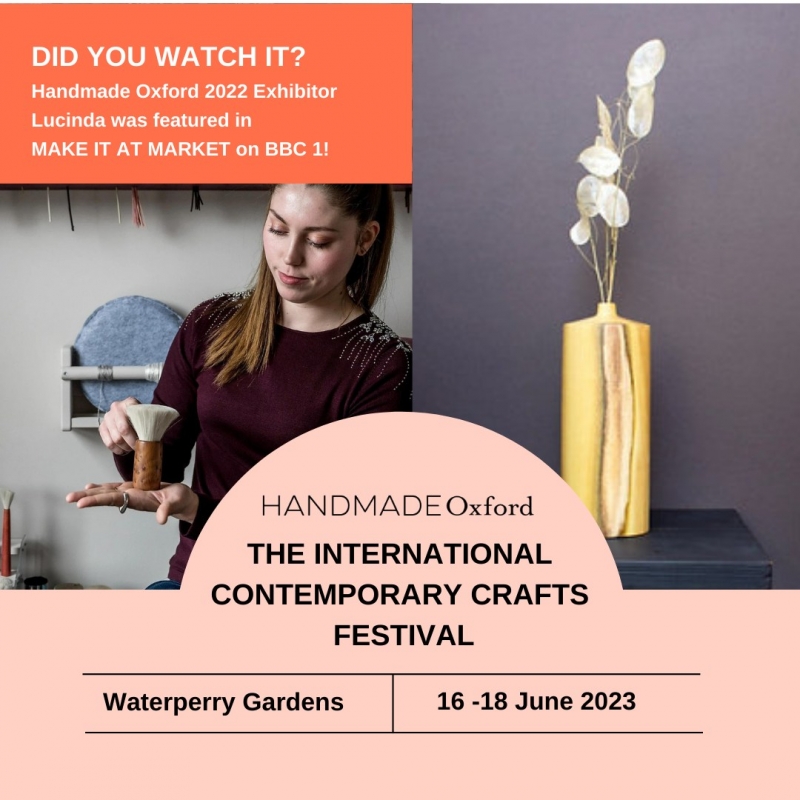 10 of the makers featured in the series MAKE IT AT MARKET on BBC 1 showcased and sold their work at Handmade in Britain's Handmade Oxford Festival in June 2022.
Woodturner and brushmaker Lucinda Goulden is returning this year at Handmade Oxford Festival. Lucinda creates homeware and brush products out of natural fibres and wood from all over the world from her workshop at the family home.
"On the show, it shows my journey through transforming my hobby into a business." - Says Lucinda on MAKE IT AT MARKET Series 1, Episode 8.
Morgan Charles is also returning this year with his new designs. Morgan uses sustainably grown timber and prioritise durability and versatility in his design and build process.
"It was an absolutely beautiful weekend at Handmade Oxford, Waterperry Gardens. My first show and what an amazing experience!" - says Morgan on MAKE IT AT MARKET Series 1, Episode 1.
Catch up the show on BBC iPlayer and Meet these talents in person and feel their work in June at Handmade Oxford Festival!
NORTH & SOUTH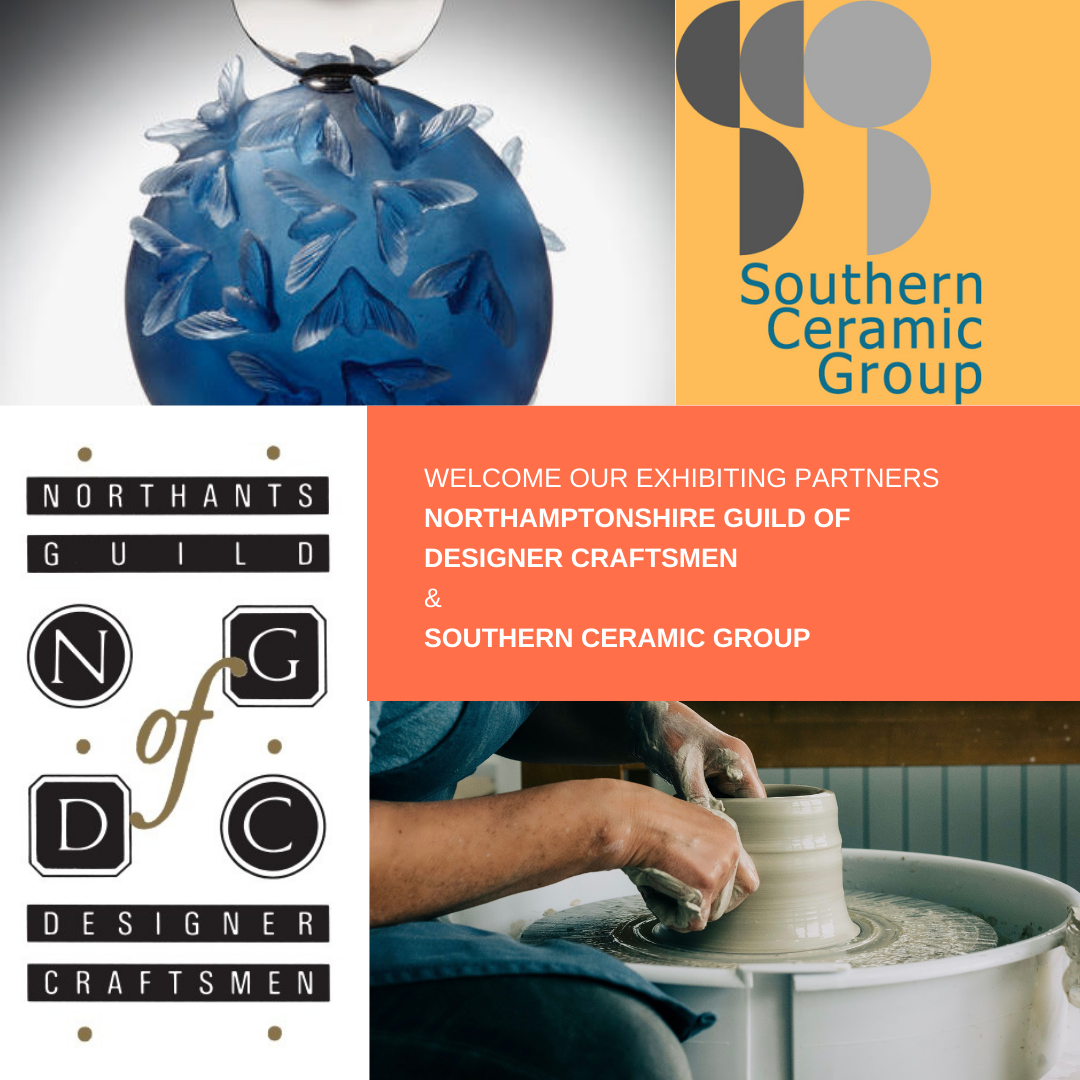 We are excited to welcome two partners to Handmade Oxford 2023.
Northants Guild of Designer Craftsmen - founded in1990, Nothamptonshire Guild of Designer Craftsmen brings craftsmen and women - who generally work in isolation together, to promote their work collectively, making high quality products in wood, metal, plastics, glass, clay and textiles.
Southern Ceramic Group - Started in 1975 by a small group of enthusiastic potters, the Southern Ceramic Group now consists of over 170 enthusiastic ceramicists who live and work in the south of England and share a passion for creating in clay. The members are as diverse as the objects they create. What they all share is intense creativity.
Book your tickets now: www.handmadeinbritain.co.uk