As two very different designers come together for Oxfordshire Artweeks, teaming the refreshing of mid-century furniture with contemporary countryside designs, Esther Lafferty visits them in the heart of the Oxfordshire countryside to hear more about their individual styles and their collaboration.
Emma Whyte loves to add interesting and unusual elements to rooms and houses, from feature walls to furniture which is not so much upcycled as refreshed, breathing contemporary life into mid-century pieces.
"It all began," she explains, "when I was doing up a house in France. Having been a picture editor for a publishing house in London, I was exploring a slower, more creative style of living, and became friends with an elderly gentleman who lived locally. He was the archetypal Frenchman with a beret who might have cycled straight from the pages of a children's picture book. His wife, who was in her eighties too, was agoraphobic. Because she never left their house, he invited me in to meet her. It was a typical French farmhouse and I had no idea what I was about to see: the interior was incredible. His wife had decoupaged the entire inside of their home in a way that was striking and unexpectedly beautiful, a perfect balance of style and interest. The colour and pattern mixed together in a way that just sang. I was inspired and that's when I began working with paper to create that same visual magic albeit on a smaller scale initially.
"It's paper that excites me in the first instance," she continues, "whether that's a book with fascinating pages, a wallpaper design or something striking on paper that I can incorporate into a piece of furniture or directly into a household's décor.
"The first piece of furniture I transformed was a chest of drawers to which I added sunshine yellow Orla Kiely paper to brighten up its shapely elegance. I choose furniture from the 1930s onwards, but the designs from the 1950s are probably my favourites. There is a stylish simplicity to their gently-curved corners; the shapes are boldy modern yet softened, and the understated handles are often integral to the design. Predating flat pack, furniture from this era was built to last, mostly in Britain, with dovetail joints and real craftsmanship. Decades on it is still as sturdy as ever although the veneer may have been damaged over time and that's where I come in. The way I use paper refreshes the look and, once the furniture has been finished with beeswax or a vegan wax polish, it has the feel of vintage Formica. It becomes incredibly tactile and durable. You'd be amazed: you can even use wallpaper as a stair carpet runner if you finish it this way," she smiles.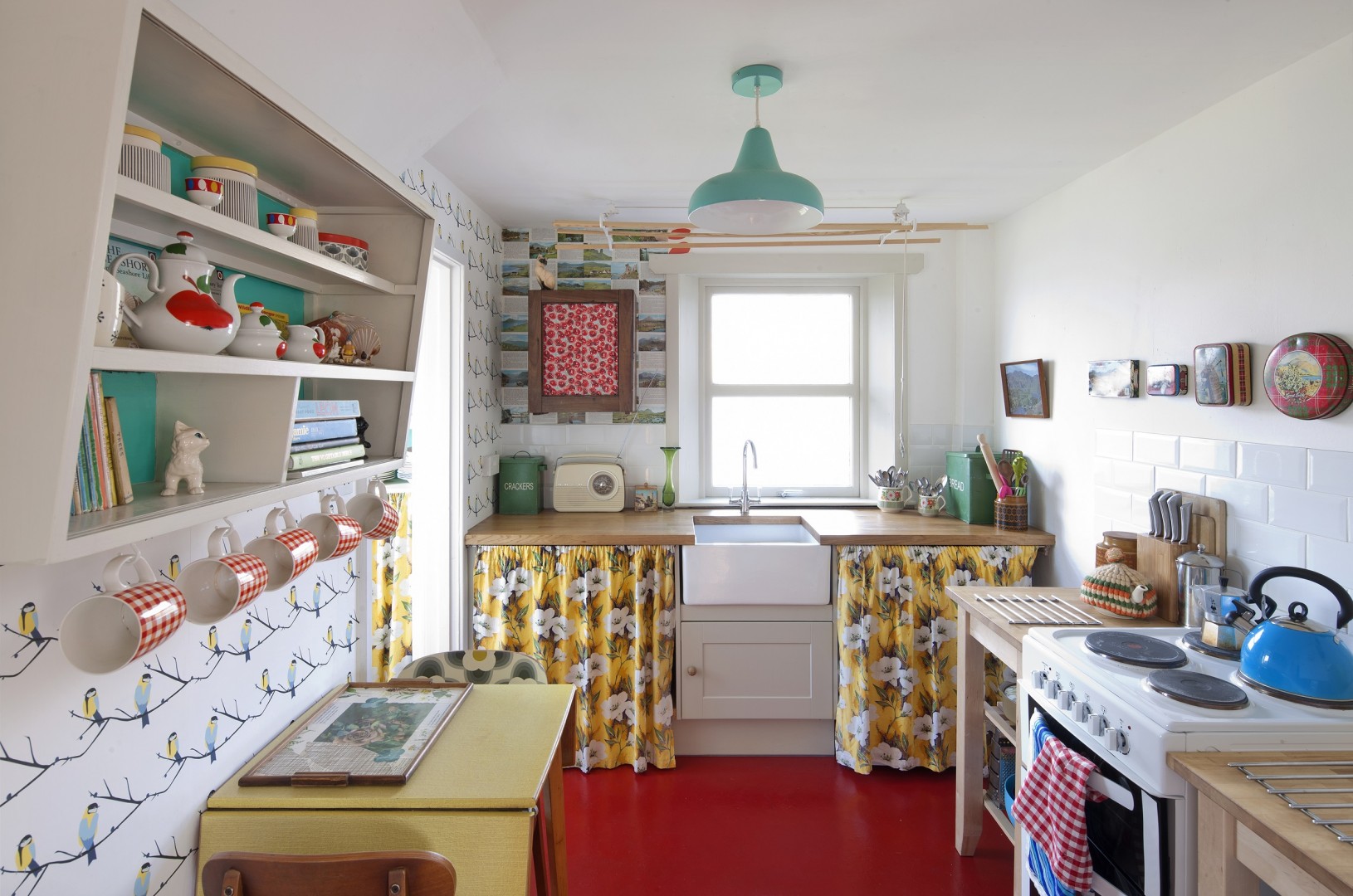 "I am always trying to achieve a warm welcome and a relaxed homely feel that's calm and uncluttered yet uplifting, a burst of colour and character. The rooms I create and the furniture to go within them are fit for family life, so they're hardwearing, friendly and fun. I try and link the designs, pictures and other disparate patterns and elements, to the location using what is available locally to keep the carbon footprint minimal, and the palette I use varies from place to place.
"I have papered walls with 1970s footballers and with cyclists from Tour de France – that was in a farmhouse in the French Pyrenees. However, I am mostly inspired by the natural world and so I amplify the riches of nature, the colours and shapes, with the bright bold designs I choose."
One of the houses Emma reinvigorated was on the Isle of Skye and that was when she first came across the works of Lorna Syson, an illustrator and designer of vibrant yet elegant fabrics, wallpapers and stationery, whose patterns she used for her decorative feature walls.
Five years later, their paths crossed again in a fortuitous meeting when Lorna, looking for a new house in South Oxfordshire at the tail end of last year, viewed a house in Chalgrove and loved its feel and style – she was then thrilled to realise that it was Emma who was showing her round. Not only did Lorna take over the lease from Emma, but the two decided to collaborate as Syson-Whyte, and create a unique collection of sustainable mid-century furniture for 21st-century homes celebrating British birds and native woodlands.
"As a child I loved to walk in the countryside and enjoy the green spaces around our home: my designs are about that beauty in the everyday," Lorna elaborates, "the minutiae that a person notices if they slow their pace and stroll in the places where they normally hurry past. I love the idea that my designs pull out those delightful details and uplifting moments when you do hear the birdsong or stop to watch a ladybird on a leaf."
Lorna's style takes a silhouetted approach, emphasising the simple charm of the flora and fauna in graceful designs that are both colourful yet tonal and sing with character without being overpowering. Uniting classic and contemporary, Lorna often includes trending pantone shades, such as coral in 2019, in timeless designs. As her work is printed on high quality eco-friendly papers and fabrics, they are designed to stand the test of time.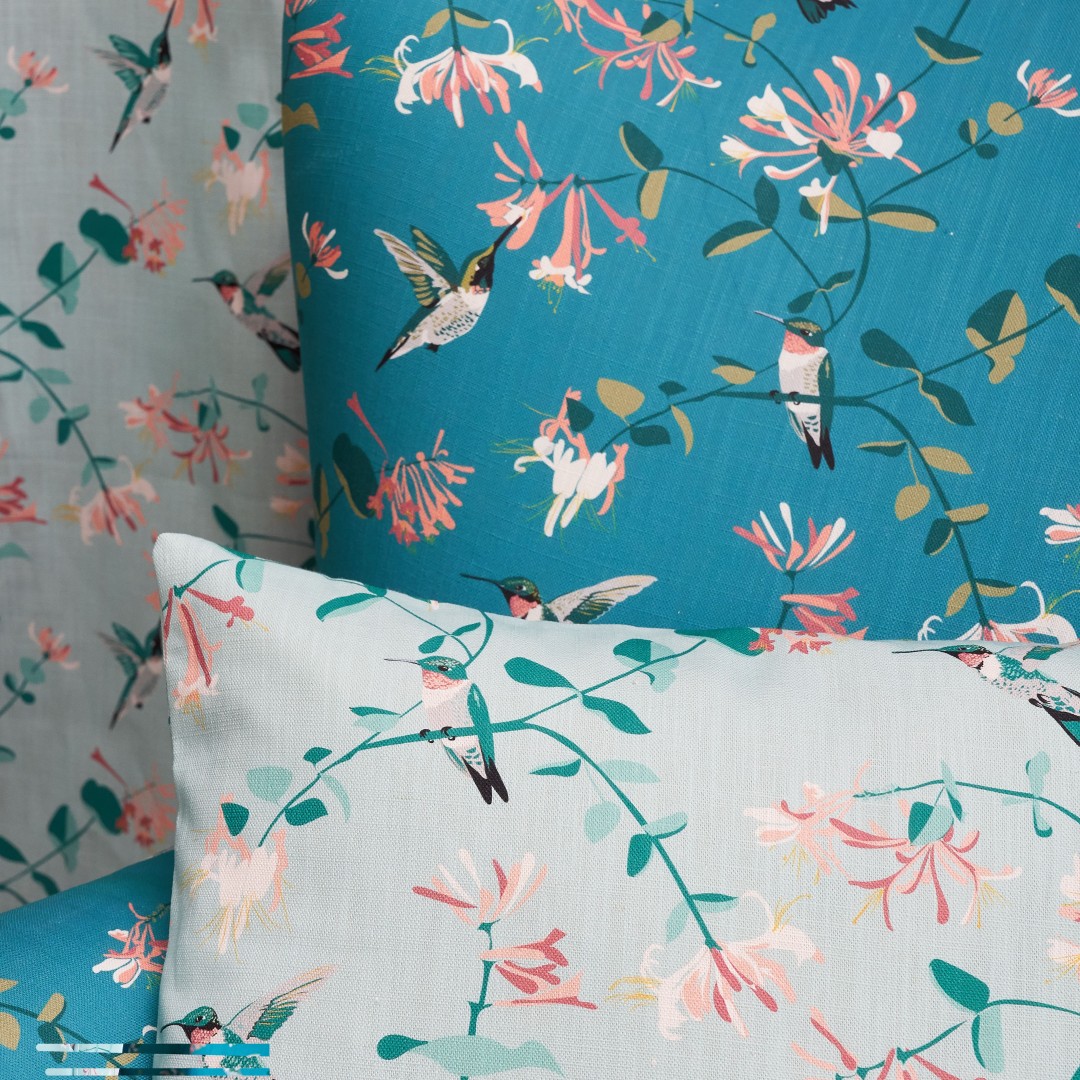 Some of her most popular designs include 'Meadow', "a walk along a Devon coastline", she smiles; 'Spring Ivy', from the overgrowing front garden of a giant neglected mansion, where the foliage had burst over the wall and spilled across the pavement; and 'Broom and Bee', inspired by glamping in Leicestershire. "Most recently I have worked with the RSPB to produce two ranges, 'Blossom and Bird', a long-tailed tit on English Cherry Blossom – what could be more charming than that? – and a hummingbird on honeysuckle. It's my only design with a bird which is non-native to the British Isles, chosen because the RSPB are keen to remind their supporters that there are no arbitrary boundaries in nature," she explains, "so the charity also helps protect the habitats of the species elsewhere."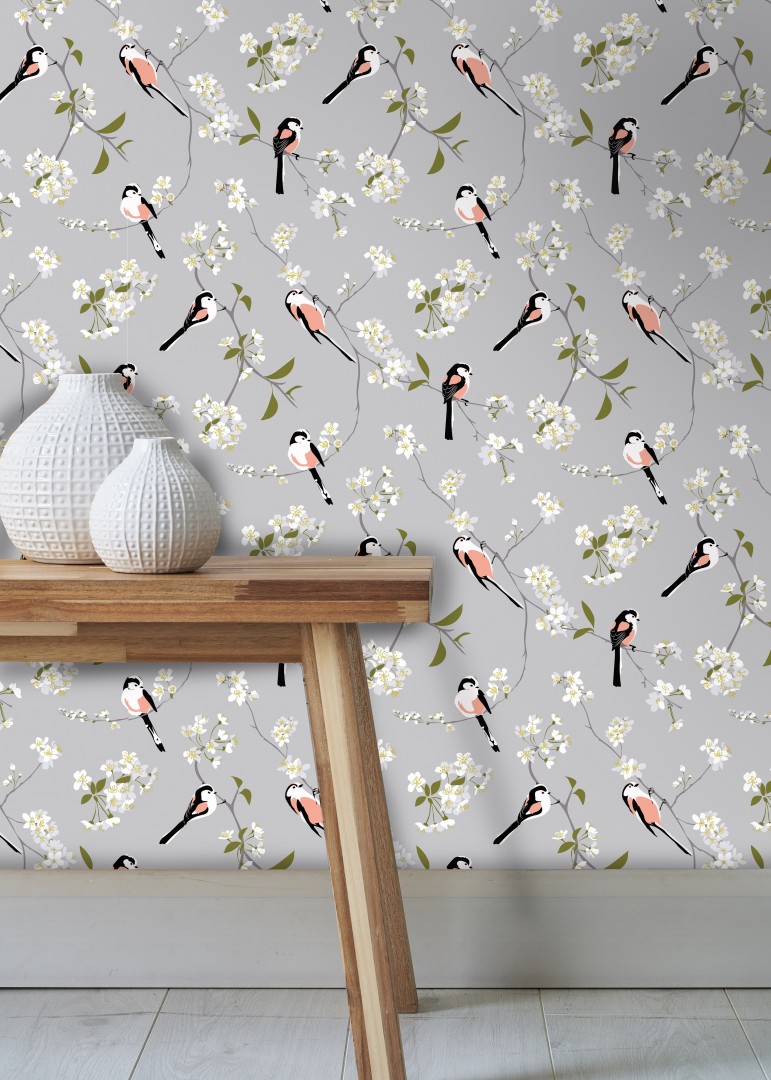 For Artweeks 2020, Lorna based her latest design on the Oxfordshire countryside, with a particular focus on animals and birds that flourish in the Chilterns Area of Outstanding Natural Beauty and local chalk landscapes, from the Ridgeway's White Horse at Uffington to the Watlington chalk streams, such as the Chalk Hill Blue butterfly and the now ubiquitous red kites.
Working with the tones of the wood, Lorna and Emma developed two colourways to suit different interior palettes: one celebrates the spring greens and yellows of the countryside, the other has a gentle organic palette to provide a neutral backdrop for other home accessories.
"I produced bespoke pieces of wallpaper 2m x 3m," says Lorna, "which Emma used for the series: the design melds with the furniture and there are animal accents outside and in. You might find a field mouse when you open a drawer!" So that the entire sheet is used in keeping with the designers' zero-waste ethos, small household accessories such as lampshades and other wooden homeware feature too.
This year the annual Artweeks festival (2-25 May) is taking place online: visit artweeks.org and follow #oxfordshireartweeks on Instagram to enjoy the creative talent of hundreds of artists and designers this summer.