Anthony Tinson Auctioneer and Director of Churchill Auctions
Helpfully, since the early 14th century all English-made silver articles have – by law – had to carry marks to denote that the article was made of silver which "was no worse than the King's money". Since about 1540, items have been stamped more or less the same way as they are to this day. There are, of course, subtle and rare variations to the marking system but here in this article, we will focus on reading the most common English hallmarks found today. Some hallmarks are extremely small, so many people will need to use a magnifying glass or a jeweller's loupe to view the marks. One bonus to being very short-sighted, like I am, is that without glasses you're able to see very small marks close up without the need for magnification!
There are four major marks on most pieces of English silver:
The Lion Passant – This mark indicates the purity of the silver which is almost always 925 parts per 1000. In general (but not always) if your piece of silver does not have this mark amongst its hallmarks then it is likely not silver.

Hallmark example, James Dixon & Sons, Sheffield, Lion Passant, 1911
The Town Mark - There are a variety of town marks that denote where the piece was assayed. The most common being London (a leopard head either with a crown or uncrowned), Birmingham (an anchor) and Sheffield (a crown but very recently changed to a rose). A good 80-90% of silver you see will likely have these town marks but there are other rarer marks which in some cases will add a significant premium to the price.
The main other British town marks in order of rarity are:

Town Marks

Chester - closed in 1962 (three wheat sheaves and a sword)

Edinburgh - Still active (a three turreted castle similar to Exeter)

Glasgow - closed in 1964 (combined tree, bird, bell and fish)

Exeter - closed in 1883 (a crowned X or a three-turreted castle)

Newcastle upon Tyne - closed in 1884 (three separated turrets)

York - closed in 1856 (half leopard's head, half fleur-de-lys and later five lions passant on a cross)

Norwich – by 1701 (crowned lion passant and a crowned rosette), in over 20 years I have never seen a piece of Norwich silver outside of a museum.
To make things slightly more complicated, many of these towns also have import marks which denote the item was made abroad and was imported then assayed at this office. The main two are Birmingham (a triangle) and London (an Omega character within a crossed circle).
The Date Letter – Introduced in 1478, this letter changes every year and as such is invaluable to the collector as it tells you exactly which year the piece was hallmarked. Initially, this letter was introduced because for the year one man alone would be responsible for testing the purity of the silver and their purpose was to make it possible to see from the marks which assayers had tested an item; if a marked item was later found to be less than sterling standard, the assayer responsible could be punished.
It is very important to note that all different town marks have a different sequence in place for using the letters; 1900 for instance is London (e), Birmingham (a), Sheffield (h) and so on. It is also very important to take note of whether the letter is in upper or lower case, the type of font the letter is in and the shape of the shield that the letter is in. All of these then need cross-referencing with the maker's mark to confirm the date, as in some cases the letters can be very similar. The following examples are all from the Birmingham Assay office, they are all the letter M and represent the dates 1861, 1886, 1911, 1936 and 1961 as can be seen in these images respectively.

Date letters
The Maker's Mark – The company or person responsible for sending a silver article for hallmarking has their own unique mark that must be registered with the assay office – a process that has been compulsory since the 14th century. Specialist publications help explain different makers' or sponsors' marks, with the website silvermakersmarks.co.uk being an invaluable source of information for any collector of silver. The inclusion of initial stamps alongside the hallmarks means that most makers can also be identified. Often makers are celebrated in their own right with some collectors choosing to collect the work of just one workshop or retailer such as Paul Storr, Hester Bateman, Charles Ashbee or Liberty & Co. It is important to cross-reference this mark with both the town and date marks to check that the maker was active at the correct period in history and in the correct town.
Other Marks You May Find
Britannia Mark – Most commonly seen on silver dated between 1696 and 1720, this mark was used instead of the Lion Passant to denote that this item was 958 parts per 1000 silver rather than the standard 925 parts. This type of silver is rare and as such is highly prized in auction. Some special pieces are still made today of Britannia silver but these are also very uncommon. This mark is often confused with the Dublin silver hallmark showing Hibernia.

Britannia Mark
Duty Mark – Many items of Georgian and Victorian silver will carry a Sovereign's head – a 'duty' mark reflecting a tax on precious metals collected between 1784 and 1890. The excise duty on gold and silver articles was collected by the assay offices and the mark was struck to show that it had been paid.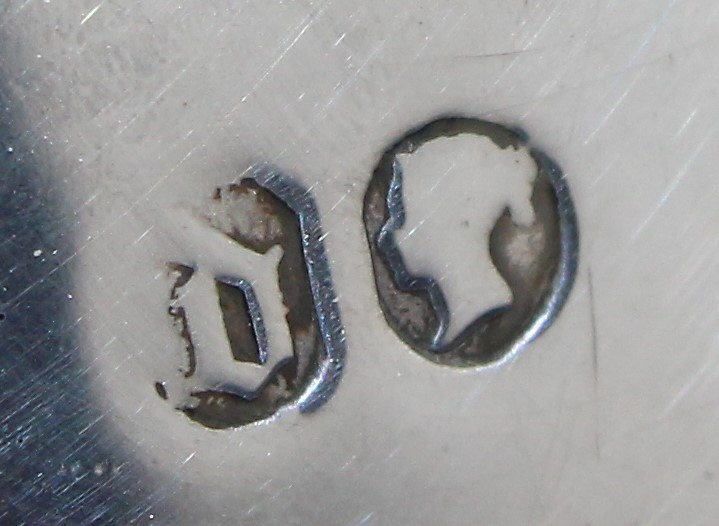 Example of a Queen Victoria duty mark from 1859
Commemorative marks – Sometimes in the 20th-century special commemorative stamps have been added to the regular silver marks to mark special events such as the Sovereign's Jubilees or the Millennium.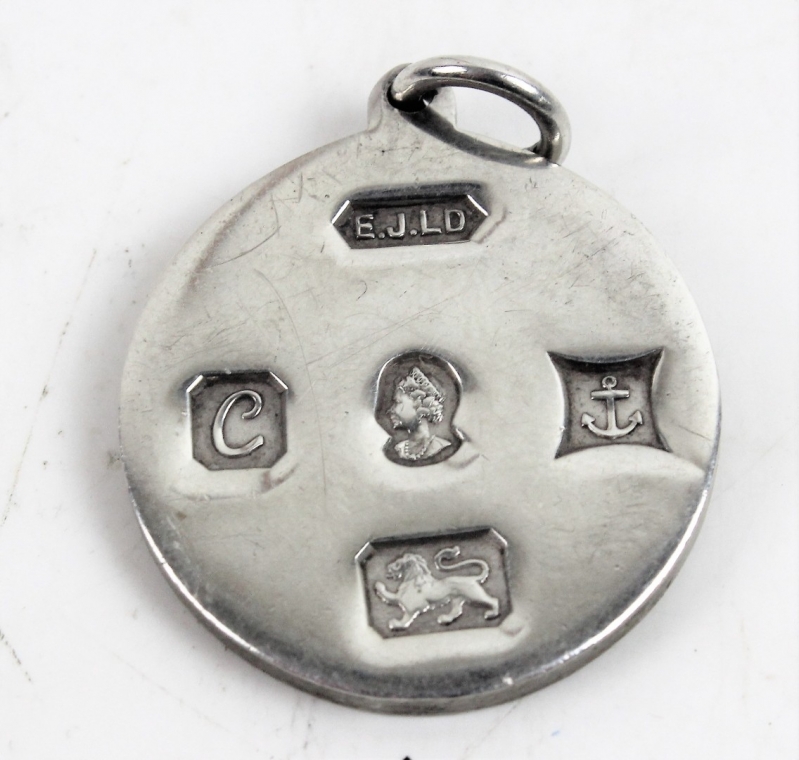 Example of a Birmingham 1977 Jubilee hallmark
Marks on Silver Plate – It is not uncommon for manufacturers of silver plated items, and especially cutlery to mark their items with pseudo hallmarks in an attempt to fool people at a quick glance. Often these will include an EP (which stands for electro-plate), EPNS (Electro-plated Nickel Silver) or A1.

Example of a pseudo silver plate "hallmark" note the absence of the Lion Passant & Town Mark
As with many areas of collecting there are a lot of potential minefields so it is important to make sure if you are investing significant sums of money, you do so with a reputable dealer or auction house. If you have any queries regarding either buying or selling your silver and precious metal items then we at Churchill Auctions will be more than happy to help.
Hallmark/stamp images credit: silvermakersmarks.co.uk