Some of the country's leading experts on wedding planning tell us how they planned their special day - and give you advice on yours.
Samantha Stonehouse - Features Editor of OX Weddings
When I got married in 2009, we didn't have pinterest or instagram, wedding apps or wedding blogs - inspiration came from magazines, bridal shows and attending other people's weddings. I worked in London in the events industry, so was well-versed to organising big weddings, but the trouble was that I had secretly been planning my own wedding since I was about six years old; I had scrap books with magazine cuttings of wedding dresses, little note pads with the names of roses and bridal designers that I wanted to visit... Yes, I was your definition of a bridezilla.
How we did it...
I met my now-husband, Simon, in a pub in Henley back in 1996. It was pretty much love at first sight, and we got engaged several years later whilst on holiday in Mexico.
When it came to wedding venues, we both wanted to have a venue that allowed you to work with any supplier - I wanted to use suppliers that I knew from my days working in London. As soon as we visited Nether Winchendon in Buckinghamshire, we fell in love with it immediatley and chose a marquee on the lawn for the reception and utilised the barn for the evening party. We had a rehersal dinner the day before the wedding and a recovery BBQ the day after. The day itself was a beautiful September day: a church wedding followed by reception and party with 80 of our friends and family.
The one thing that I really struggled with was finding my wedding dress . I had visions of standing in front of a mirror on a box, getting the feeling of 'this is the one'. I went from botique to sample sale to designer meeting, until in the end I just chose one that had the components of the things I wanted: buttons down the back, lace and more lace on the veil. If we were to relive the day again, I don't think I would have done it to the scale we did, but when I asekd Simon if he would have changed anything, he laughed and said 'no, it was our wedding and we had what we wanted', which we did.
I do want to give one piece of advice: it is just one day - a very memorable day, but don't get wrapped up in the small details. Guests remember good food, good company and dancing the night away.
Paul Wilkinson - Wedding Photographer
Paul married Sarah on the 24th May 2003, at Notley Tythe Barn in Long Crendon. Together they run Paul Wilkinson Photography, based in Haddenham. Paul regularly travels the width and breadth of the country, but loves nothing more than capturing weddings right here in Oxfordshire and Buckinghamshire.
Here's their story...
"We met at University - I was just finishing a degree in industrial design and Sarah was half way through a course in econometrics. Our eyes met across a bar. It was my 22nd birthday and, apparently, I was laughing a lot and flirting outrageously. Sarah had, and still has, the most incredible eyes.
When it came to the proposal, before I popped the question I bought the ring. We went to Windsor, which was the location of our first ever date 11 years earlier. The nice thing about Windsor is that it doesn't change much over the years. We walked alongside the river and out onto one of the jetties where I popped the question. In my mind it was utterly romantic- I was on one knee, heart pounding. It was like a scene from a romantic movie. Sarah's view might be different- she jokes that she had no choice but to say yes or I could have pushed her into the raging Thames below her feet! I can't honestly remember what I actually said. I probably stood, tremored and muttered the words, but I like to think I did better than that- more like Shakespeare than Stephen King.
There are a lot of Tythe barns for weddings now, where as 15 years ago it wasn't quite so common. When we hired Notley, it really was a barn: concrete floor, poor lights and lots of draughts, but to us it was utterly perfect! We had 85 guests, 100 bottles of champagne, 200 bottles of wine, a barrel of real al, childminders from the local nursery and a wedding band that I put together and played in. I was a proffessional drummer for many years and this was to be my last, glorious, gig. The highlight? When I turned around and saw Sarah coming down the aisle in a beautiful red wedding dress with our kids, Harriet and Jake. She grinned and kissed me. She had had a glass of whisky with her father in the car on the way over, and I have never felt so in love.
Would we have done anything differently? Absolutely nothing. It was simply perfect. Perfect location, perfect guests, and now I get to spend the rest of my life with my best friend, the most beautiful person on the planet.
My one piece of advice: pick suppliers you really like and trust, from the makeup and hair to the flowers and photography. They are going to be around you all day and so you must like them- they can either add to your day or be a distraction. When it comes to photography, draw up a list of desired pictures, but keep it short so you don't spend hours with a forced smile standing next to relatives you barely know. Families can be complicated so make sure the photographer knows of any politics so he or she doesn't put their foot in it. Most of all, relax, have the best day of your life, and don't worry about any glitches- no one but you will notice. Soak up every single second- it goes past in a heartbeat."
www.paulwilkinsonphotography.co.uk
Lorraine Issott - Wedding planner of ROCK Wedding Planning
Lorraine Issott got married in June 2006 in Dunstable, Bedfordshire where she now lives with her husband and two children. Lorraine offers a range of wedding planning services as well as wedding florals and venue styling.
How they did it...
"We chose to have a church wedding and married at The Priory Church in Dunstable. It was a choice we both made together as we felt it was more sacred and we wanted to have traditional vows and readings.
We got married at 3pm as I wanted to enjoy the morning and ensure my daughter had a nap and her toys to hand whilst getting ready at a realistic time. Another reason we chose a later wedding was because most of our friends and family are from London and the home counties and we felt it would be a good time for everyone to arrive rather than rushing. What we didn't anticipate was a huge accident on the motorway, the Grand Prix taking place, an England game for the world cup and to top it off, it was one of the hottest days of the year! Luckily most people arrived on time, however my mum got stuck on the motorway and the ceremony was put back by 45 minutes. We were the last wedding of the day and luckily our Vicar didn't mind waiting.
With it being the hottest day of the year, and myself being head over heels in love with candles, I wanted to see the grand reveal of the main dining room with everything in place and the candles lit. Even though it was 80 degrees, I couldn't not light them, and we had every single one lit. I love a classic and timeless style when it comes to flowers, so I opted for white roses and orchids, as it was a venue with exposed beams and an arch with twisted willow with entwined roses and floating orchids. It was so beautiful.
One of my most memorable moments was when my daughter was crying and wanted me to hold her whilst we shared our vows. I vivdly remmeber the Vicar whispering, "it's fine, you can pick her up", so we said our vows with my daughter in my arms.
It was a day filled with lots of laughter, non-stop smiling, the sun setting as our evening guests arrived, being with those important to us and seeing my husband-to-be at the altar, in my dress which I love and still have. I remember my day like it was yesterday."
Wedding day advice from Lorraine
"Your wedding day goes so quickly; you blink and it's over. The adrenaline and excitement get you through, and before you know it you're waking up with a hazy head. Both my husband and I wish we had another day to share with our guests, so we could reflect and just be in each other's company that little bit longer.
Planning a wedding is such a beautiful experience. Enjoy the process and if you are busy in everyday life really think about the realistic things you can achieve. Do you have help? Are you making the right decisions? If you can budget it, try and get the experts to help you with your choices, giving you ideas and inspiration to know that the decisions you have made are the right ones that fit with your style, theme and budget."
Matthew and Gary - of Fabulous Flowers
Gary Cooper and Matthew Taylor lead a team of exceptional florists, with shops in Abingdon and Oxford. The Fabulous team lead the way when it comes to floral art and installations. Matthew, a die-hard romantic, proposed to Gary in Paris, the city of love and one of their favourite places in the world. The proposal took place at the top of the Eiffel Tower in the Jules Verne restaurant, with a handmade silver ring hidden in the petals of a red rose.
Here's their story...
"We chose to get married at Belmond Le Manoir aux Quat'Saisons, on Easter Sunday in 2014. We invited 22 of our closest friends and family to a small celebration; we both love good food amongst good company, so the venue was just perfect. We are lucky to work with lots of wedding professionals and we had heard a fantastic pianist and singer who was the resident pianist at the Ritz for two years- he playe dhis white baby grand piano and played Rat Pack songs throughout the meal. We also had a harpist who played during the ceremony and throughout the drinks reception. Gary had said that he wanted to walk down the aisle to Dolly Parton's 'Islands in the Stream' so as a surprise, I asked the harpist to compose a bespoke arrangement of the song. Guests were given a pot of Raymond Blanc's homemade jam, and he even came in to say hello to everyone after the ceremony.
The whole day was just perfect- we wouldn't have changed anything that we did. We felt like guests at our own wedding. We even created all our flowers for the wedding, which was slightly stressful, but we would not have had it any other way.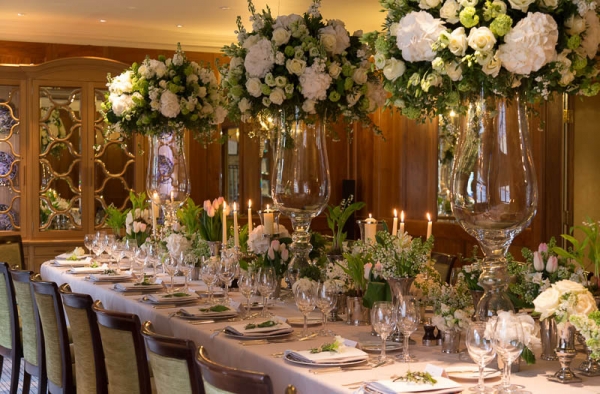 Wedding day advice from Matthew
Our piece of advice is this: it's your wedding day, so do it your way. Don't think about how other people would do it. By putting your own personal touch to everything, you can create something truly bespoke and magical. There are three very important elements to get right that will make sure everyone talks about your wedding for years to come: they are flowers, food and photos."
Emma Joy - Wedding Planner
Emma married Saket on the 2nd of September 2017, at Pennard House in Somerset. Emma is a wedding planner and stylist specialising in flawlessly planned and beautifully designed weddings and events.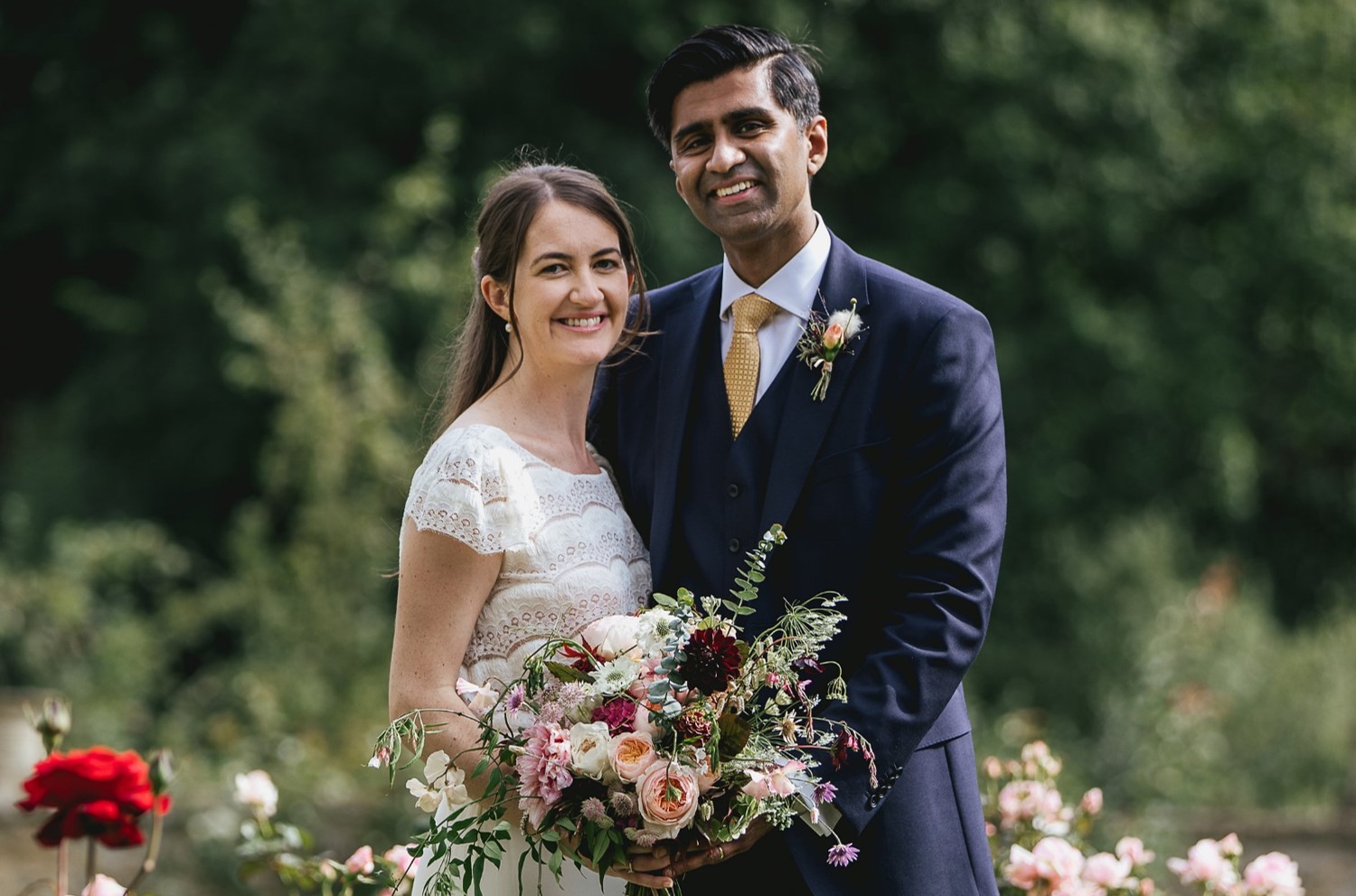 Here's their story...
"Saket and I met in London- I had just moved to the city. Having previously rowed at university, I couldn't wait to get back on the river and I thought joining a club would be a great way to meet new people. Saket was already a member and we clicked straight away. I fell unashamedly for his American accent (which he has since lost!), his kind demeanour and razor-sharp intellect. I know it'll sound cliched, but I knew on our first date that we'd be together!
We'd been going out for several years when Saket asked me to marry him. Of course, we had discussed marriage, but the proposal still came as a complete surprise! He took me on a weekend away to Devon and got down on one knee at a beautiful spot over looking the sea. It was very romantic, I adored the ring he'd chosen and it was also a perfect fit!
We began thinking about our wedding fairly soon after getting engaged. Being a planner by profession, I knew we needed to find our venue and set a date before we got too carried away with the details. We fell in love with Pennard House, which isn't far from hwere my parents live. It's an idyllic setting and perfect for the relaxed weekend wedding we'd dreamt of.
Choosing our suppliers was straightforward once we'd decided on the 'look' we wanted. That's definitely an advantage of working with a planner (or being one in my case!) - we knew exactly who to call.
Flowers were always going to feature highly and as soon as I saw the staircase leading up to the dining room I imagined it covered in flowers. Luckily, my mum is a florist and, along with two very talented florist friends, she brought my vision to life. Our guests couldn't believe their eyes when they walked in, and it was an incredible backdrop for some of our photographs.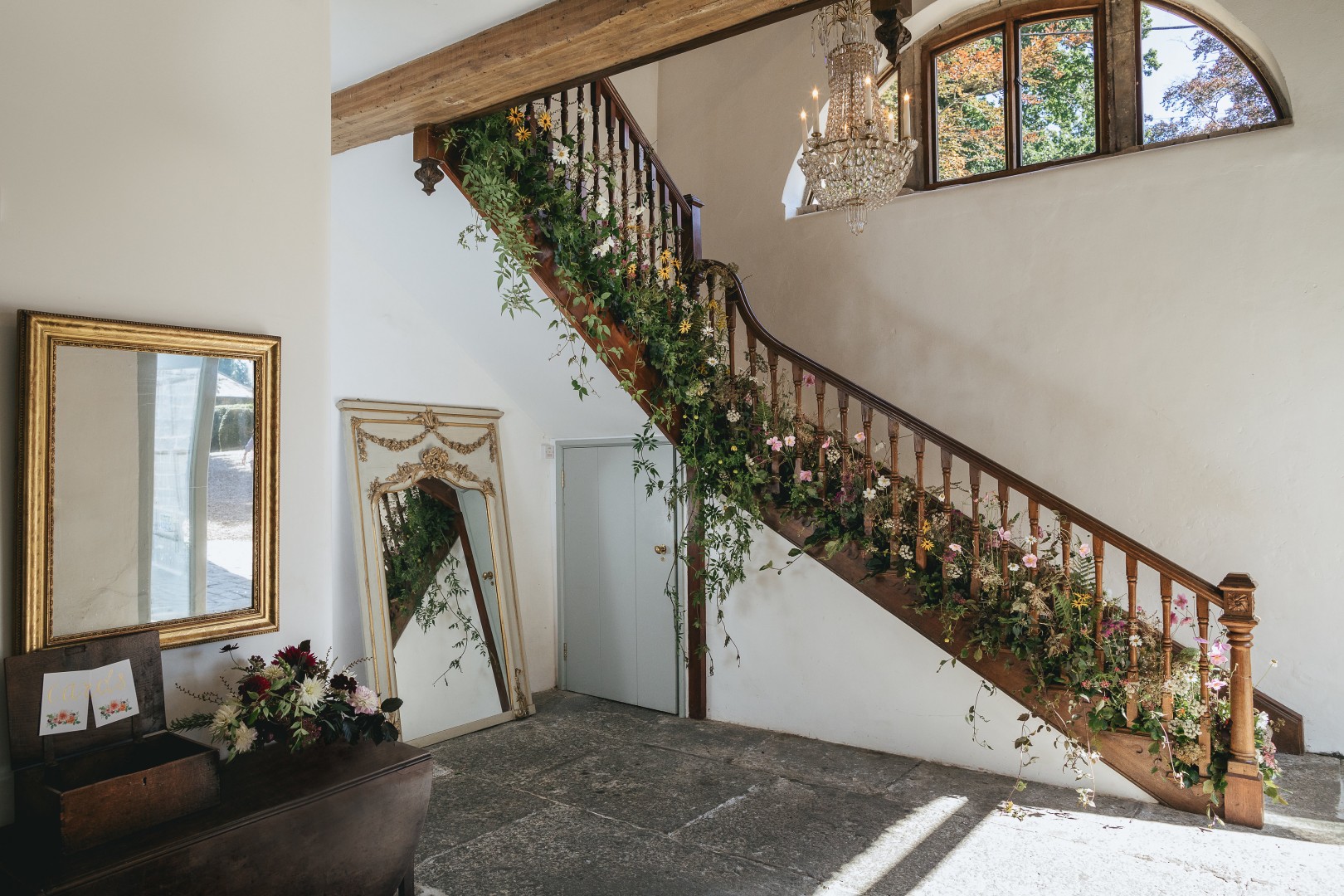 Although we'd decided to have a seperate Hindu ceremony, we wanted to bring a flavour of Saket's heritage to our wedding. We worked closely with our caterer to design a delicious Indian menu that our guests absolutely loved. We love to party and our Jazz band was absolutely brilliant. Everyone was on the dance floor all night.
My highlight? To walk down the aisle in my Laure de Sagazan dress, hearing the birds singing and seeing all of our closest friends and family gathered together. I wish we could do it all again."
Emma's top piece of wedding advice...
"You won't be surprised to hear me say to hire a wedding planner! Even if your budget won't stretch to full planning, consider working with a planner from about six weeks out. They will be able to give you invaluable advice about crucial aspects of your wedding, including timings. And, what's more, they will be there on the day to make sure that all your lovingly-made plans go smoothly. Trust me, you'll both be able to relax and enjoy everything a LOT more!"