It's always nice having a facial. The relaxation, the ritual, the 'me' time. The trouble is when you are closer to 60 than 50 the actual results are somewhat disappointing and although you have wound down beautifully and the ritual is very enjoyable, more often than not the actual difference it makes when you look in the mirror is minimal to say the least.
This was why I was rather intrigued to find out about a facial that is advertised as being a way to age both naturally and gracefully but rather than fighting nature it actually enhances your skin, removing dullness and replacing it with dare I say it – "a glow". Certainly for me, no matter what the treatment is, I know that there is not a chance I will ever be mistaken for a 30 year old, but what I would like is to be the best version of myself, and it is with this aim in mind that I find myself in the company of Pamela at Quartz Aesthetics. Pam is a knowledgeable and passionate woman who explained straight away to me that the treatment would be perfect for my thin, tired skin. I have to say I had a little feeling of doubt. Not because of the treatment and certainly not because of Pam, but actually because years of eczema, steroids, sun and smoking that has certainly taken its toll. Coupled with super sensitive skin that has refused to conform to the most exclusive and expensive products known to man my trepidation was real. I did however adopt the "if you try you might" theory.
Here's what happened
The GeneO+ Super Facial (Oxygen Facial with Skin Tightening) is known as the Super Facial and includes skin tightening Radio Frequency. The treatment begins with a microdermabrasion treatment. The combination of the NeoRevive or NeoBright gel and the Capsugen gently buffs the skin creating oxygen bubbles which are infused into the skin tissue and oxygenates the blood stimulating cell renewal. After the microdermabrasion phase of the treatment, the gel is removed, reapplied and massaged into the skin using the electrical hand piece to ensure that the product is infused deeper into the skin than a manual treatment could do. The treatment uses consumables that are hygienically sealed and used for your treatment only. GeneO+ uses TriPollar Technology which is clinically proven. Collagen keeps the skin plump and younger looking and RF also stimulates the cells in the skin responsible for collagen production. This provides long lasting visible results and immediate tightening of the skin. The treatment is very comfortable and relaxing and different from older versions of Radio Frequency – the Pollogen's TriPollar handpiece detects when the deeper part of the skin is heated to the correct temperature without any risk of causing trauma to the skin.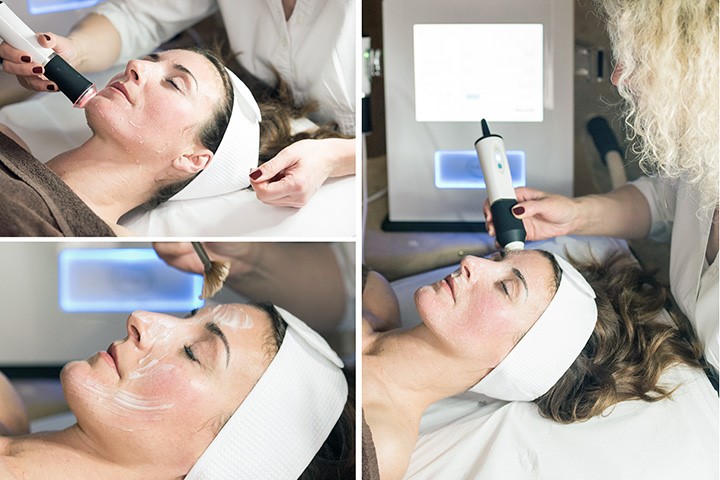 And the outcome
My skin felt amazing immediately. The initial stages were the ones that I worried may trigger some kind of reaction but nothing. In fact at every stage I was waiting for the worst – after all my skin is so hyper sensitive something is going to react. But again nothing.
As I relaxed, I began to enjoy the process and to be honest I also think Pam must have sighed with relief. After all, when a client arrives at your salon and the first thing that they say is "I will warn you I am allergic to everything" it must fill even the most experienced practitioner with a little niggle of doubt. The treatments themselves are in no way painful and are used by many (including celebrities) as an alternative to injectables.
And afterwards
This fabulous skin rejuvenation treatment stimulates collagen and elastin in the skin whilst plumping out fine lines and wrinkles and I have to say my face was certainly glowing. Not only was it brighter and smoother. It felt like someone else's skin. In fact I was so impressed that I have booked a course of 6 which is highly recommended for optimum results and is said to last up to 2 years with occasional top up treatments.
My verdict
It's not the cheapest facial (£85 per treatment) but without a doubt it is one of the most effective I have ever had and as Quartz Aesthetics is in a delightful treatment room, easy to find and super easy parking not only is the whole experience easy and relaxed the outcome is wonderful. Pam is a knowledgeable, helpful and very passionate practitioner, who invested in these products because she had found they worked wonders on her own skin issues. I have to agree – it seems to be doing the same for mine.
To find out more or to book your treatment: Quartz Aesthetics 54 Bloxham Road Banbury OX16 9JR Tel: 07826 755534
quartzaesthetics.co.uk or visit the Quartz Aesthetics OX Loves Page

quartzaesthetics

@Quartzaesthetics