What's the festive season without a feast? We've gathered recipes and tips on how to elevate some standard classics from the very best chefs in the region…
Pierre Needham, Head Chef at Ingleside's Teatro restaurant,
Smoked Mackerel Pate
"Being half French, this is a nod to my heritage but using quality British produce, as the French celebrate Christmas with fish and seafood rather than meat. I enjoy this recipe as it offers flexibility in the finished result; you can use it one day for canapes, the next day for a nice starter, the third day for brunch. You can be as adventurous or as plain as you like with the recipe, omitting or adding anything you like - smoked mackerel is an excellent base ingredient.I enjoy the season by putting my feet up and let someone else do the cooking for a change."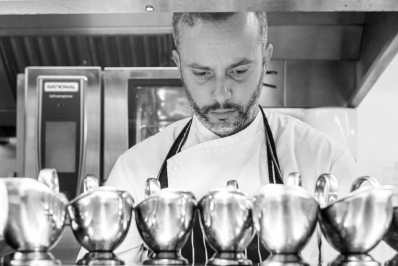 2 packs of 2 smoked mackerel fillets
Handful of fresh dill
Handful of fresh curly leaf parsley
75g salted butter 
1 tsp horseradish sauce and or a sushi pack size of wasabi paste
Black pepper
1 lemon, zest and juice
4 tbs good quality thick creme fraîche
Method:
Using gloves, pick the flesh off the skin of the mackerel – I like to leave it in nice segments
Zest the lemon into mackerel, but retain the juice
Add creme fraîche, wasabi/horseradish, finely chopped dill & parsley (retain stalks for next step)
Turn the butter into beurre noisette by heating on a medium heat, then whisking in lemon juice and the herb stalks, leave to cool
Remove stalks, then add beurre noisette to the mackerel, gingerly mix everything well, then season with black pepper
NB: remember that mackerel can take a heavy dose before the flavour comes through so over season, but do not salt.
"In the restaurant we ballotine the mix, chill, then slice sections before rolling in more horseradish cream and fresh dill, serving it with a parsley yogurt emulsion and crispy quail egg. At home you might pot it, adding further butter on top to preserve it, and serve with crispy bread, or making canapes on toasted sourdough with a sprinkling of fresh pomegranate and rock salt."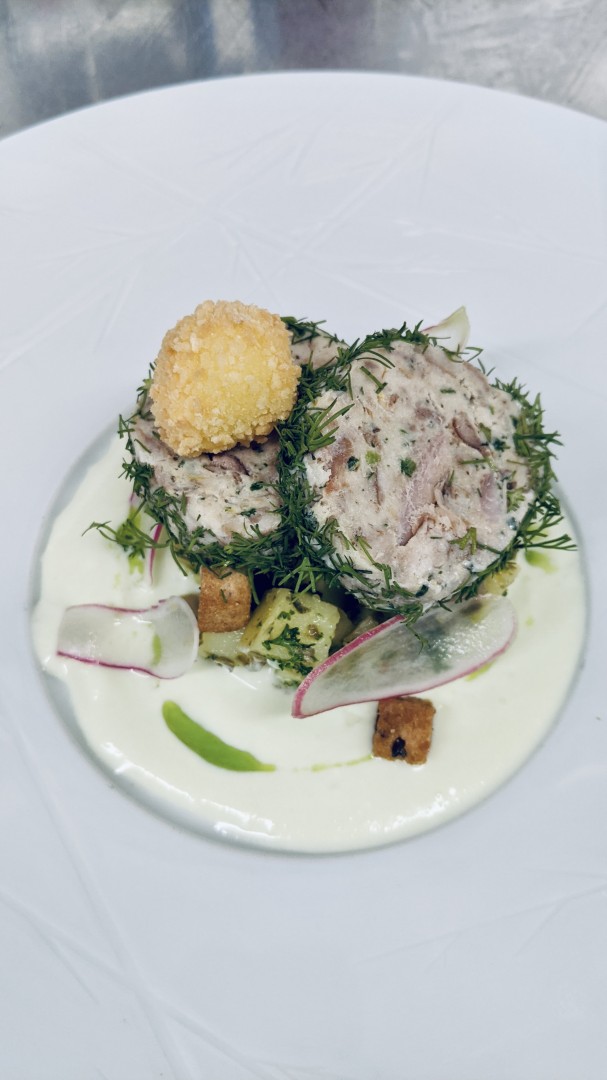 ----------------------------------------------------------------------
Tom Conway, Co-Owner The Seven Tuns,
Chedworth Whiskey Glazed Ham with Celeriac Remoulade and Parsley Dressing
Formally of One Aldwych, The Criterion, Nobu and the Potting Shed and now co-owner with Simon Wilson-White of the Seven Tuns in Chedworth he says "Perfect for dinner on Christmas Eve, with some boiled herby potatoes, as part of the Christmas Day feast or just to simply pick at over the festive period" Tom is passionate about seasonality and using local and sustainable ingredients and has come up with this dish to combine all of those elements that works throughout the whole of the festive period. "This is one for you to try at home, but we would love to see you in Chedworth soon."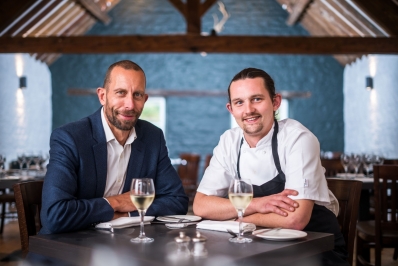 The gammon
1.5 kg gammon joint
2 sticks celery
1 large carrot
1 onion, all veg roughly chopped
10 cloves
1 star anise
1 tsp whole white peppercorns
Few sprigs thyme


Wash the gammon in cold water, then place all the ingredients into a heavy based lidded saucepan or casserole dish and cover with water (less water is better to retain the flavour in the meat). Bring to the boil, place the lid on and put it in the oven at 140•c for 2 hours or until the meat is tender but not breaking up. Remove from the oven and leave in the liquor for about another two hours to cool.


The Glaze
10 cloves
50g honey
2 tbsp soy sauce
4 tbsp whiskey
1 tsp English mustard
1tsp picked thyme
1tbsp freshly ground black pepper


Mix all ingredients together in a small bowl, then remove the ham pat dry with kitchen paper. Take off the skin, score the fat with a knife and stud the cloves evenly spaced into the fat. Using a pastry brush, coat the meat with some of the glaze. Place in the oven at 200•c for 15 mins, then brush on the remaining glaze and back in for another 15 mins. Remove from the oven and allow to rest. It's best served warm, but not hot.


For the remoulade
1/2 celeriac peeled and finely sliced into 'matchsticks' (julienne)
100g mayonnaise
1 tsp grain mustard
4 tbsp extra virgin olive oil
1 tbsp chopped parsley
Salt and pepper

Salt the shredded celeriac in a bowl with about a tsp of salt, mix well and allow to stand for half an hour, then place it all in a clean tea towel and squeeze out excess water. Mix with the remaining ingredients and set aside ready to assemble the dish.

The dressing
A good handful of chopped parsley
1 lemon, zest and juice
50ml olive oil
1 tbsp Dijon mustard
Salt and pepper to taste


Blend all ingredients in a liquidiser, season to taste.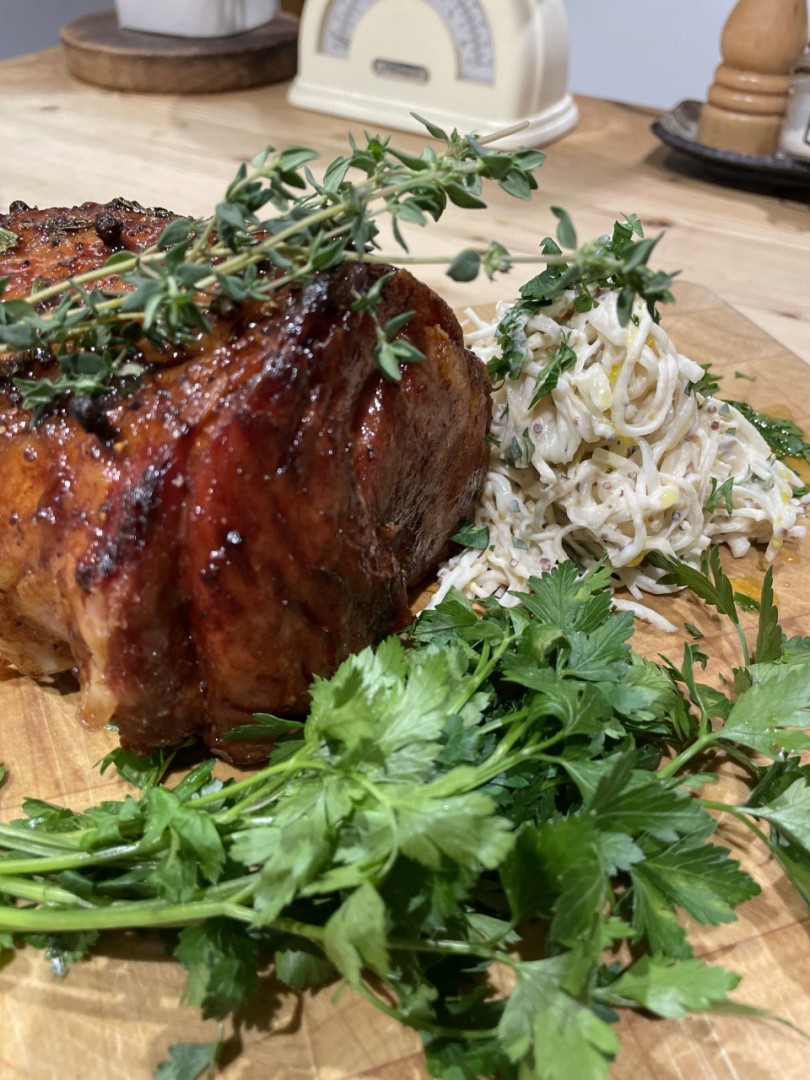 ------------------------------------------------------------

Sam Edwards, Upton Firehouse
Asian steamed salmon
"We serve this with sticky jasmine rice and use small steamer baskets in the kitchen as they can then be used in the presentation. You could do it with a metal vegetable steamer and then serve on a plate. For an extra touch add a little sesame oil once cooked."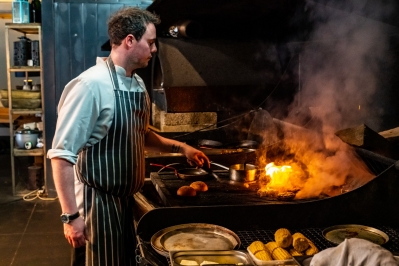 130g salmon per person
One red chilli
Salad onions (sliced diagonally)
Coriander leaves.
2 heads Pak choi
Thumb of ginger (cut in to thin ribbons)
Celery baton (peeled and cut into ribbons)
1 Tbs of light soy sauce
1 Tbs of oyster sauce
1 Tsp of Caster sugar
Place a piece of greaseproof paper in the bottom of your steamer. Underneath, bring the water to a healthy simmer.
Place a half of a pak choi on top of the grease proof paper followed by a piece of salmon.
Spoon the soy, oyster sauce and sugar over the salmon with a pinch of the ginger batons and a slice of the chilli.
Place the sliced celery on the top, a few pieces each.
Put the lid on and steam for 10mintutes until the salmon is soft and flaky.
Garnish with the fresh coriander and the salad onions.
----------------------------------------------------------
 Adam Taylor, The Feathered Nest,
Chargrilled Loin of Cotswold Roe Deer 

 "At this time of the year our attentions turn to game season. Venison is a favourite ingredient of mine and each year we try to improve our repertoire of dishes. Recently we played around with a hash as an idea for a pork dish but found it could be used for other meat dishes. One inspector described it as 'dirty' and we have tried all sorts of variations since. We think that this one is the best.The flavour of the meat is enhanced by the use of the josper chargrill and all our meat is cooked using this method.In this recipe,both the loin and the haunch are seared over high heat coals."

The Venison
Haunch of venison
1 stick celery
1 med carrot
1/2 med onion
50ml red wine vinegar
100ml Creme de Mure
350ml red wine
350ml port
500 ml beef stock
6 dried juniper berries
A handful of thyme

The haunch needs to be cooked the day before you need it as the juices go into the sauce and the meat needs to be picked down.
Sear the haunch and set aside. In a casserole dish caramelise the chopped vegetables in a little vegetable oil until they've gained agood colour then deglaze them with the vinegars and alcohols. Bring to the boil and add the stock, the meat and enough water to cover the meat in the casserole pan. Put the lid on and put into a preheated oven at 150c for 2-3 hours, checking and topping up regularly if necessary.When cooked, remove the haunch and cool.Put the pan of braising juices onto the stove to reduce to a sauce consistency for your jus, then strain off and keep somewhere warm (we like to also add a few bramble berries).
When you're ready to serve, add a good knob of butter to a frying pan and allow it to caramelise. Put the venison in and roll it around for 4-5 mins until the meat starts to firm up slightly. Add a few sprigs of thyme and a couple of juniper berries. Allow the meat to rest in the pan while you put the rest of the dish together.
We serve it with pumpkin puree, salt baked parsnip and a hash made from black pudding, diced roast potatoes, pickled walnuts and the bramble venison jus. Robust greens, like cavalo nero work well on the plate.
The pumpkin is cooked with a chopped shallot, caramelised in a little oil in until golden brown then seasoned and covered in water. Cook until tender then purée the pumpkin until smooth.
For the salt baked parsnips, mix 500g salt with 4 egg whites and spread a thin layer on a baking tray covered with baking parchment. Place 3 large parsnips in the middle and use the remaining mixture to cover completely. Place in a preheated oven for 1 hour and 10 mins and remove then leave to cool before breaking off the casing.

Enjoy with a big glass of South African red from Stellenbosch or a Nero D'Avola from Sicily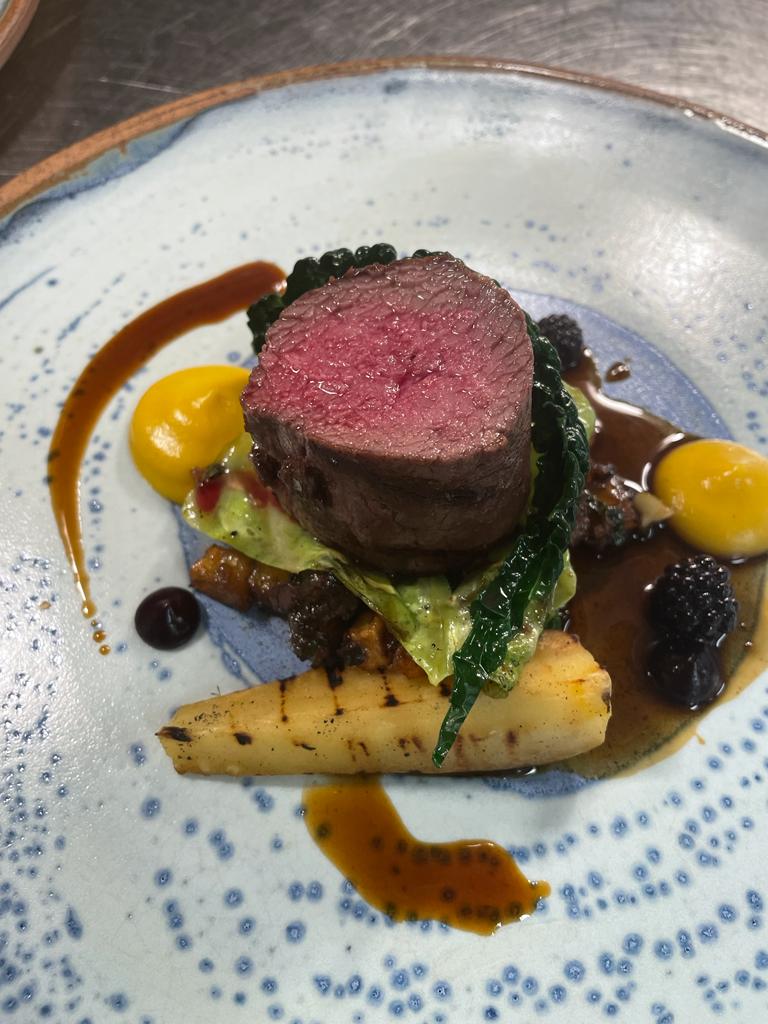 -----------------------------------------------------------
Gaz Oakley, AKA the Avant Garde Vegan,
Chestnut and Shallot Tarte Tatin
"The goal is simple; I want to encourage you to integrate easy and delicious plant-based meals into your Christmas celebrations this festive season."
6 banana shallots, skin removed and halved lengthways 
1 x 180g pouch Merchant Gourmet Whole Chestnuts 
3 tbsp brown sugar 
4 tbsp balsamic vinegar 
3 thyme sprigs, plus extra to serve 
2 rosemary sprigs 
320g roll of pre-made puff pastry  
Preheat the oven to 180C/160C fan and ut the roll of pastry into a circle 2.5 cm larger than your pan. Lightly dust with flour, place on a sheet of non-stick baking paper on a tray or board and chill for 20 minutes, or until needed.  
Heat the olive oil in a 10" ovenproof, non-stick pan. Add the shallots – cut side up – and cook for 5 minutes over a medium heat until starting to char on one side. Add the chestnuts, then sprinkle over the brown sugar and flip the shallots over, arranging everything neatly in the pan to ensure there are no gaps. Lower the heat and add the balsamic vinegar, thyme, rosemary and a splash of water. Simmer gently for 5 minutes until starting to thicken. Season with salt and pepper, then remove from the heat. Place the chilled pastry on top, tucking it into the edges of the pan, using a wooden spoon to help you if it's too hot. Bake for 25-30 minutes, or until the pastry is golden brown. Set aside for 5 minutes to cool slightly.  
Wearing an oven glove, place a large plate or board over the top of the pan and once secure, quickly flip to turn out the tart. Sprinkle over some fresh thyme sprigs and serve.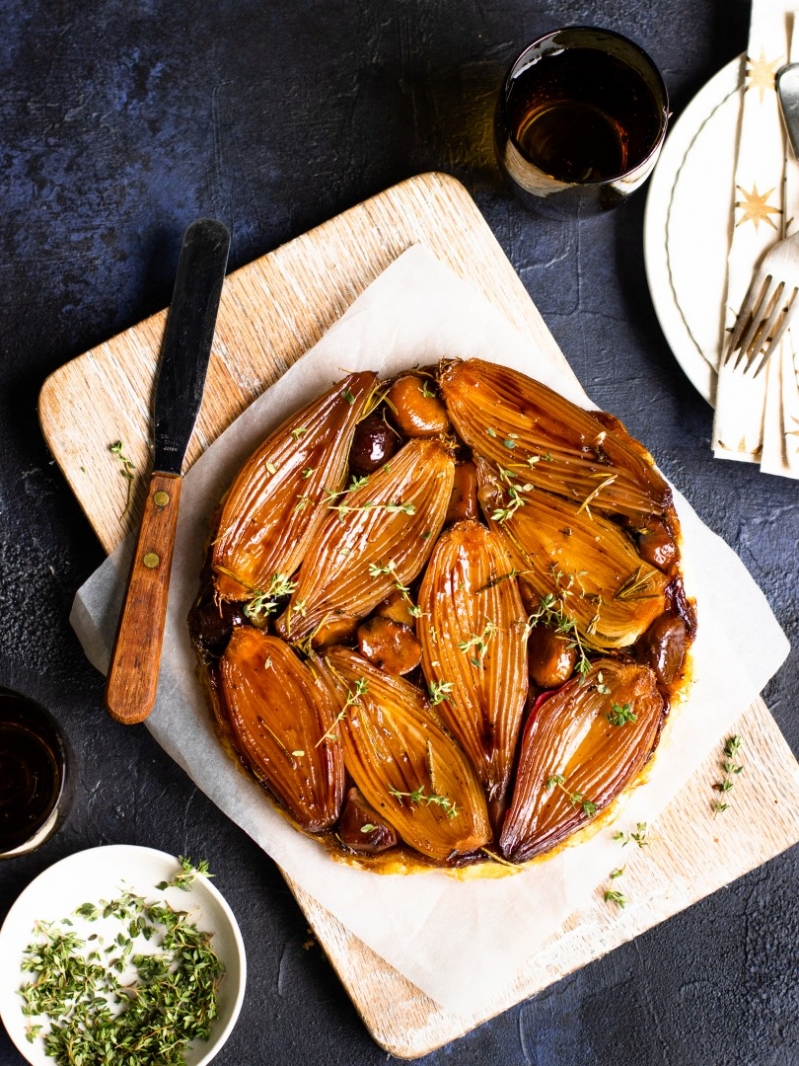 ----------------------------------------------------------------------
James Graham, The Bell at Ramsbury:
Seasonal Leftovers Turkey and Ham Pie
"These two recipes have become the go-to Boxing Day fare at home, they are simple can involve the whole family and best of all – tasty. They aren't ponced up 'chef recipes' just good home cooking using up the leftovers of which there are always too many. The kids love to do the coating of the bubble and squeaks and the rest is pretty much just a chuck-together; it can go in the oven while we walk the dogs and will keep hot while we finish the bubbles on our return. After the run-around of the day before ,it's a lovely relaxing meal."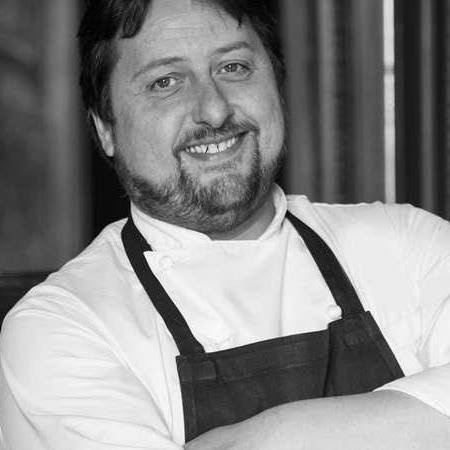 The Pie
400gm diced cooked turkey
400gm diced cooked ham
4 cooked pigs in blankets chopped (if you have them!)
400ml leftover turkey gravy (condensed chicken soup also works well!)
30gm chopped fresh or dried tarragon
25 gm butter
2 medium onions finely sliced
2 cloves of garlic crushed
2 tbsp whole grain mustard
1 tbsp honey
2 sheets of ready rolled puff pastry
A little butter and flour to line the pie dish
1 egg beaten with a little milk to glaze
Pre heat the oven to 180oc and flour and butter a 20cm square oven proof dish. Line this with the pastry allowing a good overhang for sealing. Sweat the onions in the butter with the garlic until soft but not coloured, then add the mustard and honey and cook for two more minutes. Add the rest of the ingredients and mix well without heating. Fill the pie dish with the mixture and top with the other pastry sheet. Seal well and glaze the top with the egg wash. Bake for 40 minutes until pipping hot and golden brown.
Bubble and squeak bites
250gm of any leftover Christmas day vegetables (as dry as possible) and stuffing
250gm leftover roast potatoes or some freshly boiled ones (no need to peel)
Salt and pepper plus whatever seasonings you like (mustard, horseradish etc)
2 eggs beaten
200gm flour
100gm breadcrumbs, ideally panko style
Place the vegetables, potatoes and seasoning into a food processor and chop using the pulse option until chopped finely but not pureed.  Place into a mixing bowl and using your hands shape the mix into golf ball sized pieces and place on a tray lined with grease proof paper. Freeze for one hour to set. Then take out and one by one roll in flour, coat in egg and finally coat in breadcrumbs. (These would keep in the freezer once coated for a month). To serve shallow fry until golden brown and hot right through.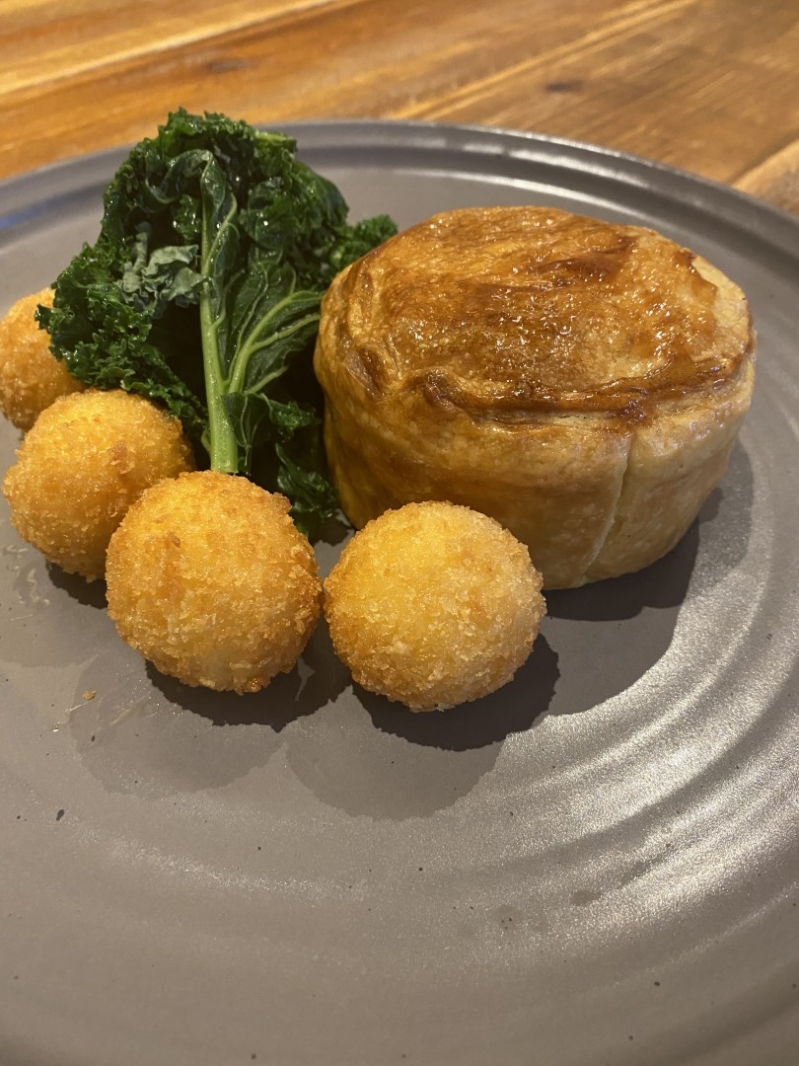 ---------------------------------------------------------------------
Liam Grime, Head Chef, The Evenlode,
Rich Braised Lamb Shank with mash
"I love a good Christmas lunch as much as the next man (or woman), but equally, I love all those delicious winter warmers enjoyed in the run-up to Christmas, and the days before New Year.
It's a time to get the family together, get outdoors in the crisp winter air (to walk off all those mince pies), and relax. And what better way to relax than to know you've got a warm and hearty dish waiting for you in the oven ready to go as soon as you step through the door. This recipe, served with homely, mashed potato, is a firm favourite in our family. Prepare it before your guests arrive, then slam it in the oven on a low heat for 3 hours, and head out for a festive walk. When you return, you will be greeted by the wonderful aromas of this classic dish. All you've then got to do is make your mash, add the finishing touches, and crack open the red wine. Sounds like a perfect December day to me!"
Lamb Shank
2 x lamb shanks
100ml red wine
2 x litre chicken stock
10g x fresh mint
2 x carrots
3 x sticks of celery
50g swede
50g tomato puree
2 x red onion
4 x cloves garlic
2 x sprigs rosemary
50g Red Currant Jelly
Seal off the lamb shanks in a frying pan with a little drizzle of oil.
Remove the lamb then add the diced carrot, swede, celery, onion, whole garlic cloves and herbs, until golden-brown in colour.
Add in the tomato puree and continue to cook for a few minutes.
Add the red wine and reduce by half, then add the chicken stock and the lamb shanks back to the mix.
Your lamb should be nicely covered by the stock. Cover with a lid or some tin foil and place in an oven at 110c for three hours.
Mash Potato
1 Kg King Edwards potatoes
50g butter
2 x spring onion
Peel and boil the potatoes in water to make the mash. Meanwhile slice your spring onions and start to cook them softly with a little butter then add to the mashed potato to finish off.
Remove the lamb from the oven, and if required place on the stove just to reduce the final bit of stock to the consistency that you require for your sauce. Finish with the redcurrant jelly.
Serve in a nice warm deep bowl and enjoy with a glass of your favourite red.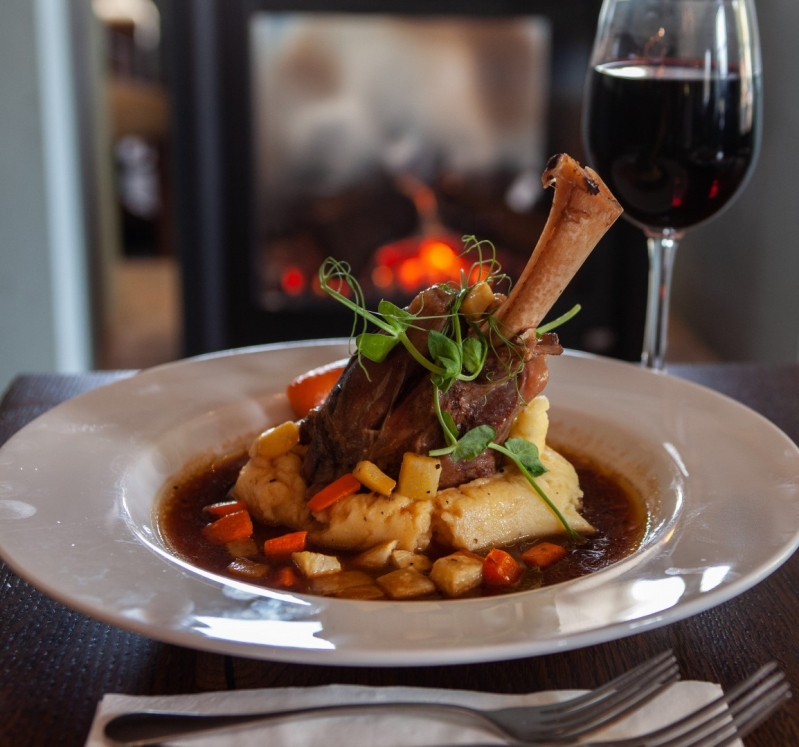 ----------------------------------------------------------
Ready for something sweet?
Jonas Lodge, Christmas Pudding
The Chef-Patron of Cheltenham's Michelin-recommended zero-waste GL50 informal fine dining restaurant has taken the traditional pud and applied his own twist, "My grandmother always made her Christmas pudding with Mackeson's milk stout. I thought that sounded interesting and then I tried a milk stout and I really understood why it would work in a pudding. So, this isn't my nans recipe, but it is certainly inspired by her!"
NB: These should be prepared well in advance of December 25th as 'feeding time' is recommended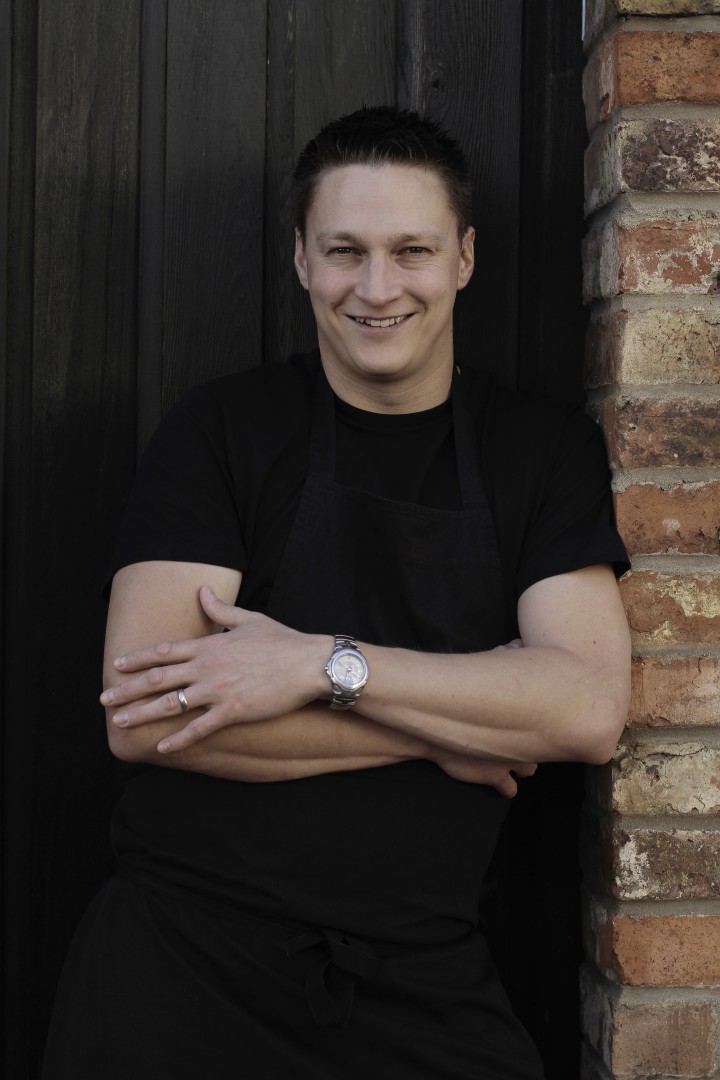 225g caster sugar
225g vegetarian suet
340g sultanas
340g raisins
225g currants
110g candied peal
110g plain flour
110g house made sourdough breadcrumbs
55g flaked almonds
1 lemon zest
5 eggs
1 tsp cinnamon
1 tsp freshly grated nutmeg
Pinch salt
150ml brandy
250g milk stout (Battledown is great and brewed in the Cotswolds)
Method
 Grease 15 small (8cm x 5cm) pudding moulds
Mix together the brandy, eggs and milk stout and put to one side (this is your wet mix)
Mix all the rest of the ingredients (this is your dry mix)
Add the wet mix to the dry mix and stir well
Spoon the mix into the pudding moulds till they are approximately half full.
Cut small squares of baking parchment (large enough to cover the top of the pudding mould
Cover the moulds first with a square of baking parchment then secured with aluminium foil.
Steam for around 4-5 hours (until cooked through)
Cool
Remove the paper and foil and soak with brandy
Recover and store in a cool dry place
Feed with brandy every so often (every week or so) until you are ready to serve
"We serve ours torn up with a homemade marmalade, beer jelly and toasted hay ice cream plus just the festive touch; torched marzipan holly leaves."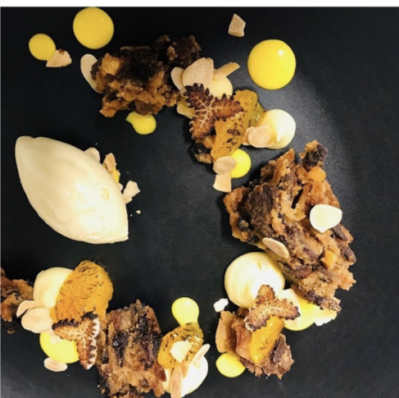 -----------------------------------------------------
Brasserie Blanc, Mince Pies
Picture the scene: it's snowing outside, the tree lights are twinkling, and the fire is roaring… its time for a warm, homemade mince pie to share with your loved ones.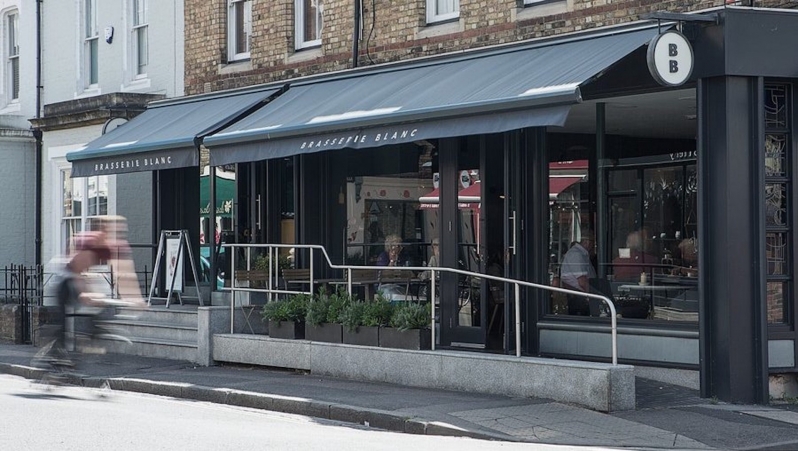 The Mincemeat
150g bramley apples
125g black seedless grapes
125g currants
150g sultanas
40g mixed peel,
30g dried cranberries
60g nibbed almonds
Zest and juice of 1 orange, and 1 grapefruit
250g muscovado sugar
10g Chinese five-spice powder
5g powdered cardamom 
½ cinnamon stick or 2 tsp cinnamon powder
100 ml dark rum
The sweet shortcrust pastry
250g unsalted butter
125g icing sugar
2 egg yolks 
500g plain flour
To finish:
1 egg beaten
Icing sugar
Finely chop all the ingredients and mix together, stirring well. Refrigerate until needed.
Mix the butter and icing sugar until they are completely blended, then add the egg yolks and finally the flour. Knead until you have a smooth dough and leave to rest for at least one hour before using. 
Preheat the oven to 190 degrees / Gas mark 5
Roll the pastry out to a little less than 5mm thick. Cut out 30 rounds for the bases and further 30 rounds with the pastry cutter two sizes down (or you could use star shapes). Line a muffin or tartellete tin with the large rounds of pastry and fill with mincemeat to level with the sides. Now brush a little beaten egg around the edges of the smaller rounds (or stars) and stick them on top of the mince pies. Brush with a little more beaten egg, and then bake for 25 minutes until golden brown. 
Transfer to a wire rack and leave to cool. Sprinkle generously with icing sugar.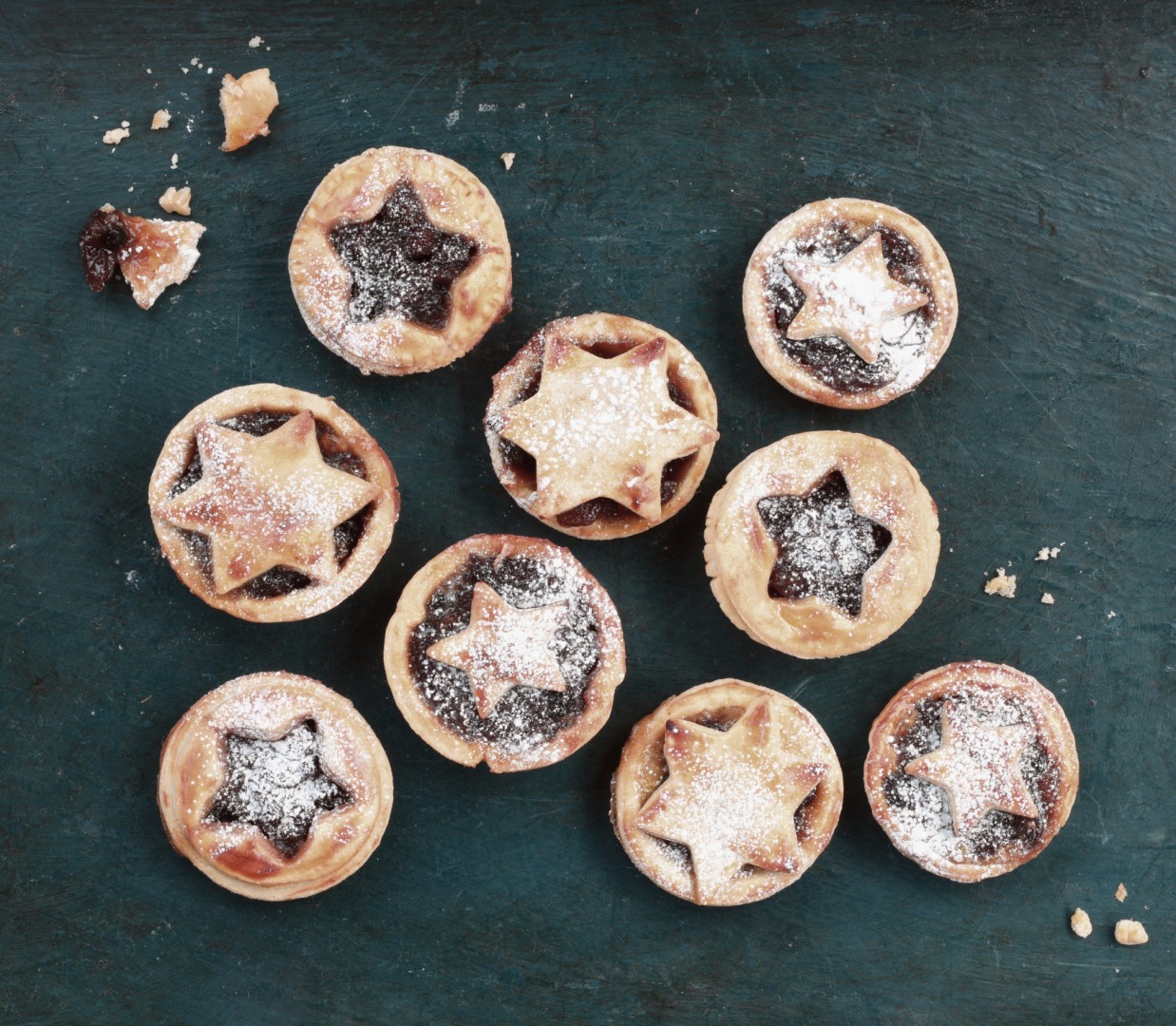 ---------------------------------------------------------- 
Pear and Chocolate Brownies
Finally, a vegan favourite here at the OX offices. Everyone loves a brownie and this plant-based recipe will be a sure-fire hit all round.
300g dark chocolate
200ml veg oil 
2 tsp vanilla extract 
300g soft light brown sugar 
2 cans pear halves in juice (we use Del Monte® )
200g plain flour
100g ground almonds
Pinch of salt
Preheat the oven to 180C/gas 4 and line a baking tin 20 x 25cm with baking paper (much easier than greasing it). Roughly chop the chocolate and add it to a pan with the oil, vanilla and sugar.
Put over a low heat and melt together, stirring often, until smooth and then remove from the heat. (NB keep the temperature low and be patient; you don't want this to burn)
Blitz the pears into to a smooth puree before stirring into the chocolate mixture
Add the flour, almonds and salt and stir into the chocolate/pear mix until thoroughly combined. Tip into the prepared tin, spread out and bake for 25 minutes until firm.
Leave to cool completely in the tin before cutting into 20 squares.
(a dash of chilli or a teaspoonful of espresso work really well in this, too, if you're feeling adventurous!).