Kayali fragrance is not just sister brand to the phenomenally successful Huda Beauty (blogger and social media star Huda Kattan's eponymous makeup collection) but was actually founded by Huda's sister, Mona. We were honoured to interview her to discuss fragrance, art and – of course – the art of fragrance!
What does your role at Kayali entail?
I am the founder, creative and face of our fragrance brand, so I'm involved with the full creation process from start to finish and everything in between!
What is your favourite part of the job?
Fragrance has always been a huge passion of mine and starting up a fragrance was a dream. We work with Firmenich, who are incredible and we have an amazing team. Choosing wonderful ingredients, trialling different blends and finally finding a scent that you truly love is so incredible – I honestly love all of it.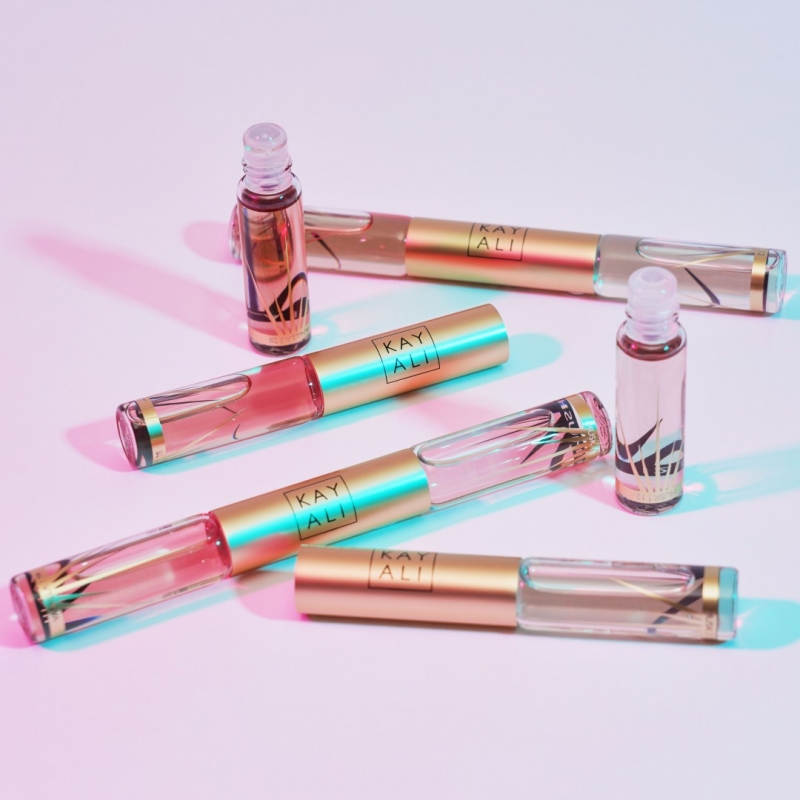 What do you find most challenging?
I'm a bit of a perfectionist – I think that comes from my days in beauty pageants – so creating the perfect scent is never easy and getting them just right is a labour of love. Some people might not know that the number next to the name of each Kayali fragrance represents the number of times we modified each of our fragrances before we truly fell in love with them.
What inspires you when creating fragrance – and what specifically inspired Kayali's latest fragrance Sweet Diamond Pink Pepper?
For me, fragrances always transport me back to a specific time and place. Someone actually told me that the scent of Pink Pepper is known to give you the same feeling as falling in love and straight away I knew I wanted to celebrate this emotive ingredient with its own fragrance. For me, this fragrance has always been about romance.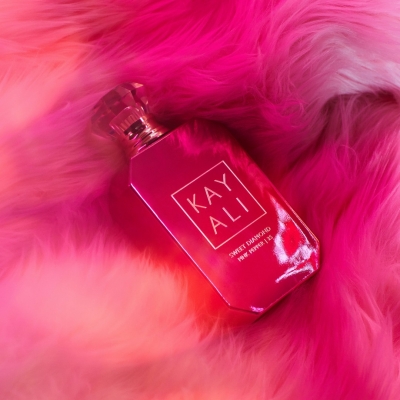 Our May issue is themed around art. I know you are an avid collector – who are your favourite artists/creators?
I have always loved quirky furniture and art. I like when things make you think, laugh or smile. My house is calming because of all the water outside and the white inside, but I love the energy coming from the paintings inside. Gold makes me happy, I feel like it's my roots coming through. I have a painting by Italian artist Luca Valentini, of the Disney princess Jasmine and a unicorn, which I commissioned to remind myself to have balance in life and to remember to dedicate equal time to love, romance, and happiness as much as I do to work. I also adore the work of Sacha Jafri, who is a good friend of mine, his work is so freeing and vibrant!
Is there art in creating perfume?
In my opinion, yes! There's an absolute art in discovering new scents and creating a scent layered with multiple ingredients that combine together to produce a beautiful fragrance that can alter your mood and provide an instant emotional connection.
How would you describe your personal taste?
I love warm and comforting smells but also love soft, floral scents. Jasmine is definitely one of my favourite florals, but my fragrance preference is very dependent on my mood. Huda will tell you that you can't really pin me down to one specific scent – I change up my fragrances constantly and am always layering. As I'm constantly working on creating new scents for Kayali, I'm usually wearing several of those on any given day!
How do you express your own creativity?
I love to write and I have also always had a passion for self-care, healing and therapy, the recent pandemic has enabled me to spend more time to focus on this. I spend a lot of time reading a lot of books on personal development and so many other things. I'm really interested in constantly learning different ways of improving and growing.
I've heard you talk about fragrance layering, how do you do this effectively, and with confidence that your blends are working?
Layering is something that I've grown up doing, being from an Arab background. There are really no rules when it comes to layering which I love. You can experiment with all kinds of different scents until you find the right mix for you. Kayali fragrances have always been created to be able to work layered together. We actually built Collection 1, specifically to be layered and I love celebrating the idea that creating your own unique scent sets you apart from everyone else. Layering is one of the ways that I'm able to combine my Middle Eastern heritage with my Western upbringing. It's the perfect mix.
Finally, which woman (alive or dead, real or fictional) would you love to create a fragrance for, and what would it be like?
Fragrance is so personal and subjective, I don't know if there is one person I would specifically love to create one for. I am just grateful and super happy to be able to create fragrances that appeal to people generally, to hear when someone has fallen in love with a Kayali scent that we have personally created is so wonderful, whoever it is.