Playwright Marie Jones has shared her thoughts on the 25th Anniversary of her Olivier award-winning tragicomedy Stones in His Pockets and details on the play's upcoming revival, directed by her son Matthew McElhinney, which will debut at the Barn Theatre in Cirencester next week.
Jones said that the tragicomedy, which started life at a West Belfast theatre festival in 1996, was inspired by her career as an actor which began as being an extra on an Irish movie set. She noted that a fellow actor told her at the time that she should "write a play someday about the two extras and not about the movie stars, about the people".
Following its first run, the play returned in 1999 when the Lyric Theatre in Belfast reached out to Marie Jones and her husband, director Ian McElhinney, to stage a production for their upcoming season. Due to limited budget, Jones said the set was "just a backdrop of Ireland and a load of shoes at the back of the stage" but that "from the opening night in the Lyric in Belfast we kind of knew it was special… and the rest was history."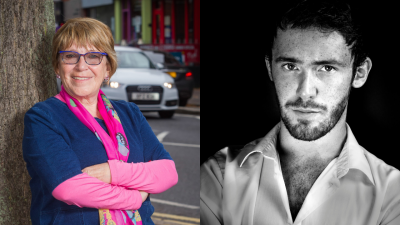 Following its success in Belfast the production gained momentum with runs at Edinburgh Fringe Festival, Dublin and London's Tricycle Theatre (now Kiln) before heading to successful runs in the West End, on Broadway and across the globe. The play went on to receive two Olivier Awards for Best New Comedy and Best Actor (Conleth Hill) as well as three Tony Awards nominations.
She noted that when it transferred to the West End "none of us were well known, we didn't have big production values… and it still worked."
On the upcoming 25th Anniversary production, that is helmed by her son Matthew McElhinney and begins performances at Cirencester's Barn Theatre from 27 July (Press Night: 29 July), Marie Jones said, "he's grown up with it, he's lived with it, with us and his father as an actor and director… and then he went into theatre himself and started to direct and because he has a very analytical mind I knew that he would never let anything get in the way of the narrative even though this particular production has different production values that will be very important to him. When Iwan [Lewis, Barn Theatre CEO & Artistic Director] asked to do it again I asked Matthew if he would direct it… as I trust him totally."
Director Matthew McElhinney said of the production, "'Stones in his Pockets,' began life in small community halls and regional venues in Ireland before going on to run for four years on the West End and then Broadway, winning two Olivier Awards and several Tony nominations and has now been translated into over 30 languages. A dream come true; but as a consequence of its success, throughout its many iterations it slowly began to drift away from its original essence and into the more farcical, the pantomime and the Irish with a capital O. This production, on the year of its 25th anniversary, is an opportunity, for us, to reclaim the story."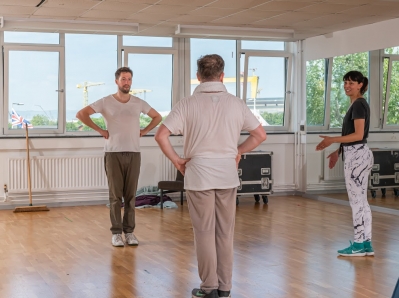 The 25th Anniversary production, which will utilise the Barn's renowned technical capacity to bring and embed cinematic techniques and "the movies" into the new production, will star Shaun Blaney as Jake and Gerard McCabe as Charlie with direction by Matthew McElhinney, design by Gregor Donnelly, choreography by Fleur Mellor, lighting design by Sam Rowcliffe-Tanner, sound design by Harry Smith, AV design by Benjamin Collins and Alex Tabrizi and Denise Cleal as costume supervisor.
Stones in His Pockets runs in Cirencester from 27 July – 22 August with tickets now on sale from £11.50 at barntheatre.org.uk.