This month we meet Buckland contemporary artist and TikTok sensation Gabriella Anouk, who draws vivid hyperrealist art that is fresh and unexpected, merging fine art, photorealism, surrealism, and the bold colours of pop art with modern flair.
Her sassy style is engaging millions of followers on social media. Inspired by Salvador Dali – in particular, his technical skill and precise craftsmanship and the bizarre and absurd imagery in his work – Gabriella is also influenced by finding beauty in the mundane and distorting it in an unnatural way.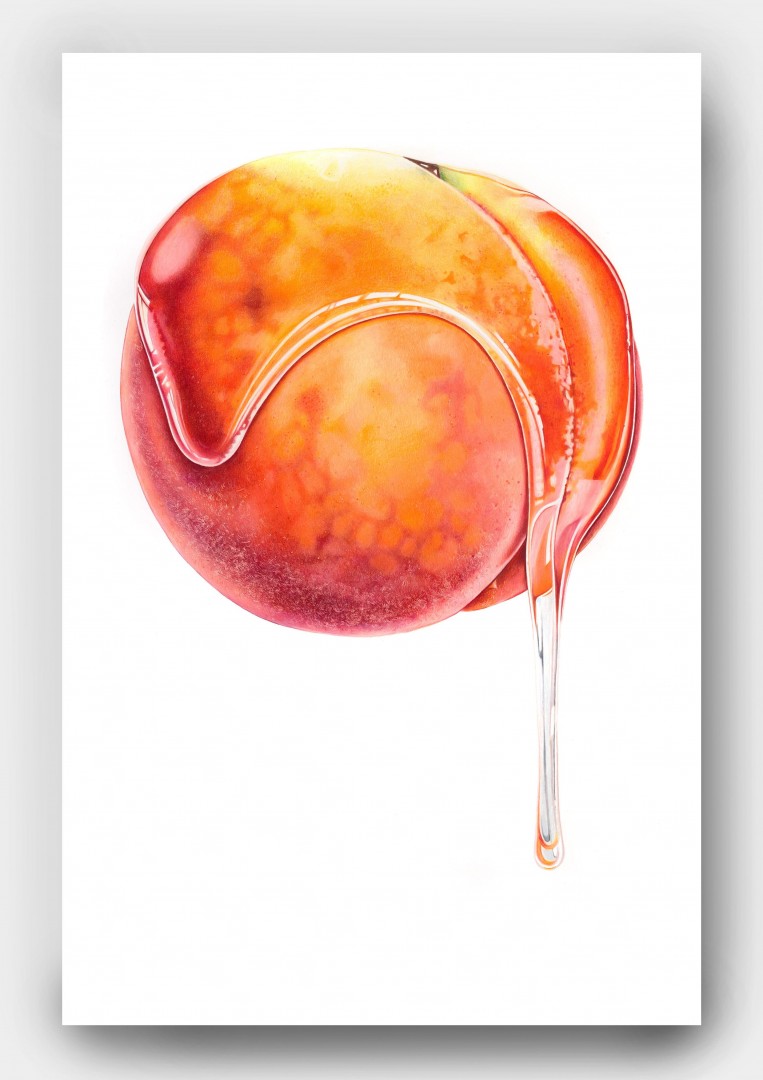 In her #SlimeSeries she juxtaposes beautiful, natural pieces of fruit against synthetic, almost vulgar, shiny slime (which she makes herself). The slime, either transparent or in vibrant hues, is unexpected, intriguing, and possibly even a little unsettling. The nature of the fruit as a 'still life' drawn with incredible control and precision (each takes up to 200 hours to create with colouring pencils) appears at odds with the chaotic nature and unpredictability of dripping slime. Set against a crisp white background, the slime-coated fruit almost appears three dimensional.
"It all began when I cut open an avocado for breakfast one morning during the lockdowns in 2021 and it was such a perfect avocado with its amazing green and the dark concave stone. It looked so cool and I just thought I'd love to draw that.
As it takes between 80 and 200 hours to do each of my drawings, to set out on a new piece I have to be very inspired, so I wanted to make the picture more than simply the avocado. That's when I had the idea of dripping slime onto it. My younger sister was in her early teens then, and she was playing with slime all the time. I loved its texture, the way it shines and how it flows and drips. I thought it would be an interesting contrast to the fruit, adding an element of surprise and the unexpected. The addition of shiny slime gave the fruit an almost sculptural element. You can't plan how the slime will move and mould over the surface and the shiny texture is a challenge – it's also my favourite part to draw.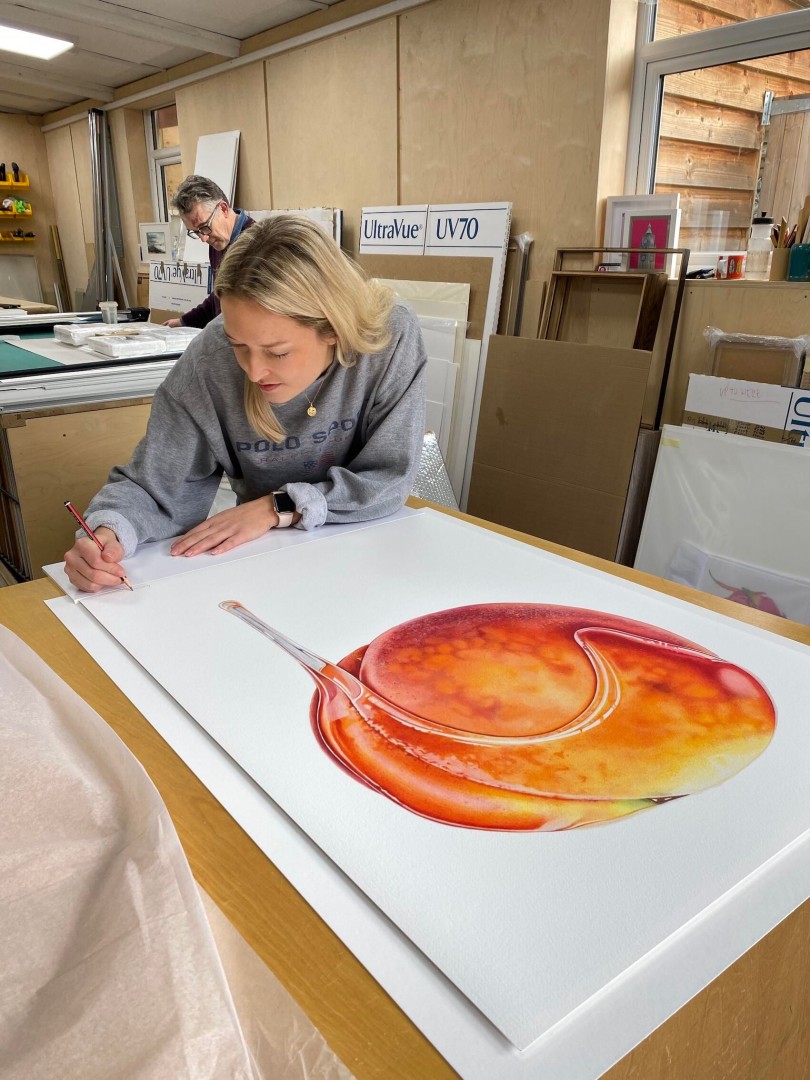 Slime is easy to make with PVA glue and kitchen cupboard ingredients, so I was able to make some right away and pour it over that avocado then and there. I went with pink – I love the colour pink and it seems to sneak into many of my works, even when I am trying not to use it.
I took hundreds of photos letting the slime drip and fall in different ways. Then when I had the perfect photo to work from, I peeled off the slime and ate the avocado. No fruit was wasted in the making of the artwork!"
Gabriella began drawing and sharing her process in creating Avocado Dali (and others) on TikTok via live stream. From an initial following of about 10,000 before she began the #SlimeSeries, she is now well on the way to half a million followers around the world.
"During lockdown I was live-streaming and lots of people were following my progress and interacting with my videos. It was quite a young audience at first, many of whom were obsessed with slime, like my sister who is 12 years younger than me. It felt important to lighten their spirits and inspire them, and it was a responsibility when that age group were finding the lockdowns difficult. During that time, I was aware of what my sister and her friends were seeing on screen and how it was all so perfectly manufactured, from people's appearances to their homes and celebrity lives too, and that just isn't the case. I would remind them that much of what I present on-screen has been worked on for 100+ hours, and if you want to create something you are proud of, you need to dedicate yourself to it. Especially in this world ruled by social media and instant gratification.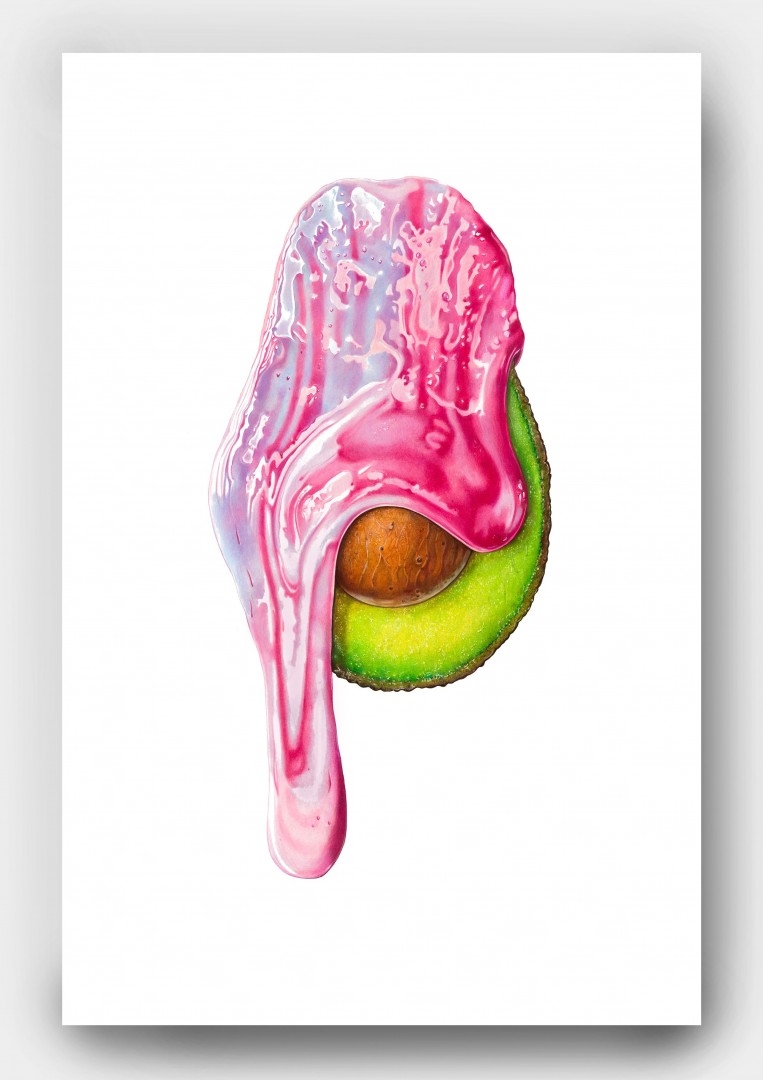 "On TikTok I was asking my followers questions and playing games with them, too. For example, I gave them sneaky peeks of what was coming next and asked if they could guess what I was drawing. It's great that so many people see and follow my art. It is also amazing how much I get back from them. I don't adopt a particular persona; I am just myself. I believe it is important to be authentic, although to be honest I let the art talk for me, especially at the beginning. At first, I only showed the art and I was behind the camera. Gradually I came onto the screen, which was pretty scary to start with. It feels more personal though and it was clear my followers enjoyed seeing the person creating the pictures and to feel as if they had met me. Over time it became like chatting to a friend."
There are seven pieces in the #slime series. After the avocado, Gabriella drew an aubergine and then a peach. "My followers were suggesting other possibilities with emojis in the comments and it became an emoji-led journey. I hadn't really felt inspired by the idea of a banana but it was a popular request from my followers and, dripping with blue slime, it was actually the first original of the series to sell. It was used as the poster image for my solo show in Camden, which was amazing. I have also drawn a Lucky Cat which has shiny elements, and for the original I applied gold leaf. This was inspired by the ceramic Lucky Cats that are part of the décor and name of Gordon Ramsay's Asian inspired restaurant in Mayfair. It was such a long way from the kind of animal art I drew in the past.
TikTok really changed my profile as an artist – it is crazy to think how many people I can reach – I recently shared footage of me drawing the hair of a Barbie and asked who do you think this is? People were suggesting so many different blond women and a few said Barbie. When I said yes, it's Barbie, that got 1.2 million views. The demographic changes depending on what video goes viral. Some appeal to a younger audience, others to a 25-35 age group, and others to an older demographic. It's simply amazing what social media can do."
Gabriella is now working on a new series…and there is a hint of what's to come hidden in plain sight in this article.
For more visit gabriellaanouk.com