From Blur's bassist to master of the cheeses, Alex James' little black book ensures access to the best in both food and music, and his farm in the Cotswolds is gearing up once again for this year's Big Feastival.
The key to its enduring success is a simple recipe (bear with us, we have an analogy coming up here). The balance of ingredients, a fusion of the classic (Rick Astley and Melanie C) and the contemporary (Sigrid and Tom Grennan) with seasoning in the form of camp (The Dolly Parton Experience) and more than a sprinkling of cheese – and that's just the music.
The chef's this year include Asma Khan, Big Zuu, Nathan Outlaw, James Strawbridge and Lizzie Acker and Ching-He Huang, both of whom we were lucky enough to speak with. What both have in common is their relationship with food surpasses flavour: for Ching-He, it is a connection to her culture, for Lizzie a means by which she can education others on neurodiversity.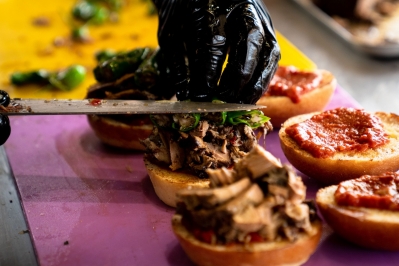 Foodie Feastival Facts:
Over 200 guest chefs have appeared over the years

Started as a two-day festival with a 10,000 capacity – now Big Feastival three days with a capacity of 25,000 per day

The street food offering has doubled in numbers over the years

Street food menus now have over 207 dishes for festival-goers to enjoy
All image credit: PARADISE LONDON