Ahead of this year's May festival, Esther Lafferty meets jeweller Tony Thomson as he prepares to open his workshop for his 30th Oxfordshire Artweeks. Here, tucked away in a charming narrow street on the outskirts of Jericho, there are wonders to be discovered: from stones and gems gathered from the natural world to porcupine quills and other organic treasures which are transformed by Tony's talent into bespoke and characterful jewellery, stylised spoons and silverware with a difference.
Stones have always fascinated Tony. Since he first saw them being rolled, polished and transformed in a back street gem shop whilst in his late teens, Tony began cutting and polishing them as a hobby. "Before long, I had a workshop full of shiny and interesting stones, some with fascinating traces of history attached, so I decided I needed to do something worthwhile with them." He became apprenticed to a goldsmith to learn the trade and generously sponsored by the sculptor, Elizabeth Frink, with whom he'd worked as an art student, he created a collection of jewellery for an exhibition of his work alongside her sculptures. It was a sell-out show and he has never looked back.
Whilst showing me pieces of his work, Tony describes how he recently completed a necklace commission for an anthropologist using coral, shells and stones collected during their work. "The Pitt Rivers is my favourite museum in all the world," says Tony, "I've always been drawn to the weird and wonderful. It's an incredible collection and endlessly inspiring."
It's no surprise, therefore, that Tony's workshop evokes a similar feeling of awe and delight – albeit on a far smaller scale, because it, too, is a treasure trove of the beautiful, the odd and the unusual. Stones of all shapes, sizes and colours waiting to become pieces of jewellery. One sparking elliptical stone in browns and reds patterned with light-hearted squiggles is, Tony tells me, part of a fossilised dinosaur bone, whilst watermelon tourmaline, I discover, has delicate rings of white, pink and green as luscious as the fruit itself. I pick up a shield-shaped stone that is striped throughout with gold ribbon markings that meet in the centre like a sacred heart – it's a type of quartz, rutilated quartz, Tony tells me, which was very popular during the Victorian era when they called it Angel Hair.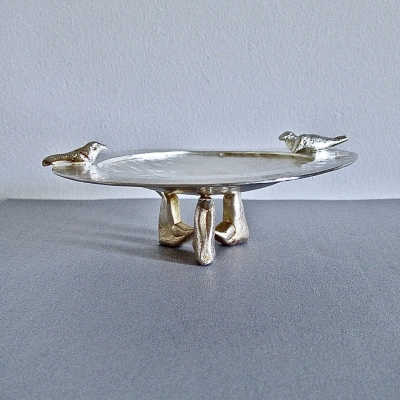 "Some stones are naturally as decorative as anything man can make. They have extraordinary colours, patterns and characteristics: ammonites are an amazing shape; amber can include tiny insects and bugs; opals range in colour from brown and black to blue and milky white and there's a play of light inside them, and fossilised coral from Madagascar looks like masterfully-painted miniature daisies. Some polished stones look like tiny landscapes with a Japanese flavour, whilst others could be art-deco inspired."
"Stones are also lovely to handle, to hold which is why everyone loves to pick them up on the beach. There's something very compulsive about a smooth shapely pebble," he smiles. "My wife, Diana and I, must have missed seeing many beautiful sea views over the years because we're always looking down at the ground beneath our feet!"
When creating a piece, Tony begins by selecting a stone, or a selection of stones, inspired by their look and shape – maybe a fossil or a beach find or a semi-precious stone with startling colour and pattern – which he enhances with precious metal using various silver and gold working techniques including cuttlefish casting. The found pieces make a lovely contrast when set in conjunction with a gem, and it's these unusual fusions which give Tony's pieces so much character.
In the intimate workshop space, small chests of drawers are labelled pearls, opals, sea glass, shells, fossils and sliding them open, I feel as if I am in Aladdin's cave. Each reveals something new, and there's a natural rainbow that winks in rich oranges and pink, vibrant blues and greens.
The walls are whitewashed brickwork, covered in photos of other jewellers' work and newspaper articles of Tony's work and other interesting stone and jewellery-related facts and figures, giving a sense of the timelessness of Tony's trade and the rich stories his pieces can tell. Of Scottish sea pottery washed up on a Caledonian coastline, or a trilobite that swam in the sea more than 500 million years ago, immortalised in fossilised stone. Here he works away from the wider world, surrounded by tools of his trade, a rolling mill, cutting equipment and cuttlefish shells, a 'gift' from nature for the jeweller which can be used to create texture or carved into to create a mould, a sustainable ancient technique.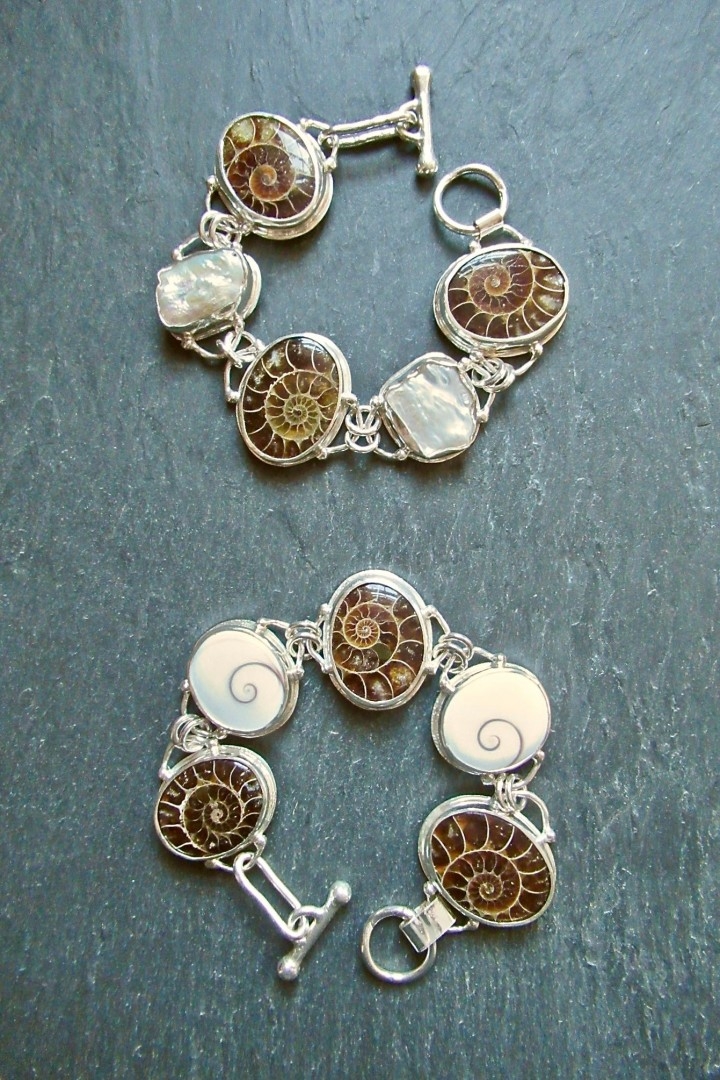 Some of Tony's pendants hang on 'loop-in-loop' chains for which he individually cuts and shapes the links just as they were made by jewellers in Ancient Greece and Ancient Rome. "The quality of the craftsmanship in ancient times was extraordinary," says Tony, "and the way they created them was fascinating technically. Even today, we haven't been able to improve on their methods."
To hammered and flattened silver, Tony also often adds a small silver bird or two, cast in wax – simple delicate silhouettes that add an additional twist to his pieces. One popular and unusual ring in his collection has two birds on the end of a concave bowl like a small birdbath, whilst other rings are square, a design that works surprisingly well for the wide-knuckled. They're great conversation pieces.
"Forget tattoos! I think men ought to wear brooches," says Tony, "as men dressed up in formal suits can be a bit drab. A statement like that would make the world of difference to a lapel, adding character or a touch of flamboyance."
As well as creating his own collections and bespoke jewellery pieces for special occasions, Tony is also known for his stylised spoons which incorporate a stone, shell, fossil or a bird or two on their handles. Often chosen as a wedding present, christening keepsake or anniversary gift, like the jewellery Tony creates, these too have a sense of strength and permanence. I can even imagine them being gazed upon in awe in a case in the Pitt Rivers in centuries to come.
Tony's Plantation Road workshop is open to the public during Oxfordshire Artweeks (venue 440) from 20-29 May. Check artweeks.org for opening hours, and to see more on the other open-studio events and pop-up exhibitions taking throughout the festival.