Salisbury-based genre-bending band Carsick, are one of the many acts featuring on the impressive Truck Festival line up this year so we caught up with members Joe (Vocals/Guitar), Jack R (Guitar), Jack H (Bass), and Tom (Drums) to find out a bit more about their sound. If you're a fan of Blur or The Streets, Carsick can definitely go on your must-watch list when this year's Truck comes around.
Tell us a bit about yourselves, how did you all meet and form Carsick?
Joe: Well me, Jack H and Tom went to Andover College but didn't start playing together until after we finished. When I started the band and was looking for cool people to play with, they were my first calls. Then, of course, my brother kicked the door down (guitar in hand) and demanded he play lead, so here we are.
How would you describe your genre?
Jack R: It's definitely a mixture of all our influences – my brother and I grew up listening to a lot of punk and indie bands, Jack H loves hardcore, and Tom grew up just listening to white noise in his room, so it touches a lot of bases sonically.
Tom: Bit of indie rock, bit of punk, and some hip-hop and electronic elements in there too. High energy all round.
Which track would you recommend someone started with when being introduced to your music?
Jack H: We always say our 'Mr Brightside' is our first single, Is What It Is. People seem to rate that one the most and to be fair, it's a banger. If you fancy seeing more of where we're heading though, go for our latest single Runner – also a banger.
We're so excited for you to come to Truck, I understand you've been before – what do you think of the festival?
Joe: We love Truck! It's such an honour to get to play again, I would easily do it every year if I could. Everyone's so nice and accommodating and they always have a sick line-up.
Festivals and regular gigs must provide quite different atmospheres to perform in – do you have a preference?
Jack R: It's hard to say which I prefer… festivals are great as we get to showcase our music to bigger crowds who haven't heard us before and get the opportunity to see all the other bands we like at the festival, but we all love the intimacy of regular shows, especially when there's no barrier between us and the crowd. It's always chaos.
Do you have a worst experience at a festival?
Jack H: The easy answer for me here is actually Truck 2017 – great festival, great line-up, but it was a damp one and long story short, I genuinely contracted trench foot. Not going into detail in case anyone is eating while reading this, but I thought I was gonna lose an appendage. Rough times.
Joe: Someone threw up twice in our tent at Reading in 2017. There's no amount of deodorant or aftershave that can save you from that in the summer.
Tom: Then obviously there's the bumper car incident…
Jack R: We don't talk about the bumper car incident.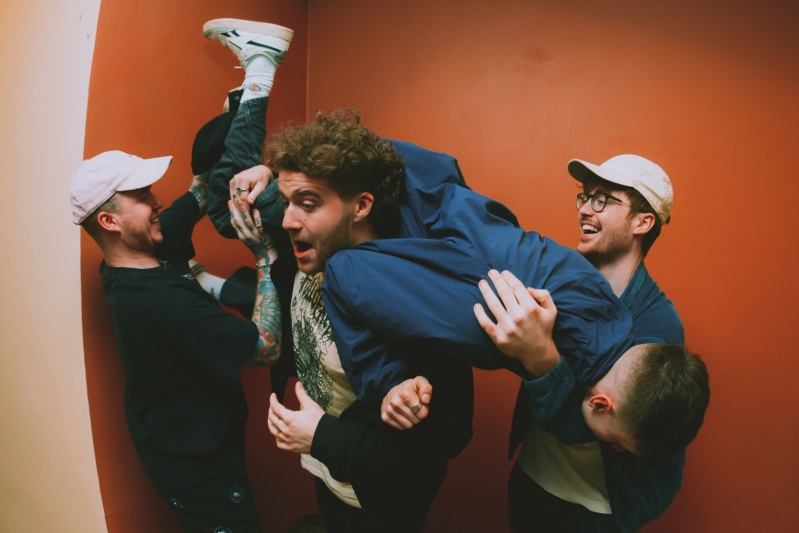 Who are your early musical inspirations, and do you think they've impacted the music you make?
Joe: The first CD I was ever given was Linkin Park's Hybrid Theory so that technically was my first proper introduction to music. Some people don't think it's aged well, but don't tell me when One Step Closer starts it don't make you wanna spin-kick a bus.
Jack H: Hybrid Theory was one of the first CDs I bought as well.
Jack R: Me too.
Tom: And me!
Joe: But the first bands I ever really got into were bands like Oasis, My Chemical Romance, Blink-182, Arctic Monkeys, Jamie T, you know, the big ones. I do think although our sound is quite far from some of those artists, they were very instrumental for me wanting to be in a band when I was younger.
Who are you listening to at the moment?
Joe: Slowthai and Boygenius. Both huge.
Jack R: Enola Gay, they're a band coming out of Ireland who we played with last year and are phenomenal live, I've seen them like five times since, definitely check them out.
Jack H: Personally, I've just been spinning that new Young Fathers album to death. Also, on a big Proclaimers binge - what a band.
Tom: Listening to a lot of Wunderhorse, Slowthai, Snash, and Idles at the moment.
I notice you've got a hate mail contact in your Twitter bio, do you ever check it?
Jack H: That's just our regular band contact email but sadly nobody has actually sent any hate so far. The good news is we've inherited a lot of definitely real money from long lost relatives and won a bunch of million-dollar lottery prizes. The place to go for hate seems to be our Facebook; we had a guy the other day send us "Wow! You're dreadful!" which we all really enjoyed.
Safe Gigs for Women is an important cause for you, can you tell us a little about that?
Jack R: We all have people close to us that have experienced sexual assault and have unfortunately also seen it happen to people in crowds at shows. It's something we all stand firmly against – music is a safe place for escapism and that sort of entitled dickhead behaviour is not welcome at our gigs or anywhere else. We've always admired the amazing work that Safe Gigs For Women (sgfw.org.uk) do, and we're currently in the process of organising a charity show to raise money for them and to raise awareness in our local music scene.
What's your favourite thing about the UK?
Joe: Nick Frost.
Jack R: Pub.
Tom: Cornish pasties.
Jack H: … Yeah, Cornish pasties.
Carsick are coming to Truck Festival in July.
Image Credit: Dev Place Photos