The past year has been tough on us all. With a series of national lockdowns, we have been forced to spend more time at home, with many people working from home and conducting home schooling. During the first lockdown in 2020, with good weather upon us, people discovered the joy that their outside space could bring, and research conducted by the Horticultural Trades Association has confirmed that almost three million new gardeners found pleasure in getting involved with gardening. Nearly half of the new gardeners are aged under 45. But what about those people without gardens and what do you do during the long months of winter when getting green fingered outdoors becomes more difficult? The answer is to bring plants indoors and see what they can do to improve your mental and physical wellbeing in many ways.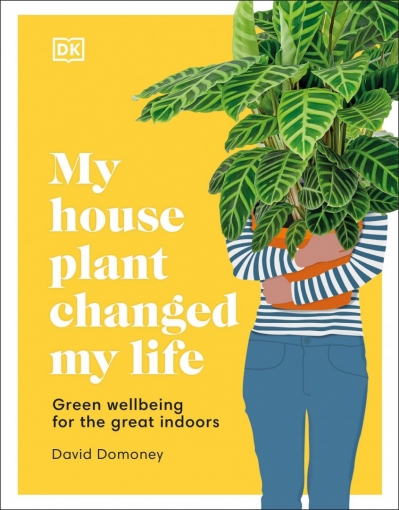 Chartered horticulturalist and TV gardener David Domoney, known to millions through his appearances on ITV's This Morning and Love Your Garden, regularly gives passionate and well-informed lectures on the mental and physical benefits of gardening. However, he has just launched a truly informative and inspiring book devoted to 50 of the most popular indoor plants. Entitled My house plant changed my life, published by DK, this book contains well laid out advice, not only about how to care for the plant, but also the health benefits each of David's recommendations will bring into your home. OX Magazine was lucky enough to chat to David Domoney about his new book and learn more about the value of certain indoor plants.
 "I am hoping that more people will gain the confidence to grow a variety of house plants in their homes," he says. "Gardeners know just how the physical and mental stimulation of outdoor gardening brings a range of health benefits, but people are less knowledgeable about how selecting the right plant for different aspects in your home, can help create an uplift in one's mental health. Fundamentally, humans originated as hunter-gatherers, but as technology developed and our lifestyles changed, there are vast numbers of people who have lost touch with nature and the outdoors. By interacting with plants, both outdoors and in, the satisfaction we derive from nurturing our plants can bring enormous satisfaction. Plants can stimulate our senses with the colours of their foliage, flowers and fragrance, triggering 'happy' hormones of dopamine and serotonin. Plants can evoke happy memories and some plants, which are easy to propagate, can be handed out to family and friends as a way of sharing happiness. Of course, there is the visual therapy of how a plant or plant collection can alter the appearance of the room. Many people don't realise however how indoor plants can improve the air quality as they absorb carbon dioxide and release oxygen into the air, and some are able to reduce toxins generated by household products.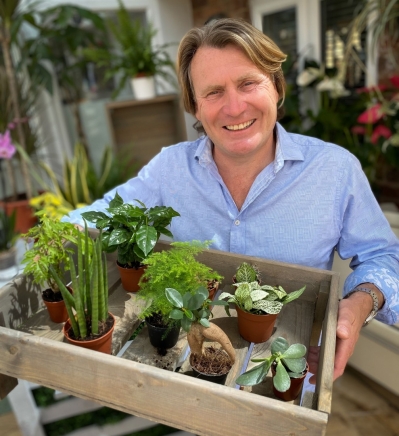 "I have laid the book out in such a way that it will appeal to people buying their first indoor plants or those who have grown plants indoors for years but may not be getting the most from their plants. Many people kill their indoor plants by overwatering, placing them in the wrong situation, not keeping foliage clean, and giving them insufficient and inappropriate plant food during the growing season. There is also a section on how to get children involved – small toddlers enjoy the tactile feel of something like a Maidenhair Fern (Adiantum) or Velvet plant (Gynura aurantiaca). Older children love to get involved in watering and caring for their own plants and my trio particularly like succulents and Jade plants (Crassula)."
 With his extensive horticultural experience, David Domoney spent a decade heading up a global buying team for major national DIY chains in the UK. During that time, he learned a considerable amount about indoor plants. Selecting just 50 to write about was a struggle but the plants shown in the book are generally available from garden centres and plant retailers. "Thanks to my sponsor, Miracle-Gro, I will be at the RHS Chelsea Flower Show in September with my top 50 super-power, house plants. We will be located in the Main Pavilion and I do hope that if your readers are planning a visit to the show, they will come along and take a look."
 When David is not busy with his TV work and writing articles for several publications, he devotes time to encouraging people and schools to get involved with community gardening. Running since 2013, his Cultivation Street campaign, sponsored this year by Miracle-Gro, will run again. Promoting the benefits of gardening in social environments and as part of a healthy lifestyle, this campaign has been hugely popular. David is also an ambassador for Thrive, the national charity helping those living with disability through therapeutic gardening. He is also an ambassador for SANE, the leading UK mental health charity working to improve quality of life for people affected by mental illness.
Available in hardback for £9.99, My house plant changed my life (ISBN 9780241458518) is available from daviddomoney.com or through all good book retailers.
Photos supplied by David Domoney
WIN!
We have teamed up with David Domoney and DK to offer 2 copies of My house plant changed my life to 2 lucky readers!
And… in addition, David will offer:
4 x Miracle-Gro Plant & Grow Lightweight All Plant Compost 6L Easy Carry Pack and 4 x Miracle-Gro Push & Feed All Plant Food Pushfeed, Green.
Enter at oxmag.co.uk/competitions