Over the past couple of years, our outdoor space has become more important to us than ever. If you have wanted to do something with your outdoor space but not yet taken the first step perhaps the 2022 is the right time to get started.
 Before you start planning to create something that would not look out of place at an RHS show, be realistic about your resources. How much time do you have? What do you want from your outdoor space? How much money are you prepared to invest? It is also worth deciding what style of garden appeals to you. Even if you are planning a low maintenance garden, you may opt for one with a tropical feel or something elegant with box topiary and very low-key planting. On the other hand, you may want to create a vibrant cottage garden full of colour including some areas given over to vegetables. Watching gardening programmes on TV and reading gardening magazines will give you lots of ideas. 
Make A Plan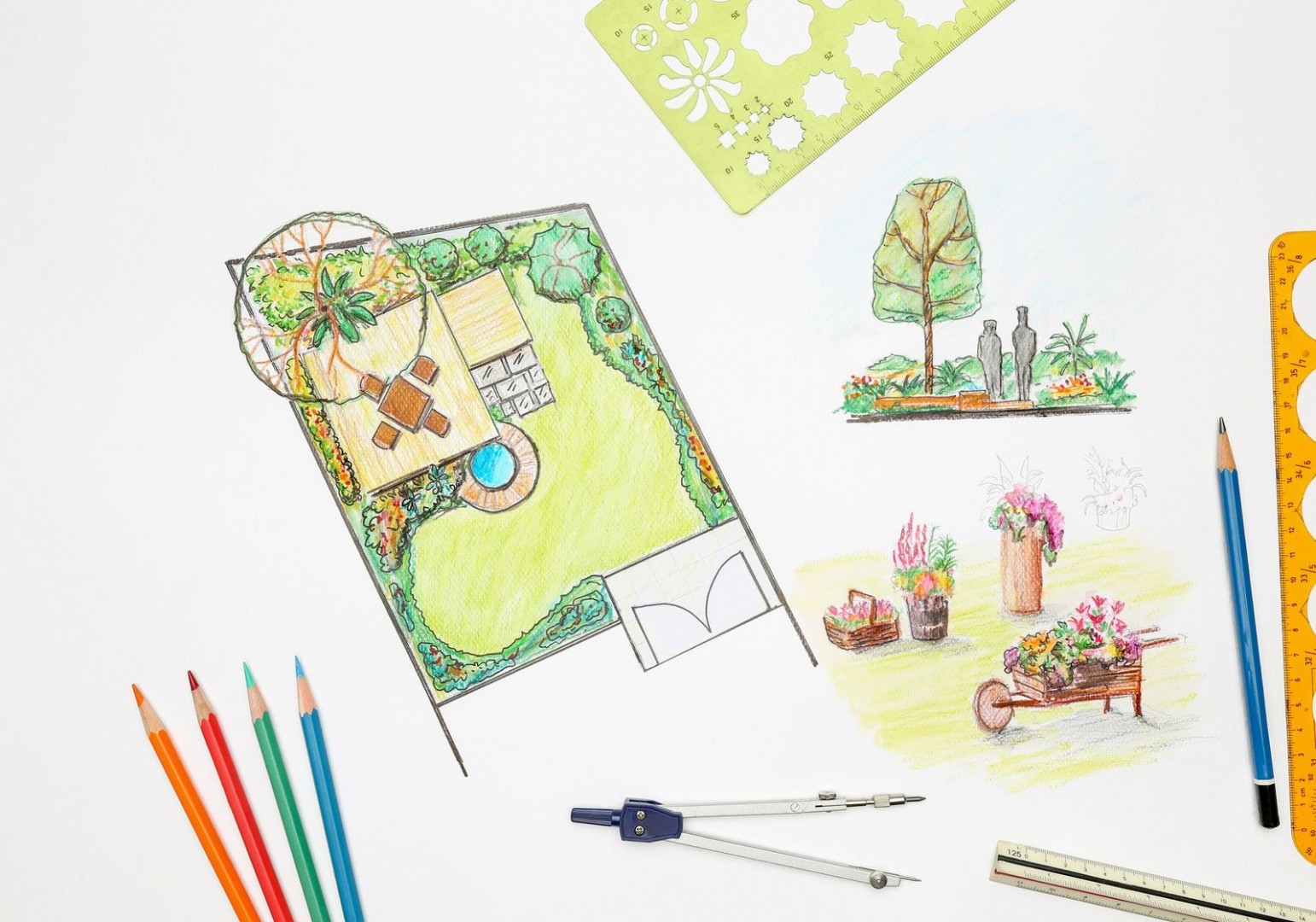 Once you have identified how you would like to use your space, create an overall plan for the garden and remember – like Rome – gardens are not built in a day or weekend. They evolve and grow and provided you have an overall masterplan for your garden, you can create sections at a time. If you have recently moved into a new property you will only see what hidden treasures the previous owner planted over the course of a full year's cycle, so take your time. Take notes and photos, and if you are unsure about anything, ask family, friends or local garden centres for their advice.
  Planning on paper is a less expensive way of making mistakes so start by measuring your garden. The obvious way is a direct line measurement from points A to B. To this you can add running dimensions of several points along the same line, eg when you measure each wall of a house take notes of the position of doors and windows along the line.
A slightly more complicated but very useful measurement is the use of 'Triangulation': by splitting the outside area into a series of triangles, this gives you an accurate overall plan. Search the internet for details of how to do this and you may be surprised when you have 'triangulated' your garden as the plot you think is square could be slightly off centre. This is particularly important if you are considering laying hard landscaping in the form of a patio and pathways. Remember also to mark the position of any drain covers and the interconnecting path they follow to avoid expensive damage.
Establishing the Perimeters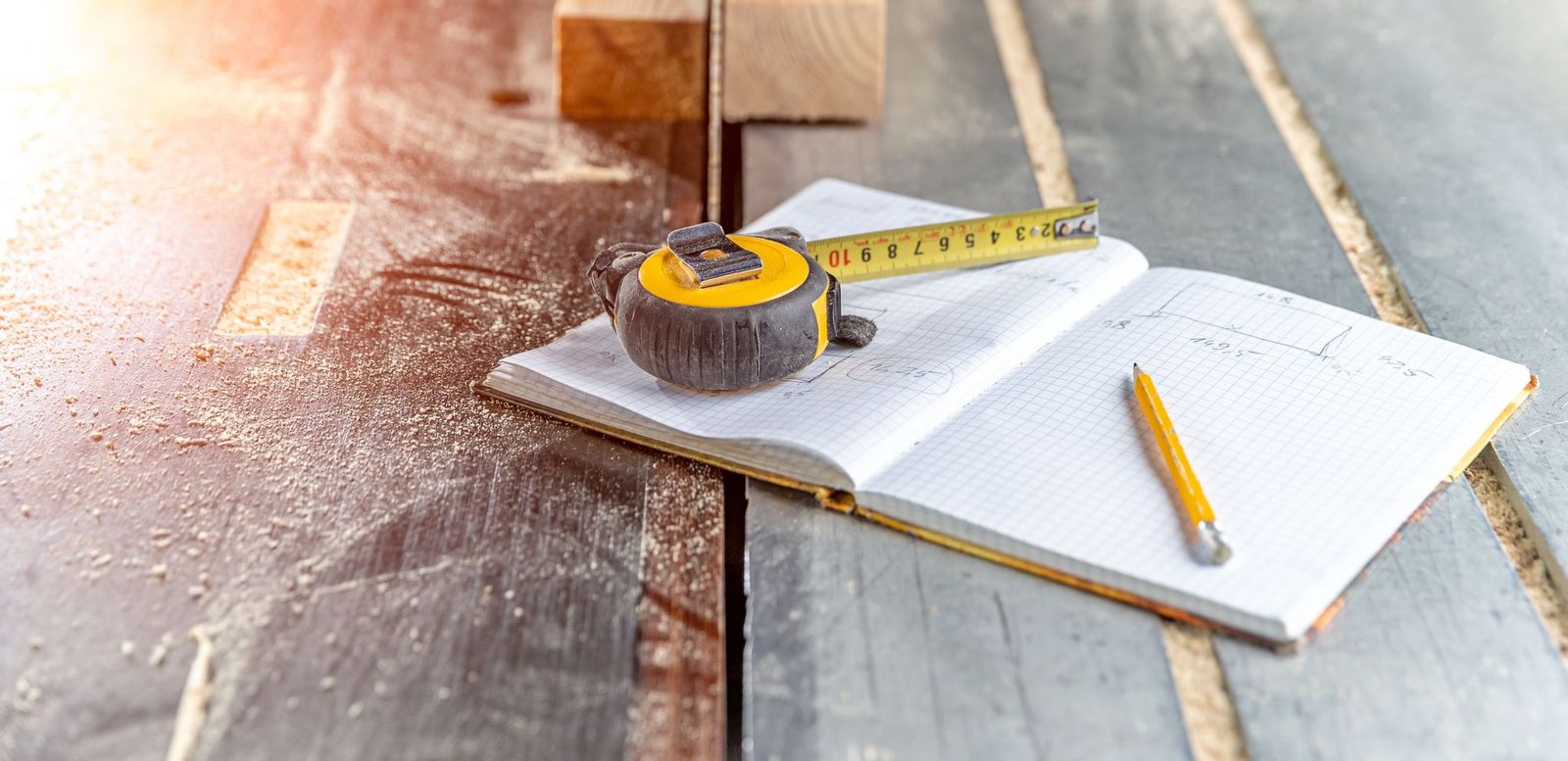 Many of us must work with what we have – unless all the garden consists of is a patch of lawn. Check your boundaries are sound if you have fencing as it is easier to replace fences before you start planting beds if there are any signs of rot. And remember, fences don't need to be painted brown –darker greens, greys, blues or black can help emphasise any plants and these darker colours can often make the garden appear larger. You may also consider planting a wildlife-friendly hedge but they can take up valuable space in a small garden and need clipping back at the appropriate time of year once established. However, if your garden is exposed to a south-westerly prevailing wind, consider using hedging to establish a wind break to protect expensive shrubs and trees.
  If you have established trees and shrubs in the garden and you'd like to remove them for your new scheme, check with your local council to ensure it does not have a TPO – Tree Preservation Order. Sometimes simply having a few branches removed from an established tree can make a huge difference and open up a space. 
Sun and Shade
The aspect of your garden is one thing you cannot change, but you can work with it. Identify the sun's path through the day: where is sunny and where is shady. If you plan to create a patio area to catch the late afternoon and early evening sun, ensure it is correctly sited. Allow for the space required for chairs to be pulled out and if possible, more than one seating area could give you a choice of sun or shade.
  Don't be down hearted if your outside space has areas of shade. There are a wide variety of plants and shrubs that grow happily in low light levels, giving colour and interest all year. Hot sunny borders are the place to plant sun loving perennials, roses and Mediterranean shrubs that can tolerate drier conditions. Look around gardens in your local area to see what is growing well. If there is a garden with plants you particularly like, speak to the owner and they are likely to be happy to tell you what the plants are.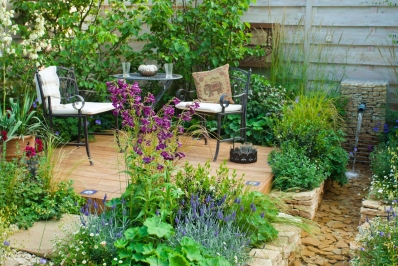 Soil
One of the key elements that will influence what you can grow in your garden is the soil type. If you have clay or sandy soil, both can be improved by incorporating as much well-rotted manure and garden compost that you can get hold of. Dug into the soil, this valuable organic material will help get plants established. The addition of sharp sand or fine grit dug into clay soil can help improve the soil too. As the organic matter rots down, you will need to re-apply annually each spring as a mulch about 5cm thick. It is worth feeding the soil using blood, fish and bonemeal in March before applying mulch to give your plants a good start each year.
  Get hold of a soil testing kit to establish whether your garden soil is acidic with a pH reading below 7.0 (neutral) or alkaline with a reading above 7.0. If your soil's pH is acidic, you can grow a range of acid lovers such as Rhododendrons, Pieris, Camellias and summer flowering  Callunas. If your soil is chalky and alkaline plants such as clematis, hardy geraniums, Lavandula and  Polemonium caeruleum  (Jacob's ladder), to name but a few, should thrive.
 Even if you decide to appoint a garden designer and landscaper to work with you (which will require a more serious budget) you will need to think about what you want from your garden. Providing them with an accurate, well thought out brief, saves time and money in the long run.
Above all, don't let your garden overwhelm you. Once you make a start you'll soon start to experience the joy that a garden or even a well-planted window box can bring.
  Happy New Year! Happy Gardening!