As a gardener who has a love of roses, I continually search for books to will teach me all I want to know about growing these historical, versatile and exceptionally beautiful flowering plants. However, until I opened the pages of the new RHS Roses by rosarian Michael V Marriott BSc (Hons), I had never realised that one book could cover such a wide range of useful information.
This new publication celebrates the history of the global garden icon, reveals how roses get their perfume, and contains a plethora of practical, expert advice on how to choose, grow and enjoy roses in any garden, anywhere. Further, the spectacular photography throughout almost brings the roses alive on the pages of the book.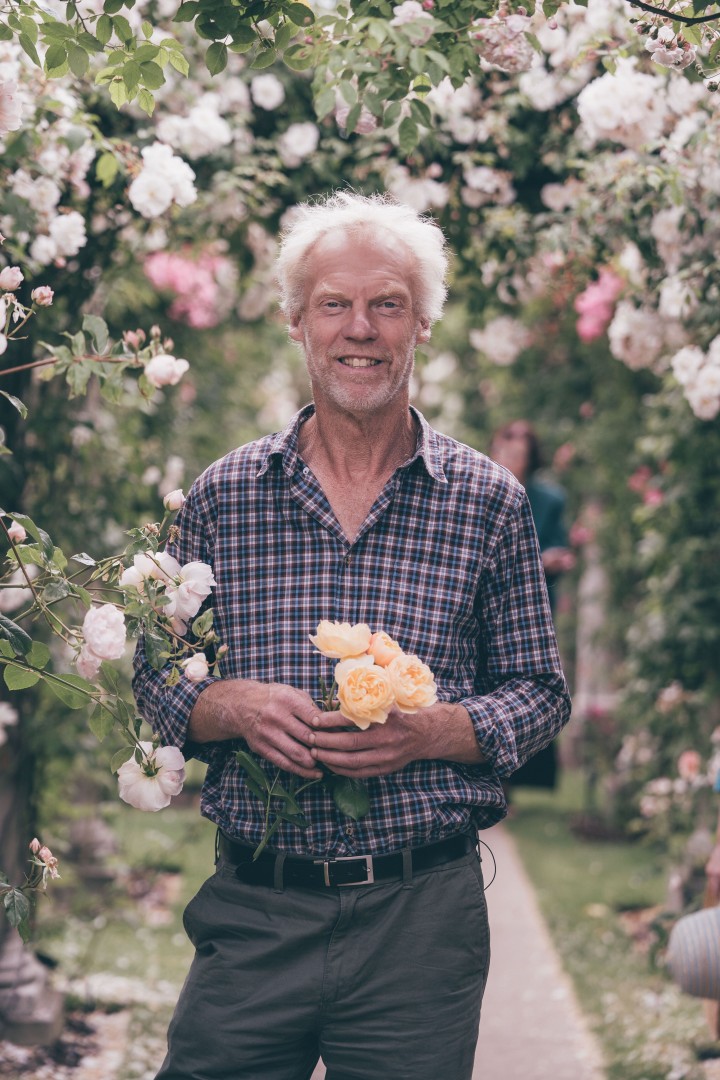 Michael Marriott is one of the world's leading rosarians and was an integral part of the team at the head office of David Austin Roses in Albrighton for 35 years. He joined the firm in 1985, first as a nursery manager and then as Head Rosarian, spending a considerable amount of his time advising gardeners from around the world on every aspect of rose growing as well as designing rose gardens.  "For getting me into the world of roses, I owe a huge amount of thanks to the late David Austin, who despite my very limited knowledge at the time, took me on as a nursery manager," says Michael. 
During his time with David Austin Roses, Michael played an important part in the development and popularisation of English Roses, gaining an intimate knowledge of over 200 English Roses bred and introduced by at the nursery. Having gained an interest in gardening at an early age, Michael studied Agricultural Botany at Reading University and worked briefly in horticultural research in England, before spending five years in the South Pacific where he worked at various rubber, cocoa and palm oil estates.
"I recognised my passion for plants at an early age. However, a good gardener needs to ensure they choose appropriate plants and varieties for their garden's growing conditions. This needs to be backed up by sound soil management. I have always run my own gardens using organic principles, selecting only the healthiest of roses and using other plants to attract beneficial insects."
Michael's work as a garden designer has inevitably focused on using roses as the main focal point. He has designed numerous gardens and borders around the world, both for private clients and public gardens. Amongst his many creations in the UK are the those at the Royal Botanic Gardens in Kew, Queen Mary's Rose Garden in Regent's Park and Hampton Court Palace.
It was Chris Young, Editor of the RHS magazine The Garden, who suggested Michael should write a book on the subject for Dorling Kindersley. After some initial reluctance, the idea became more compelling; "I felt that much of the information on the subject of roses often makes it all sound rather difficult and complicated. I thought I could make a significant contribution to the world of roses and help demystify the subject by simplifying the information and explaining it in a more accessible manner for gardeners and rose lovers to enjoy reading and learning from. I did also have to ensure that the recommended rose varieties are suitable for the UK and Europe, with a separate edition published for North America with a different range of recommended varieties."
 With his expert knowledge, Michael has written RHS Roses to be read by a wide range of people; from fellow rose experts to novices. He gives suggestions on the most suitable roses for different situations and which varieties to select for shape, colour, perfume and growing habit. More importantly, he gives clear, easy to follow advice on how to care for your roses from pruning to feeding and how to treat pests and disease.
We have two copies of RHS Roses by Michael Marriot (DK, May 2022) £24.99 to give away. To enter visit oxmag.co.uk/competitions/