Sally-Anne Peck is a self-taught pet portraitist, working out of a studio at her home in Abingdon. Her unique use of colour coupled with the photo-realistic style of her work magically combine to bring to life not just the image of the pets she paints, but also their character. We wanted to know more…
How long have you been doing pet portraits?
I have been creating my pet portraits since 2020. I intended to go travelling after finishing sixth form in 2019, but covid struck and I continued working full time at Tesco in the hope of still going away after the pandemic passed. But, my art took off and I'm so proud of what I've achieved since! I've had to teach myself so many different skills – I had zero business knowledge. However, with the help of close family friends (who run a successful business themselves), I gained the knowledge I needed and also got that extra push of encouragement. Building a website has also been a challenge, but I'm hoping to launch that this year: sapartstudios.com is coming soon. 
What inspired you to start?
Quite simply, my mum proudly posted my A level artwork on Facebook. A couple of people reached out to have a painting commissioned, one of a manatee and the other of a cat. They admired all my colours which was a common theme throughout my artwork and they both requested to use the same technique for their pieces. I posted these paintings online and ever since it's been a snowball effect. On February 2021, I had a huge influx of messages after posting a commission of a cockapoo and ultimately ended up being booked until November 2021 (roughly 30 commissions). Nothing makes me happier than receiving positive feedback from all my customers and seeing the reactions of people opening their portrait. It's so heart-warming seeing the impact my work has on people. It motives me to continue working at what I love doing most.
Sophie Tea is one of my biggest inspirations. She is a modern-day abstract artist whose work is vibrant and energetic like mine. I've been obsessed since the first day I saw her work and aspire to be her. We've been in contact a couple of times, particularly when she created a nude painting of a woman with a stoma bag. I connected with this painting deeply, because as a Crohn sufferer myself, I know the struggles of dealing with an invisible disability and I admired the fact that she was spreading awareness for this horrible disease.
You describe yourself as self-taught. Have you always loved painting? 
Since being a little girl, I've always loved being creative. I remember always practising my 'colouring-in' skills and trying to not go over the lines in colouring books. I only ever looked forward to art lessons in school, especially for Art GCSE and A level as there's more freedom. I also formed some close relationships with my art teachers as I wanted to do well. Believe it or not, I loved being set summer holiday art projects as well, I would always go to the art shop in town, grab the biggest colourful piece of card and get creative with it. 
I'm currently enjoying painting more than I ever have and whenever I go a few days without picking up a paint brush, I really miss it and I get so excited to get back to it. I've particularly felt this in the last three years as I'm lucky to have a job I enjoy so much. Throughout this time my technique has also improved a lot since I did my first portrait. My style used to be more chaotic as I was experimenting with the colours and seeing what works best. Now I spend more time on the more intricate details to enhance the level of realism even further. 

What sort of price could readers expect to pay for a commissioned piece? 
My prices start from £200 (A4 size). My prices fluctuate depending on the size. I offer A4, A3, A2+ (A3 being my most popular) but I'm also very flexible and happy to work with any size requested. A free rough quote is given after seeing the images provided as each animal varies in time. My fluffier animals take me the longest as there's more detail to depict. More information regarding pricing, what's included/excluded, terms & conditions etc is sent after being contacted by a customer through my Instagram or via my Facebook page. All this information will soon be included in my website.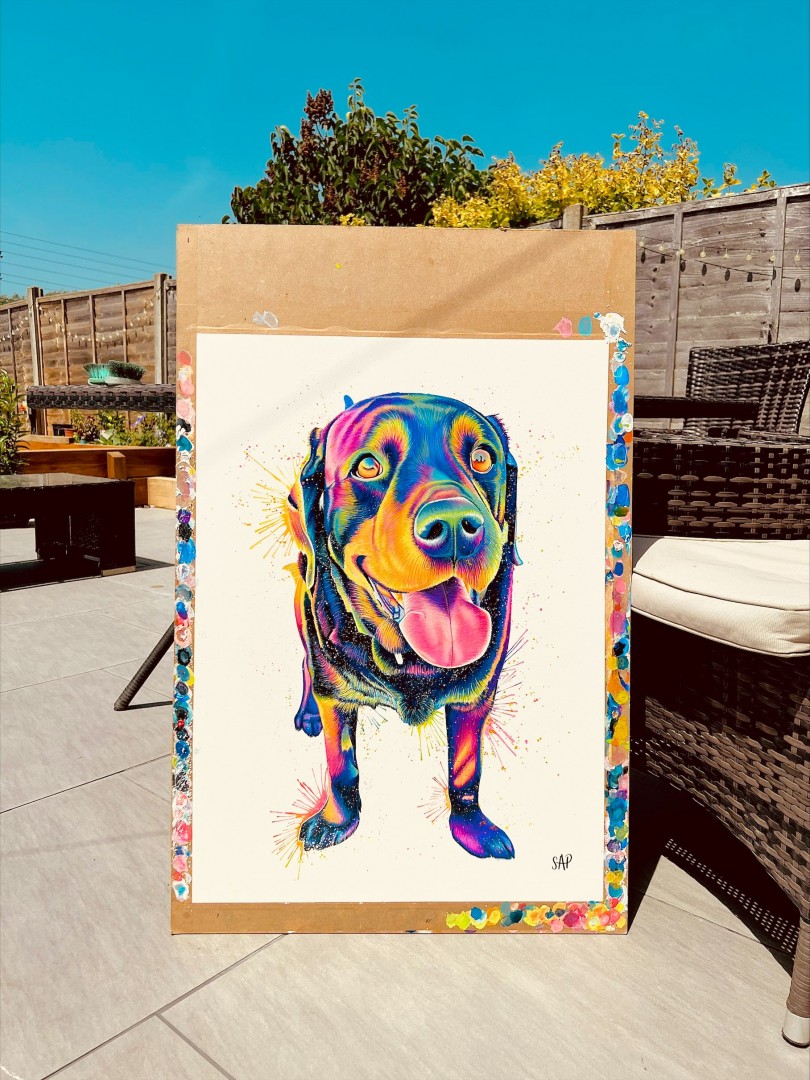 How do you settle on the amazing vibrant colour palette? Is that how you 'see' the pets you're painting?
I've always loved working in colour, not only because it's fun and cheerful but I believe in a way the colours represent my personality. I've always been a big advocate of 'spreading positivity' and being as kind as possible to others, as you never know what someone else is going through. I've particularly felt this way after being diagnosed with Crohn's in 2019 and ultimately having 30cm of my bowel removed. I've always been very anxious and stressed, most significantly in my time at school which I believe is the root cause to my diagnosis. However, working with such a vibrant palette (and of course the cute pets I get to paint), was a huge distraction. I use some gorgeous colours which are very uplifting, especially in times when I feel overwhelmed or in self-doubt. I hope this energy created is reciprocated to others who view my artwork, but also helps to celebrate and remember any pets that sadly aren't here anymore. 

Do you offer the chance to have a less colourful portrait if preferred?
Yes, I'm very flexible with my colour palette. I've done a couple of realistic portraits but my colourful paintings are my most popular. I always discuss with the customer their choice of colours before I get started and if they'd like any less or more prominent colours.
Do you always work from photographs or have you ever painted from life?
I work purely from photographs. I've never painted from life, mainly because my work is very time-consuming. It takes a lot of time choosing the correct colours for each portrait. I want each and every portrait to look as realistic as possible, I never want my colours to distract from the animal's true character. However, I sometimes make a visit and take the photos myself to work from. I visited a golden retriever (my favourite breed) and I was in heaven; he was the sweetest boy and loved a cuddle. This always helps me understand the character behind who I'm painting as its important to portray this. 
Finally, do you have a pet yourself? 
Yes, I do – I've got a border collie called Miya. She's always keeps me company when I'm working in my art room, barking on occasion and dropping a ball at my feet to play with her. We'll also pop out for some fresh air whenever I need a break after spending countless of hours on a painting. She's my four-legged best friend.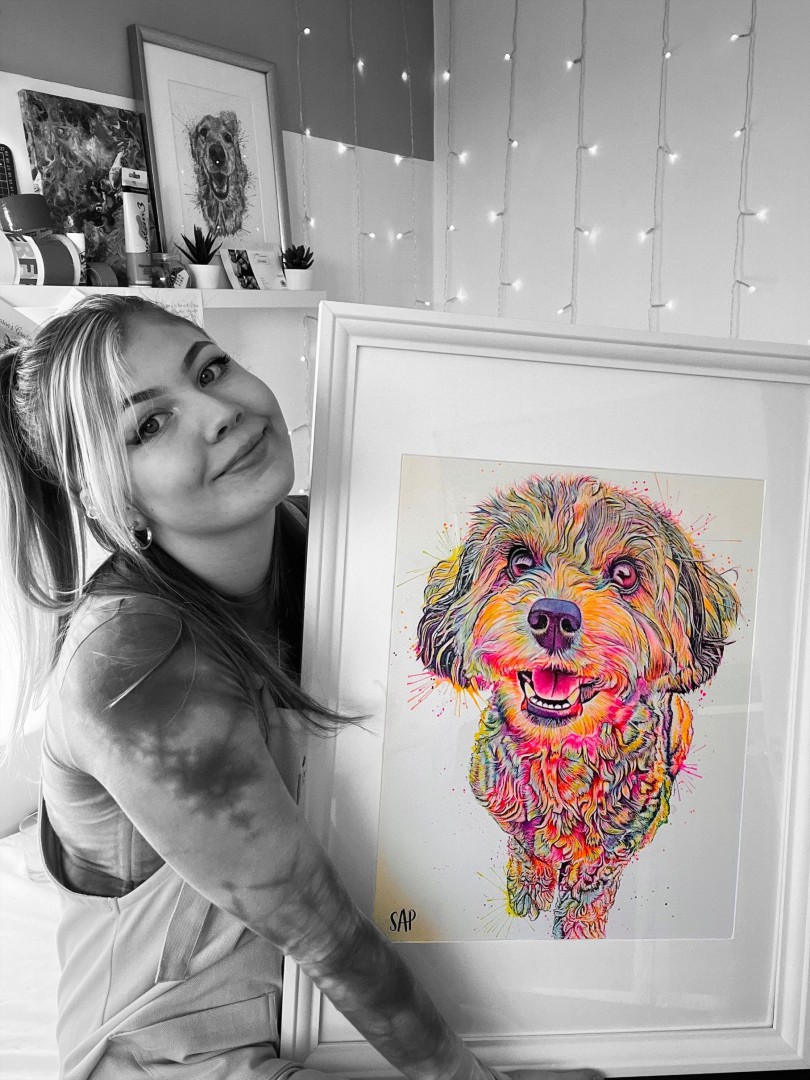 Find Sally on Instagram @sap_artt or Facebook at SAP ART. Her website sapartstudios.com is due to go live soon.