Such is the way of the world now that for my meeting with Grammy award-winning jazz chanteuse Samara Joy, I'm sitting in my kitchen at the end of my working day and she is just starting hers, zooming in from a hotel room somewhere in America. Recent months have seen her zigzagging between the continents; on the day we spoke she was due to perform at the Mondavi Centre in California as part of her tour across the States, and then on to Europe, including London on 10 November at the Barbican for the EFG London Jazz Festival.
There's something restful and serene about her, in keeping with her given name, Samara (said to 'evoke a sense of quiet watchfulness and divine worth'). I start with an apology: our meeting has been squeezed into a very tight schedule and I suggest she must be 'absolutely shattered'. In her speaking voice, which is as velvet rich as her singing voice, she asks, "Absolutely shattered? I never heard it said like that before". After some discussion of the various idiosyncrasies of the British vernacular Samara declares she is actually "pretty knackered". I'm not surprised.
Ok, so your debut came out in 2021 and now we're in 2023 and you've won two Grammys. It must all feel pretty dizzying.
It's a pretty big shock and I think I've just now only started to realise it. I wasn't expecting to win – obviously everybody hopes that there's a chance, but I'm not that popular and compared to all the people there, you know, I was just happy to be there. That was my mind set. On stage I feel all of the love and all of the support, outside of being on stage, I just feel normal. 
What attracted you to jazz?
I felt like I didn't have to compromise myself. Who I am and what I wanted to sing about like maybe I would have for other genres where people are more mainstream successful. At first it was almost just like raw artistry – you know there's no frills, there's no choreography, there's no anything. I was drawn to just standing and singing and listening to people express all of the music that was in their head. It made me feel like it was possible for me to do it as well.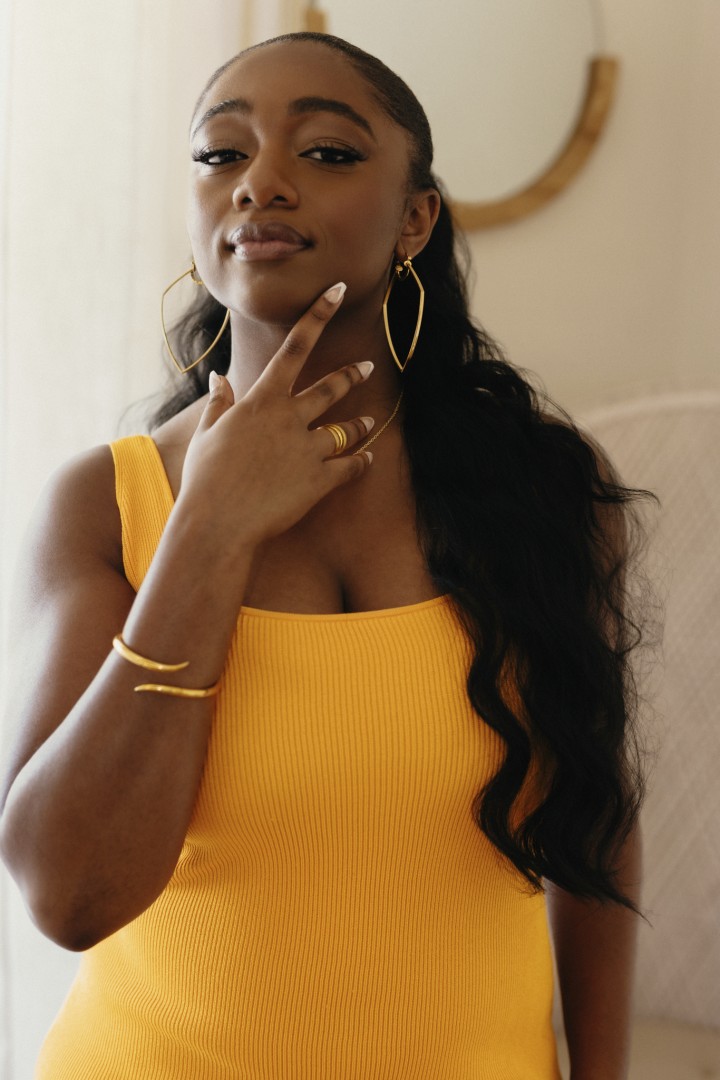 How does it feel to be making your name in a genre that is so timeless, joining a body of fantastic female singers. Is that something you ever reflect on? 
I think about it, and I don't know if I consider myself equal to them yet. I'm inspired by them in everything that I do. I wasn't expected to be doing this, you know, and its just so beautiful how it all came about and how much more there is to discover about myself.
I think that's what I'm most excited about; doing this I don't feel like I have to be in a box or like I have to dismiss or diminish my past. I can be fully myself, I can use the full extent and the full range of my voice. Moreover, because I know how to control my voice. I know how to reel it in, and I know how to let it all out, I can do that and express the full range of my emotions, too.
Why do you think so many younger people are discovering jazz now?
Maybe it's exciting because it is different from what is saturating the radio and online. It could be for a number of reasons. I think there are people that love nostalgia, not just for jazz but for other genres as well. The stuff they grew up on, artists that they grew up with, songs that they hear, and it just takes them back to a certain time in their life. It could be for a number of reasons; because it sounds fresh, because it sounds old.
And you use social media to reach your audience?
With TikTok I was like, I think I can do it because I like watching people on TikTok and I like the medium. I started out and it started going well, I'm still navigating it because there's a lot of people, a lot of creators and singers on it, but it's a beautiful way to bring an audience to you. People that are in all these different corners of the world, you know, all of a sudden they are connected to you in a certain way. It's just crazy to me, but it's beautiful.
What was it like working with your family on your Christmas EP, A Joyful Holiday? 
Oh my gosh, Christmas is everything and so the fact that I could transfer that experience into the studio with my family, if only for a couple of songs, was beautiful. I had always grown up hearing stories about [my family] singing together in church and I never went because I was too young. So, to create a space and an opportunity now for everybody to be reunited again – I mean, it's not like we ever separated – for the sake of something like this, you know I'm really so grateful. 
So you're coming to the UK in November to play at the Barbican.
I'm looking forward to it! I had too much food last time when I was in Camden so I'm glad to come to a different spot. There was a market right next to where we were staying. So many banana Biscoff milkshakes – it was crazy. 
You must have loved the shopping in Camden as I know you are a thrift queen. Do you have any tips? What do you look for, what makes your heart skip a little bit faster?
Sparkles. I love sequins and whenever I go to charity shops that's what I look for. I look for the brand, I feel the material, if it's like velvet or silk. That's my trouble with ordering stuff online because I like to feel clothes. I like to see how they stretch, and you know, I love good fabric. That's partly why I shop vintage and thrift and charity shops. 
I understand the dress you wore to the Grammy's is now on show. 
It's in the Grammy Museum. I wanted to wear it again, but I guess we're going to have to make another dress in that design. People send me videos and pictures when they go to visit. Maybe I have to go see it for myself because it's kind of unbelievable.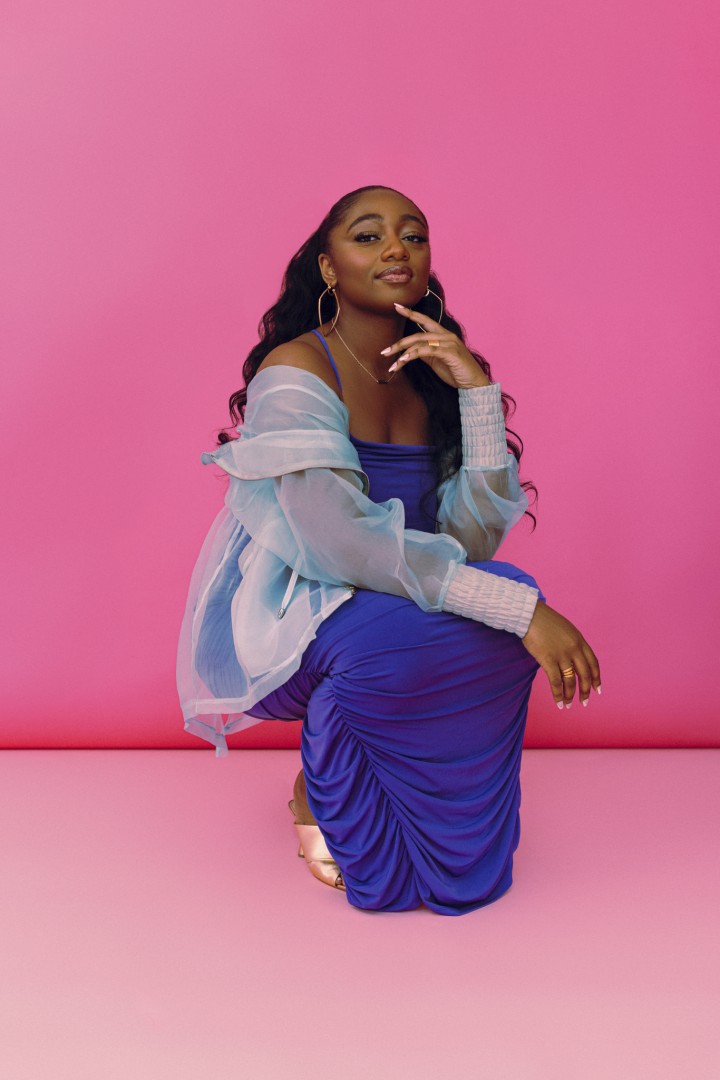 You're so busy, what do you do when you're off duty?
What do I do? I like to thrift wherever I am. If I'm home I like to walk around the neighbourhood and maybe roller skate, read by the water. I don't know, I like to do chill stuff. When I'm on the road and I have an off day I just like to explore and walk around and see what maybe the main spots are, the main sights to see.
And what do you listen to?
It depends on the day. Every day I listen to a minimum of like 20 different songs, just like whatever is in my head, whatever I'm thinking about first thing in the morning. If I'm listening to horn players or maybe a certain front line, more recently it's been Freddie Hubbard and Joe Henderson. If I'm listening to popular music is would probably be Cleo Sol who's British I think. She's a beautiful soul artist. If I'm listening to pop it would probably be like NSYNC or something. If I'm listening to, like, yacht rock it would be Michael McDonald or Michael Jackson. So, it ranges from day to day. 
And do you like to go out and have a bop? Do you go clubbing?
No, I wish I could. There are times when the gig is done, I've signed all the merch I can sign, and taken photos with everyone and let's say its a Saturday night and I'm finished by like 11, I'm ready for bed. I see people my age getting their night started and sometimes I wish…but it'll happen. 
Is there anything else our readers should know about you?
I'm a very predictable person so I don't think I could surprise anybody with what they might not know. I'm kind of an open book. I don't know, I feel like rollerskating is the only exciting thing about me.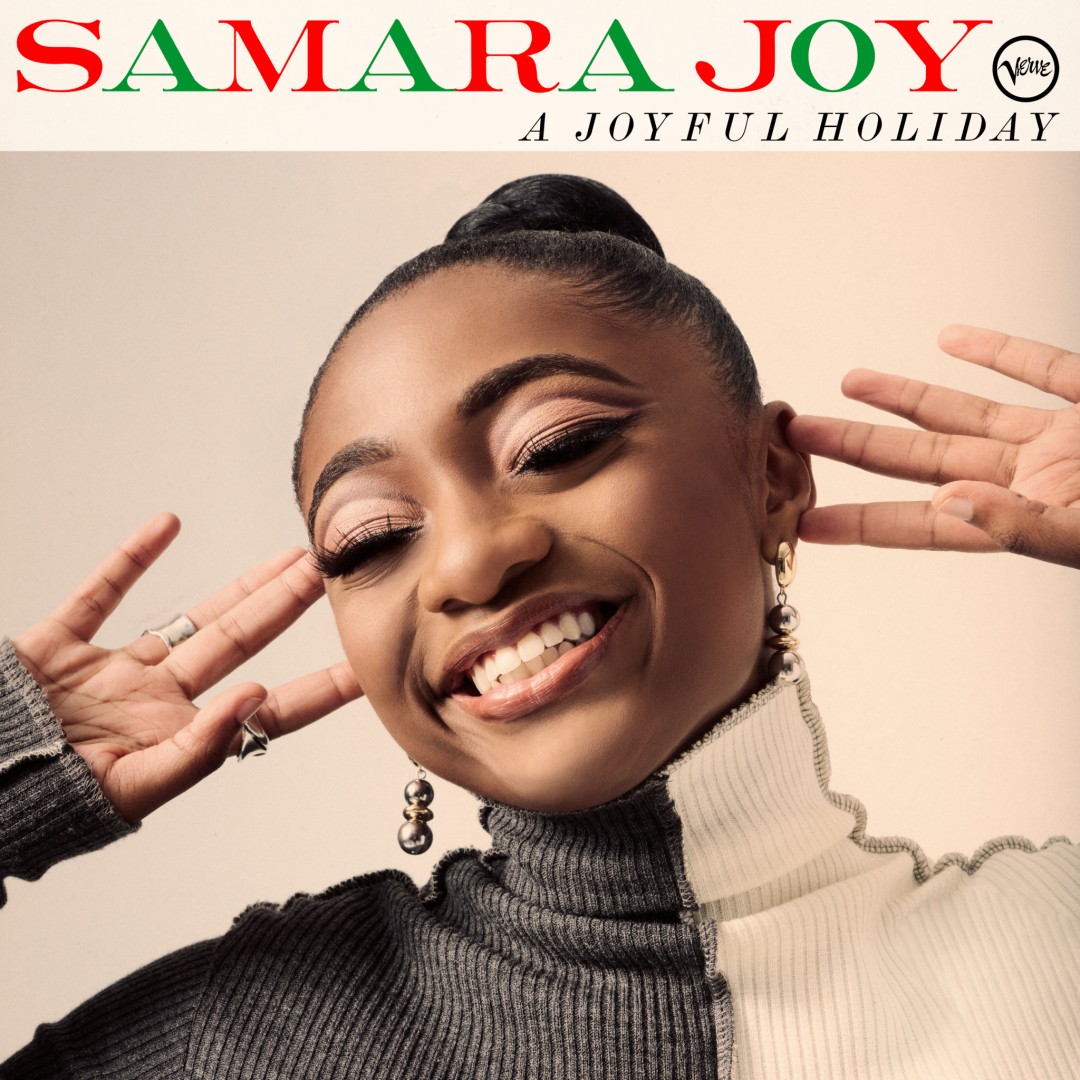 To experience the phenomenal Samara Joy for yourself – and I sincerely suggest you make this a priority – her Barbican on 19 November has sold out, but her latest album, Linger Awhile is available on streaming sites and to buy on CD and vinyl and recent single, Tight dropped in September. A Joyful Holiday, her Christmas EP in which she collaborates with her father, R&B legend Antonio McLendon and also her brother, Zachary, is out now. shop.decca.com
She also appears on Gregory Porter's latest collection, A Christmas Wish, duetting with Gregory on the song, What Are You Doing New Year's Eve.
Image credit: ©Ambe J. Williams