Oxford is unquestionably one of the most beautiful cities in Britain, packed with celebrated classic views – the grand and Gothic – shoulder to shoulder with quirky corners that spark the imagination.
As Oxfordshire Artweeks – the UK's oldest and biggest artist open studios event – prepares to open COVID-secure doors and invite you in to browse and buy locally-made art and craft in pop-up shops and galleries across the county (from 1-23 May), we take a look at stunning paintings and intriguing photographs by two very different artists.
Paul Tomlinson is an urban sketcher who has lived in Oxfordshire for most of his adult life but only started drawing a few years ago, whilst spending time in Cyprus. "I began sketching in Oxford last year while it was quiet in those months when rules were eased after the first lock-down," he says. "The streets were empty – there were no tourists or students, and I had these incredible uninterrupted views of the buildings which would simply never have happened at any other time. I drew all the usual landmarks, the Radcliffe Camera, the Sheldonian and Magdalen College Tower: they're such striking shapes with their domes and spires, and crenellations. It's the buildings that are the keystones in my compositions.
I always think Oxford is like a timeless film set. It's rather like Stratford-upon-Avon, where I grew up, but on steroids!" he laughs. Oxford's so much bigger and bolder, a castle where Stratford is half-timbered thatch. Oxford is just wall-to-wall history: it was such a seat of power and the buildings reflect that."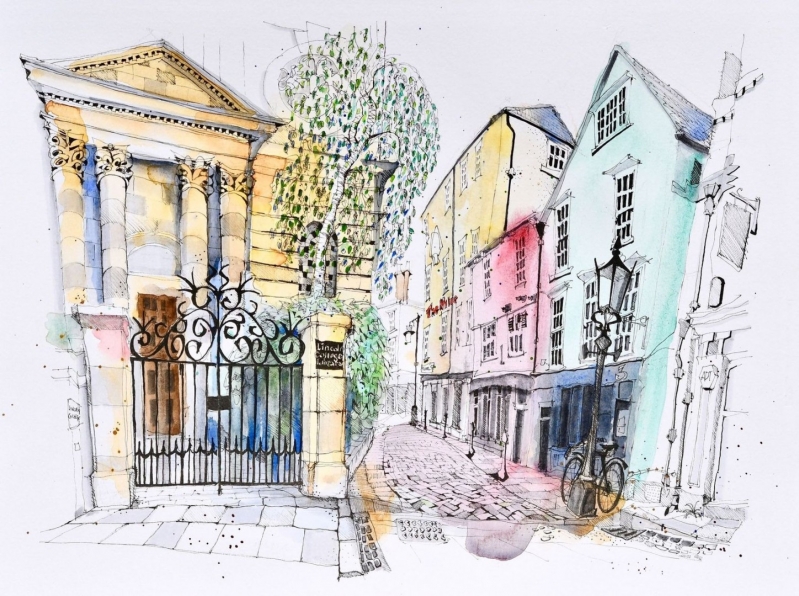 The finished scenes, however, have a friendly light-heartedness which reflects Paul's feelings about Oxford, a city which he knows well and in which he feels at ease. Each pen and ink drawing is awash with gold, the honey colour of the city's stones as the sun shines, with gentle influences of other colours, although perhaps The Turf tavern is reminiscent of those buildings in his childhood home. Other pictures include The Punter, formerly The Waterman's Arms on Osney island and the iconic Blackwell book shop on Broad Street.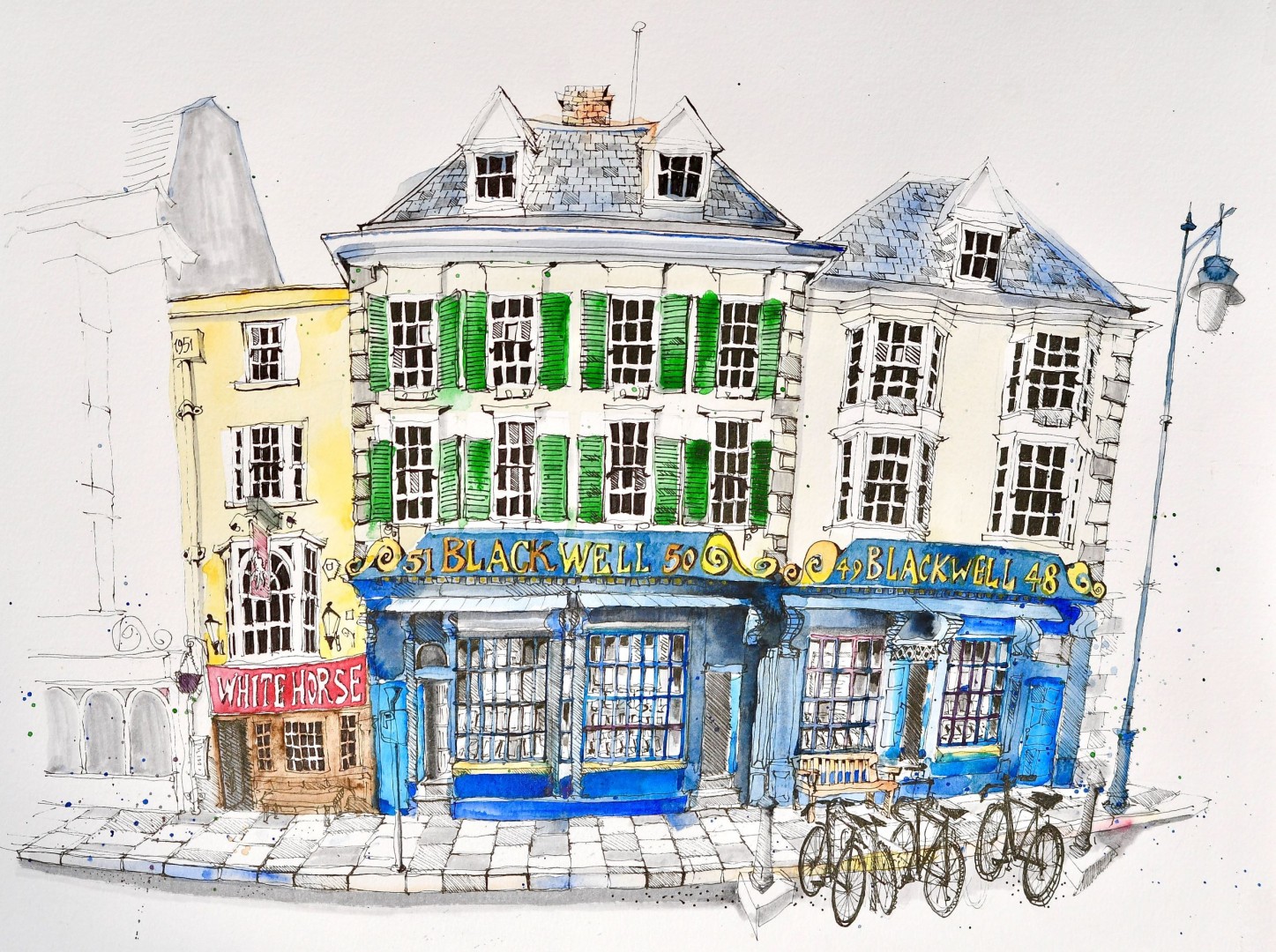 "And a particular favourite of mine," adds Paul "is a view of Merton College Chapel's Tower which I drew, sitting on Magpie Lane, to mimic a sketch of John Ruskin's from the 1830s."
While Paul's art celebrates the classic architecture and quirky views of traditional Oxford, travel & documentary photographer  Bharat Patel is presenting Oxford in an alternative way, inspired by the way he imagines it is recalled by the millions of tourists who pass through the city, in fleeting fantastical and dreamlike memories.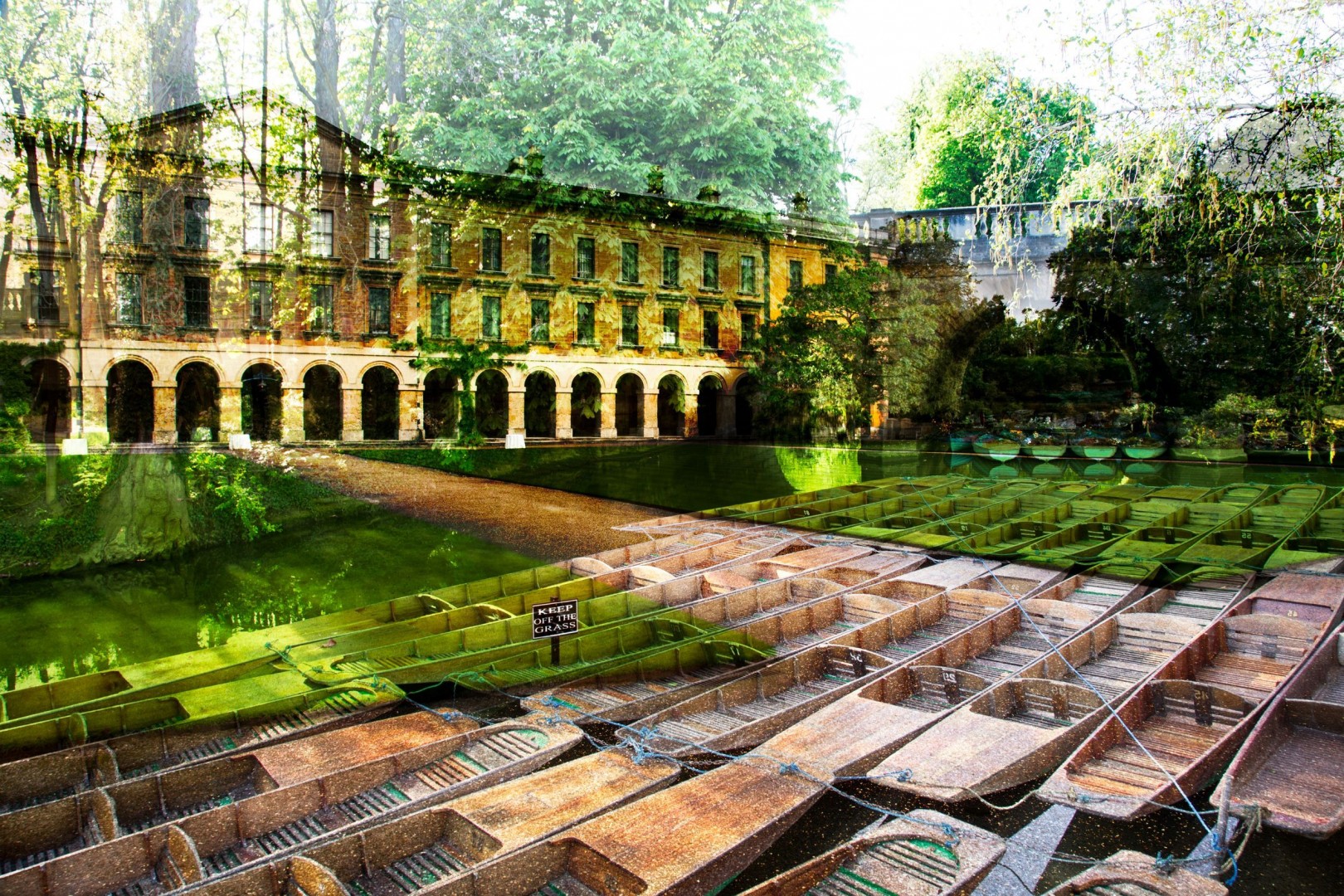 "Oxford is famous worldwide," says Bharat, "and I am lucky to have lived here for many years. I have seen so many tourists taking the standard photographs, yet the city is so much more than those iconic views. It includes both the historic and the modern, and it is full of corners and surprising things that are not often noticed or visited. I wanted to present Oxford from a different viewpoint, whilst still encapsulating the reality of the city.  I have been intrigued by descriptions of recurring dreams in which people revisited locations, where buildings of stone surrounded by water were interconnected, and in which the dreamer glides effortlessly from one place to another, and so, in my Recurring Dreams of Oxford series, I explore what some of the millions of visitors, or residents, may experience in their dreams; a confusing interplay between time and locations.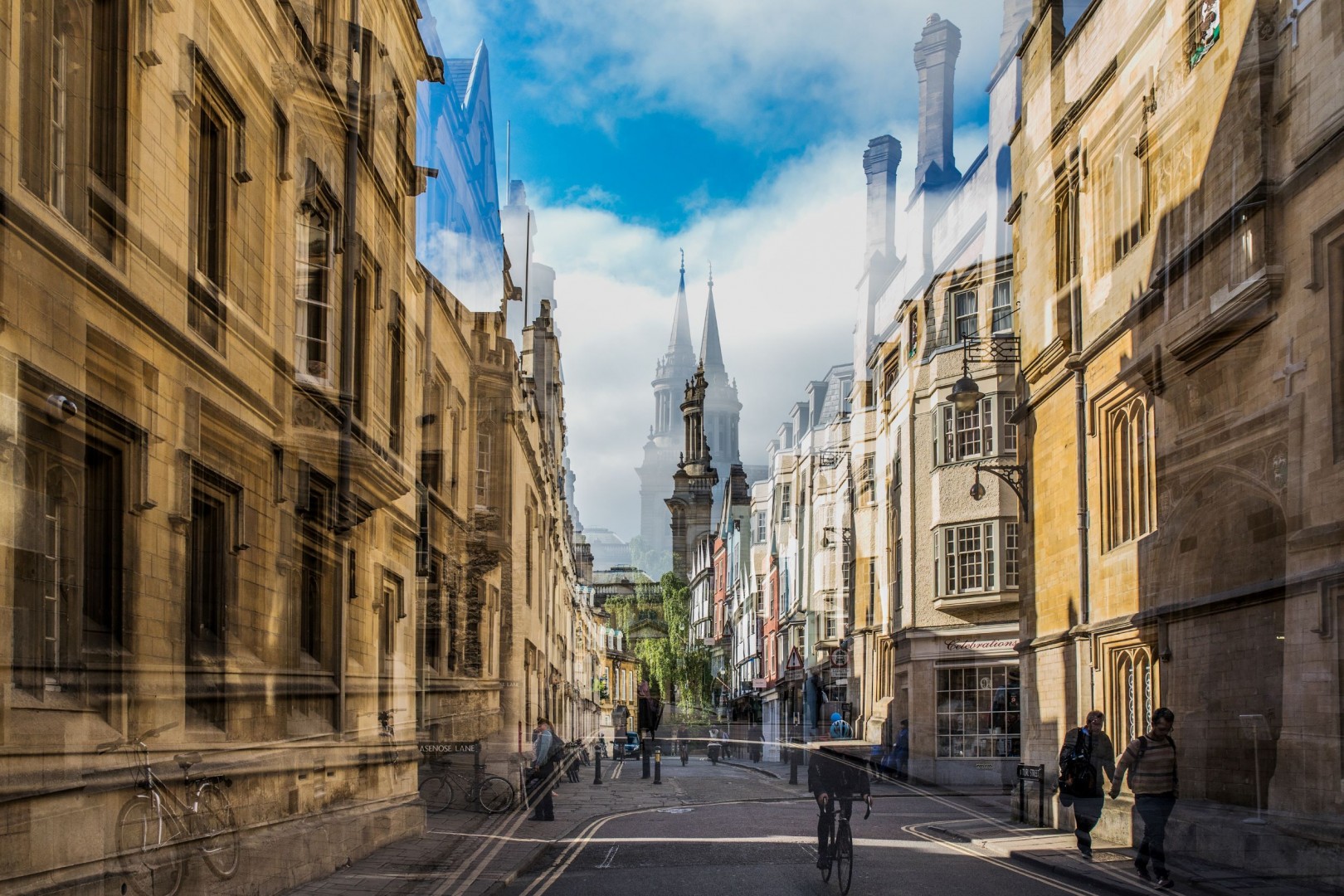 Bharat's photos capture both the essence and splendour of Oxford whilst presenting an intriguing and almost magical interplay of time and places in the city. Each surprising combination of overlaid images of golden stone and waterway, and the people within these places, paint a mini-story which Bharat hopes will take the viewer to another level of understanding of this remarkable British city.
Paul is exhibiting in Freeland near Witney from 1-9 May (venue 50), and Bharat's photography will be on show at Art at St Andrew's in Headington (venue 113) from 8-16, regulations allowing.
To see where else you can browse and buy to bag yourself your bit of Oxfordshire art, in small local venues during next month's festival, visit artweeks.org. There are also an additional 500 exhibitions to explore online, and from 1-23 May you can choose a different themes art trail each day. These promise to whisk you to the beach, or transport you to far-flung places, or enjoy a tranquil garden or serene waterways from the comfort of your own home.