As the weather becomes warmer, we see leaves returning to the trees, flowers making a colourful and welcome appearance, and best of all, days getting longer. It's the perfect time to get outdoors and fully immerse ourselves in nature.
Studies show that there is a decline in children's connectedness to nature, and that they now know less about the natural world than ever before. According to the National Trust, fewer than one in ten children regularly play in wild places, compared to almost half a generation ago; a third have never climbed a tree, and one in ten can't ride a bike.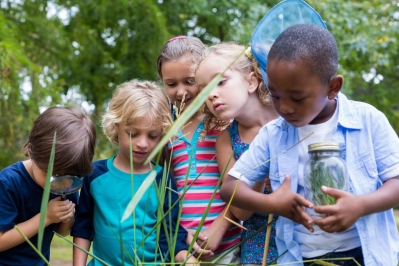 Further studies show that children have higher physical activity levels in greenspaces compared to non-greenspaces, and that children who spend more time outdoors have better motor skills and fitness – especially balance and coordination. More time outside helps to prevent myopia (near-sightedness) in children and has been shown to have further positive impact; particularly in the areas of balance and agility, but also manual dexterity, physical coordination, tactile sensitivity, and depth perception.
One of the many benefits of getting children fully immersed in nature is the amazing conversations that it sparks about the natural world around them. It encourages children to take risks with their play which is crucial to their development. Risky play – especially for younger children – provides opportunities that challenge and support them in exploring boundaries and learning about risk. Whether it be balancing on a fallen tree, jumping between tree stumps, or learning to climb trees and build dens, all these activities help.
The evidence is clear, getting children outdoors is incredibly beneficial for their health and wellbeing, and the same goes for adults, too. Being connected to nature can help improve your mood; reduce feelings of stress or anger; help you feel more relaxed; improve your physical health; and even help improve confidence and self-esteem. But you may be thinking, where to start?
Start small: there doesn't have to be an enormous amount of planning when you start exploring the great outdoors. Find a local green space that you are already familiar with and try to experience that space in a different way. For example, if you have a favourite park that you go to, instead of heading to the same spot you might usually play in, perhaps explore a different area, and use this as an opportunity to have a fun adventure walk. Take your time to explore and let your child take the lead. Open up the conversation by talking to your child about what they can see, hear and smell around them.
We often miss so much of the natural world around us because we just look straight ahead. Encourage your little one to look up high – to the tops of the trees – and low, to the ground. Try not to rush but instead really take the time to stop along the way and discover new things together. Just exploring a new natural environment with children can really spark their curiosity and lead to the most insightful questions.
Tips for a great adventure walk
Collect Forest Treasures for art: Take a small bag or basket along with you and let your child collect forest treasures; twigs, sticks, leaves or similar. You can then use these to make a beautiful nature collage.
Forest treasure hunt: Give your child a list of a few things to specifically look for along their walk, such as a certain colour or shape of leaf or fallen flower petals, or a conker or pinecone. This creates a real sense of excitement when they find what they were looking for.
Find minibeasts: If you have a magnifying glass at home, an adventure walk is the perfect time to take it out and see what insects and minibeasts you can find together. This activity also creates the perfect opportunity to talk to your child about looking after their natural environment and all the creatures that live within it.
Bark rubbing: Children love exploring the patterns and textures of bark and all you need is some crayons and paper. Choose a bumpy tree with interesting bark. Place the paper against the trunk and rub the crayon over the paper to make a print of the bark pattern.
Find a muddy puddle: It sounds so obvious, but it always brings so much joy. Find a puddle and have a good jump and splash in it. Just don't forget the waterproofs and wellies!
Take a story and enjoy a snack: If you're planning ahead, take a blanket, a good story book (Stickman by Julia Donaldson and Axel Scheffler is a great choice) and a snack. Stop along the way to read together or just sit down in nature to enjoy a mini picnic. Children love to eat outdoors.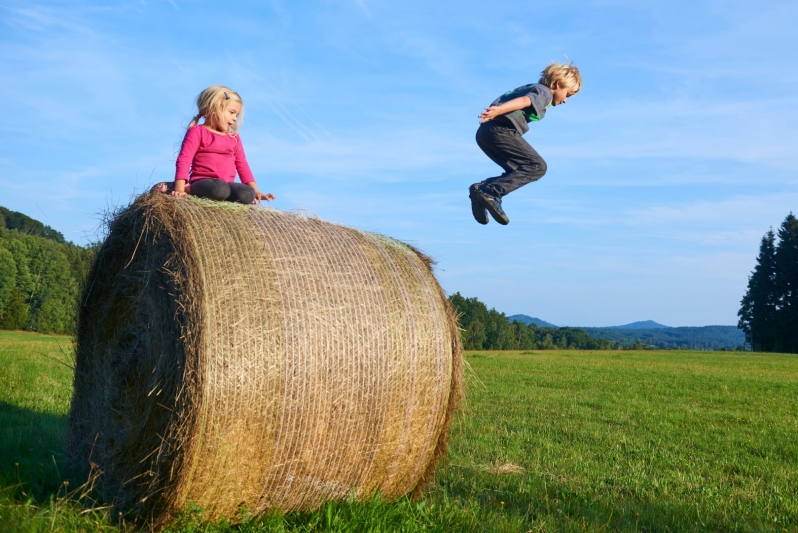 Lisa works with Little Forest Folk, the London-based outdoor forest nurseries who offer training opportunities for adults in either accredited or non-accredited courses. In September 2020, they also opened Liberty Woodland School, the UK's first outdoor school for pupils aged 4 – 18 years.