Tom Croft is the man behind the #portraitsfornhsheroes movement, where local artists thank the NHS workers on the frontline during the Covid-19 pandemic.
The Oxfordshire Artweeks portrait painter's vivid characterful oil portraits are rendered with strong brushstrokes, a departure from his classical training.
When the UK went into lockdown to flatten the curve of the coronavirus pandemic, Tom describes how he wasn't concerned about the lockdown. "I am used to spending time working alone in my studio so assumed this wouldn't be too much of a change to my normal routine, at least workwise," he explains. "However, the news globally was totally relentless, bleak, scary and completely tragic. If we were lucky enough to make it through the physical threat/dangers the economic impact would be devastating for everyone. I was struggling to focus because painting seemed so pointless in the grand scheme of things and other artists seemed to be struggling in the same way.
"A good portrait is so much more than a representation of how a person looks," he continues. "It should also give a sense of a person's essence, and that essence lasts as a person ages, and portraits too often 'live' far longer than the subject themselves. So I asked myself, who should be immortalised today? Who really made a difference and stepped up in these dark days? The answer was clear: NHS workers."
Tom posted on Instagram that he would be delighted to paint a free portrait for the first NHS key worker that got in touch, a nurse called Harriet, suggesting too that other portrait artists might like to do the same. He was overwhelmed with the immediate response and the idea has gathered speed worldwide. He now is asking everyone to post their portraits under the hashtag #portraitsfornhsheroes so they can all be seen online in a virtual exhibition to say thank you to the heroes of the NHS.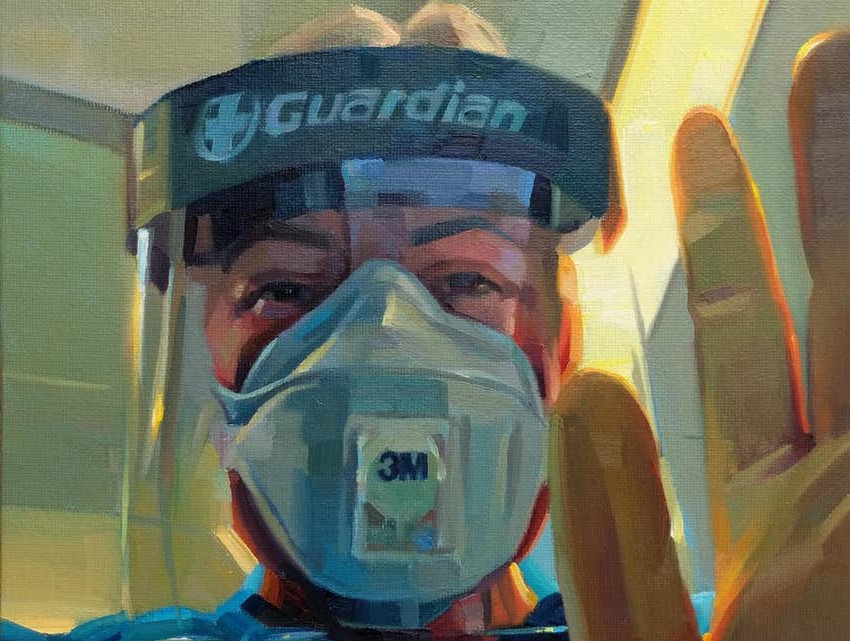 Oxfordshire Artweeks artists have been keen to step to the easel and get involved. These include Didcot's Charlie Davies; Oxford's Kay Jamieson, Pip Shuckburgh from Bampton who has painted a ward sister from the JR and Bicester's Barry Miller is producing a series of smaller oils of healthcare workers that are both documentary and emotional, capturing the dynamism and strength of the people wearing the uniform of the frontline.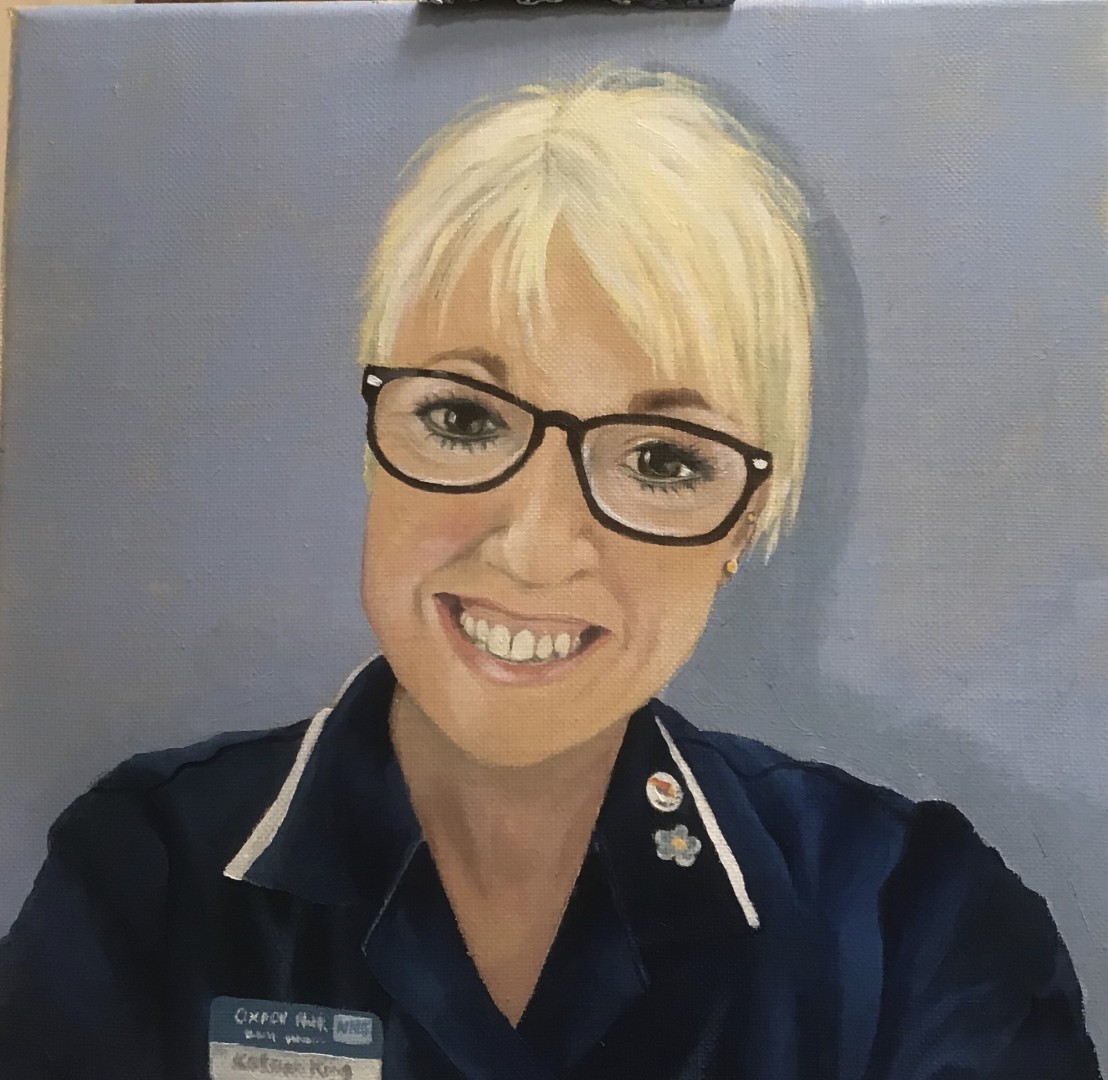 Katie Cannon from Watlington has painted a portrait which is pictured alongside a portrait of the same keyworker by her nine-year-old daughter. In another twist to make you smile, Eynsham ceramicist Alison Holmans has created her own piece, a quirky hare dressed in scrubs and mask whilst artist James Milroy's latest painting is entitled Hearts of gold, a blue and gold pattern dedicated to all care workers.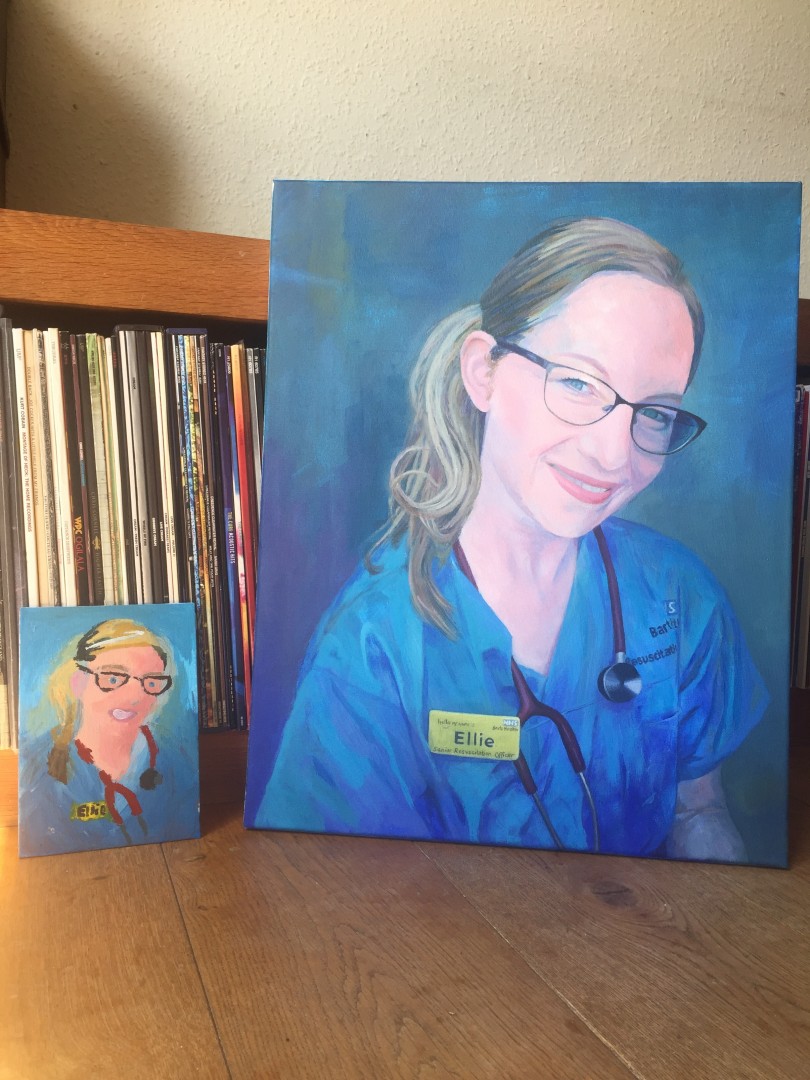 Last but not least, Wheatley mosaicist Becky Paton unveiled her own #portraitsfornhsheroes in a live event at her Artweeks virtual exhibition. She has added a giant and colourful mosaic of a local NHS worker to her series of Warrior Women, whom she defines broadly as someone with great strength and fortitude, driven by fire and passion for what they do, a warrior in spirit. These range from Queen Elizabeth I to the British-American journalist and war correspondent Marie Colvin.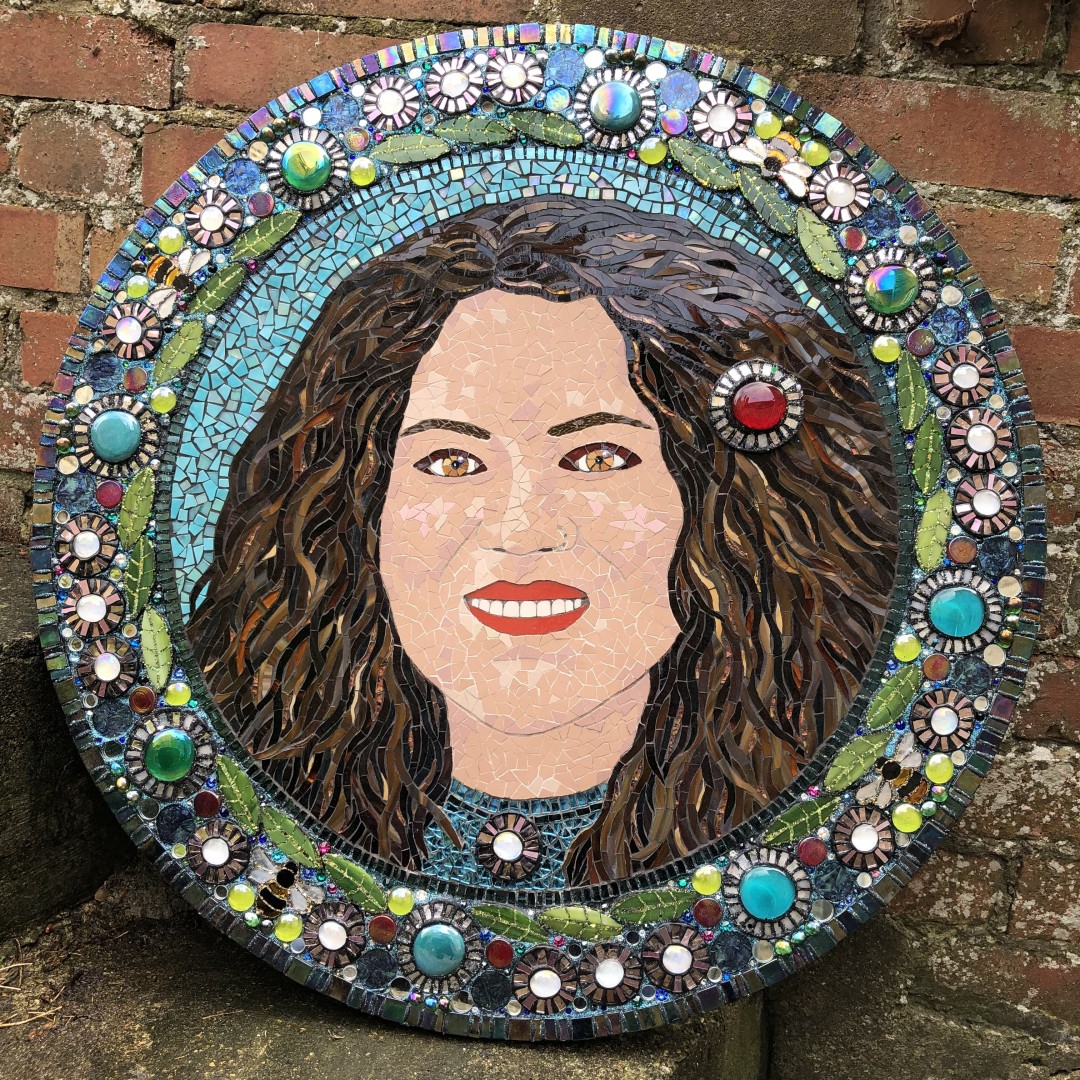 "This is my meagre offering of thanks to all of the people playing a part fighting the pandemic," she explains. "Tom matched me with the most wonderful, vibrant Spanish nurse Rocio, 33, who normally works in cardiac critical care at the JR in a ward that has now been converted in to a Covid-19 ward with double its normal capacity. She's obviously super-busy at the moment so I have been working from photographs, and we have also chatted and texted so that I can really show her character in the mosaic. She's full of life and loves the simple pleasures in life: a coffee with friends, walking in Shotover, travelling, dancing and singing. It's a joyful portrait."
Whilst most of the artists are recording the NHS heroes in their scrubs and masks, Becky was keen to look to the future and Rocio's flowing locks and red-lipped smile are set in a rim of azure blues, stylised purple flowers and green leaves. "It's called A Brighter New Tomorrow as I wanted to mark the present but also look to the future."
All of these artists and hundreds more are taking place in the Oxfordshire Artweeks virtual festival, which runs until 25 May with daily art trails on a variety of themes including Celebrating Colour: A Rainbow of Hope on Thursday 7 May. #oxfordshireartweeks