How did you meet? 
Paul and I would love to say that we met on a walk in Paris, like in the movies. But we are actually a Tinder success story. I had been living abroad for a few years and came back to the UK to settle down and thought I'd give Tinder a go! The first person I spoke to was Paul and here we are three and a half years later, married.
Who proposed?  
Paul proposed as I am impulsive and told him from the start that this would be his job, because, honestly, I would have proposed in the first month. Paul popped the question on Christmas Eve 2020 on a hill in Ladygrove, in Didcot. He did this because my Nan is very important to me, and I think he knew that she would be the first person I'd want to see. When we got back to Nan's from our walk, I demanded to speak with her and my gramps immediately and we broke the news. Champagne and tears of joy flowed.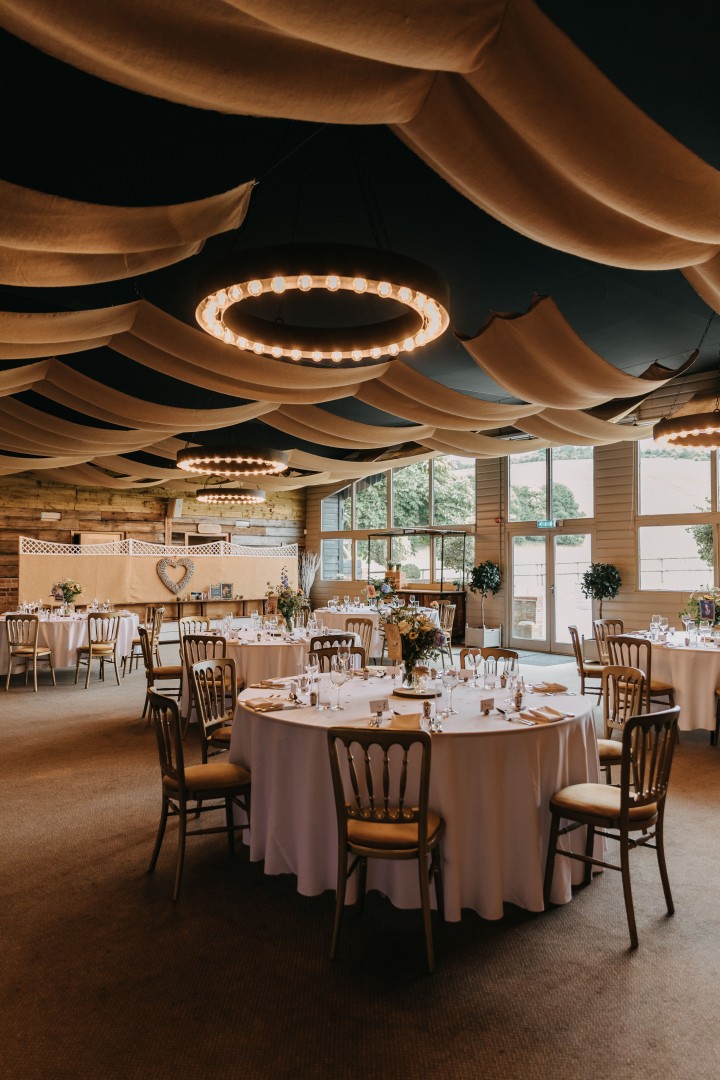 Did you have a theme for the wedding? 
Paul and I love playing video games and watching TV shows, so every table at our wedding was named using a place from a show or game. We had Hawkins, Sunnydale, Hyrule and much more. Floristry-wise we really wanted to focus on the barn's location, so we had wild herbs, flowers and sunflowers. The venue was simply stunning. Pure countryside in every direction.
Did you already know the style of outfits you wanted?  
As soon as Paul proposed I had an image of me being in a baby blue suit and Paul being in navy. We wanted our bridesmaids to look very natural and in keeping with the barn, so we had them in a sage colour with wild flower crowns. Both of us are usually very casual so one big important change we made to tradition was to have the entire wedding party in Vans! Ours were a sunflower yellow, and the party had grey.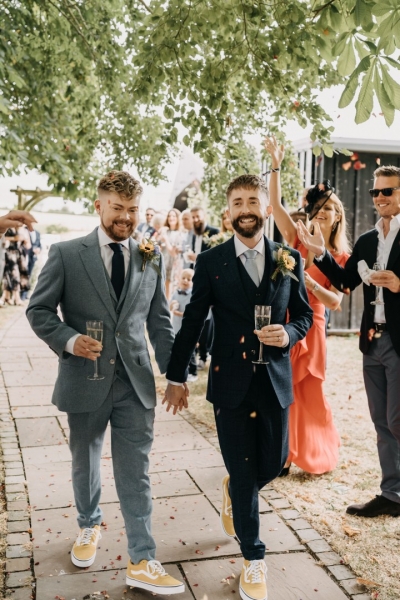 Where did you find your chosen suits? 
We actually used Moss Brothers for our suits, and then for the wedding party we hired suits from a little independent shop near us called Chaplins.
Who were your attendants? 
We had four bridesmaids, two maids of honour and two best men, mainly because we both wanted a best man and both wanted a maid of honour. My Nan walked me down the aisle and we had our two-year old niece as our ring bearer. Our twin nephews greeted every guest and gave out wristbands.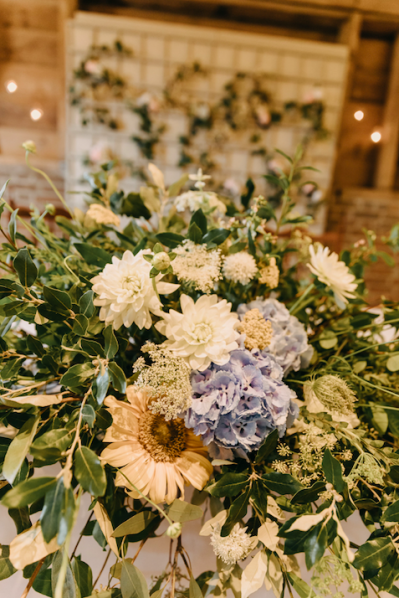 Who created your floral arrangements and which flowers were used? 
Our floral arrangements were made by a local independent; Rosy Lea Florist. Our main focus was sunflowers, but we also had wild flowers in yellows, shades of blues, and a mixture of foliage to complement. We wanted multi-sensory elements to create texture, scent and interest.
Tell us about the ceremony
It was magical. After being driven in a ribboned car by my grandad, the ceremony started with my best man, PJ, going down the aisle as a flower boy, sprinkling petals all over the aisles and over the guests. After this our bridesmaids, Lou, Maisie, Emma and Lisa went down the aisle. Then our maids of honour, Rachel and Emma, followed finally by myself with my Nan. Skye, our two-year old niece brought the rings on a ring cushion and stood between us – unplanned –as we said our vows. It was perfect in every way, even if I did struggle to get the ring off the cushion! We had 60 guests, some people we see every day, and others we hadn't seen for years. The atmosphere was electric and full of romance. Simply the best we could have ever imagined.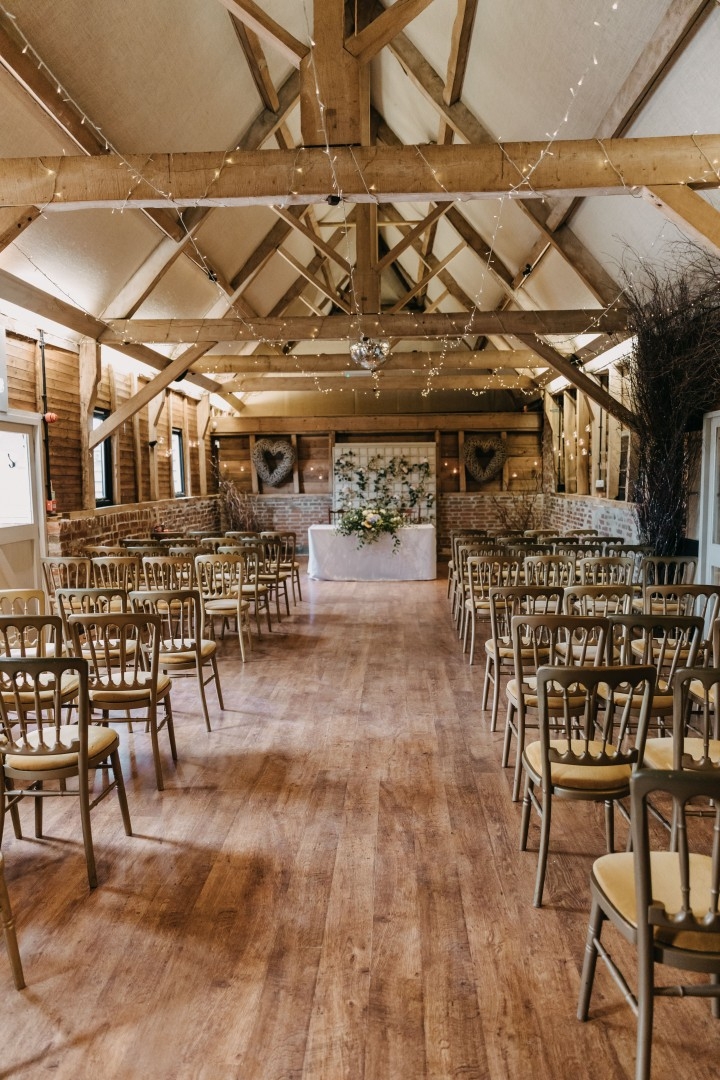 Where was the venue for your wedding reception? 
Wellington barn, Calne. We actually had the ceremony there and our reception.
How did you choose to decorate the reception?
We used log slices in the centre of the table, topped with firefly jars that our sister and brother in-law used at their wedding. We then had a mixture of wild flowers and herbs in jars on the table to create organic smells.
We purchased a life-sized Barbie box for guests to have pictures taken in, fireworks, a photo booth and personalised crosswords relating to us. We also made a small memorial area for those we have lost along the way as well as a sweet station for everyone to have a little snack between ceremony and wedding breakfast.
What was the menu you served to your guests? 
Our menu was offered three choice menu, which was incredible. Guests had a choice of goats cheese tart tatin, smoked chicken Caesar salad or butternut-squash soup to start, followed by slow cooked blade of Herefordshire beef with sticky marrowbone jus, butter-roasted organic chicken breast, garlic mash and polenta chips, Carmarthenshire ham shards, herb cream sauce or roasted vegetables, with spicy halloumi kabab, flat breads and salad. Pudding was either sticky toffee pudding, butterscotch sauce and vanilla bean ice cream. vodka and orange deconstructed cheesecake or chocolate brownie and ice cream.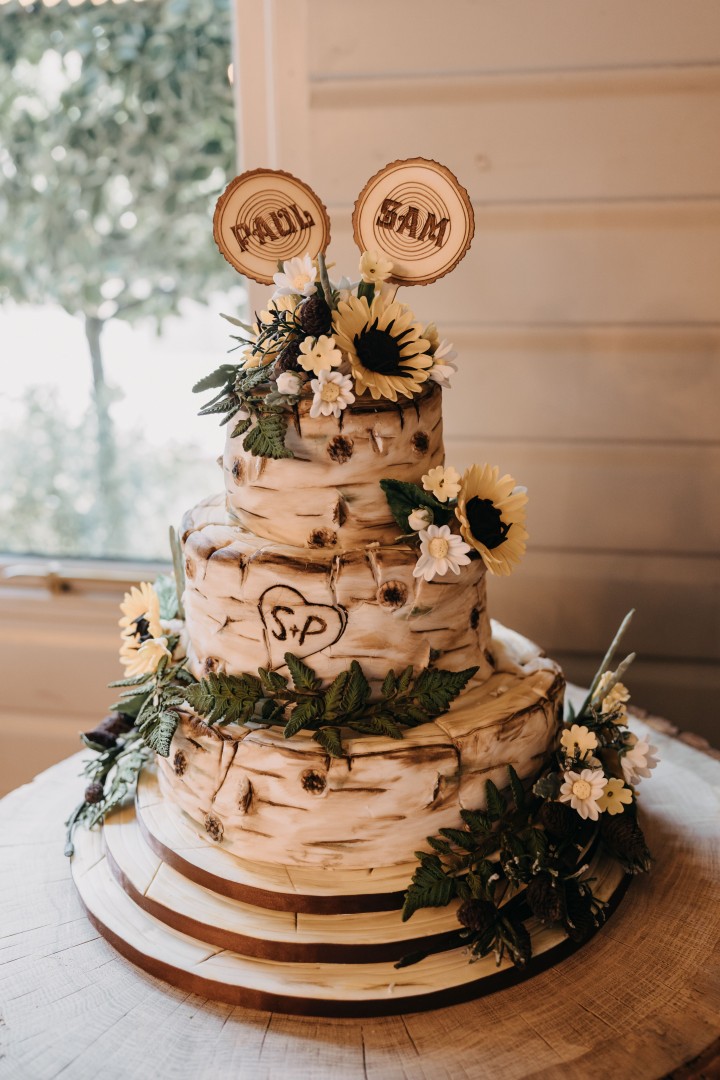 Tell us about your cake and who created it. 
Our cake was created by my Nan, the fabulous Christine Wallace from Great British Bake Off. We had asked for a birch wood cake, very natural looking. The cake had three tiers, chocolate, vanilla and lemon and poppyseed. It was decorated so well that people thought it was actually a wooden cake! It was birch wood-inspired with a heart engraved with S + P, and was covered in sunflowers, wild flowers and pine cones. Simply stunning!
 Describe your wedding favours.
These were small silver shot glasses, engraved with our names and the wedding date, which we engraved ourselves at Laser Engraving and Design, based in Oxford. We topped them off with Lindt balls in a white chocolate and mango flavour. We also had 70 fabric wristbands made with Sam and Paul's Wedding written on them! Very festival.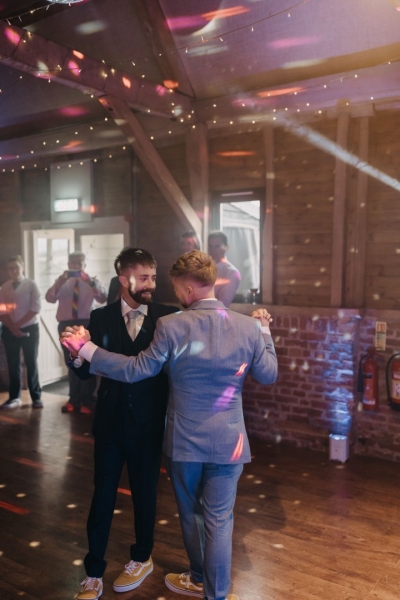 What music and entertainment did you have, and what was your first dance? 
We had a string quartet for the first half of the day, playing Bridgerton style music. We walked down the aisle to a string version of Crazy in Love by Beyoncé. After this, we had a live performance from our friends Chloe and Leon. Leon played the guitar and Chloe sang, it was magical. For the evening we had Euphoria Entertainments, from Swindon, come and set up a DJ booth, fog machine and light rig. We had our first dance to Love is a Compass by Griff, and half way through invited my uncle and aunty to join us as it was their 45th wedding anniversary on the day we got married.  
Did you have any special touches or moments that you'd like to share with us? 
We had a firework display to close out the night, from Distant Thunder Fireworks. To stand under fireworks in the middle of the county and know these are for you, and then turn around to see everyone you love enjoy a moment together. It was priceless, and actually, very good value.
Paul and I also made sure we took five minutes right after the ceremony in the bridal room, this was really important to us as we got to focus on the fact we just got married! We had a small glass of fizz and then went to see all of our guests. I can't recommend doing this enough.
Where did you spend your wedding night? 
We had hired a large eco house from the barn, called Hyggee house. We had the entire wedding party there with us which was incredible. We got ready there the morning of the wedding, on separate floors so that Paul and I never saw each other, and then all went back there the night of the wedding. Such a beautiful place and a fantastic memory.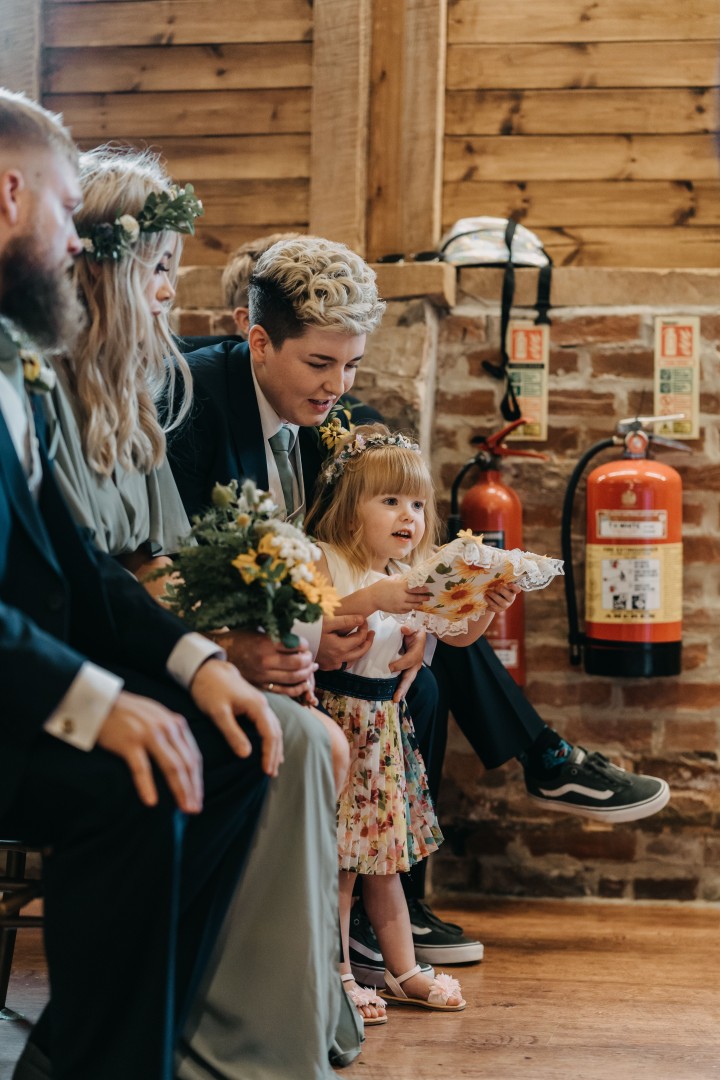 Where did you go for your honeymoon?
We flew to Sicily the day after we got married and the pilot made an announcement of our marriage and every passenger clapped. We stayed at Excelsior Palace in Taormina and it was the best week of our lives. We climbed Mount Etna, saw another volcano erupt on a one day cruise, and had the most amazing food all week. For our final meal we went to a Michelin-star restaurant and had the nicest food we have ever eaten.
Do you have any tips or advice for other brides and grooms-to-be? 
Our only advice is to create a spreadsheet or have a book to note down every expenditure and due date. On the lead up to the wedding we realised we had no idea when suppliers' invoices were due. We initially started with a budget of £12,000 and eventually spent just under £30,000. We would recommend focusing on what will give you and your guests the most memorable of days, and worry about the less important things a little less.
Finally, looking back, is there anything you'd do differently?
We wouldn't change a thing! It was perfect in every single way! The best day of our lives and will never be topped.
  Links: