Close to Wantage, a visit to Letcombe Regis with its meandering lanes and trees laden with autumnal colour will greet you in the same way it has greeted visitors for many decades. Nestled within this pretty downland village, our 18th-century destination has provided sustenance for many a weary traveller for 300 years.
These weary travellers in particular – together with their trusty steed Lionel, a very large greyhound – arrived on a windy Thursday evening and immediately let out a sigh. The Greyhound exuded comfort and welcome with a Morris-inspired pallet of colour from muted greens to deep reds, beams, fireplaces, and all helped by a team that knew almost instinctively what we were looking for after a heavy working week.
The other tables were filled with friends catching up, couples having mid-week dates, families celebrating birthdays, and a solo diner enjoying every mouthful of his fayre whilst being fully absorbed in a novel. What they all seemed to have in common though, was the enjoyment of a non-pretentious setting and – what was from first glance – a stunning menu.
This menu was certainly not created in a whisper. It was clear that the chef was indeed focused on creating a bold menu that was not at all brash, aimed to surprise but not shock and if that was his intention then he certainly succeeded.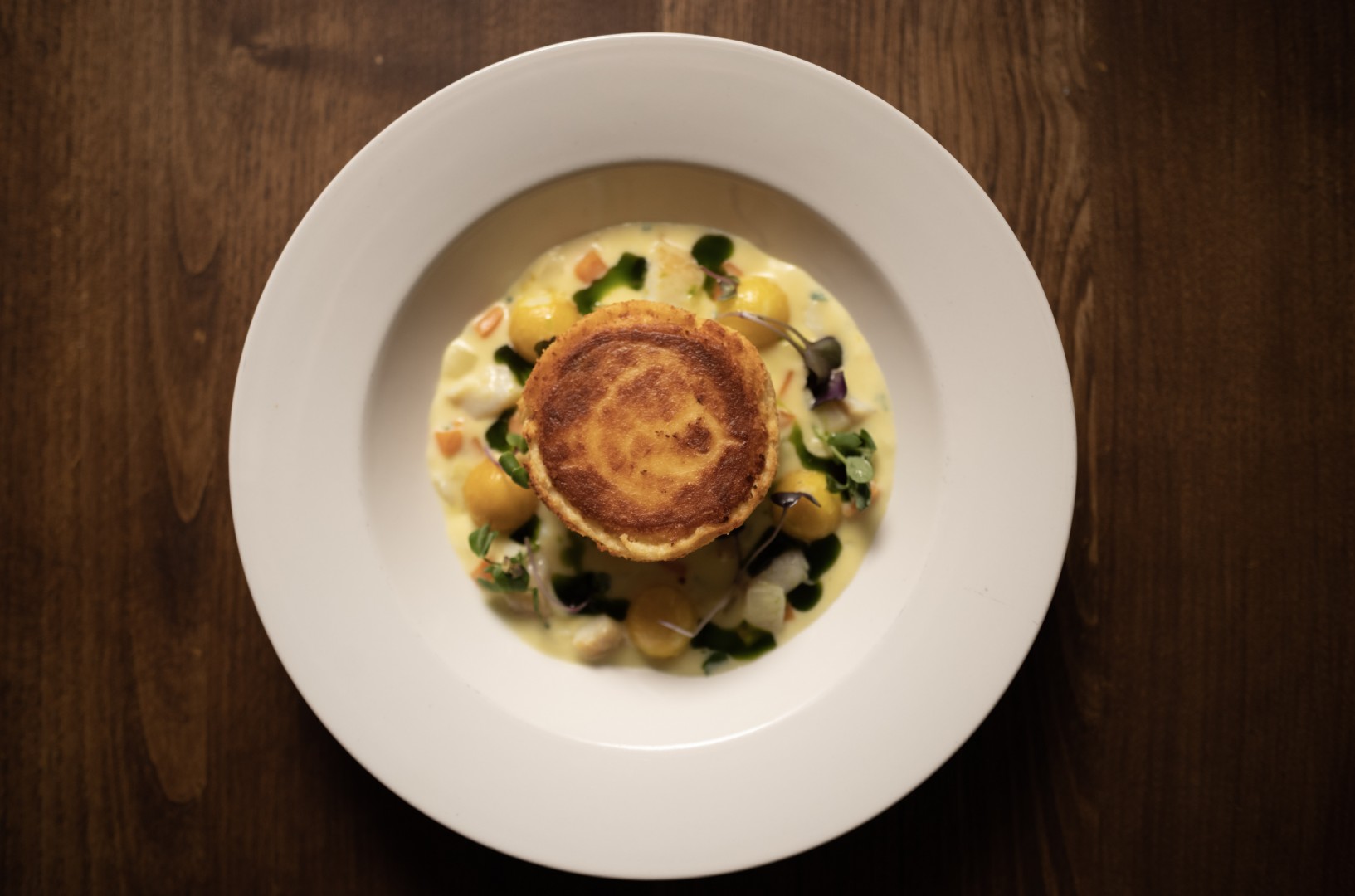 Our breads were divine; pumpkin, garlic, sourdough, soda – each mouthful more tempting than the one before and clearly made by a master. When our starters arrived – a salmon rillette with compressed cucumber, charcoal aioli and fennel pollen and a twice-baked Leonard Stanley Cheddar Souffle with a smoked haddock chowder – it did nothing to help the conversation as the food was sublime. The silence whilst we waited for the next incredible taste, and then the one after, was tangible.
When we recovered from those dancing tastebuds it seems that my partner many years ago, began his farming life on a farm in Leonard Stanley (which is not a person, as I thought, but a place near Stroud).
When our next courses arrive, the provenance of what we eat continues to fascinate.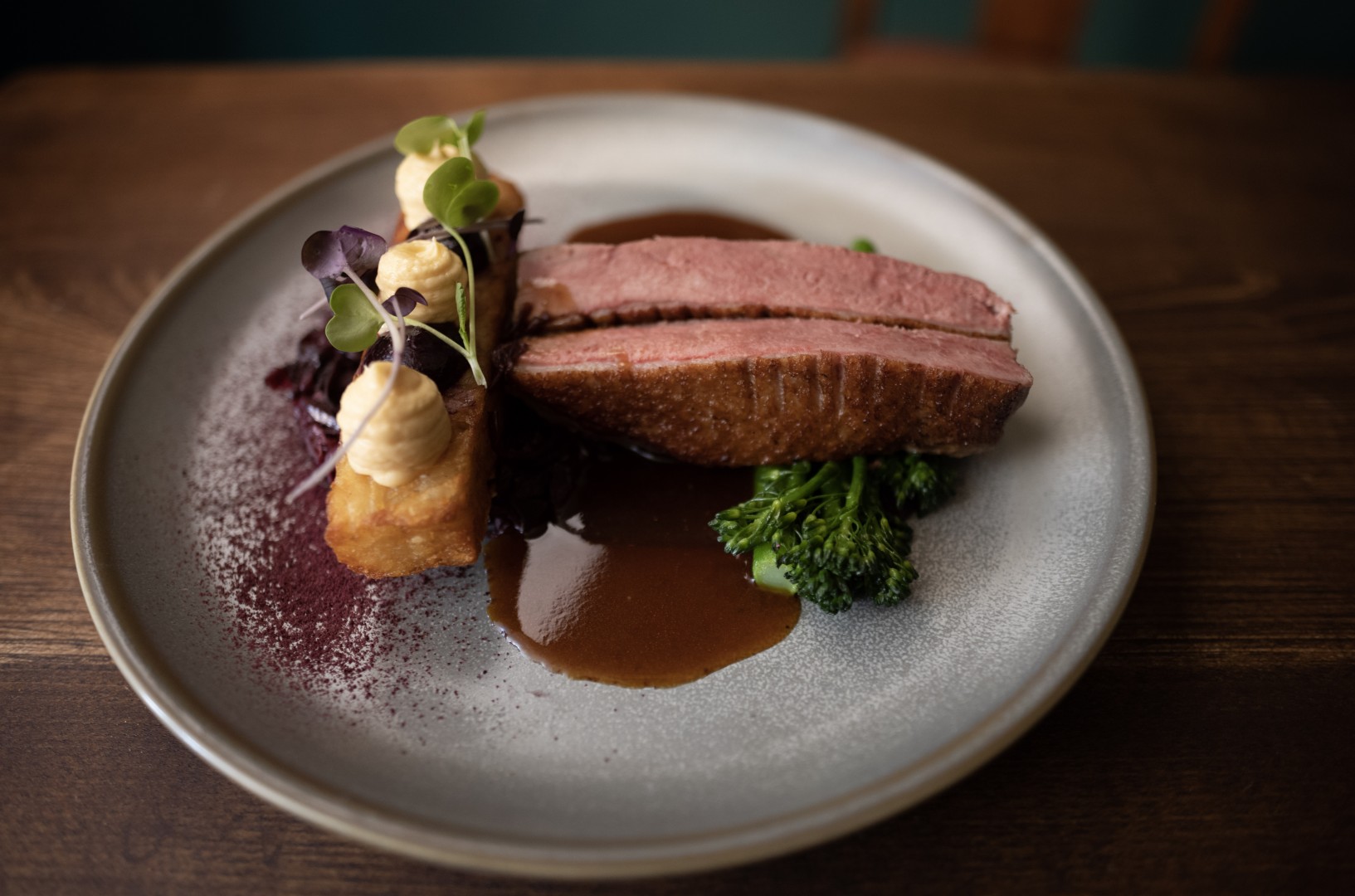 My duck was cooked to perfection, and its accompaniment – a duck fat hash brown – was genius. I thought that I had without a doubt chosen the star of the menu until my partner announced that his choice of poached cod with crispy skin was in fact the most delicious piece of fish that he had ever eaten. At that point, it was clear that The Greyhound is not just a pub, even though it still had the pub classics on the menu, which I am sure would have been suitably delicious.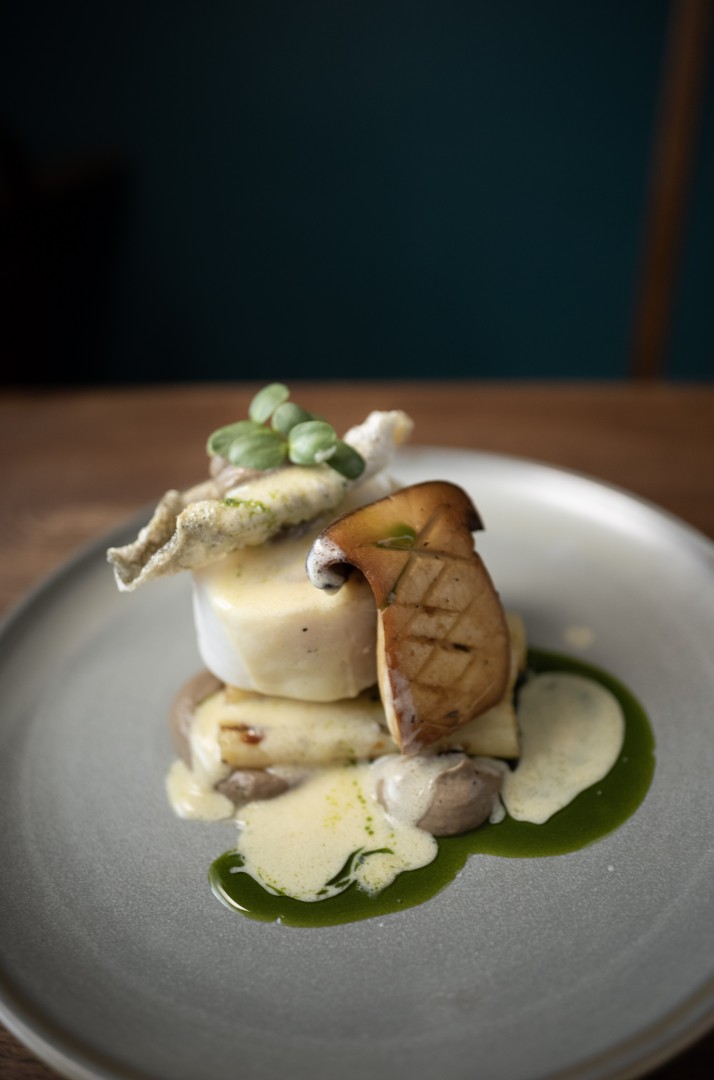 Again, it is the lack of pretence that allows the Greyhound to be a local, a romantic destination, a walker's pub, and a dog-friendly venue. There is confidence in knowing it can provide whatever is needed to whomever at whatever time.
Even though my partner declared he was so full he could not possibly eat anything else, he consumed an orange and fennel Eton mess with smoked orange ice cream with such intensity it was equalled only by the way my dog consumes every mouthful, with his eyes. This obvious yearning did, in fact, succeed for Lionel, as a morsel of the pinkest, most divine piece of duck worked its way toward him.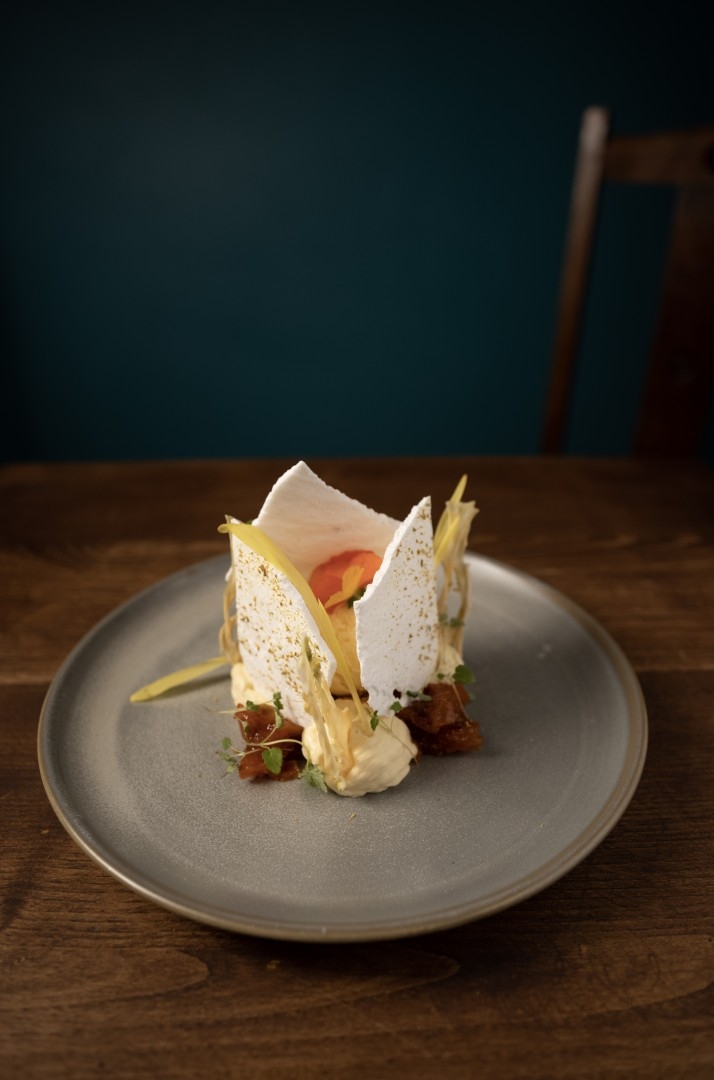 I believe that since my visit, a couple of my friends have also taken my recommendation and been equally as bowled over by the food, the atmosphere, the service and in this time of financial awareness, the prices.
In a nutshell, if you have something or absolutely nothing to celebrate but just want to have exquisite food in an Oxfordshire country pub then on a scale of 1-10 of recommendations, 10 would not be too extravagant a score.