Married at the Cotswolds Hotel and Spa Chipping Norton on the 18th August 2023.
How did you get together?
Through mutual friends, and Jamie proposed about nine years ago on my birthday. It was very low key.
Did you have a theme for the wedding and why?
Just colours; light blue and pink. We wanted friends and family to have fun, to celebrate and be together. Both families have had a rough couple of years, and it was about time something magical and happy happened.
Did you already know the style of outfits you wanted?
Yes, I always wanted the typical princess dress, but I didn't want it to be over the top with too much going on. And we knew we wanted the groomsmen all to look the same.
Where did you find your dress?
I found my dress in a pop-up wedding shop called One Stop Wedding Shop. It was the first place I had gone to and found the dress straight away in the window. For the groom and his attendants we went to Moss Bros and found the colour we wanted. We went for custom-made with personalised writing inside the jacket.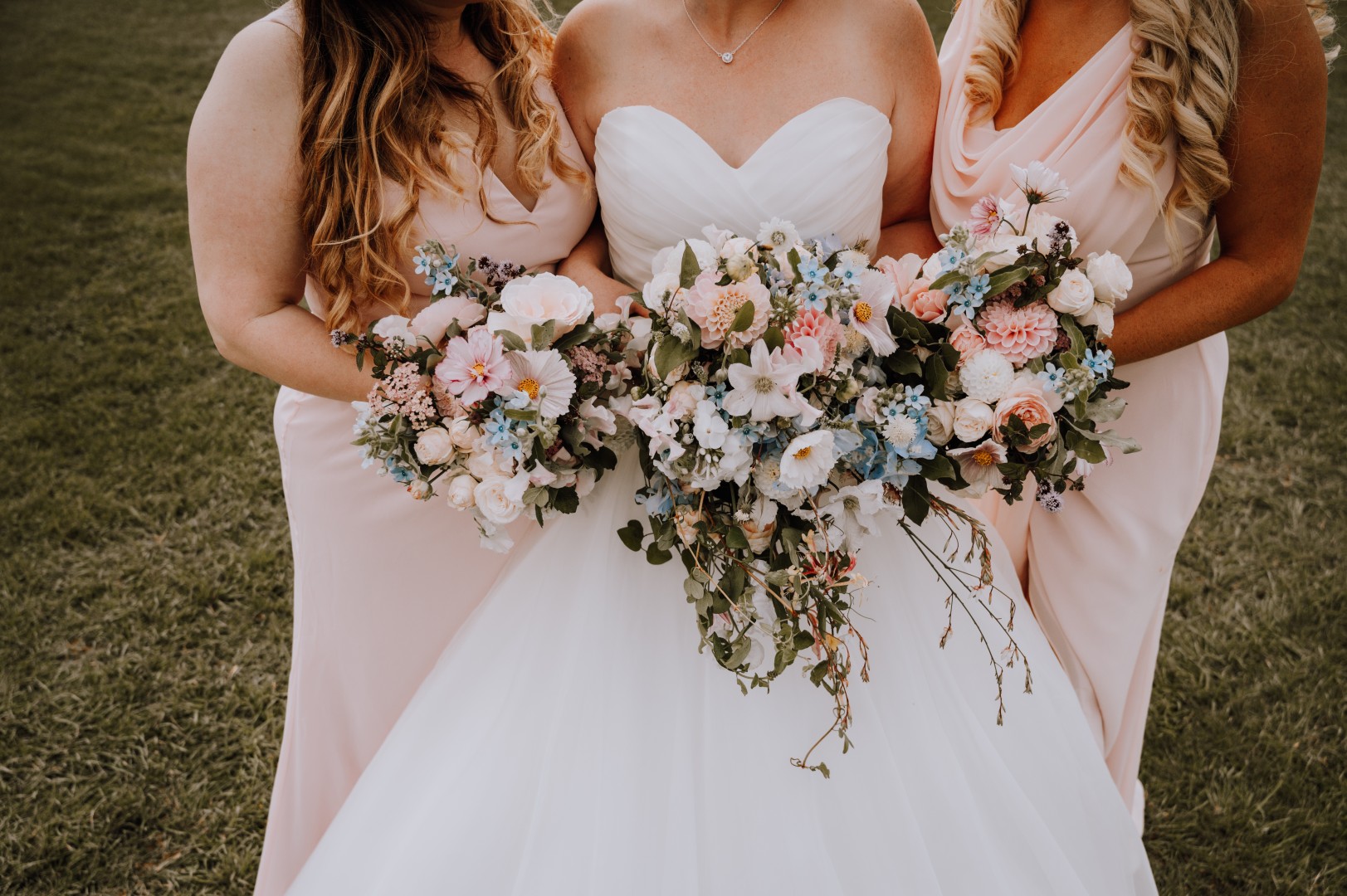 Who was in the bridal party?
We had a Maid of Honour, two best men, one bridesmaid and a flower girl.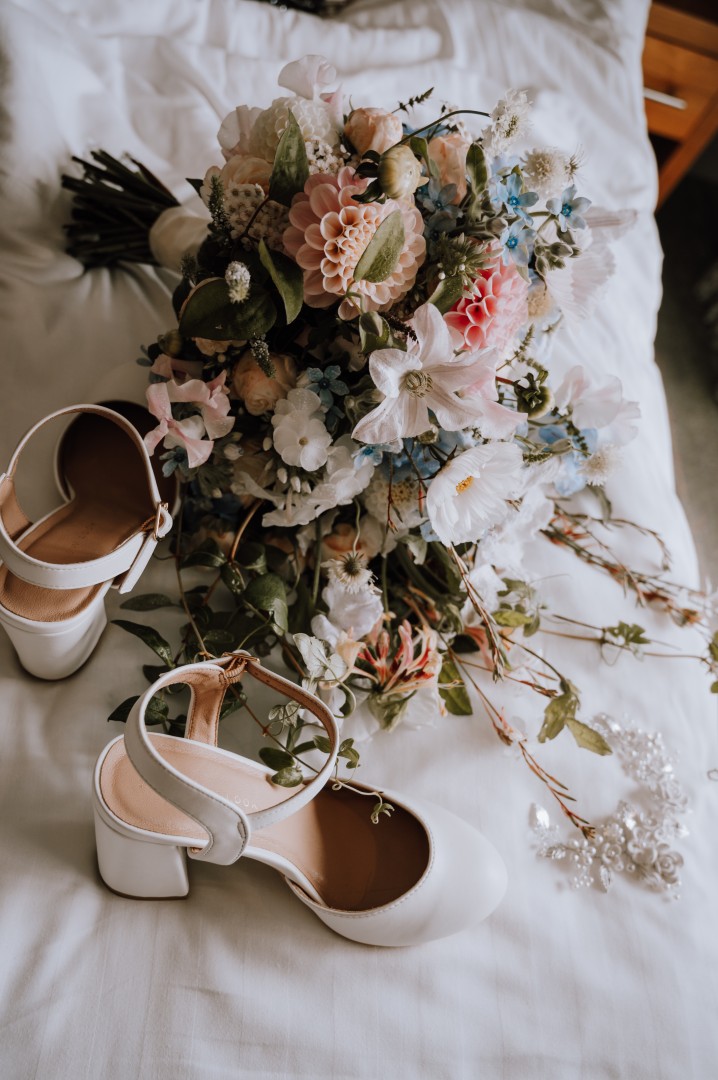 Who created your floral arrangements and which flowers were used?
Daylesford Farm created the flowers. We weren't picky with which were used – we wanted them to be creative – we just wanted pink and blue with some greenery. For the buttonholes they used a pink and blue flower from the bouquets, so they matched. They also created the top table centrepieces which blended with the other flowers. Honestly, we were blown away by how amazing they were. I didn't know what to expect but they were exactly how I had imagined. They also made bouquets for the mother of the groom and mother of the bride.
Tell us about your ceremony.
The ceremony was magical, with all our friends and family sharing the special moment. We had a remembrance table for those we had both lost and we wished that they were there to share our special day. The wording we chose was short and sweet but at the same time loving and thoughtful.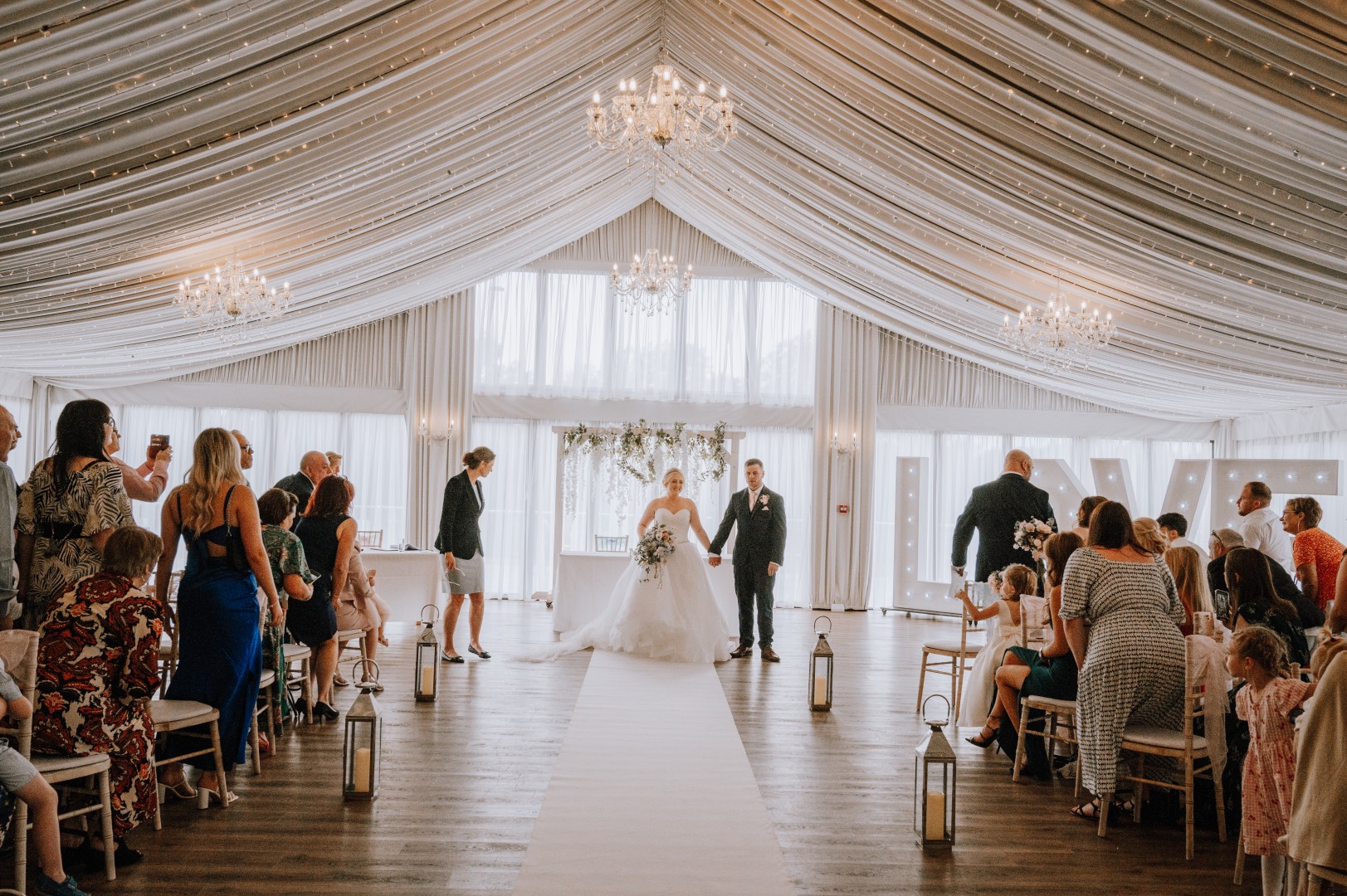 How did you decorate your reception space.?
We chose to have lanterns as the centrepieces and wooden 'I do', 'Mr' and Mrs', 'bride' and 'groom' hearts, plus crystal gems and Mr and Mrs rock sweets.
What about the menu?
We had canapes for drinks reception, followed by a BBQ buffet which was outstanding. The pudding was also a buffet table because – come on – you can't just have the one. And finally, a delicious hog roast.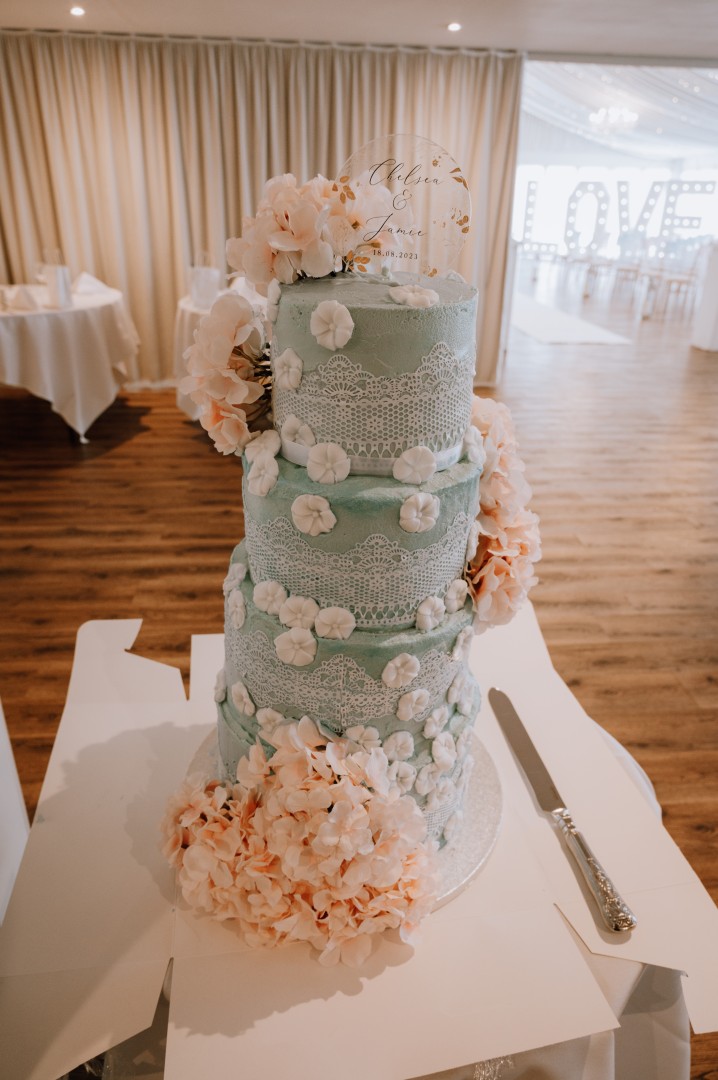 Tell us about your cake and who created it.
The cake was a four-tier cake. The top tier was lemon, followed by vanilla, chocolate then finally vanilla again. It was created by Rachel Bakes who we have used many times for birthday cakes in the past.
Any wedding favours?
We had individually wrapped biscuits with blue icing stamped with our date.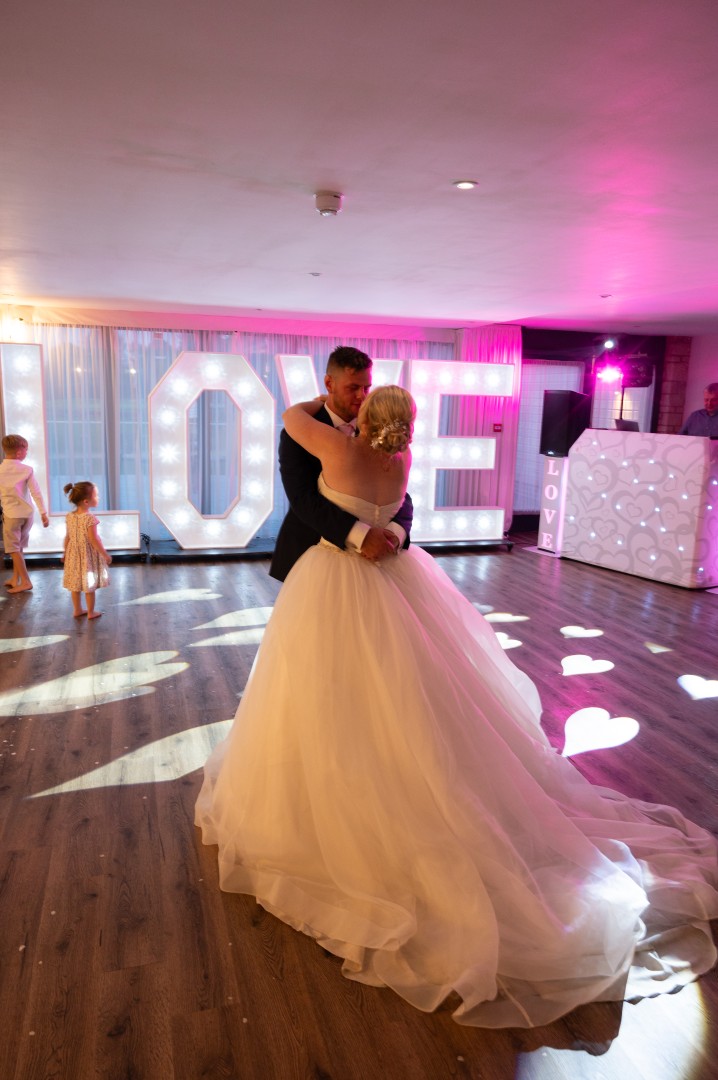 How about the music – what was your first dance?
We had music playing throughout the day via Spotify and there was a bouncy castle for all the 27 children we had at our wedding. In the evening we had a DJ who kept us all entertained and everyone up dancing. Our first dance was to Ellie Goulding, How Long Will I Love You.
Do you have tips or advice for other brides and grooms-to-be?
It Does Not Need to be Stressful.
Accept help from family members by giving them a job or a role. Shop around and remember, it is your wedding: you don't need to try and please anyone else.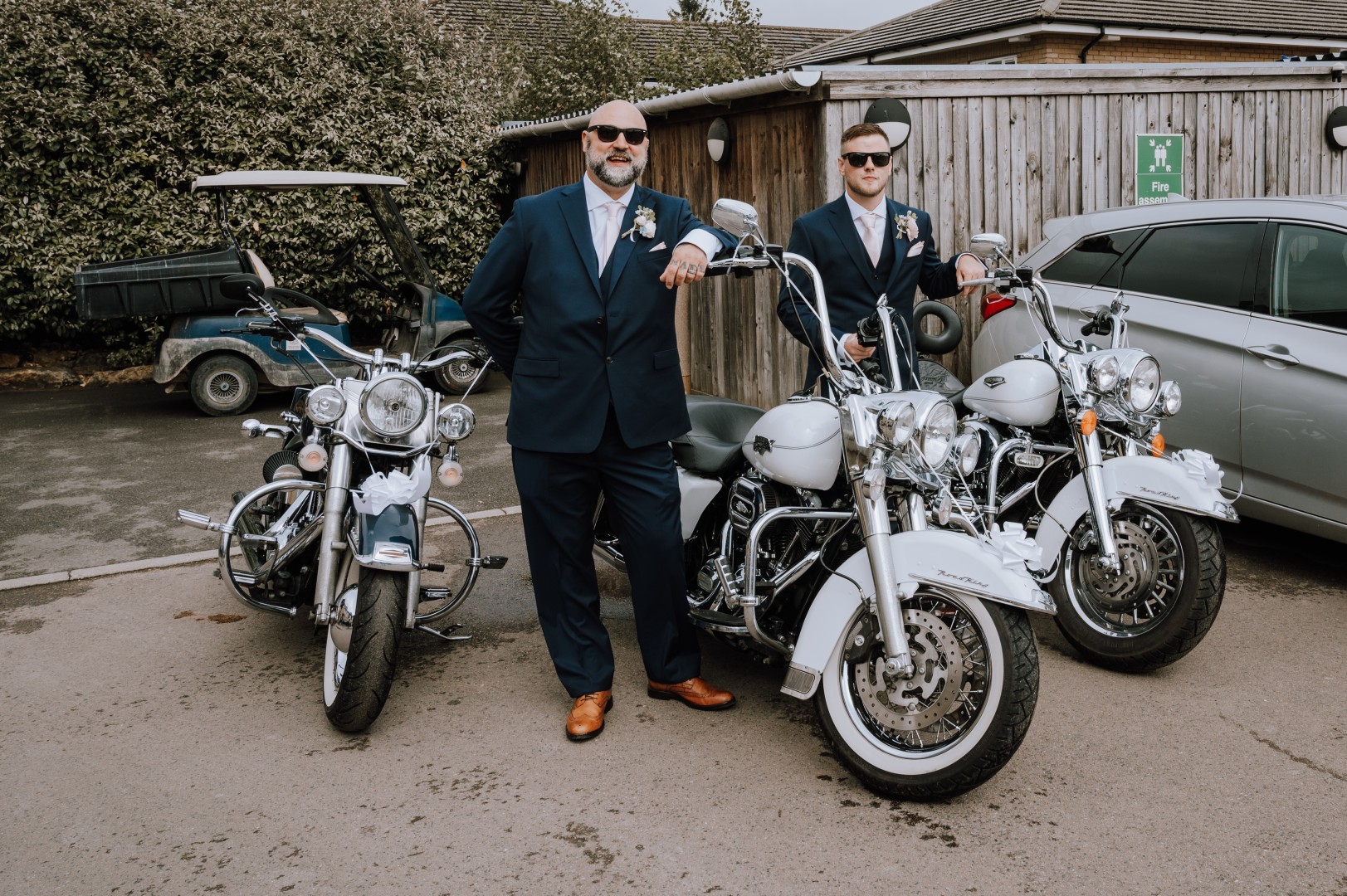 Any particularly special moment or lasting memories?
The groom with his father and one of the best men all rode in on Harleys and that was Jamie's dream.
Finally, where did you go for your honeymoon?
We went to Mexico for 10 nights. It was an adult only five-star hotel and we will treasure the memories forever.
Suppliers