Newlyweds Tim and Viv celebrated their wedding earlier this summer with a church and barn reception in Towersey, Oxfordshire complete with Viv's pony, Holly.
Tim and I met at our second year at Swansea University through two mutual friends who were at Cardiff. Tim proposed in November 2015 after we'd just finished three months of renovations. On the first day that we officially moved in, he popped the question. A few weeks later we chose the design of the ring that we both liked and it was replicated by a jeweller at Thame Jewellery Workshop.
We had two full years planning the finer details of our day and two days before the wedding we started to get the barn and the marquee ready at the Three Horseshoes in Towersey. It was a blank canvas, it was slightly overwhelming to start with because up until this point all the plans, decorations and details had been in our head!
We are a very hands-on couple and wanted to do as much as we possibly could ourselves, but we certainly couldn't have done it without our friends, family and the local villagers who kindly offered to help us in the run-up. After two full days of hard and intense work, the barn at The Three Horseshoes was ready for us. Despite the fact that I was up until 11pm arranging the flowers on the tables for the reception, I actually slept quite well, with my maid of honour Belinda by my side of course. We excitedly woke at 6am, ready for the arrival of our hair and makeup team who were due to start at 7am.
On the day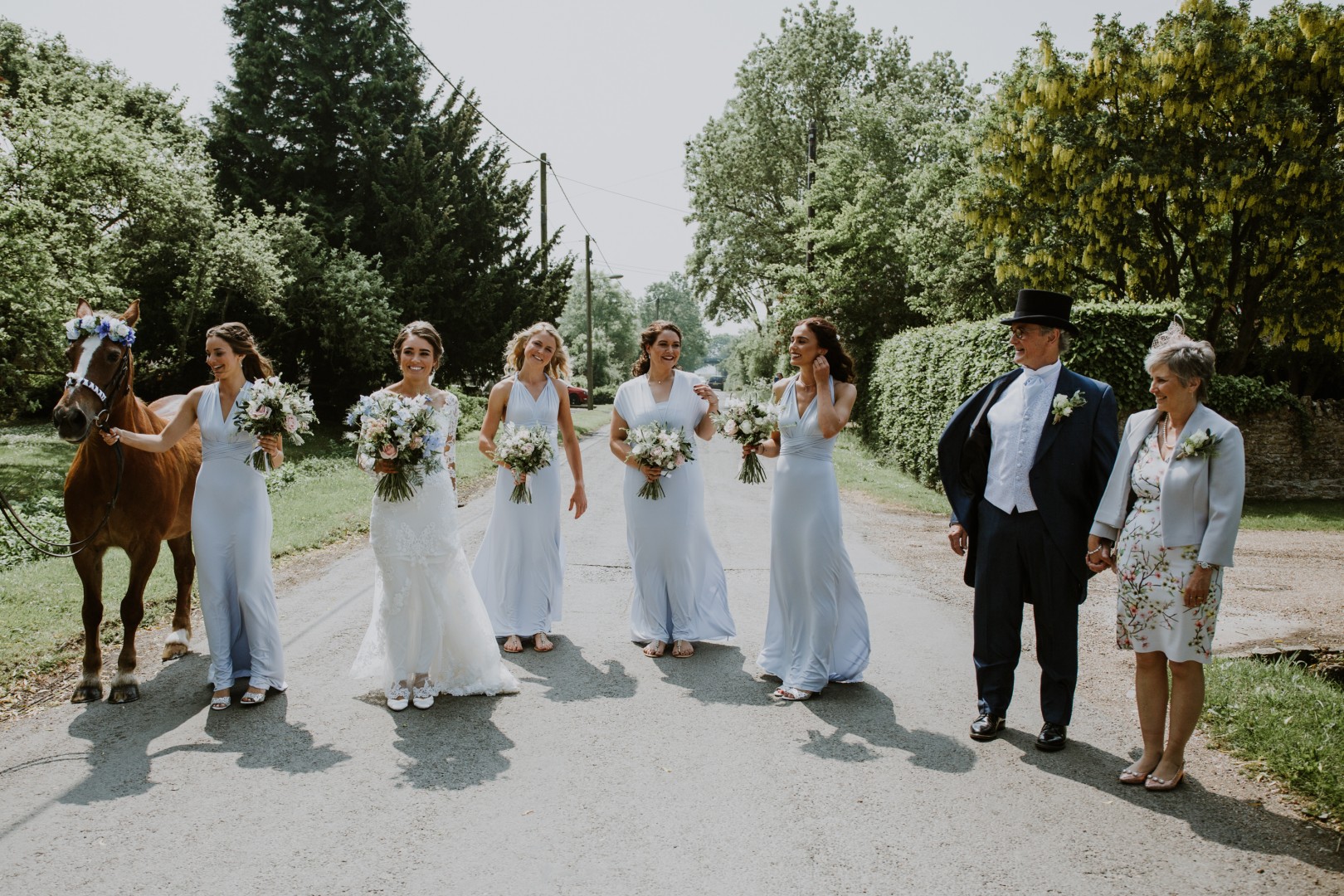 My parents arranged a delivery of fresh pastries from the local bakery in Thame to keep us going throughout the morning of preparations. My mum, bridesmaids and I spent the morning relaxing and being pampered at my parents' house in the conservatory. The sun came out about 11am which was a relief- I was worried about the weather beforehand having had multiple yellow weather warnings on all the apps I'd downloaded in the run up to the wedding! Before we knew it, it was time to put my dress on and walk to the church, accompanied by my parents, bridesmaids and very special pony Holly, who looked equally as beautiful. As we walked down the road lots of villagers had come to the bottom of their driveways to see us walk past, we felt like celebrities!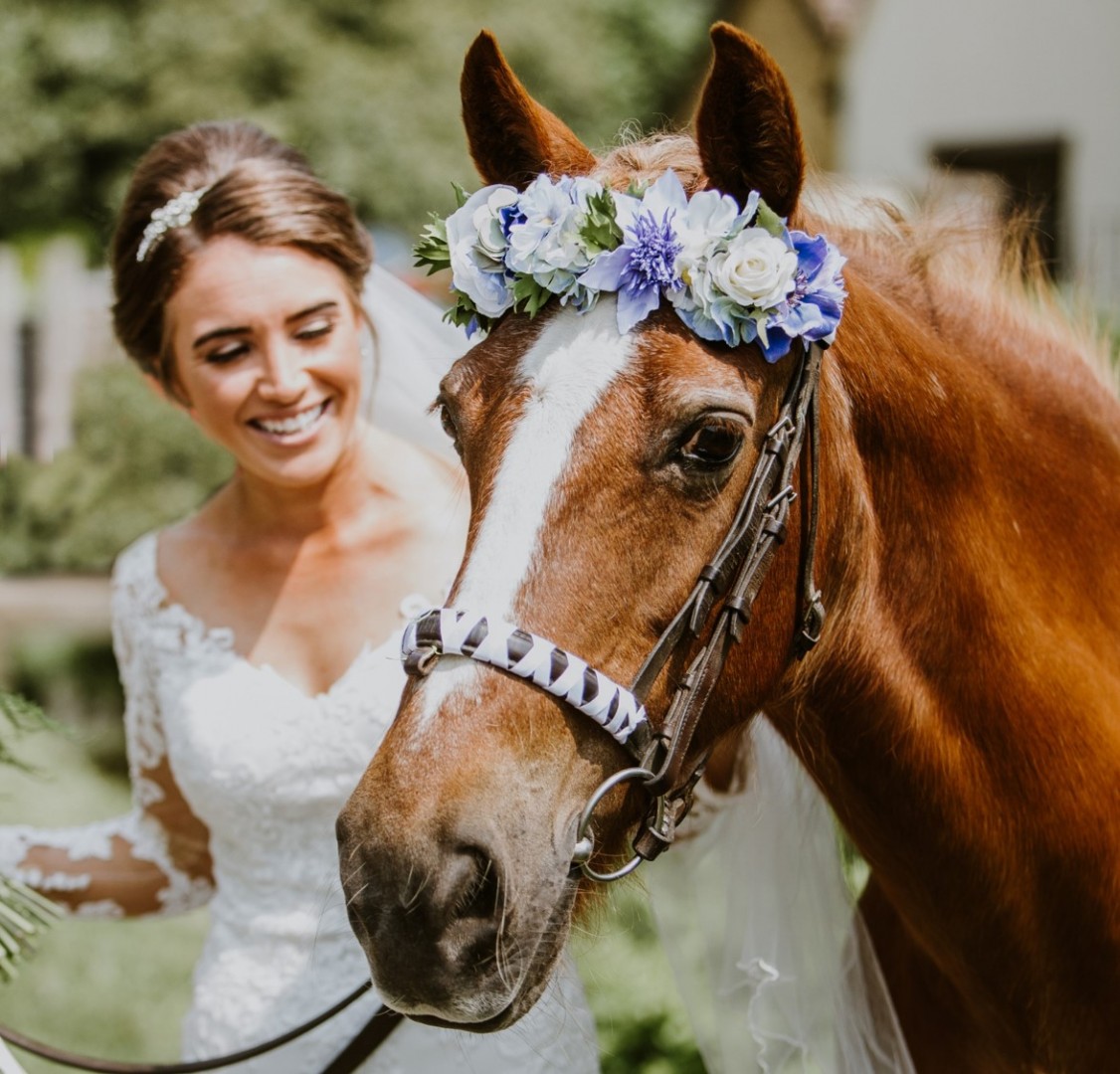 After the ceremony, our guests proceeded to the village green where we had a drinks reception, lots of nibble food that had been prepared in the two days prior by Tim's mother, lawn games and a live band playing for a couple of hours. In the meantime, Tim and I went to the manor house to have our formal photos taken as a newly wedded couple, before going back to the village green and joining our guests for the last half hour. We then walked with our guests to the barn and marquee at The Three Horseshoes pub.
We did our speeches before eating with our guests; the pub provided a delicious roast beef dinner for our main course which went down incredibly well. We had a dessert table that our friends and family had prepared and a selection of tasty sweet treats that people could help themselves to, which was similarly well received. Time flew by and before we knew it we were cutting our cake. We chose a naked cake made by a friend/old colleague of mine which had three layers– chocolate, lemon drizzle and Victoria sponge.
We did a rumba for our first dance to 'How Deep Is Your Love' by the Bee Gees- everyone was very surprised that we'd managed to learn to dance prior to the wedding. We chose to have a band, The Dominos, who created an unbelievable atmosphere all evening- we had so much fun dancing all night. During breaks we enjoyed having fun in the photobooth that Tim's dad had designed for us.
To end the night, we had a sparkler exit were our guests lined up with sparklers and we ran through them. When the sparklers went out a dramatic thunderstorm started, it was magical, and we could not believe our luck.
Is there anything you would have done differently if you were to get married again?
Try to slow down the day somehow– it flew by too quickly!
Viv's top piece of wedding advice
On the day of your wedding, try and take time to step back and soak up the atmosphere with your new spouse. Turn around and look at all of your lovely guests when you're standing in front of them all during your ceremony– this is the only time they will all be in one place staring at you, so drink it up, they're all here to celebrate you.