Glyn Davies and Gareth Lewis first met 44 years ago. Glyn had just got a job with the BBC and had moved to London from Wales. He was living in Notting Hill and one night visited his local gay pub, The Champion. There he overheard Gareth's Welsh accent and the rest is history.
Who proposed, when and where?
After retiring we decided to spend time traveling the world. In November 2019 we visited Australia and New Zealand, travelling back to the UK via Bali and a stop off in Hong Kong to visit our friends Jenny and Jill. Gareth proposed to Glyn in Bali whilst having a rooftop cocktail overlooking the sea at sunset.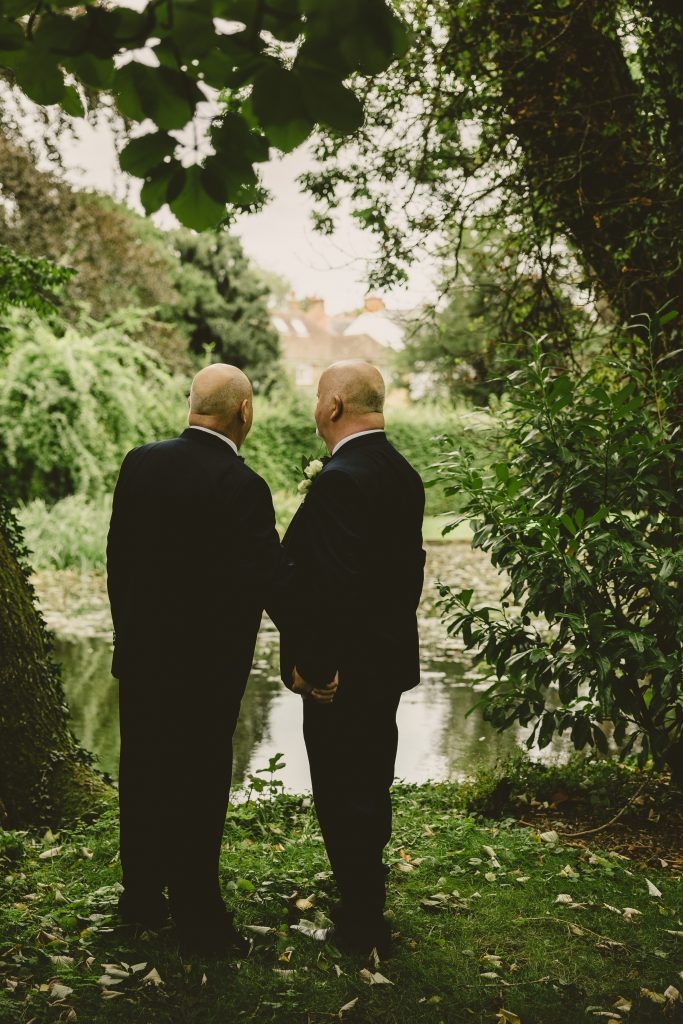 Did you have a theme for the wedding and why?
The wedding was planned for Autumn 2020. No theme, but generally when we have parties we try to make it the best we can and we wanted to mix family and friends for the first time in our lives. We considered venues in London, Wheathampstead (where we live) and Wales (where we both originate from). We didn't know whether we'd have a church, registry office or a blessing to officiate the wedding. We considered castles, caves, restaurants and fields. Then Gareth had a serious health scare at the beginning of 2020 and the Covid virus struck the world in February with all its restrictions. Gareth managed to get hospital care early in 2020 and was given the all-clear. However, this made us determined to get married as soon as we could be allowed. Masks to be worn, limited numbers to be invited, venues for the service and for any reception were all changed on a regular basis, rightly, by the Government. So, at the first opportunity we booked St Albans Registry Office for 26 August with only nine guests and a photographer.
Did you already know the style of outfit you wanted?
We wanted classic dinner suits, white shirts, black bow ties and white buttonholes. We bought the suits from M&S and a waistcoat each from John Lewis. All online at the time as there were no shops open.
Who created your floral arrangements?
We ordered white roses from Waitrose to be delivered a few days before the wedding. This
was at a time when supplies of flowers and other wedding items were limited and guaranteed delivery dates were not forthcoming. We then used herbs from the garden to make the button holes with the roses. Everyone attending had a button hole and we had white rose bouquets put on the table at the wedding reception.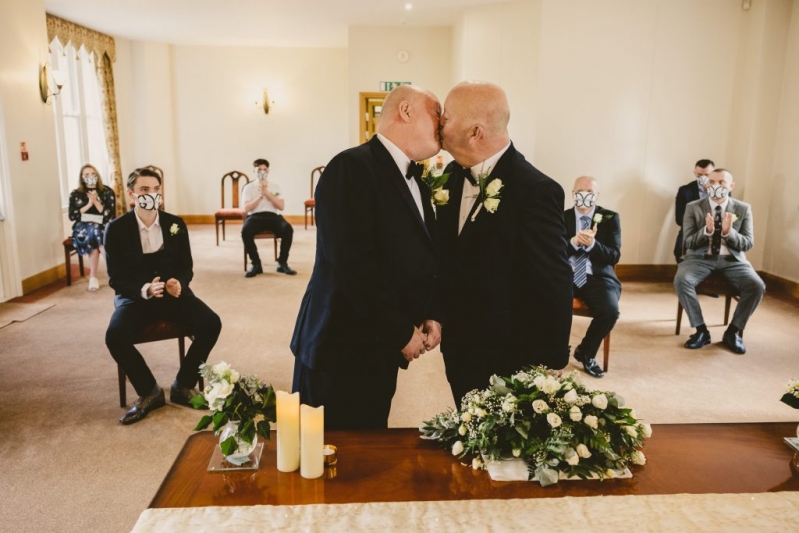 Tell us about your ceremony...
The registrars were thoughtful and caring to ensure we could say what we wanted to say and also how we wanted the ceremony was to proceed and the actual structure of the service. Everyone had to wear 'the' mask and to be seated separated according to Government guidelines. Gareth made a playlist of our favourite tunes to play on entering and leaving the registry and his grandson Lucas was the ring bearer. Gareth's other grandchildren Rhys and Brandon (the twins) were witnesses, as were Glyn's brother Alan and Gareth's daughter Sarah. Due to Covid we could only have two 'attendants', a best man each.
Where was the venue for your wedding reception?
Again, we were limited for the reception. Not many venues at this time were open, and if they were, there were restrictions as to how many could sit around a table, be in a room, distance
of seats and so on, so we were lucky to book St Michael's Manor in St Albans. We also booked the Honeymoon Suite for our overnight stay, and a room which we used to change before travelling to the ceremony.
What was the wedding breakfast like?
As there were only eleven of us we just chose what we wanted from the limited menu, which at the time included burgers, steaks and risottos. We also ordered our wedding cake from Waitrose. It was a plain white iced fruit cake which we decorated with white rose heads and herbs tied with white ribbons. We had drinks on the terrace which included a champagne toast. It was a late afternoon ceremony, so the wedding breakfast took place early evening which led naturally into drinks on the terrace.
Describe your wedding favours.
We ordered face masks online with the date of the wedding and a double 'G' intertwined – à
la Gucci – representing Gareth and Glyn. These were extremely popular on the day and proved to be a good keepsake. When we were planning the original wedding we were going to purchase Welsh Love Spoons.
If there was there a theme for your day, what inspired it?
Speed and Government Guidelines!
Do you have any budget or top tips or advice for other brides and grooms-to-be?
Lockdown meant that for months we didn't venture out for dinners or spend normally in shops which helped our budget! Because we were limited with choice and availability we had to think creatively about supplies. In one respect it was a good to have these sets of rules.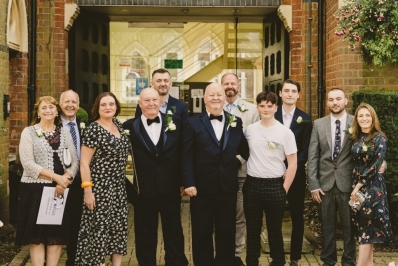 Did you have any special touches or moments that you'd like to share with us?
We took for granted something that we have said to each other almost since we met in the dark days of prejudice. If we were in a situation where we couldn't outwardly be open we would say 1, 2, 3 which meant 'I love you'. The compere at our first year wedding anniversary party mentioned it to our guests, none of whom knew this and they chanted 1, 2, 3 – we broke down with the support! Also, I bought Gareth a star to commemorate our wedding and gave it to him at our reception. It's named 'Gareth and Glyn, 26th August 2020'.
If we could do it all again, we'd...
We moved our plans from a traditional, church ceremony with reception and evening party for a large number of guests to a very small personal wedding and a follow up First Year Anniversary Party. We had no alternative as far as we were concerned especially as Covid was so frightening at the beginning of its existence. We still don't know what we'd prefer, but our path was intimate and yet fun one year later.
Were you tempted to cancel and wait until things were different?
We considered it, but 2020 had a lovely ring to it as a date and one point we thought we didn't have time on our hands. Planning was awkward and we knew that there would be a rush when guidelines were reduced. In order to make the booking we had to register online for someone to call us back as they were working from home. We didn't know whether our preferred date and time would be available and it was fraught with tension until we had approval.
We think we broke the mould in some respects, as Covid made us and everyone else think very differently.