14 May 2022 Cogges Manor Farm
How did you meet?
We met through a mutual friend, it was very much the time of house parties and large groups so we bumped into each other a few times. It later transpired that Tom's cousin was a close family friend and we had never put the two together so in fact, we had spent a lot of time together growing up without realising.
Who proposed, when and where?
Tom proposed at Minster Lovell by the river, the secluded spot we wanted was taken by fishermen so we climbed through some brambles to sit by the river somewhere quiet. He opened some prosecco and said, 'umm so I kind of want to ask you a question' and pulled out a box.
Did you have a theme for the wedding and why?
Not really a theme but we wanted rustic, farmy and self-made. Emma spent a lot of time on farms and around horses and we are both very creative so we wanted to put our own stamp on it.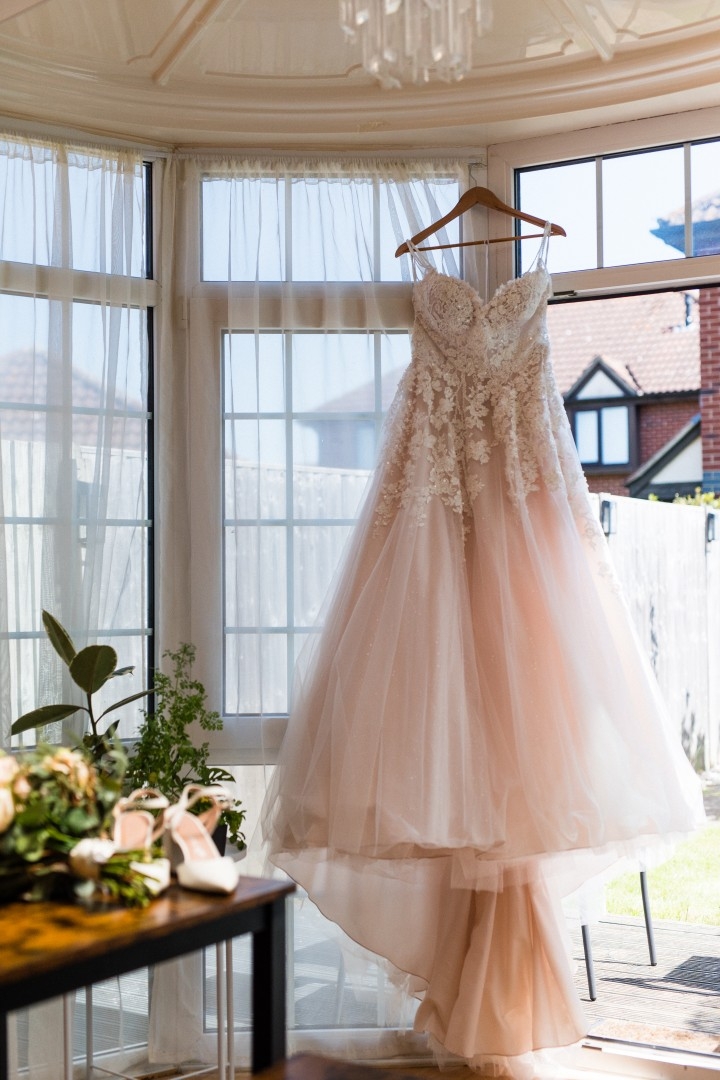 Did you already know the style of clothes you wanted?
I knew my type of dress from the get go, it was easy to know which shape and colour, even though I tried on 14 dresses. It was from Bicester Bridal – the nicest team of girls ever, I felt like a queen from the moment I stepped in – as was the veil. Tom's suit was very much his style although we did clash over the colour – he wanted burgundy for a spring wedding! The suit was from Moss Bros,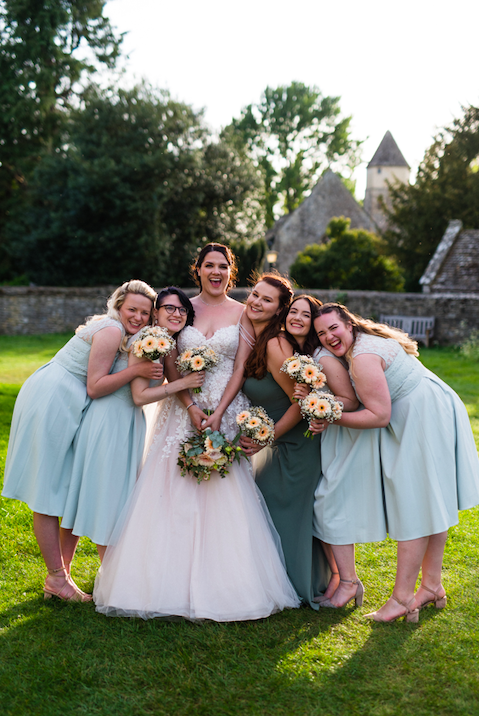 Did you have bridesmaids/attendants?
We did Emma had five bridesmaids and Tom had seven groomsmen including two best men. Emma was supposed to have a maid and man of honour but her man of honour is a performing star and unfortunately had to work.
We also had three flower girls from friends, one of which was born during covid. She wouldn't have been there had it gone ahead as we originally planned in 2020, so that made it great. Also, Emma's maid of honour Gee had flown over from New Zealand and we were worried she wouldn't make it so that just topped it all off.
Who created your floral arrangements and which flowers were used in your bouquets, buttonholes and decorations?
They were made by Classic Flowers of Witney – such a lovely florists and Alison is amazing. We had button holes of peach roses with sage foliage, and the bridesmaids carried peach gerberas and gyp. My bouquet was a mix of peach flowers and sage foliage, mainly roses and gerberas. I wanted it to be a bit wild looking so we used a lot of green.
Tell us about your ceremony.
We had our ceremony in the smaller barn at the end. Emma's best friend and business partner was the celebrant which made it even more connected and special. The archway we stood under was decorated with green and white flowers and tied in between was the veil Emma's grandmother wore to her wedding. It is over 100 years old and it was really special to have that as a part of our story. We wrote our own vows and it made both of us cry; making the promises to each other that we had written ourselves made it feel so much more us, Emma forgot her vows at home so had written them out on a tissue – this was also useful for the tears, but it was just so personal and memorable.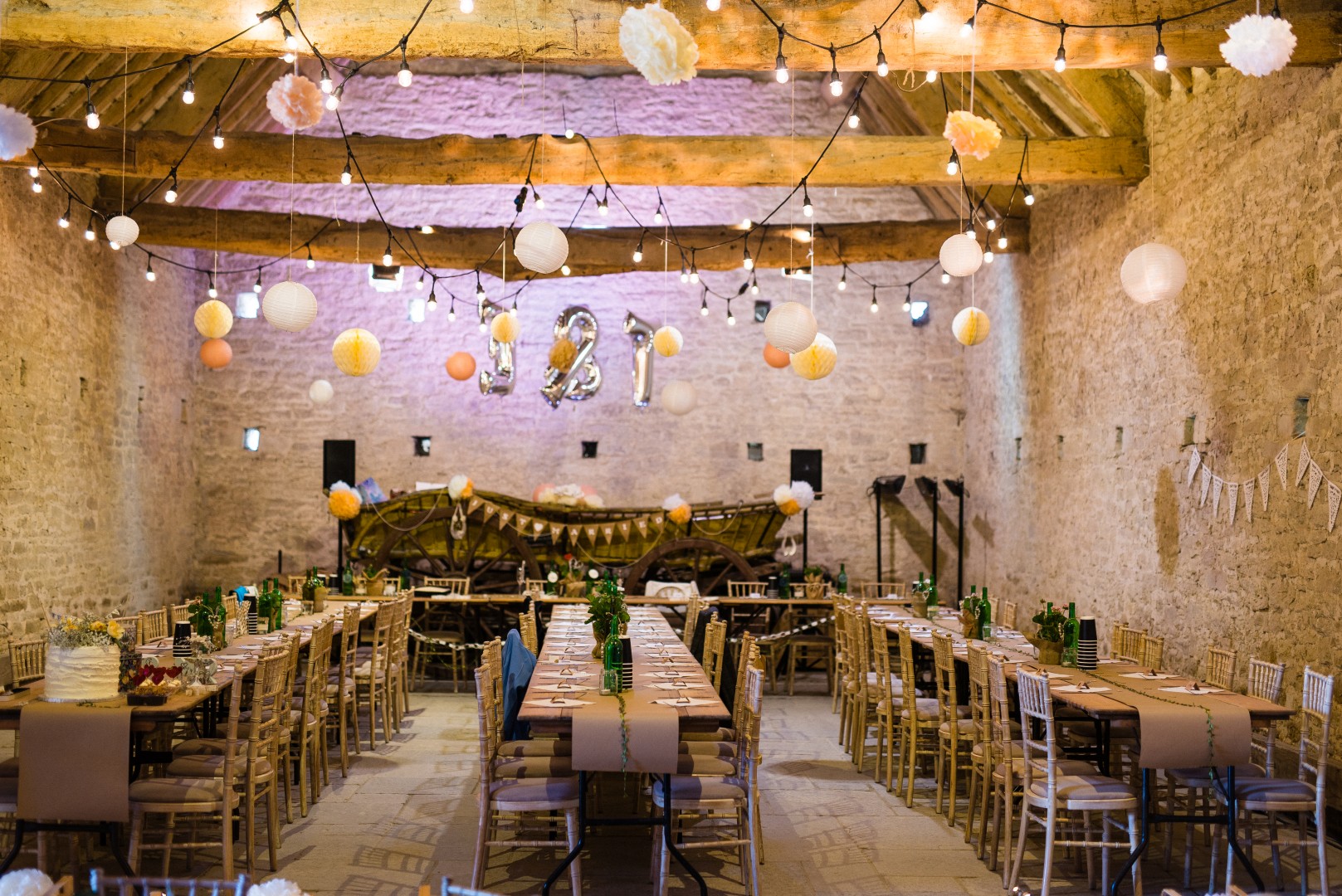 And the reception?
So, we had the reception at Cogges in the second barn, it was perfect being able to move from one room to the next! We chose to have festival style Paella from Las Tapitas. Helen and Carlos are absolutely incredible people who made amazing food; we had three paellas and then people could go and help themselves, it was perfect as people could choose what they wanted.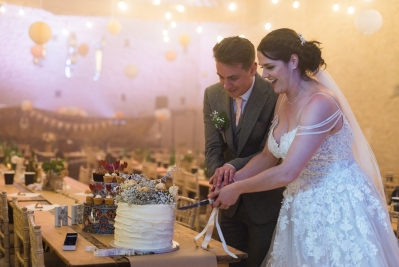 Tell us about your cake and who created it.
Our cake was lovingly created by Emma's close friend Faye. It was a lemon sponge with lemon buttercream and was insanely delicious. It was a single tier and was the most delicious thing I have ever tasted. Faye does make cakes for events and weddings she is @littlecitycakes on Instagram.
Did you have wedding favours?
Our wedding favours were packets of wild seed that people could scatter, we put them in a box on the sweet table so people could take what they wanted rather than putting them on the place names. We wanted something natural and fun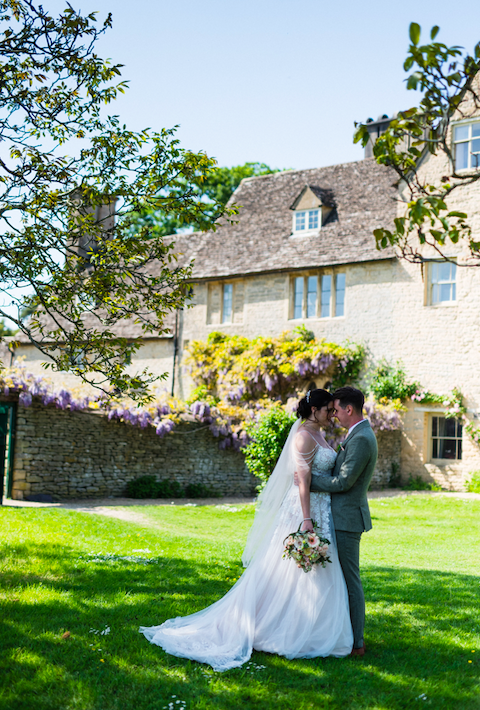 What music and entertainment did you have, and what was your first dance?
We had a wonderful set list created by all our friends that played for the first half of the evening and then we had a fantastic band called Decade, they are managed by Tailored Entertainment and they are an indie rock band that do covers, the lead singer was phenomenal. Our first dance was Grow Old With Me by Tom Odell and it was just perfect as our friends and family all joined in.
Was there a theme for your day?
There wasn't really a theme, just homemade, rustic, and us. We wanted touches of us to shine through at all times and just have a big party, we wanted a big celebration with people we loved and that's what we made.
Do you have any budget or top tips or advice?
Hit up all your friends with connections or jobs, side hustles, anything. We managed to keep most of our cost low by calling in favours and doing things ourselves, although it seems a lot of work it is so worth it.
Also you never need as much as you think, we had loads of everything left over, so try and not over-buy.
What were the most special moments?
Emma's best friend flying over from New Zealand; cutting the cake with Emma's grandparents wedding knife; Emma reading her vows off a tissue; Lily being a flower girl as she wouldn't have been alive if it had gone ahead the first date in 2020. Seeing all our loved ones in a room together.
Clearing up was also a fun day, everyone got stuck in and we all had a great laugh. Emma put her wedding dress over her dungarees and was sweeping up the barn! Also, one of Emma's best friends who couldn't make the wedding helped with the take down and it was so nice to have him there even as a small part of it.
Emma walked down the aisle to one of Tom's favourite songs but an acoustic version that he wasn't expecting, it was very emotional. And, Tom's 95-year-old nan was there and was so happy; she was fully involved in it all and it was so special having her there especially as we postponed it twice.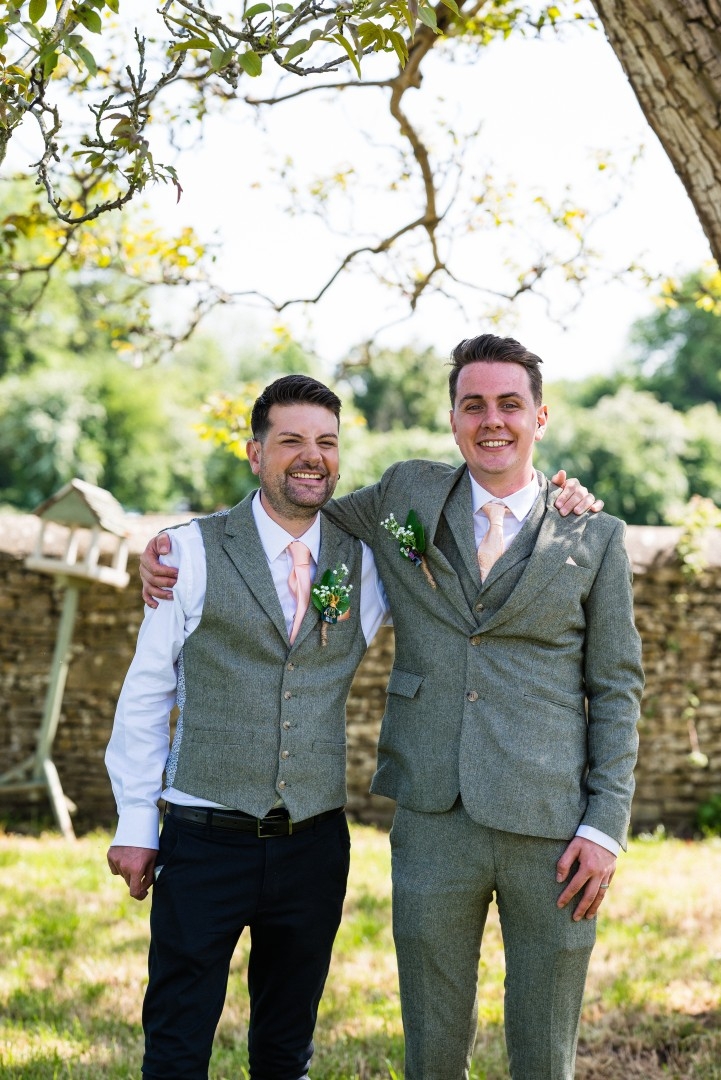 Did you have a honeymoon?
We went for a mini moon break to Barcelona for a week. It was amazing to go back as husband and wife as the last time we were there Emma was living there as a university student.
Finally, if we could do it all again, we'd…
Dance more! There wasn't enough dancing time. And, take more time to just drink it all in. It really is a good idea to try and step back on your own for a minute as it can be very overwhelming being surrounded by so many people. Take time to breathe and take everything in. Other than that, we wouldn't change a thing.
Suppliers: