People may well watch Laura Wade's Posh and its fictitious Riot Club – a group of privileged Oxford University students who eat and booze together in tails before wrecking the place they're doing it in – thinking it a depiction of the Bullingdon Club of which the leader of our country (alongside other notable Tories) was once part. Indeed in this Lucy Hughes-directed production, Adam Mirsky's Guy Bellingfield – dishevelled and buffoonish – has an air of Boris about him. Plus, the prime minister's face is one of the first we see, adorning the front page of the Telegraph read by Simon Rhodes as Jeremy in the opening scene. With such thinking, people might then arrive at conclusions as to why there's a divide between politicians and the people, why the country's in disarray, and so on.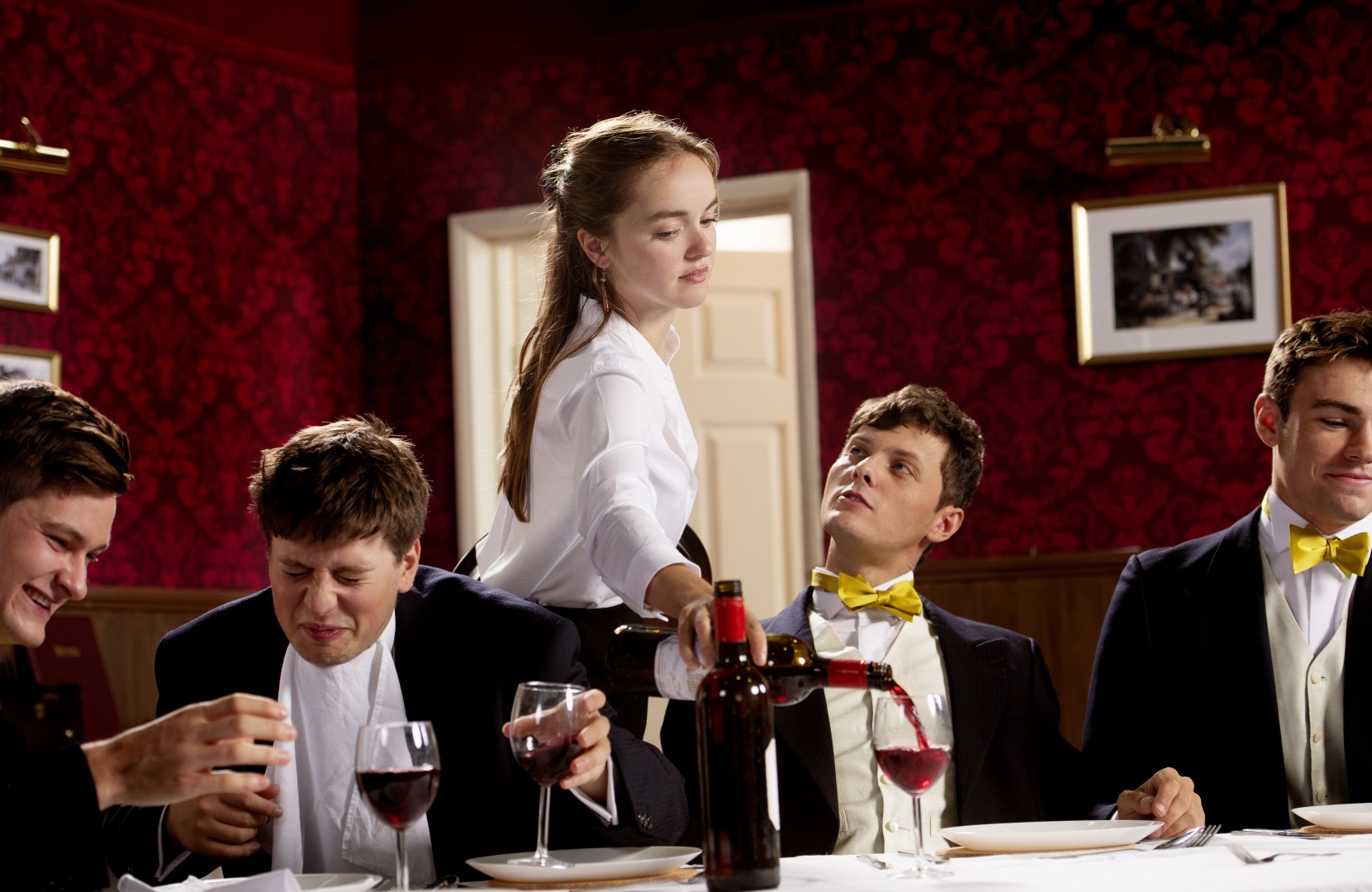 Aside from all that though, Posh is a funny play with a clear beginning, middle and end, as well as attention-grabbing monologues – one of which, capably delivered by Tyger Drew-Honey (Alistair Ryle), finishes Act One really strongly. At an hour and a half, it is a longish first half, but this production moves through the 90 minutes at a decent pace (with only the occasional dip in energy) so it doesn't feel long.
There's good variety courtesy of club member Toby Maitland (Matthew Entwistle) rising out of a drunken slumber in the guise of Lord Riot (originally, we learn at the end, spelt with a 'y') for a stint of surrealism in which he chastises the Riot boys for failing to live up to the name of the club founded in his honour. Later arrives something we all know is coming: the lads smashing up the dining room. Doing this in slow motion with classical music playing isn't especially ground-breaking, but it works, with some form of carnage taking place everywhere you look.
Jack Whittle gives a stand-out performance as the beyond snooty Harry Villiers, his "fucking Jane Austen" line – which comes from distain for his family home being used as a tourist attraction – one of the funniest moments of the evening. It is topped, however, by the excellent Joseph Tyler Todd as George Balfour, with the account of a failed cocaine pick-up in Blackbird Leys.
The group beating of the gastropub's governor Chris (Peter McNeil O'Connor) could do with tightening up, and some character entrances need a little more oomph. But, with a compelling Will Coombs set and distinct characterisation, overall this is a fluid and engaging show, whether you use it to explain the UK's predicaments or not.