Don Quixote is a 400-year-old classic novel written in Spanish about an aging traveller who, with a more down-to-earth squire, ponders in comical fashion questions of chivalry as he drifts into madness. Although you've probably heard the most popular anecdotes in which Don Quixote gallantly fights windmills believing them to be giants, and tries to woo a peasant he mistakenly believes to be a princess, you might not have read the book – a daunting 800 pages.
This month, however, Creation Theatre offer a wonderful shortcut as they present Miguel de Cervantes' much-loved story as a surprising, inventive and funny double-act deep in Oxford's Covered Market. It's an inspired setting: the old internal roof structure and charmingly rickety woodwork give a perfectly humble every-day and yet old-fashioned feel to this contemporary re-run of the traditional tale. As the audience chatted before the show began, their voices echoed through the old structure adding an age-old expectant excitement that would befit any era.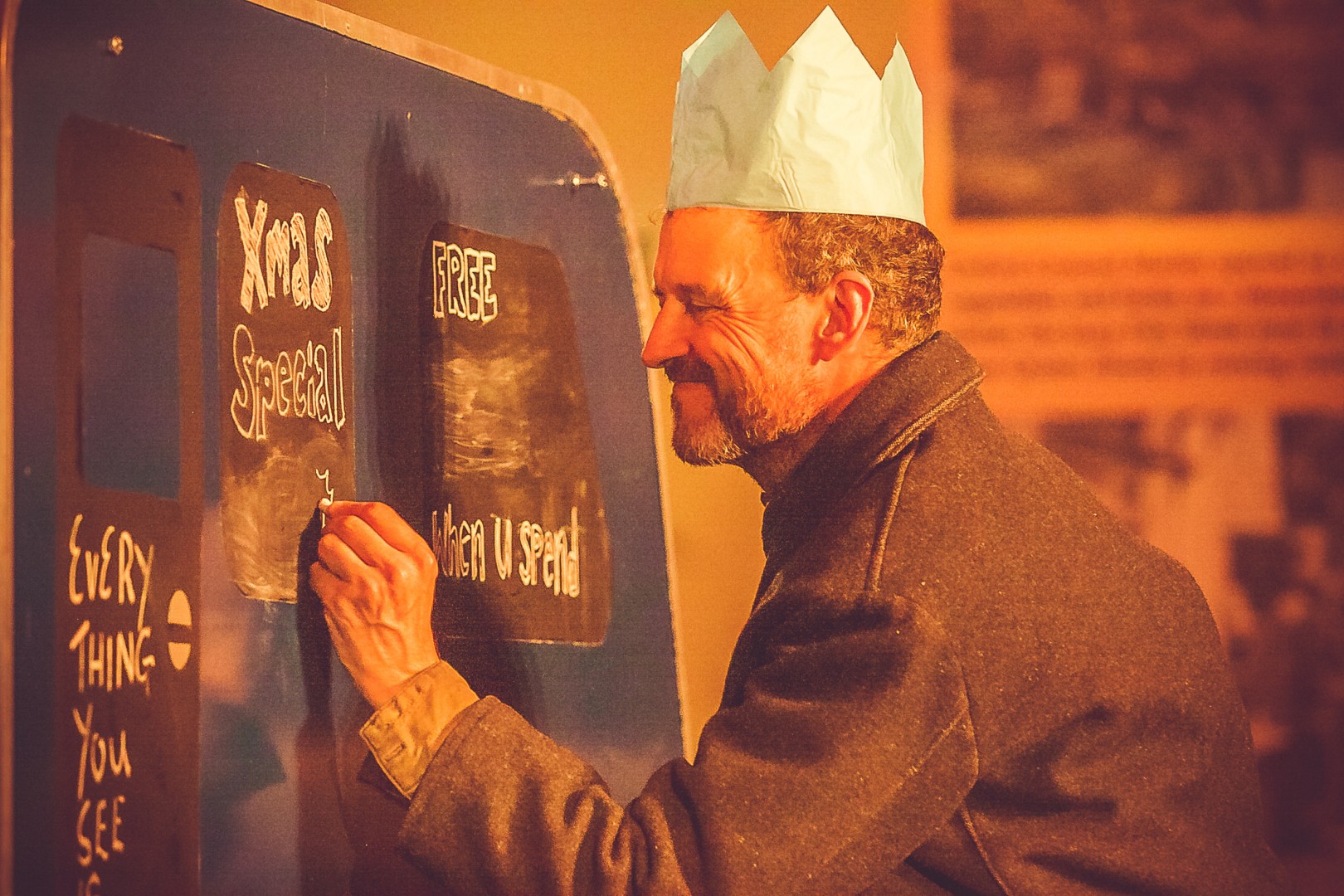 In the here and now, two rather dishevelled friends Dom and Sam, each showing the loss of vision and fading memory that ageing brings in comical fashion, imagine themselves taking a leaf from the Spaniard's book. Amongst piled bric-a-brac, they plan to travel through today's Britain into distant Celtic mists – down the A40 to Fishguard. In place of a mule, Don Q and his squire Sancho have a caravan towed behind their trusty three-wheeled car which is lovingly named Ursula Andress. Our modern-day Don Q is a Bond fanatic with the entire collection of Ian Fleming novels, and he longs for a return to an age of knights, romance, honour and courage, seeing strong parallels between the behaviour and stories of the original Spanish traveller and 007 righting wrongs. The comparison is a masterstroke adding a whole new layer of relevance and humour for a 21st century audience.
The first half is lively, foolish and undeniably fun: it's as if two rather mad elderly chaps have been returned to childhood and we watch them play, full of honesty and bizarre crazy ideas, bringing forth a myriad of laugh-aloud moments. The second half begins with laughter and humour before pathos bites: as in the original, Dom's mind is confused and time against him. He's Don Q. He's Bond. And movingly, he's half of a strong and caring friendship. The death of Don Quixote at the end of the novel is mirrored by Dom's own demise, but this is Creation Theatre and there's no chance that the audience would leave feeling flat. The final sequence of this production is absolute comic genius which had me crying with laughter. The entire audience were on their feet for a standing ovation: it was thoroughly-deserved.
Don Quixote is at Oxford's Covered Market until 28 September.