We arrived at the Hollybush on Witney's Corn Street with high expectations, aware that it was recently awarded Best Pub in Oxfordshire at the National Pub & Bar Awards, and that Head Chef Simon Bradley had joined from the Randolf earlier this year.
From the outset it didn't disappoint. The 18th century building is flat fronted onto the street but step inside and all the low ceilings, panelling, wood beams and modern vintage ambiance your heart could desire awaits. And a peep out back revealed four little discrete dining rooms-cum-summer houses, perfectly sized for a bubble but also allowing warm, dry year-round outdoor dining.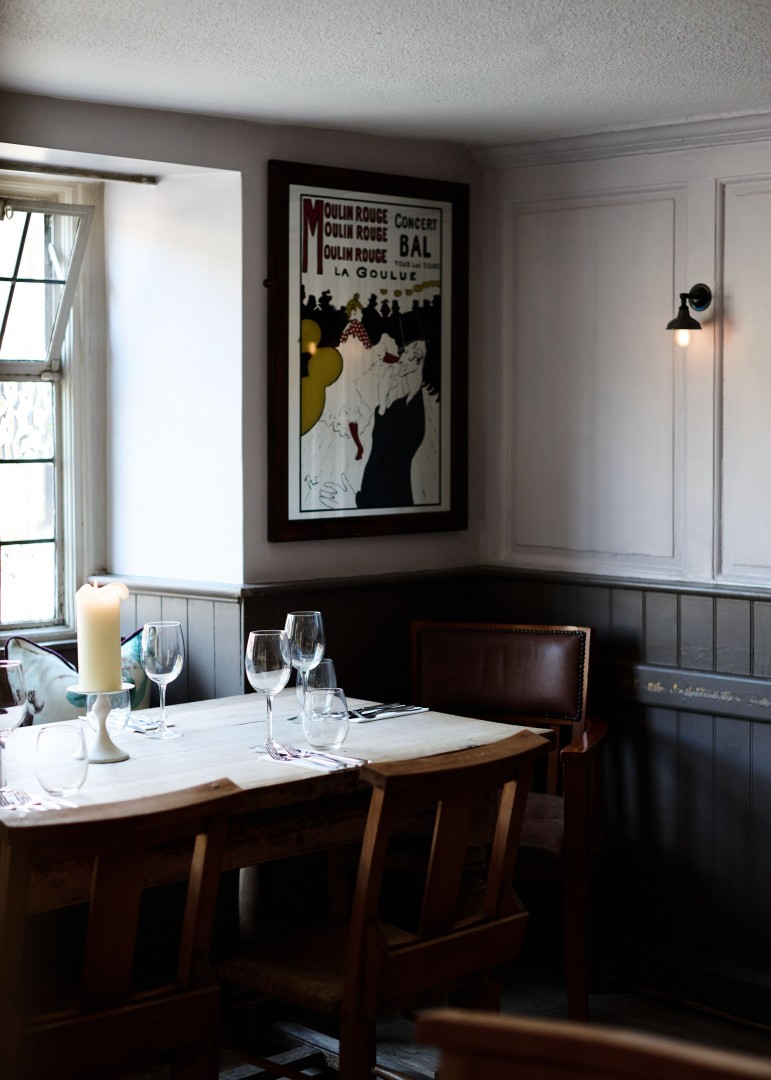 Co-owner Alex Vaughn greeted us warmly, taking us to a table at the rear of the dining area. On discovering we had travelled from Wolvercote we immediately bonded over Jacob's Inn, the jewel in Wolvercote's dining crown: a former village pub turned gastro in 2013. Alex and his business partner, Luke Champion, had been involved in its launch prior to the move to Witney in 2015 to work their magic on the Hollybush. At this point we knew we were in good hands and turned our attention to the menu which offered a teasingly tempting selection of considered, seasonal choices. As it was lunchtime, and my friend had sportingly offered to drive, we had to be restrained with our wine choices. She sprang for a cute mini-Prosecco bottle and I had a large glass of the Cinsault which was flavourful as an aperitif yet sufficiently dry and light to work well with lunch.
Drinks in hand, at this point the deliberations began in earnest, broken only when the neighbouring table leaned over to intervene and insist at least one of us should have the chalk stream trout as it was, in their words, so impressive that they simply had to butt in. Fair enough, although it threw a spanner in the works as at this point their (set menu) mains arrived and looked so mouth-wateringly delicious it threatened a re-think of our à la carte choices. Readers, fear not. We remained steadfast and our loyalty was richly rewarded.
To start, we had chicken liver parfait and the aforementioned trout. First, let me state that this food, presented anywhere – gastropub, fine-dining restaurant, private yacht…anywhere! – would impress and delight, and if you are near enough to Witney for this to be your local, I am jealous. The delicacy and balance of flavours in the lightly cooked and seared trout was exceptional, pairing wonderfully with a velvety horseradish cream and offset by subtly pickled cucumber. Divine. The parfait was reassuringly robust and meaty. Not too creamy, as is often the case, and whoever thought to puff up crackling so that it resembled popcorn and use it to top off the dish, alongside crumbled hazelnut and pops of crisp, sweet apple is a true master.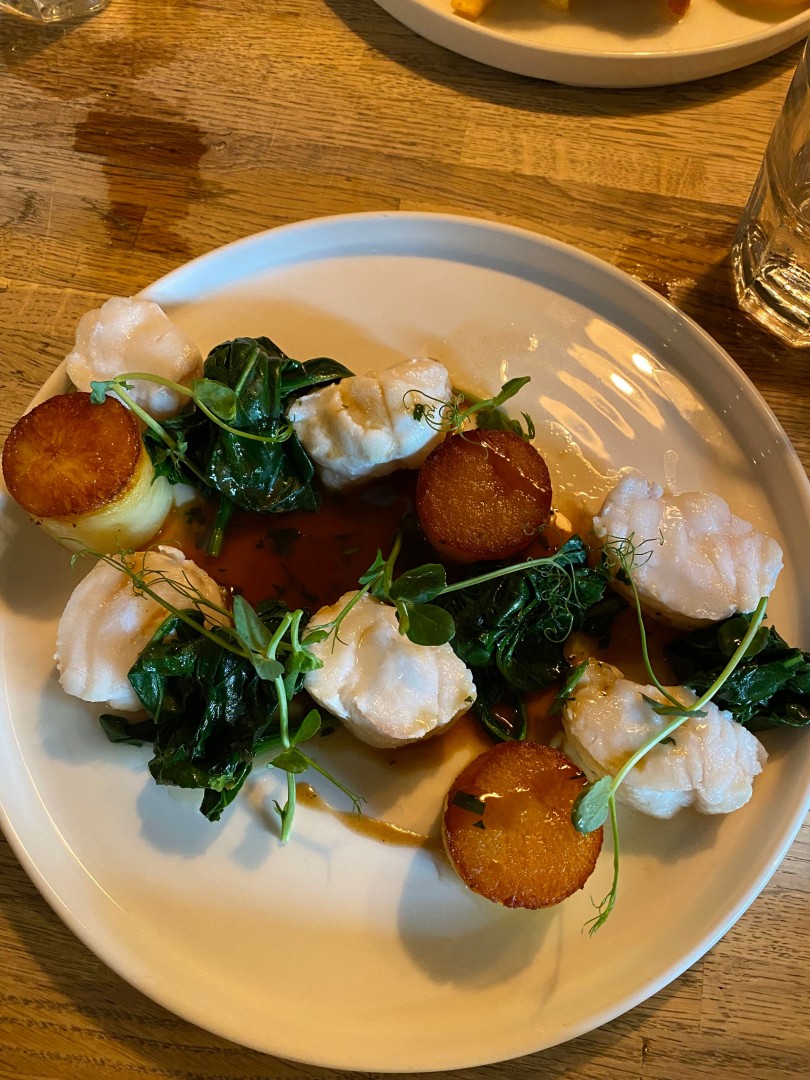 Well-sized starters, which left us eagerly expectant for the main attractions; in my friend's case Beer Battered Fish & Chips and for me, its posh sibling, Catch of the Day (which was monkfish) served with fondant potatoes, spinach and, intriguingly, chicken butter sauce. Alex had impressed upon us the provenance of the pub's fish, caught the night before and direct from the coast.
I'm fairly confident it is a truth universally acknowledged that nowhere beats a chippy for fish and chips – unless it's a chippy with a view of the sea. However, this incarnation takes the basic theme and elevates it. Instead of a whale-sized paddle of fish, this was a fist-sized lump of freshest cod, cooked in the lightest crispest batter. Chips were clearly hand-cut and actually tasted of potato, and I am still reflecting on the tarragon-rich tartare sauce. A triumph in its own right but my goodness me, I'm glad I went with Catch of the Day. I must confess, I've never really 'got' monkfish as every time I've had it I've been confronted with a chewy challenge, but this was in a different league: flaky, soft and all the flavour that monkfish is famous for. It married beautifully with the elegant puddles of spinach and those fondant potatoes were memorably soft and yielding, with a deliciously crispy, almost caramelised base. The chicken butter sauce was a personal revelation, seasoning the fish perfectly and bringing an entirely new dimension to a classic dish. In all, it must be stated, it was so buttery I couldn't convince myself I'd gone for a healthier option but oh, it was worth it.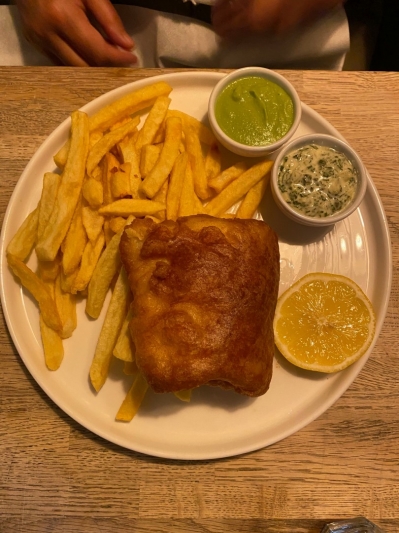 We took a pause at this point to prepare ourselves for pudding and explore the outside where we found the Elephant Room, a stone outbuilding converted to provide the ultimate private dining experience. As the sun made a brief appearance, we enjoyed a coffee at one of the refectory tables in the patio area. Refreshed and ready for more, we headed back inside for the spoilingly-rich Chocolate Marquise (still dreaming of the miso caramel which accompanied it, alongside honeycomb and rosettes of Diplomat cream) and a taste of the well-judged cheese offerings. Let me tell you, Alex James knows his way around cheese; his Blue Monday cow's milk cheese was layered like a sedimentary rock and was so pleasingly sour yet fresh that my prejudice against blue cheese dissipated with each bite. We also tried the Jonathon Crump's Double Gloucester – flaky, buttery and so rich you could almost taste what that cow had been eating the morning it was milked. The accompaniments were equally sublime; truffled honey, burstingly-crisp red grapes, and a beautiful red onion chutney.
Overall, the Hollybush receives a firm yes from me. Each plate is exceptionally well-judged and we walked out with a general feeling of wellbeing and a promise to ourselves to return; to linger longer and make some headway into what looked like an impressive wine list.
The Hollybush, Corn Street, Witney hollybushwitney.com