I've been following Cotswolds-based photographer Ros Atkinson (@her_dark_materials), on Instagram for years.
Her extraordinary, alluring, images offer a window into another world and provide a welcome pause as I scroll through friends, frenemies, famouses and (I'll admit it) those accounts I only seem to follow to make myself feel bad. There's a lot to be said for trying to populate your online world with content to puncture the stress, the comparisons, the toxicity. Sometimes, we – I – need to remember we can consciously choose where our attention is directed online. The same is true of real world 'noise.' In what can be a busy time of year, feast your eyes on these timeless images; reflect and admire both the artistry of the compositions, and the joy in something as simple and beautiful as a well-made pie or pinecone wreath.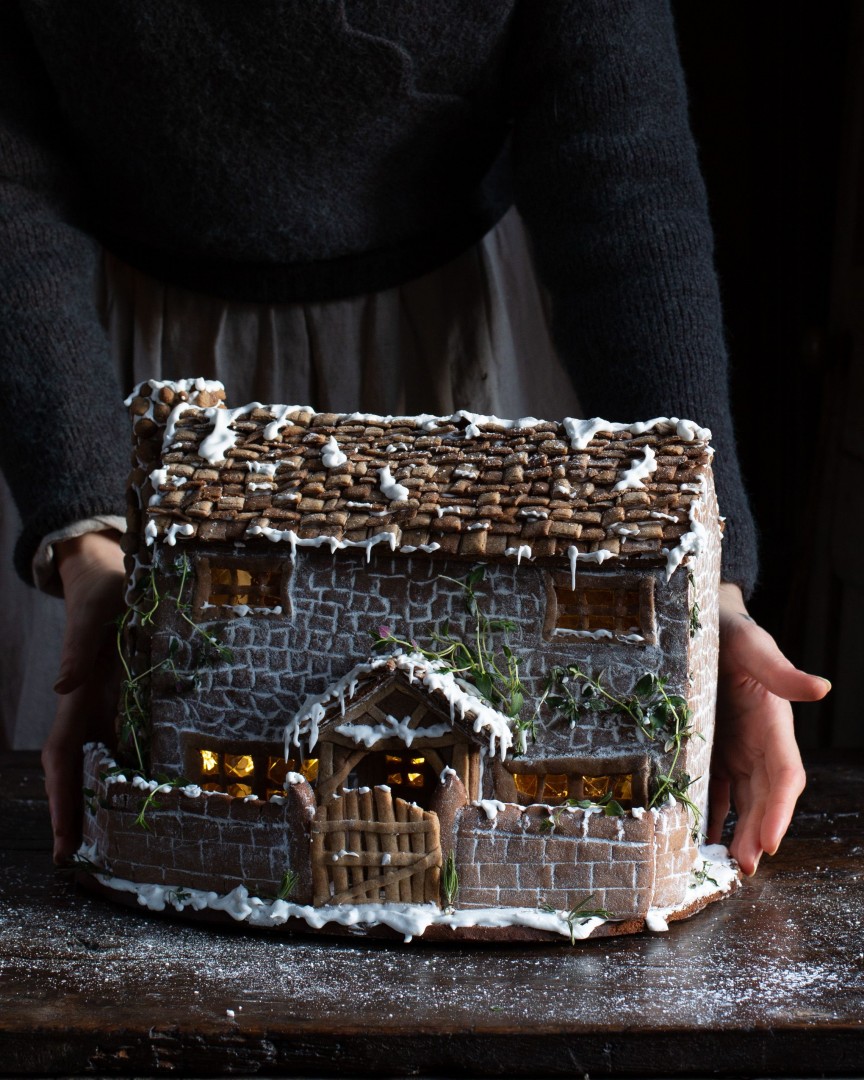 Even my untrained eye can recognise that the use of light is incredible. Speaking with Ros, I wondered how she came to photography. "Ideally, I would have been a 17th-century painter, a leading light of the Dutch Golden Age, conjuring beautiful still lives from tiny, exquisite brushstrokes. In reality, I struggle to give any meaning to a stick man, so the camera takes my quite wistful ideas and gives me a medium through which I can pretend to be a great artist. 
At school I was good at languages, not art, so went to university to study German and lived in Hamburg for a few years. I assumed I'd go into teaching or translating but when I first moved there I didn't know anyone, so rediscovered a childhood hobby of photographing. Fully absorbing, I must have photographed the entire city many times over. It was a hobby I always enjoyed, just quietly observing, and watching how people change as they walk through patches of light. Light has always obsessed me and is my first consideration when photographing. My other is composition.  
My mother, a geologist, (actually the whole family are), had a fabulous museum in Cornwall. Filled with fossils, minerals, skeletons, and shiny, shiny things. A day off school would be spent in the museum, looking at the display cabinets, and playing with fossils. And at home, my sister and I had little display cases for our 'treasures'; flints, fossils and four-leafed clovers. Dinosaur models which our Sindy dolls would joust on. So, collecting little treasures and arranging them was instilled early on. And food – well if you grew up in Cornwall in the 70s things mainly came in uninspiring tins. Discovering food with texture and flavour was a revelation. I loved cooking, and feeding people, and the collecting things turned into collecting kitchen items; old chopping boards, and colanders, all before kitchenalia was a thing. I would be fascinated by what should be heirlooms but seemed to be discarded in favour of new and plastic.  
You can sort of see how it all came together. My fairly random collections have become a prop collection without rival! My use of light, honed over many years, is a huge part of my signature style, and I do love food."  
And what about Christmas traditions? "Christmas for me is all about spoiling my children, now in their 20s. (I had them unfeasibly young). They still have Christmas stockings, just tiny ones, mostly socks and torches. I always bought them antique toys when they were little, which they probably hate me for, but it was so much nicer for photos. 
"Our Christmas feast is the same every year; two chickens, different stuffings, Yorkshire puddings (every roast should have them) then an obscene amount of roast potatoes, red cabbage, bread sauce, the works. When my eldest daughter is at home, we do lots of baking. I am quite haphazard when it comes to weighing things, so my baking is often a little below par, but having a physicist in the family means everything she does is weighed to the nearest nanogram. Everything rolled out is measured with a ruler and set square. Followed by a wildly competitive game of Risk or Monopoly, fierce and taking no prisoners. And for supper, cold roast potatoes dunked in cold gravy. Family tradition, hard to beat."  
The festivities in December give us all a chance to come together. Whether tradition dictates turkey, goose or nut roast, food makes a celebration special. It's not only the shared meal, but also the experience of cooking for loved ones, even if that loved one is yourself. A feast needn't be fussy or require a Michelin skill set; a simple warming broth can be elevated by the care taken to serve it from a beautiful tureen; a platter of cured meats or cheese and wine can be just as spoiling and special as a towering plate of roasted meats and vegetables.  
Whether your mince pie is from the oven or the pantry, we wish you a merry, simple, and peaceful Christmas.  
For more information on Ros Atkinson and to find details of her occasional courses, visit rjaphotography.net or on Instagram @her_dark_materials 
All images ©RJA Photography